Jefferson's Martin earns 2018 Saladino Award honors
By Jarrett Guthrie
jarrettguthrie@813preps.com
BRANDON – A whirlwind week for recent Jefferson graduate Robby Martin as the Dragons baseball standout went through his first week of college classes last week, before returning home for the weekend and a host of celebrations for himself and his teammates, who claimed the FHSAA Class 6A state championship on the final day of May.
On Saturday evening, Jefferson hosted their postseason awards banquet where Martin and his teammates accepted various accolades from coaches and teammates before a good-sized crowd.
And there is little rest for Martin, who is expected back in the gym at Florida State University Monday at 6 a.m. for workouts prior to his class schedule.
But on Sunday, the celebrations continued as Martin was driven by Jefferson head coach Juan Fontela to a private home in Brandon, where he was told he was to be interviewed about the Dragons state championship – a first for the program after 78 years of baseball. Instead, Martin fell in for the long-standing tradition of surprises as he arrived to a welcoming crowd of family, friends, coaches and the Saladino family, and was presented the 2018 Tony Saladino Award – the 50th recipient of the award.
"When my parents left the house before me and they said my coach was picking me up, I started asking questions," Martin said. "They said I was going to an interview, and even when I got here and saw the name on the outside of the house I still didn't quite know what was going on until Mr. Saladino came out and started telling me about the award."
"It's just amazing to win an award with this much history around it."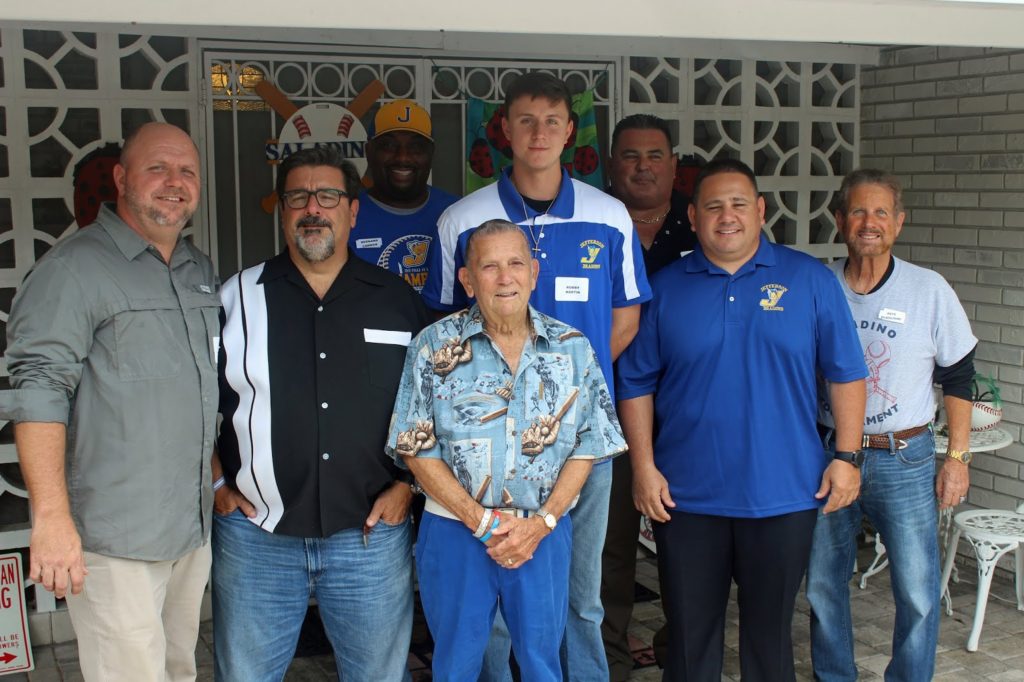 Up front and center: Tony Saladino; second row (left to right): Robby Martin, Sr., Jefferson assistant coach Lou Maggio, Robby Martin, Jefferson head coach Juan Fontela, Dragons assistant Pete Scaglione; back row (left to right): Jefferson athletic director Bernard Cannon and Jefferson assistant coach Juan L. Fontana.
Martin, who plans to continue his education and playing career at FSU, was also selected in the MLB First-Year Player's Draft last month by the Miami Marlins in the 37th Round (1,107th overall).
A four-year starter for the Dragons, Martin hit .457 as a senior with 32 runs scored, 23 RBI and four home runs, including a home run in the state championship game. He also earned the win on the mound in the 6A final, working the final five innings and allowing just one hit. Martin was selected to the Western Conference first team, and was named the All-813Preps Most Valuable Player last month (click here to see our complete All-813 list).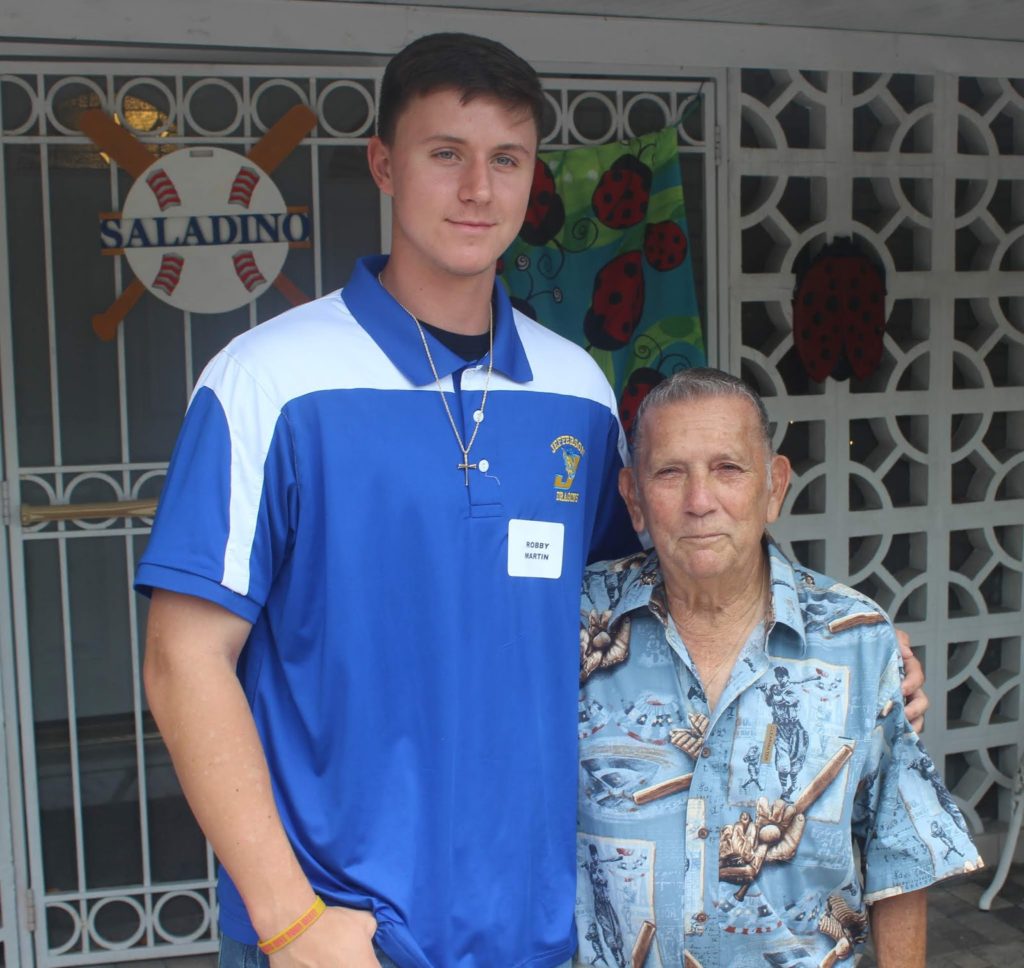 Martin is the third Jefferson player to win the award, which has been awarded annually since 1971, joining former Major League Baseball players Lenny Faedo and Tino Martinez.
Martin spent time after the initial announcement with Saladino – himself a Jefferson High alum – as he gave Martin a guided tour of his home, which serves as much as a shrine to baseball, as it does the loving family home for Tony and his late wife Bertha.
"It's like a huge baseball museum, you could honestly spend all day looking at all this stuff," Martin said. "It's amazing all the people in baseball he's met, and for him to recognize me as this year's award winner and getting to be a part of that group from now on, is truly special."
Martin admitted the schedule has been a little hectic since Jefferson captured the FHSAA Class 6A state championship by defeating Merritt Island, 6-5 in extra-innings. But he said the pace is something he's enjoying.
"I like doing what I'm doing," Martin said. "Everything going on now is incredibly exciting and its busy, but I know how special it is, so I'm just enjoying every minute."
The previous two Saladino Award winners former Brandon pitcher Antonio Velez (who is set to be Martin's teammate at FSU next season) and Wharton alum and current University of Tampa baseball player Drew Ehrhard congratulated Martin on Twitter after the announcement:
Congratulations man what an accomplishment, way to make your family proud!

— Antonio Velez (@Avelez97) July 1, 2018
— Drew Ehrhard (@DrewEhrhard) July 1, 2018
TONY SALADINO AWARD WINNERS
1971 – DAVIAN MENENDEZ (TAMPA CATHOLIC) & RICK FAULKNER (PLANT)
1972 – ANTHONY LAZZARA (TAMPA BAY TECH) & DAN BAZARTE (LETO)
1973 – MIKE HEATH (HILLSBOROUGH)
1974 – NICK RAY (ROBINSON)
1975 – JOHN SHOUSE (CHAMBERLAIN)
1976 – SAMMY SPENCE (BRANDON)
1977 – DANNY PICKERN (PLANT CITY)
1978 – LENNY FAEDO (JEFFERSON)
1979 – RICK FIGUEREDO (PLANT)
1980 – DAVID MAGADAN (JESUIT)
1981 – VANCE LOVELACE (HILLSBOROUGH)
1982 – RICHARD MONTELEONE (TAMPA CATHOLIC)
1983 – JOHN RAMOS (PLANT)
1984 – CHUCK DONAHUE (ROBINSON)
1985 – TINO MARTINEZ (JEFFERSON)
1986 – GARY SHEFFIELD (HILLSBOROUGH)
1987 – CHRIS MYERS (PLANT)
1988 – MIN PARK (LETO)
1989 – KIKI JONES (HILLSBOROUGH)
1990 – SALVY URSO (PLANT)
1991 – BRUCE THOMPSON (BRANDON)
1992 – TROY KENT (JESUIT)
1993 – TROY CARRASCO (JESUIT)
1994 – SCOTT GLASER (BRANDON)
1995 – MIKE VALDES (BLOOMINGDALE)
1996 – GREG HOWELL (BRANDON)
1997 – JASON ROMANO (HILLSBOROUGH)
1998 – JEREMY GOMER (DURANT)
1999 – RYAN GLOGER (JESUIT)
2000 – PAUL WILLIAMS (GAITHER)
2001 – RYAN ANDERSON (GAITHER)
2002 – JOSH SAWYER (BRANDON)
2003 – BRANDON McARTHUR (ARMWOOD)
2004 – RYAN STRAUSS (BLOOMINGDALE)
2005 – CALEB GRAHAM (GAITHER)
2006 – CARMINE GIARDINA (DURANT)
2007 – TOMMY TOLEDO (ALONSO)
2008 – ALEX PANTELIODIS (ALONSO)
2009 – ROBERT BENINCASA (ARMWOOD)
2010 – JAMES RAMSAY (BRANDON)
2011 – JOSE FERNANDEZ (ALONSO)
2012 – LANCE McCULLERS (JESUIT)
2013 – TYLER DANISH (DURANT)
2014 – ALEX FAEDO (ALONSO)
2015 – KYLE TUCKER (PLANT)
2016 – ANTONIO VALEZ (BRANDON)
2017 – DREW EHRHARD (WHARTON)
2018 – ROBBY MARTIN (JEFFERSON)
————————————————
Unlike many independent news organizations, we haven't put
up a subscription paywall – and we hope to be able to keep bringing you the great stories
from high school athletics in the 813 area free of charge. But we are still a small
business with just a handful of people involved, so there are costs including travel, equipment, and other costs associated with running this business.
We are looking for advertising partners, but we also need to count on our
readers for support. If everyone who reads our reporting, who likes it, helps
fund it, we will be able to continue covering these athletes' endeavors.
Support 813Preps.com for as little as $1 by clicking "Donate" button below.