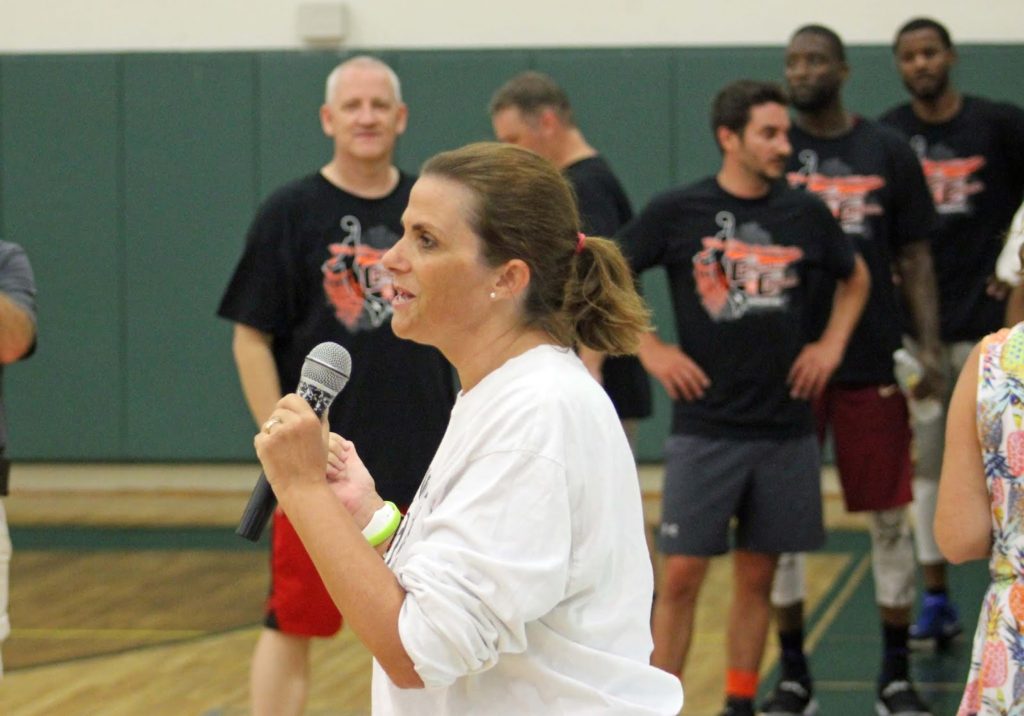 Longtime Freedom basketball coach Laurie Pacholke addresses the crowd at the "Taking a Charge Against Cancer" fundraiser in her honor at Keswick Christian School. 
To support Freedom Coach Laurie Pacholke's fight against cancer a GoFundMe page has been set up. Click here to be directed to that link.
ST. PETERSBURG – With a message on Twitter in April, longtime Freedom girls basketball coach Laurie Pacholke announced she was stepping away from her position to take on her biggest opponent – stage IV Non-Hodgkins lymphoma – with a message fitting of her two-decades of fierce competitiveness on the basketball courts in the area.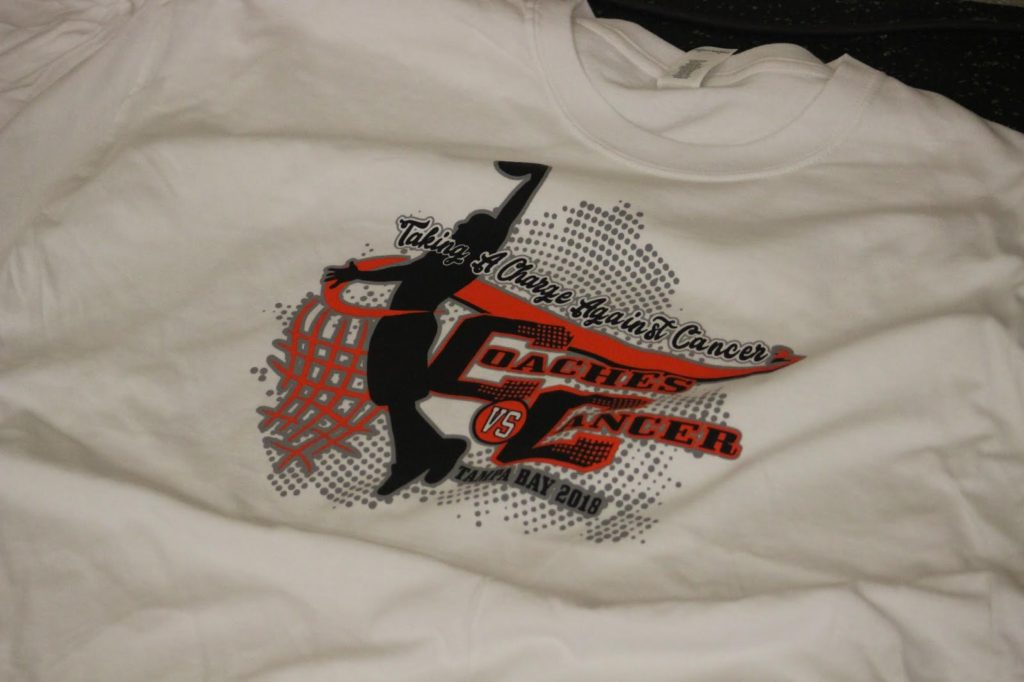 The message read in part: "I will not back down from this and look forward to the day that I return to the game."
Pacholke continues her fight against cancer, and the support she's received from family, friends, colleagues and former rivals has been abundant.
On Saturday, that support was on full display as coaches from both Hillsborough and Pinellas Counties, alumni basketball players from both sides of Tampa Bay, and friends and fans took to the gymnasium at Keswick Christian School for the fundraiser event "Taking a Charge Against Cancer" in Pacholke's honor.
For more photos from the "Taking a Charge Against Cancer" event you can check out our Facebook page by clicking here. 
"To me basketball has never been about the wins and losses. I'm a true believer that if you do things right, those things will take care of themselves," Pacholke said. "… With these coaches, we've been competitors in the past but this has been a real chance to come together to grow our game locally and continue the tradition in our community. I really can't put into words how wonderful this night has been."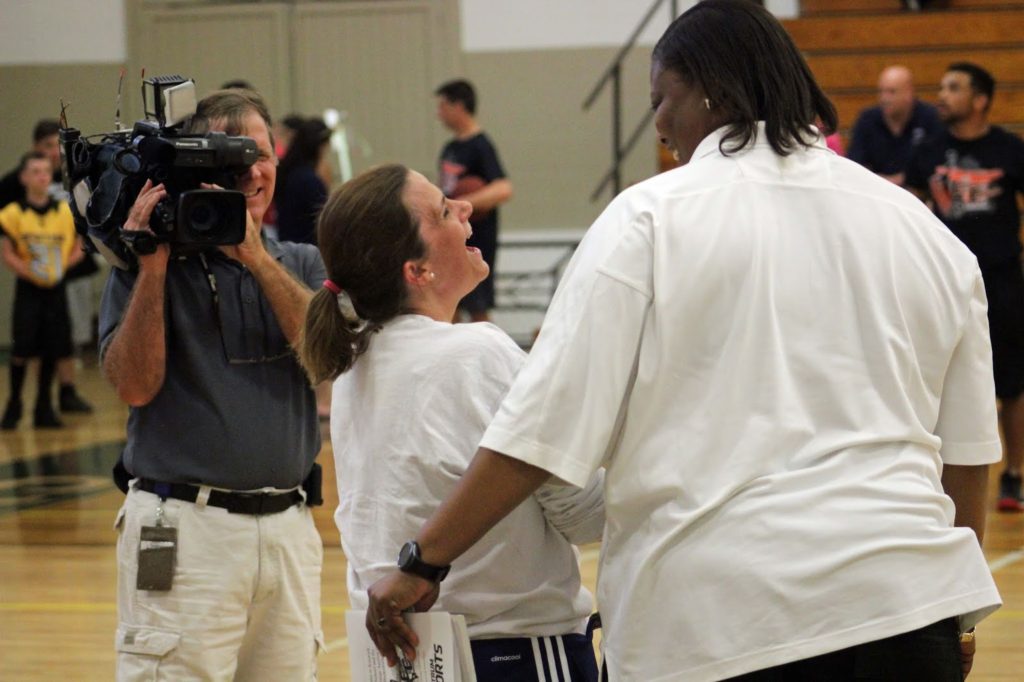 Pacholke and Lakewood coach Necole Tunsil share
a moment prior to the games.
Showing support for Pacholke in the best way possible to honor the highly competitive coach,  both the coaches and alumni put on a heck of a tribute in the two exhibition games.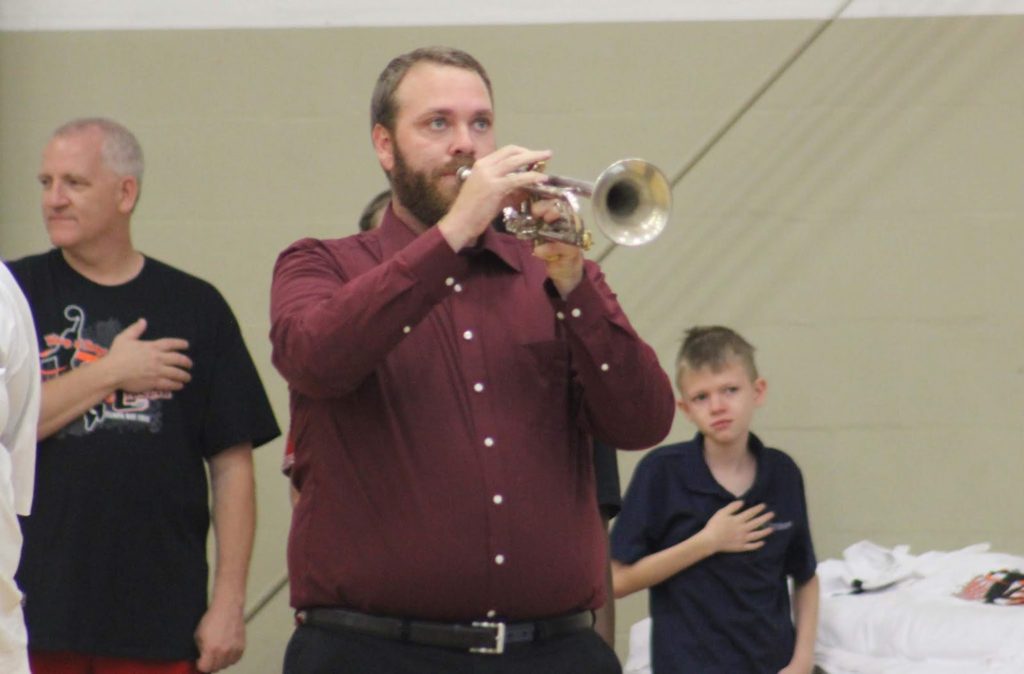 Land O'Lakes band director John Mulder played the
National Anthem prior to the Coaches Game.
The night began with a nice opening speech from the event's organizer Northeast girls hoops coach Will White, a prayer from the host school's coach Keswick's Karrmayne King, and a wonderful rendition of the Star Spangled Banner from Land O'Lakes band director John Mulder on the trumpet.
Then the event's opening game pitted nearly 25 of the area's coaches against each other defending the honor of their counties in a pair of 35-minute halves.
The Pinellas Coaches found a rhythm early and got some excellent drive-to-the-basket scoring from Tarpon Springs' "Coach Pop," though he seemed to prefer the layup despite the constant calls from the game's announcer Danny Champagne to "go for the dunk."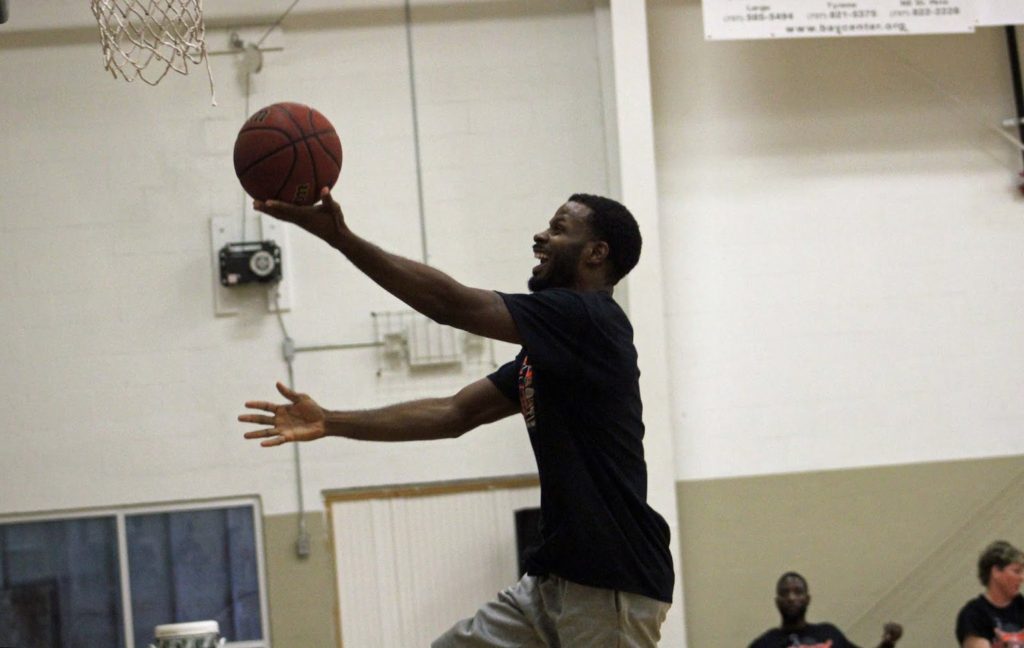 Boca Ciega's Coach Pop on one of his breakaway layups on the night for the Pinellas Coaches.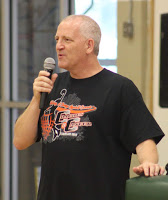 Northeast coach Will White
Coach White helped out the Pinellas side with some sound outside shooting, while Dixie Hollins coach Kelley Jones put in some quality minutes at guard distributing the ball around.
"We've wanted to put an alumni Pinellas vs. Hillsborough game for a while, and when I read about (Pacholke's) diagnosis on Twitter, I thought this would be a tremendous way to make that happen and make it have the added benefit of supporting her as well," White said. "Laurie is one of the toughest people I know, and just like she said, I'm confident that cancer doesn't stand a chance against her."
The game went to the half with Pinellas in control with a 15-point lead at 64-49, however the second half saw a big surge from the Hillsborough Coaches. Featuring three Freedom representatives including Pacholke's husband Aaron, boys coach Cedric Smith and assistant Pete Radeka, the 813 contingent battled back.
"This is humbling and incredibly fulfilling for our family," Aaron Pacholke said. "And this is the greatest thing for Laurie, it motivates her and excites her. For what she's going through, this has given her so much extra energy."
The biggest contributions in the second half came from the pair of shooters from Steinbrenner as boys coach JR Allen started the half with a pair of big-time threes, and girls coach Josh Goldstein seemed unstoppable from outside the three-point line at the close of the game. Goldstein gave Hillsborough it's first lead, stroking three long shots in a row, before the two teams battled back-and-forth for the closing minutes.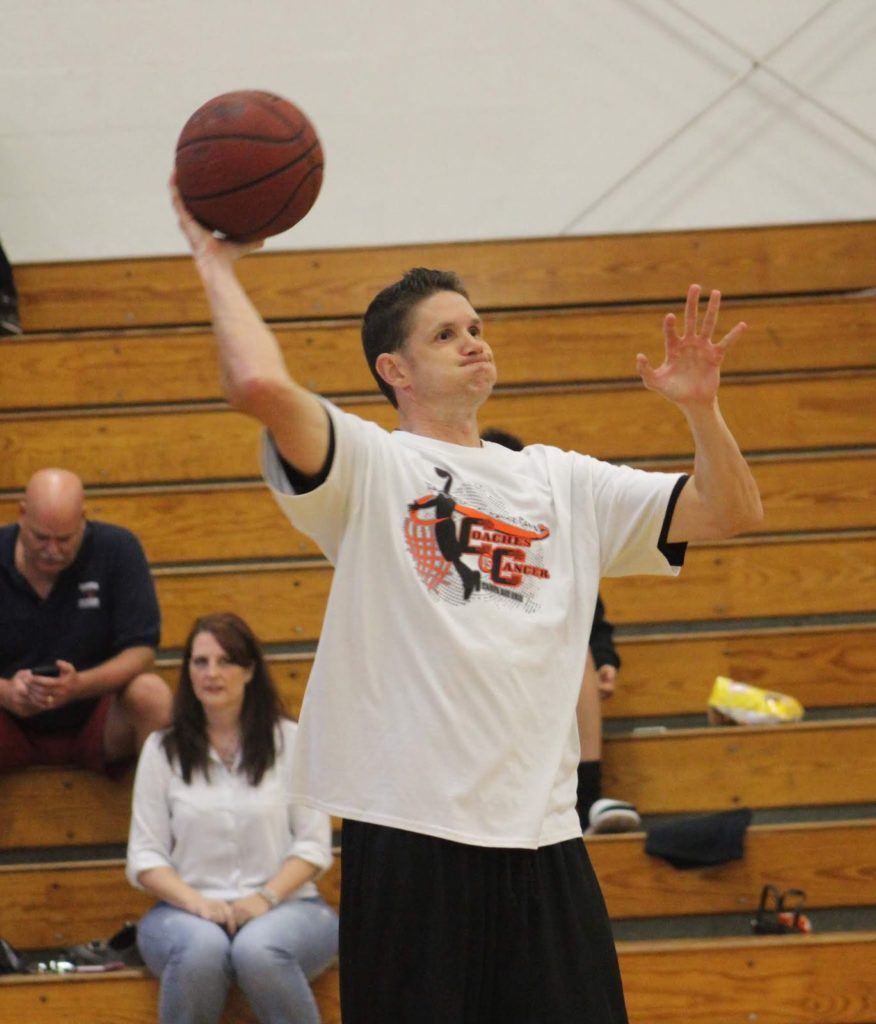 Steinbrenner boys basketball coach JR Allen helped
spark a big comeback for the Hillsborough team.
Allen added a late three to give Hillsborough it's final lead and Goldstein put it out of reach with a free throw as the Hillsborough Coaches claimed an exciting 109-108 win.
"When I heard about this game and what it was about, it was an absolute no-brainer that I wanted to be a part of it," Allen said. "The six years I spent on the women's side coaching against Coach Pacholke, we had some great battles and we always brought the best out of each other and our teams when we played. This is the best of both worlds, we got to come out and support her and have a good time, make some shots and compete. It was a tremendous time."
Tampa Bay Tech coach Reggie Lawrence added: "This was so great to be a part of because I've known Laurie for such a long time. Whatever she needs, I'm here for her. We battle on the court, we've had some fierce games … it's a serious game, but we support each other."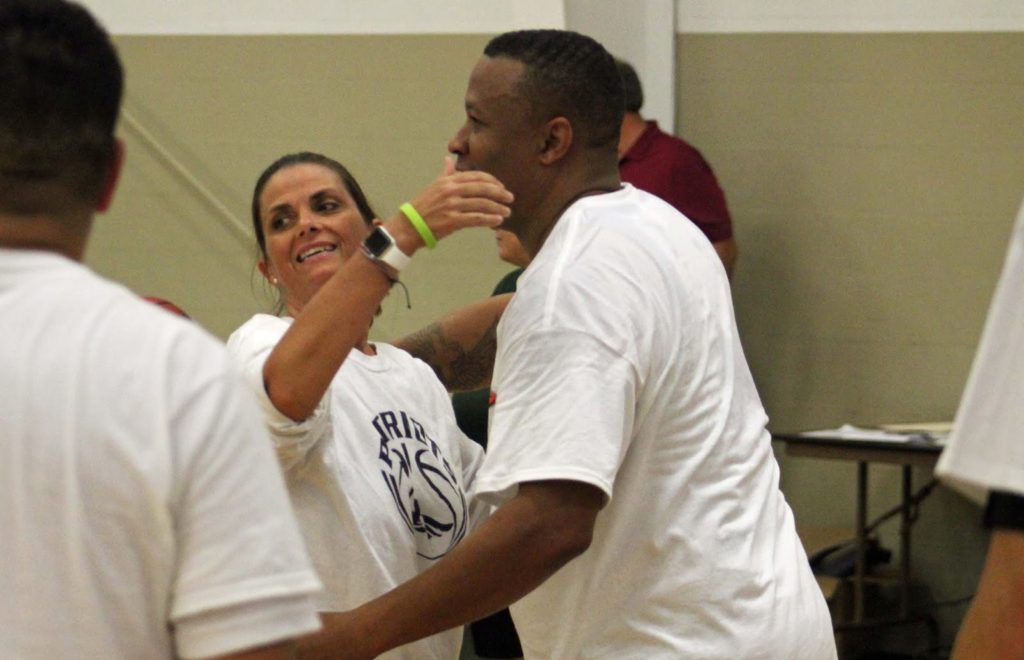 Pacholke hugs TBT coach Reggie Lawrence after the Coaches Game.
Following the Coaches game, Pacholke addressed a good-sized crowd of supporters, which included a number of families and some of Pacholke's former Freedom players still active in college basketball including Virginia Tech standout Taylor Emery, and Tennessee Tech sophomore Megan Clark, who attended as spectators. We have uploaded Coach Pacholke's message to the crowd: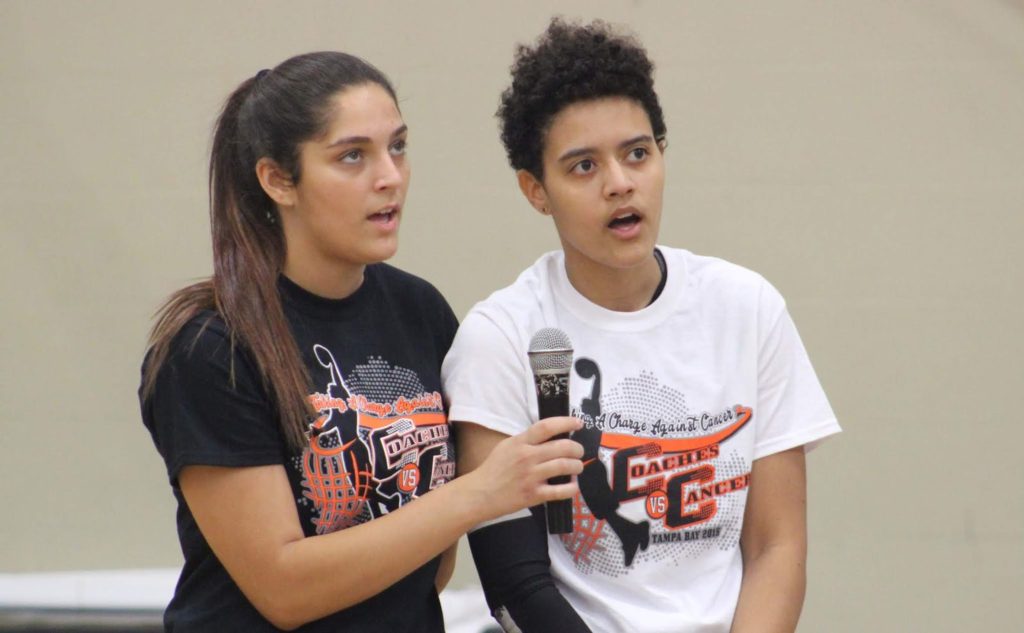 Sarie and Kyra Champagne set the Alumni Game on its way with a
beautiful rendition of the Star Spangled banner.
Prior to the alumni game, Indian Rocks Christian alums Kyra and Sarie Champagne crushed an amazing a cappella rendition of the National Anthem, before splitting allegiances (Kyra joined the Hillsborough side to help balance the rosters) in the Alumni game which, like the Coaches game, was a thriller with the Pinellas side claiming victory 64-62 in a game that featured four nine-minute periods.
Boca Ciega and University of South Florida player and alum Tamara Taylor was outstanding, finishing with a game-high 25 points, including 10 points in the opening period and a buzzer beating, 25-footer to end the third.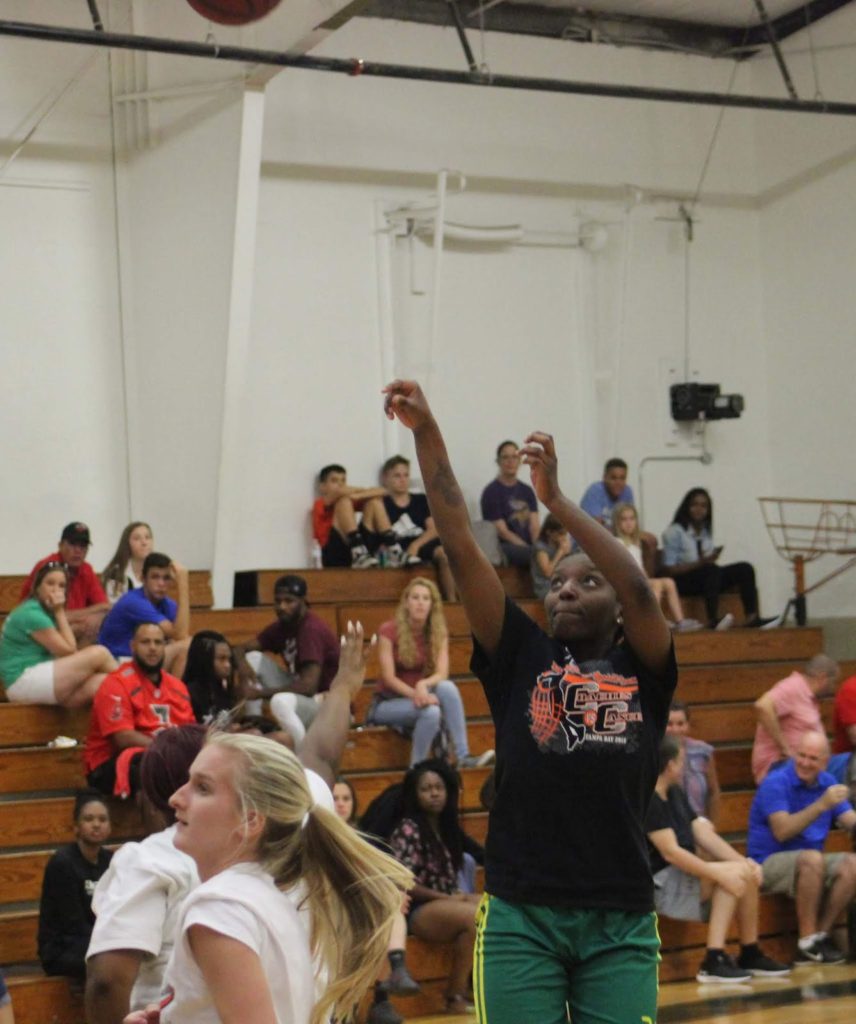 Boca Ciega and USF alum Tamara Taylor was outstanding leading the way for a Pinellas victory in the Alumni Game.
Pinellas had the lead through most of the first half, but Hillsborough caught up and made it a battle in the third and fourth.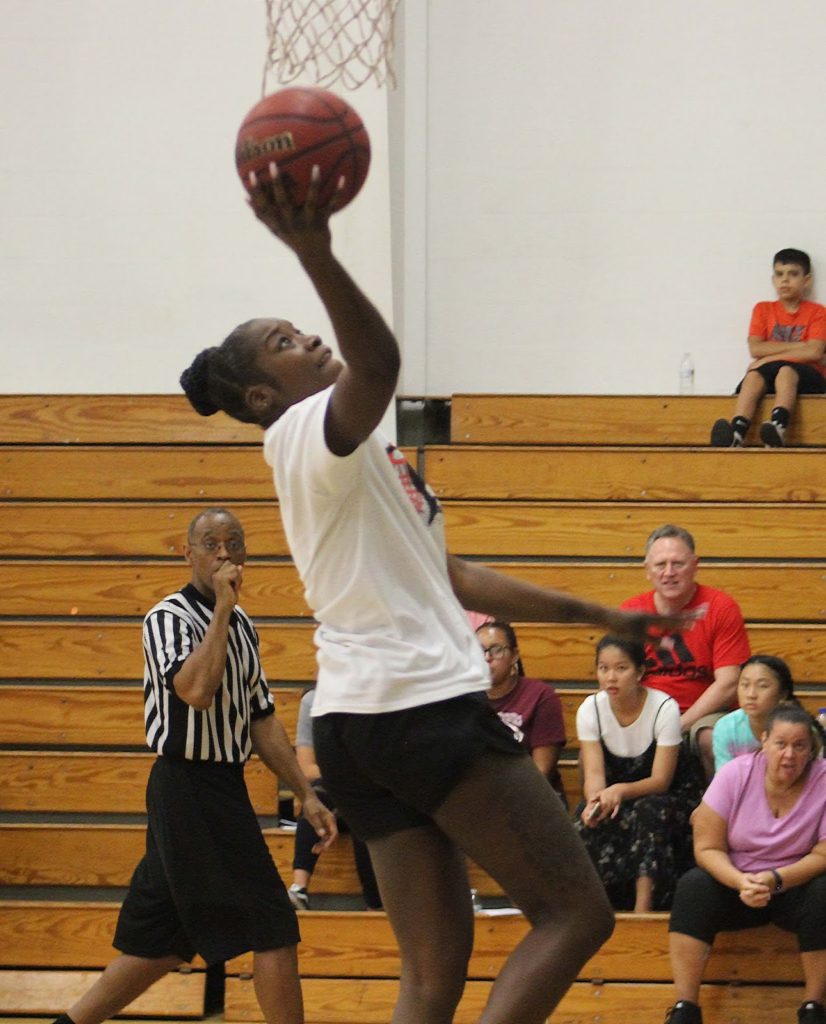 Steinbrenner alum Bailey Hooker tied the game late with a jump shot, and Kerah Nelson (Lakewood alum playing for Hillsborough to balance rosters) gave Hillsborough a late lead.
However, the night and the game was put away by Taylor who went 4-for-4 from the charity stripe late to seal the two-point win for Pinellas.
Like the first game, the Alumni game featured a large contingent of Pacholke's former Freedom players.
After the game, former Patriot Monet Williams spoke about the special meaning of returning to support her former coach.
"When I first heard about Coach being sick, I didn't want to believe it," Williams said. "Going through everything we did and knowing all she did for me and all of my teammates, no matter what I needed to do I was going to drop everything to make sure I could be a part of this night."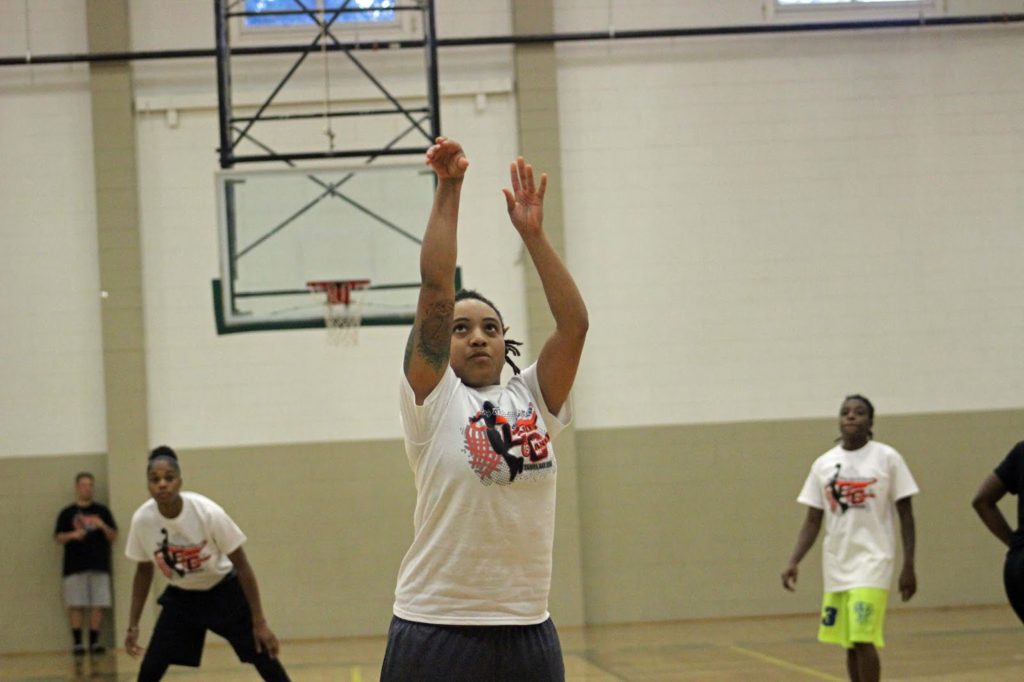 Freedom alum Monet Williams drains a free throw in the opening period of the Alumni Game.
For Pacholke, the night was filled with many wonderful memories and was a happy respite – an evening filled with the game she has dedicated herself to for most of her adult life.
"This was so much fun to watch," she said. "Words cannot describe the feelings I've had tonight watching the coaches and these kids. There have been so many memories from the past brought up, it's a truly unbelievable feeling."
Editor's note: If you would like to support Coach Pacholke, please visit the GoFundMe site set up for her at: https://www.gofundme.com/take-a-charge-against-cancer
The night's action was also captured in pictures by Tracy Stephens and you can see more at her page at: https://warriormom.smugmug.com/Taking-a-Charge-Against-Caner-Charity-Basketball-Games