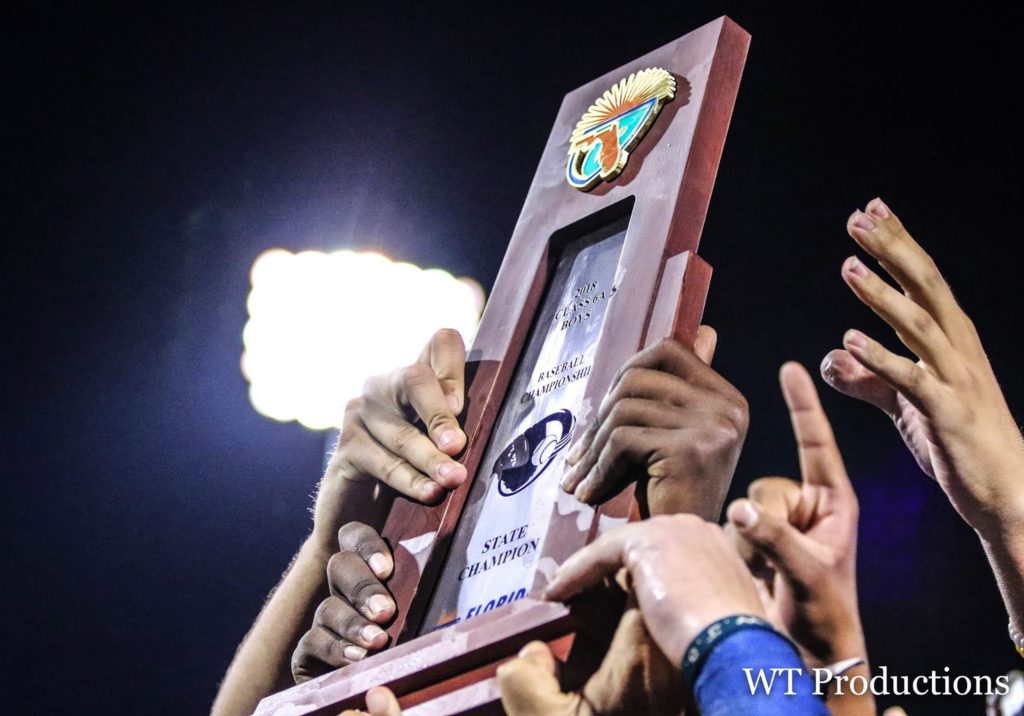 Photo from May of Jefferson High players holding the FHSAA Class 6A state championship. (Photo taken by Will Turner)
The Florida High School Athletic Association (FHSAA) announced on Tuesday that the high school baseball state semifinals and championships will remain in Fort Myers, as the Lee County Sports Development will continue to host the event through 2021. Fort Myers has served as the state finals host since the 2013 season.
The announcement made on the FHSAA website on Tuesday read (in part):
"Staying in Fort Myers was important to us based on the first-class facilities and experience provided to us by the fine people of Lee County," FHSAA Executive Director George Tomyn said. "The FHSAA believes student-athletes, coaches and fans will continue to receive the red-carpet treatment they have become accustomed to the last six years."
The 2019 event will take place at the spring training home of the Minnesota Twins, CenturyLink Sports Complex on May 22-25 (1A-4A) and May 29-June 1 (5A-9A). The championships will consist of separate four-team, three-game, single-elimination tournaments in each FHSAA classification.
Dates and venues for the 2020 and 2021 events will be announced at a later date.
Hillsborough County baseball programs have had a very successful run leading them to finish the season in Lee County. Here's a quick look at the programs from the 813 that have reached the state final four since the tournament semifinals and championship moved to Fort Myers in 2013.
Hillsborough County's success in Fort Myers
2013 ~ 

Durant – Class 8A runner-up

King – Class 6A state semifinalist

Jesuit – Class 5A state semifinalist

Cambridge Christian – Class 2A state semifinalist

2014 ~ Jesuit – Class 5A State Champions

Bloomingdale – Class 8A runner-up

2015 ~ 

Bayshore Christian – Class 2A runner-up

Durant – Class 7A state semifinalist

Robinson – Class 5A state semifinalist

2016 ~ Steinbrenner – Class 8A State Champions
2016 ~ Gaither – Class 7A State Champions

Alonso – Class 9A state semifinalist

Berkeley Prep – Class 4A state semifinalist

2017 ~ 

King – Class 7A runner-up

Jesuit – Class 6A runner-up

2018 ~ Jefferson Class 6A State Champions

Strawberry Crest – Class 8A state semifinalist

Leto – Class 7A state semifinalist

Carrollwood Day – Class 3A state semifinalist