(adsbygoogle = window.adsbygoogle || []).push({ google_ad_client: "ca-pub-4669923380710005", enable_page_level_ads: true });
Reigning district champion: Leto
District Thought: It's hard to argue with the success this district has had since being grouped together four seasons ago with Gaither claiming the 7A state title in 2016, King reaching the 7A state final in 2017, and Leto reaching the state semifinal last season. Can 7A-8 make another play for a state title in 2019? 
————————————————
If you like what we do, we need support to maintain the level of our content. Unlike many independent news organizations, we haven't put
up a subscription paywall – and we hope to be able to keep bringing you the great stories
from high school athletics in the 813 area free of charge. But we are still a small
business with a handful of people involved, and we pay our writers thanks to a few generous advertisers. But the fact is, those funds will not support us for a whole season as there are costs including travel, equipment, and other costs associated with running this business.
We are looking for advertising partners, but we also need to count on our
readers for support. If everyone who reads our reporting, who likes it, helps
fund it, we will be able to continue covering these athletes' endeavors.
Support 813Preps.com for as little as $1 by clicking "Donate" button below.
Chamberlain
Coach:
Jason Smith, 4th season
Record last season:
1-23
Notable Returners:
Luis Brito, Sr., RHP; David Cornelio, Jr., SS/3B; Brayden Moyer, Jr., 3B/RHP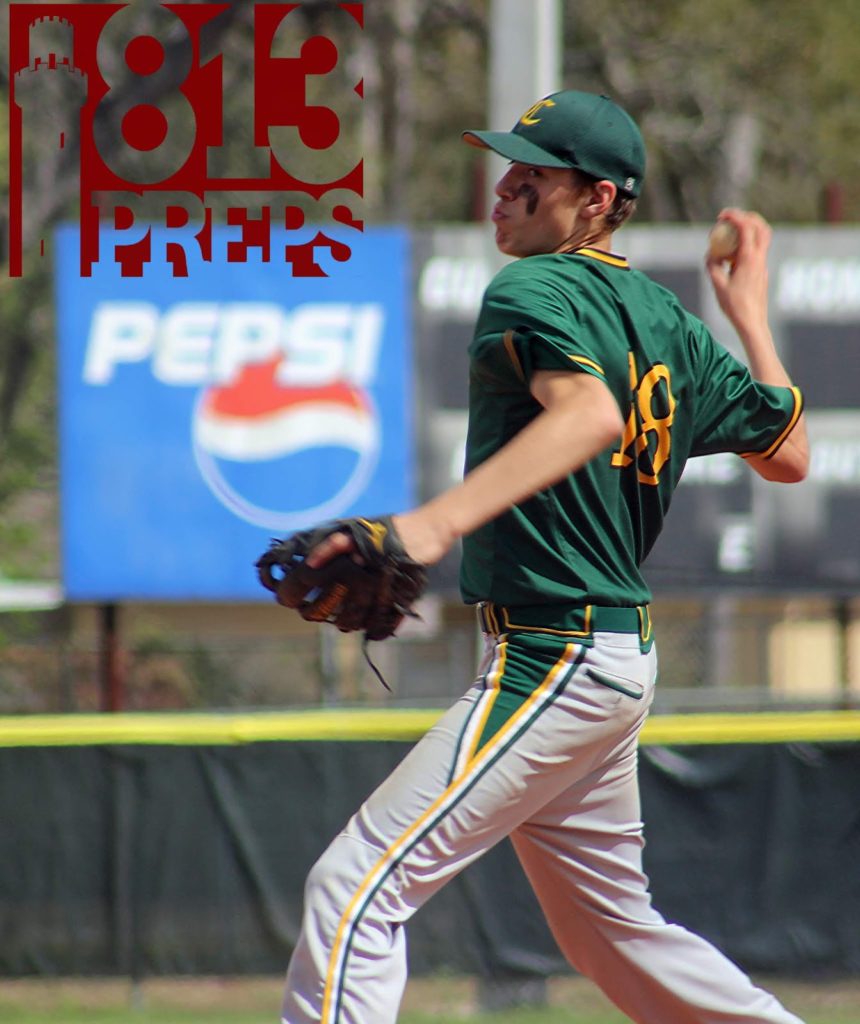 Chamberlain junior Brayden Moyer
Editorial take: Can will lead to wins – Chamberlain made some solid strides late in the year as its offense got things going a little better than its 1-23 record indicated. Since the end of last year, participation in off-field training, non-mandatory weight training, and dedication to school (a team 3.0 GPA) and community (Chamberlain Buddies Program) has been impressive to watch for Coach Smith. But the Chiefs have significant hurdles to overcome as graduation removes both the team's leading RBI man (Greg Santana) and innings eater (Sherman Johnson), transfers claimed two more starters, and an elbow injury will cost captain Brennan Hyde his junior season, after a great showing last fall and a solid performance in the East-West Undecided Underclassman Showcase in October. The very young Chamberlain squad has a big hill to climb with a very tough competition in district, a difficult Saladino Tourney pool (reigning 8A-6 district champ Bloomingdale, Class 8A state semifinalist Strawberry Crest, and host school Brandon) to contend with, and an out-of-district schedule that opens with six, 2018 region qualifying opponents in its first 10 games.
Outlook: The Chiefs will rely heavily on a handful of key returners, especially Brayden Moyer (.254, nine RBI last season) and junior David Cornelio, who returns as a captain for the second-straight season … Senior Luis Brito returns with the most experience on the mound, with both Moyer and Cornelio also seeing double-digit innings pitching last season … Sophomores OF Tim Cook and UT/RHP Adrian Vega will need to have an immediate impact on the team for success.
Gaither
Coach: Nelson North, 5th season
Record last season: 14-10, district runner-up
Notable Returners: Austin Grause, So., RHP; Jordan Williams, Sr., OF; Derek Crum, Sr., OF/LHP; Roy Peguero, Sr., RHP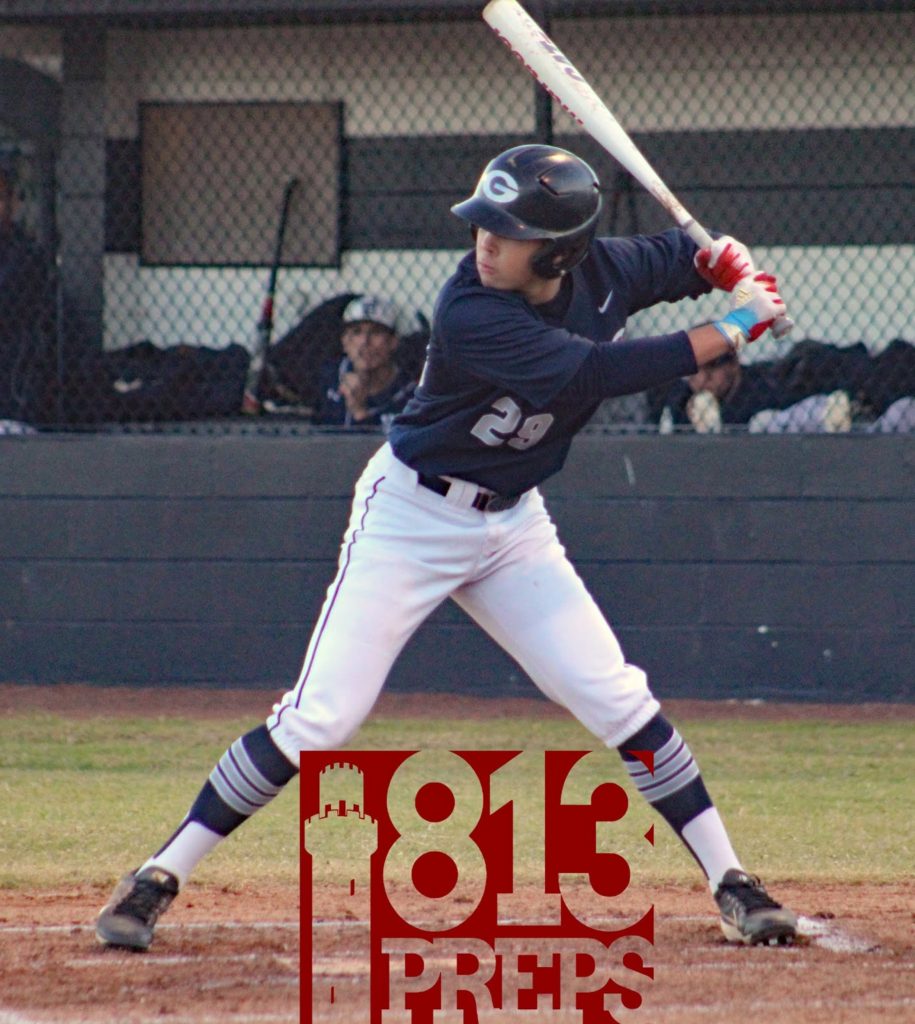 Gaither senior Derek Crum
Chance to breakout: An argument can be made that Derek Crum's 2018 season line of .345, with 18 RBI, 22 runs scored, three triples and 14 stolen bases was already a "breakout," but we think there is so much more ahead for the Wake Forest commit in his senior season. A few injuries kept Crum from having an impact on the mound the last two seasons, but Coach North said he expects a healthy Crum (whose fastball touched 91 mph this summer according to Perfect Game) to be a leader at the plate and on the hill for the Cowboys. Crum was also a member of the varsity squad from Gaither's state championship team in 2016, and will need to bring that to his leadership as the Cowboys are focused on a post-season run again this season.
Outlook: The Cowboys have a pretty complete team coming into the season with solid depth at pitching, highlighted by sophomore righty Austin Grause (3-4, 2.11 ERA), senior Roy Pegeuro (3-1 last season, Bethune-Cookman commit), and Crum; a strong offense keyed from the start by speedy Jordan Williams (.295, 24 runs, 11 RBI and 20 stolen bases), some pop from Crum, and high expectations from sophomores IF Willie Jackson and C Jacob Choe.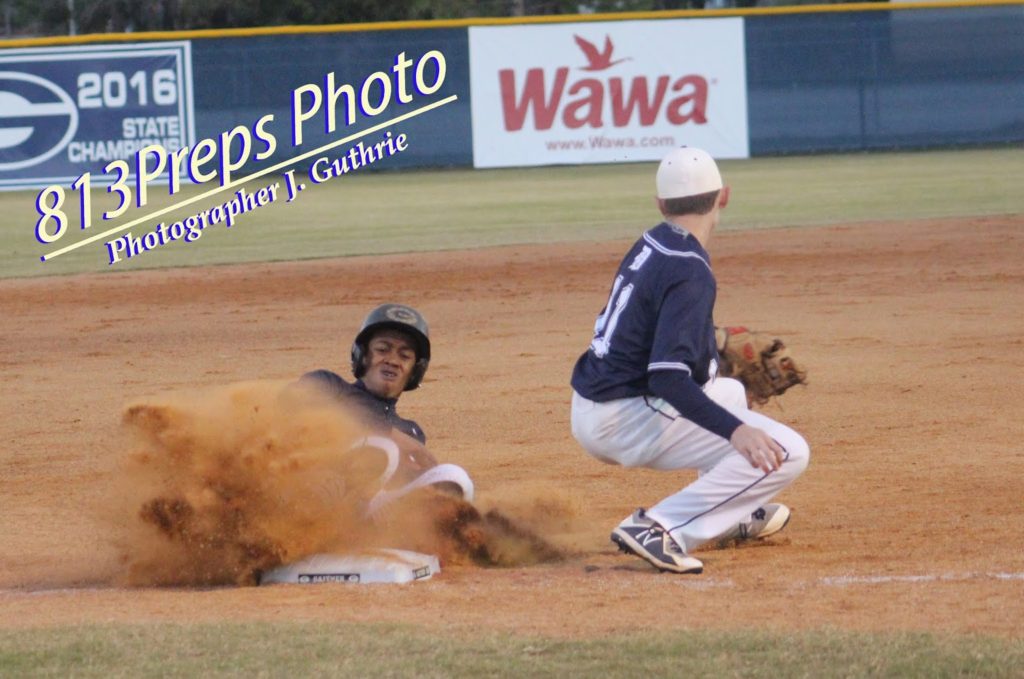 Gaither senior Jordan Williams
Hillsborough
Coach: Kenny White, 13th season
Record last season: 7-17
Notable Returners: Terence Doston, Sr., OF; Nathan Gustafson, Sr., RHP; Trevor Jones, Jr., LHP
Last year's reload = this year's strength: Last season's 7-17 record halted a run of six-straight winning seasons and three-straight region tournament berths, as a young Terriers squad had to replace eight starters from the 2017 season. So though Hillsborough remains a bit young, it only lost two players from last season and returns 10 or so players with significant playing time. Most significant in this mix is that all of last season's pitchers who reached the double-digit innings mark return to the mound.
Outlook: A pitching staff that includes returners lefty Trevor Jones (3-4 in 11 appearances last season), righty Nathan Gustafson (2-1, 2.82 ERA), and sophomores Skyler Netolicky and Brady Burgess has the Terriers coaches excited for the season … Two-sport standout and West Virginia signee Terence Doston leads the way on offense after posting a .361, 12 run, 12 RBI season last year, along returning senior 1B Carlos Romero (.350) … Hillsborough will welcome the addition of Chamberlain transfer Juan Jamie-Nunez (a St. Johns River CC commit) both defensively and at the plate.
King
Coach: Jim Macaluso, 44th season
Record last season: 17-9, Saladino Tournament Champions
Notable Returners: Jacob Cordell, Sr., C; Zan Rose, Jr., RHP; Jose Ramos, Sr., UTIL/RHP; Bryce Pennington, Sr., C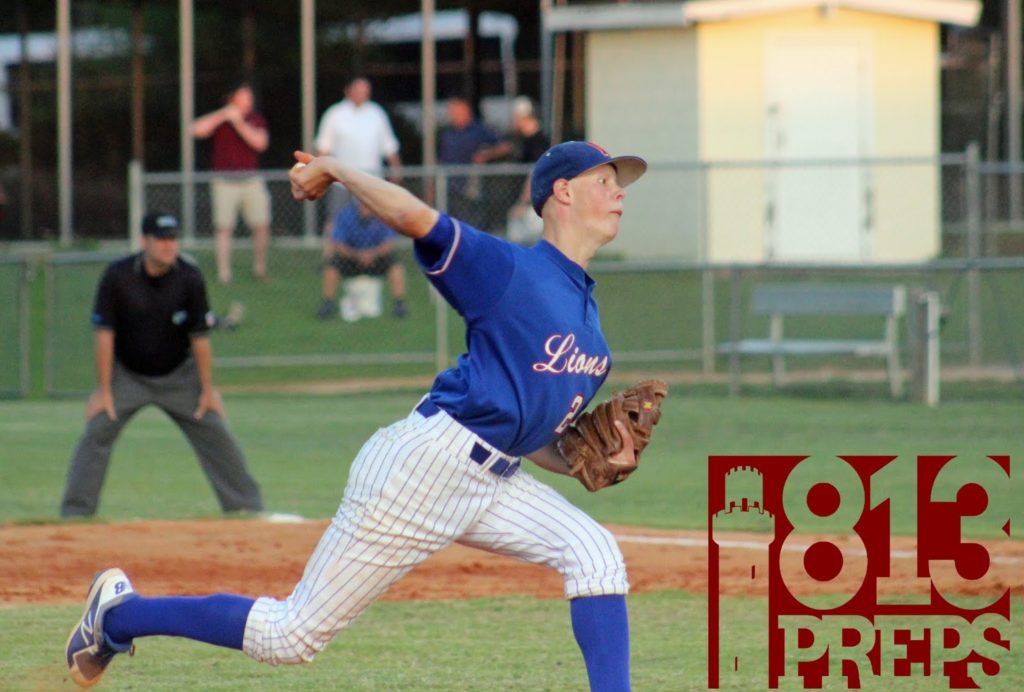 King junior Zan Rose
Editorial take: Can workhorse pitching be enough – Last season King returned a good crop of leaders from its 2017 final four team and they hardly missed a beat as the Lions roared out to an 11-1 start and claimed the Saladino Tournament title. But then the wheels fell off as injuries plagued on the mound and King finished with a thud going 6-8 the rest of the year and dropping its final four games of the season. This season may be a tougher climb as the Lions lost 5-of-its-top-6 offensive leaders to graduation and the status of the lone offensive leader returning from that group – senior Zarrian Brinson (.271, 12 runs, 12 RBI) – is in question as a preseason shoulder issue (cyst in the shoulder socket) has his status unknown. That means the biggest weight will fall on the two leaders on the mound – senior Jose Ramos (10 appearances, 3.04 ERA) and junior Zan Rose (3-2, 2.83 ERA in 13 appearances). Neither is a power pitcher like the Lions have had in its past in Brett Morales, or finesse master like 2017 All-813Preps pitcher of the year Brian Lee, but both are strike throwing workers who will give the defense opportunities to make plays, and need something to spark on offense. Also new to King this season, its top four starting pitchers will also see significant time as position players when not on the mound, including manning second, shortstop and third base.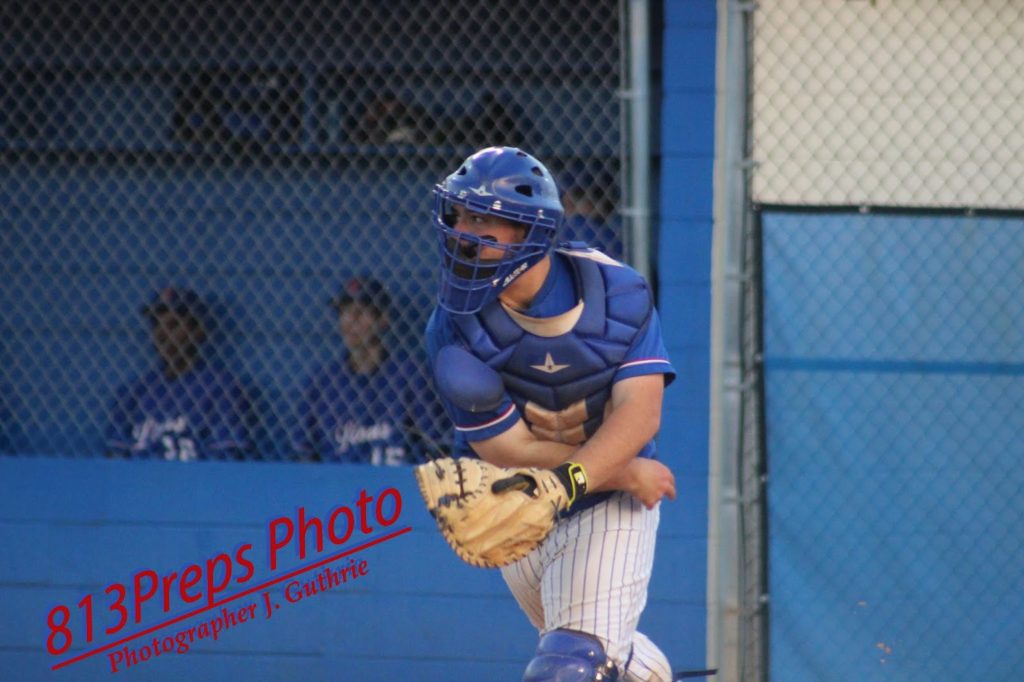 King senior Jacob Cordell
Outlook: Obviously, good news for the senior 1B Zarrian Brinson, would be a win for the offense, but there is a possibility surgery could force him to miss significant time, if not the whole season. One of King's strengths this year will be at catcher, where senior captains Jacob Cordell (11 RBI) and Bryce Pennington will see time behind the plate, as well as each playing some time at first base in Brinson's absence, and at designated hitter … A pair of sophomore transfers could develop nicely as RHP/SS Matt Johnson (from Plant) and LHP/OF Dontavious Johnson (from Chamberlain) will both be used on the mound this season and will need to develop quickly in a tough district battle.
Leto
Coach: John Pizzio, 13th season
Record last season: 24-5, region champions, state semifinalist
Notable Returners: Christian Suarez, Sr., RHP; Javy Hernandez, Sr., 3B; Tomas Lozano, Sr., OF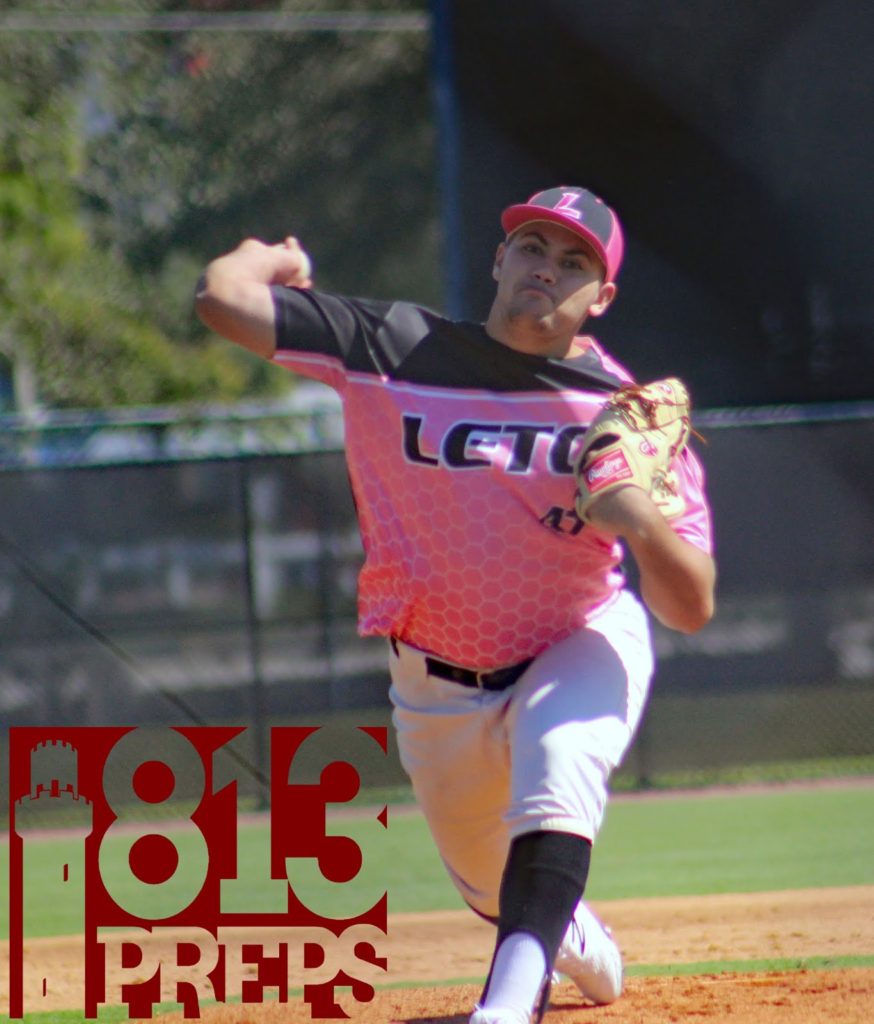 Leto senior Christian Suarez
Suarez must own the mound … again: Last season was a magical one for Leto, which was already in good shape after a 7-4 start to the season, before going on a 17-game winning streak that took the Falcons all the way to the Class 7A state semifinals. And throughout that run, junior righty Christian Suarez was about as steady a high school pitcher as you'll ever find, going 11-0, with a 0.95 ERA and 73 strikeouts with wins over each of the Falcons district opponents and two wins in region play. Now as a senior, with a big chunk of Leto's 2018 offensive production graduated it will fall on Suarez to try and produce at that level again – perhaps even exceed it. The Stetson signee has seen an uptick on his velocity and has seemed to flourish under the Leto coaching staff, especially pitching coach Nevin Griffith (former Chicago White Sox second round draft selection).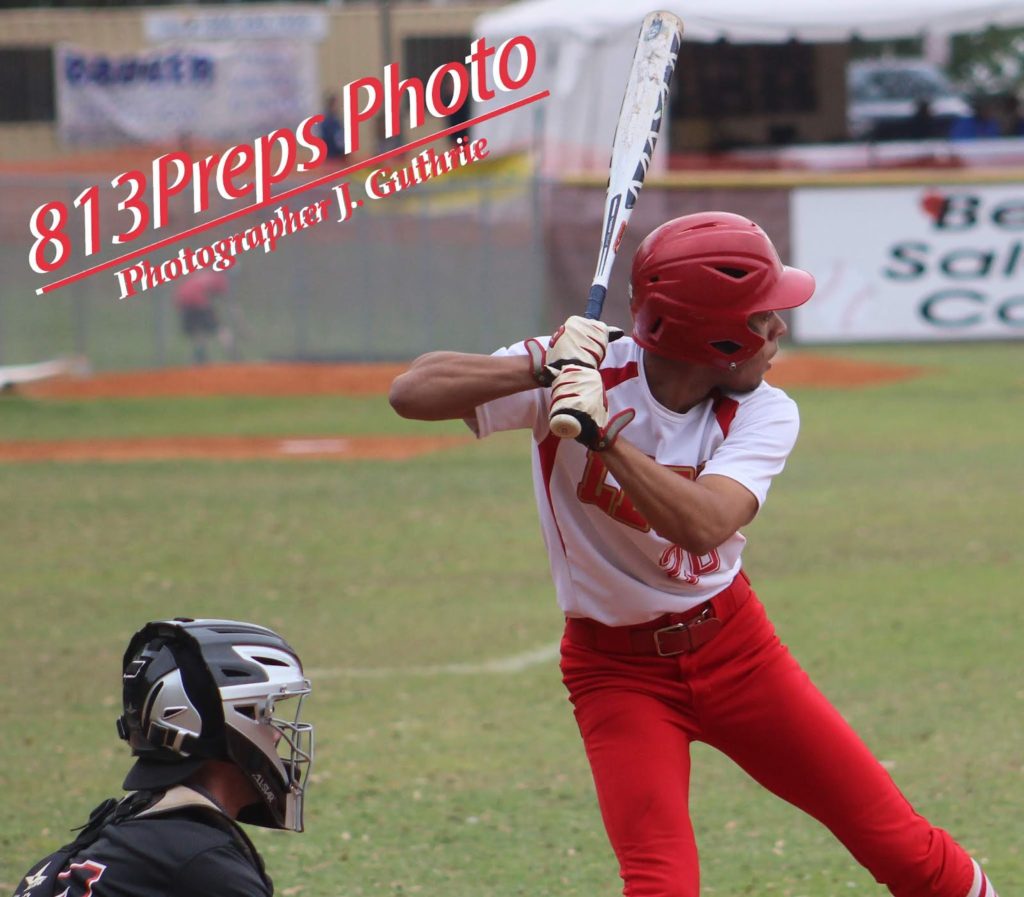 Leto senior Tomas Lozano
Outlook: Six slugging seniors have departed from last season's team and left some big shoes to fill at the plate and on defense, however Leto is far from leaderless out there with the return of senior 3B Javy Hernandez (.413, 30 RBI, 19 runs scored) in the infield, senior Tomas Lozano (17 runs scored and 12 stolen bases), and sophomore RJ Gutierrez (.262, 19 runs, 20 RBI) in the outfield … Senior lefty Franklyn Hernandez (4-0, 0.90 ERA) will also see a good bit of time on the mound.
Make sure you are keeping up with all our coverage by following us on social media throughout the season.