Reigning district champion: Strawberry Crest



Freedom
Coach: Tripp Merrell, 1st season
Record last season: 6-16
Notable Returners: Jeremy Carrick, Sr., SS; Kevin Kirby, Jr., 1B/RHP; Mitchell Leroy, Sr., RHP; Brylan West, Jr., 3B/RHP
Editorial take: Creating a culture key for program growth – There isn't really a nice way to put this, but the revolving door of head coaches that has taken place at Freedom since it opened has done nothing in helping the program build a baseball culture. Since opening in 2002, Freedom has employed 10 different coaches and save a pair of one-and-done region appearances in 2012 and 2017 where the Patriots advanced despite a losing record, it has been tough to see year-to-year growth. So, the challenge is on for first-time head coach Tripp Merrell to change that. A Hillsborough County native, a Sickles High graduate in 2010, and a former Webber International University player, Merrell is very familiar with the level of competition in this community. Merrell's father, Bud Merrell will also be helping out as an assistant and is a longtime area coach, who was once the head coach at Chamberlain. Helping him start out on the right foot, Freedom has a deep senior class of 12 players and Merrell said he hopes to see improvement in the win column right away.
Outlook: Senior righty Mitchell Leroy will be pivotal in those hopes for success as he is a tall, hard-thrower who can reach 90 mph on his fastball and is committed to Hillsborough Community College. Last season, Leroy took some tough losses last season finishing the season 2-4, while getting two-or-less runs of support in nine of his 11 appearances and ending the season with 59 strikeouts and a 2.88 ERA … Key returners on offense include four-year starter Jeremy Carrick (16 runs scored, six RBI last season, D-III Norwich University commit) and Brylan West (six RBI, one home run) who need to produce to support Leroy and an otherwise untested pitching staff.
————————————————
If you like what we do, we need support to maintain the level of our content. Unlike many independent news organizations, we haven't put
up a subscription paywall – and we hope to be able to keep bringing you the great stories
from high school athletics in the 813 area free of charge. But we are still a small
business with a handful of people involved, and we pay our writers thanks to a few generous advertisers. But the fact is, those funds will not support us for a whole season as there are costs including travel, equipment, and other costs associated with running this business.
We are looking for advertising partners, but we also need to count on our
readers for support. If everyone who reads our reporting, who likes it, helps
fund it, we will be able to continue covering these athletes' endeavors.
Support 813Preps.com for as little as $1 by clicking "Donate" button below.
Strawberry Crest
Coach:
Eric Beattie, 10th season
Record last season:
19-9, region champion, state semifinalist
Notable Returners:
Ryan Dell, Sr., SS; Tanner Kelley, Sr., 1B/LHP; Brent May, Jr., RHP; Joey Parrillo, Sr., C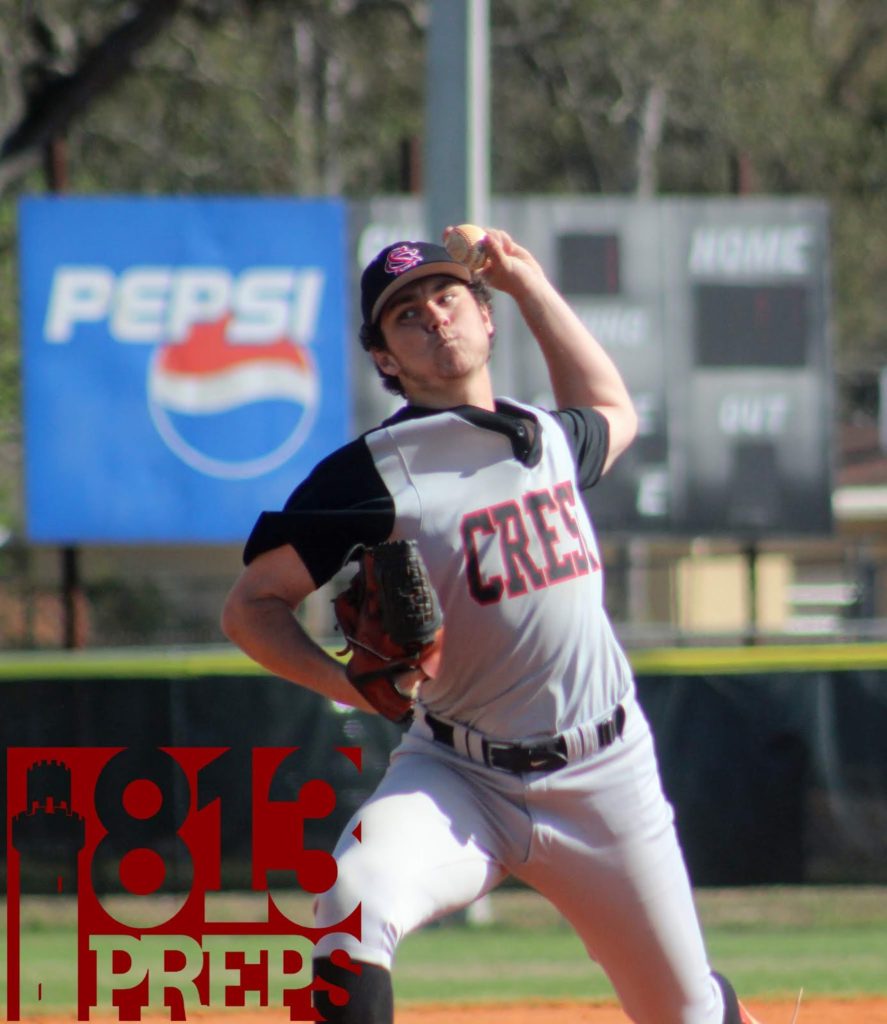 Chargers senior Alex Marshall
Veteran key on the mound: Though it would be tough to label him as an unproven varsity player after more than 80 innings pitched in his career, senior Alex Marshall was a bit of a forgotten man last season making just four starts and posting a 3-0 record, with a 0.64 ERA in 2018. Don't expect that to continue this season as the lefty and South Florida State College commit has made steady improvements heading into the season. Look for Marshall to be a big contributor on the bump for the Chargers in 2019.
Outlook: A deep junior class led Crest to its first district title a season ago, and as seniors those Chargers are looking to make another statement this season. Backstop Joey Parrillo had a great season last year, leading the team in hitting with a .369 avg., 25 runs scored and 14 stolen bases, with Ryan Dell hitting .322, with 15 runs scored, and Jacob Heath hitting six doubles and scoring 14 times … Senior Benny Pues will be a big bat in the heart of the order after driving in 14 last season, and Tanner Kelley will provide nice support at the plate and on the mound … The returning pitching staff is also in fine shape, despite the loss of current HCC closer Damien Torres who was a force in relief last season, as junior RHP Brent May (3-5, 2.21 ERA), senior Kade Manderscheid (4-2, 1.98 ERA), Marshall and Kelly and Heath all return with double-digit inning totals from last season.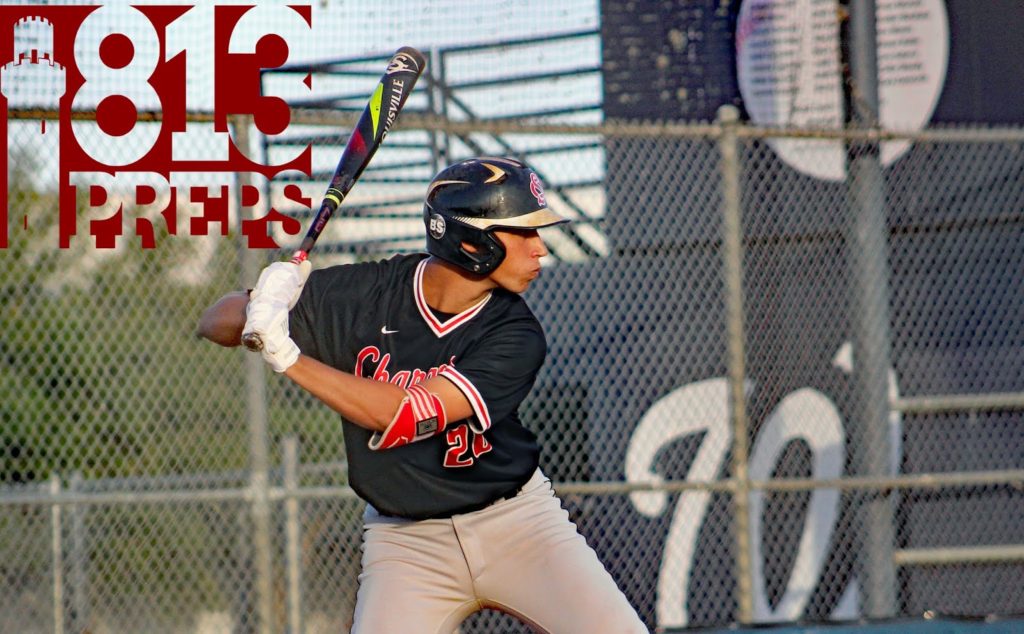 Strawberry Crest senior Benny Pues
Wharton
Coach: Scott Hoffman, 16th season
Record last season: 17-9, region semifinalist
Notable Returners: Brian Baughman, Sr., LHP/OF; Mike Hudson, Sr., 1B; Grady Maguire, Jr., SS/Util; Dylan McDonald, So., IF/OF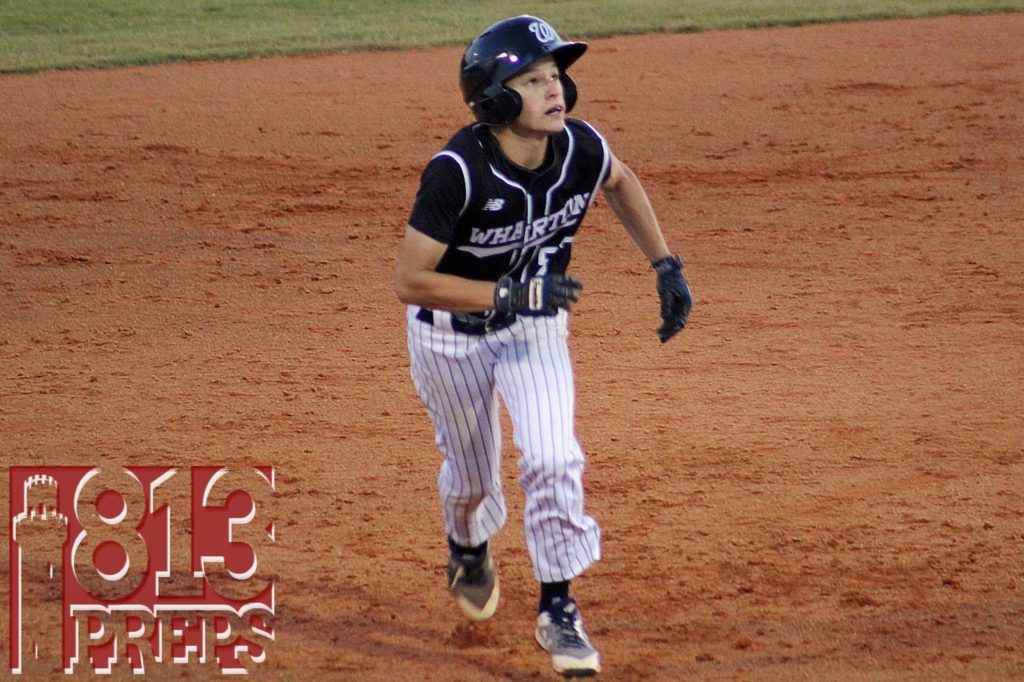 Wharton sophomore Dylan McDonald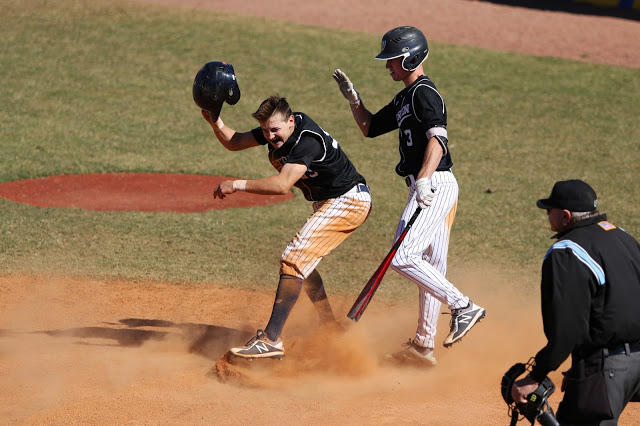 Wildcats sophomore Zach Ehrhard (Photo by Will Turner)
Chance to breakout: Seven freshman saw starting time for the Wildcats last season and return – still young, but experienced – this year. But 2B Zach Ehrhard and IF/OF Dylan McDonald did not look overwhelmed in the slightest. Following his brother (2017 Wade Boggs & Saladino Award Winner, and current Univ. of Tampa standout sophomore) Drew Ehrhard to the team last season, Zach Ehrhard took off at the plate finishing his freshman season hitting .371, with 20 runs scored, and 10 RBI, while McDonald hit .303, with 14 RBI and four doubles on the year. If those two continue to progress on those numbers, the Wildcats future is very bright.
Outlook: Continuing on offense, the Wildcats also return some upperclassmen leadership in senior first baseman Mike Hudson (.312, 15 RBI, 12 runs), junior Grady Maguire (.357, 20 runs, 12 RBI), and senior Brian Baughman (.398, 26 runs, eight stolen bases), who also is outstanding in the outfield … However, it is on the mound where Baughman may bring his biggest advantage to the team. Named to the All-813Preps First Team last season, Baughman went 6-3 on the mound with a 1.94 ERA and 60 strikeouts … In total, Wharton has six left-handed pitchers in the bullpen, including senior Zach Allen (4-2, 2.16 ERA) and Alonso High transfer Michael Rivera, while sophomore right Jackson Perkins has impressed in preseason inter-squad games and freshman Ryan Fry, who is an early commit to Miami, will also look to help out on the mound.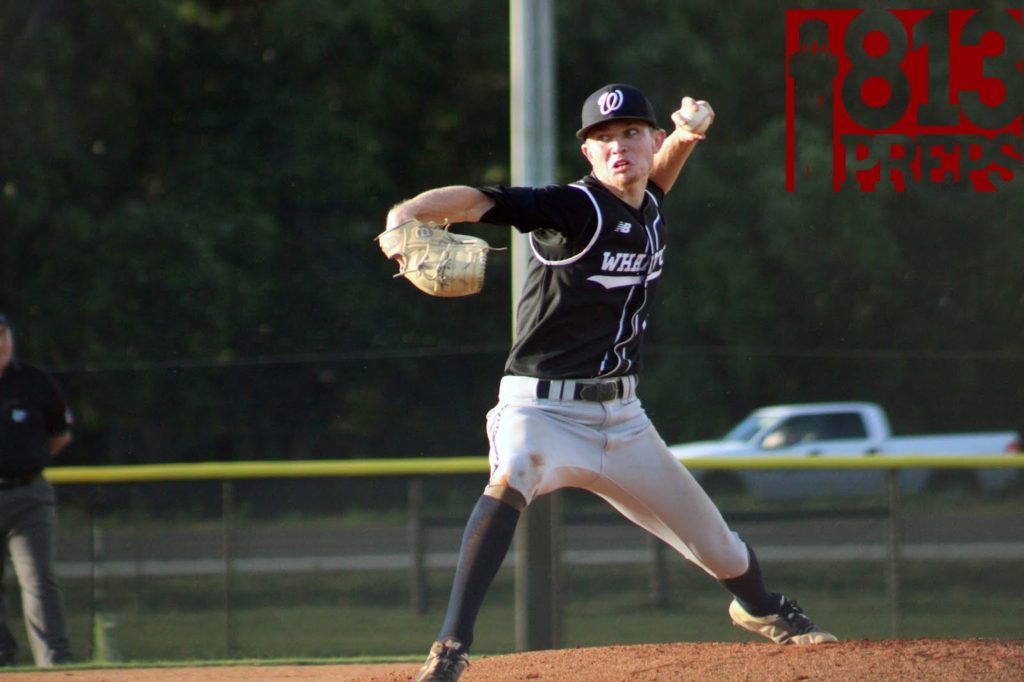 Wharton senior LHP/OF Brian Baughman
Wiregrass Ranch
Coach: Marshall McDougall, 5th season
Record last season: 8-12
Notable Returners: Nate Crissey, Sr., RHP/IF; Paul Sustachek Sr., UT; Bobby Boser So., SS
Outlook: Coach McDougal lists the 5-foot-11, 185-pound Bobby Boser as his player to watch. The right-handed shortstop, got some good experience as a freshman last season with the varsity team, and McDougal said he expects him to have an impact this season … Lefty sophomores Kyle Scrape and Chase Wills look to make an impact on the mound, along with returning senior Nathan Crissey … senior C/UT Andres Medina, who is committed to Eastern Nazarene College and senior Paul Sustachek also return.
Check out our district breakdowns so far (click on district)


– – Class 3A-District 4 – –
– – Class 8A-District 5 – –


– – Class 7A-District 8 – –