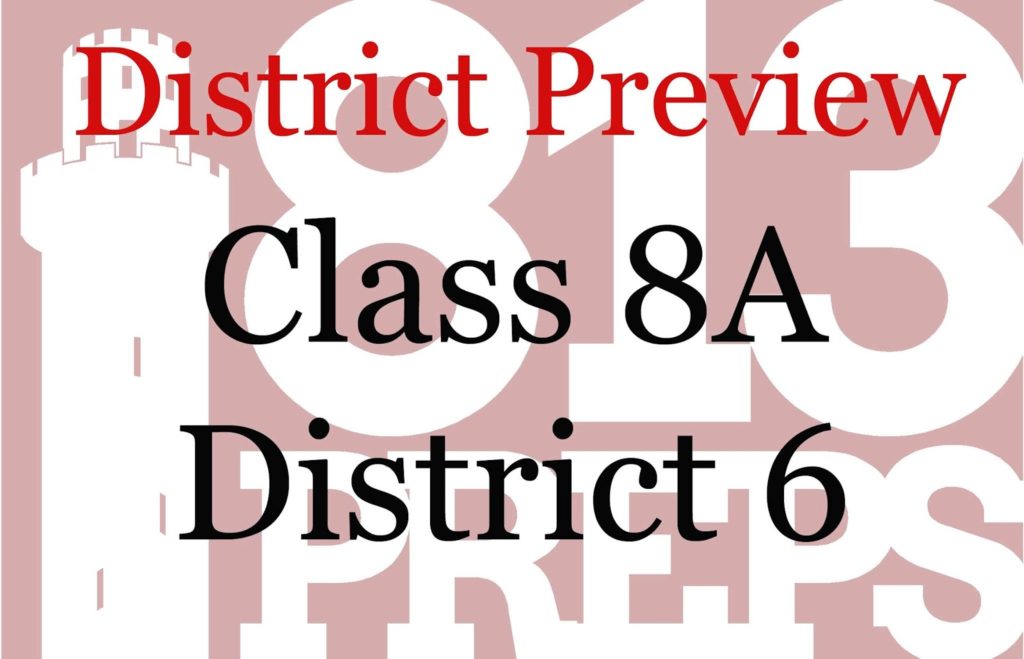 Teams: Bloomingdale, Durant, East Bay, Plant City, Riverview
Reigning district champion: Bloomingdale
District Thought: Welcome to the grab-your-popcorn competition that's ahead of us here in 8A-6. Big bats? We got 'em. Deep pitching staffs? Yep. Rock-solid defense? Check. District favorite? Hmm…
Bloomingdale
Coach: Kris Wilken, 12th season
Record last season: 18-8
Notable Returners: Myles Caba, Sr., LHP; Dominic Gonnella, Jr., OF; Bryce Hazzard, Sr., OF; Jackson Hobbs, Jr., 1B
Editor's Take Question: Can surprising Saladino return to form on the mound – The offense of Nico Saladino in his first year at Bloomingdale last season wasn't too big of a surprise after he had an impressive sophomore season at the plate while attending Brandon. He finished the 2018 season hitting .303, with 13 runs and 13 RBI. But when the Bulls found the wear-and-tear of the season taking its toll on its pitching staff, this was where Saladino really stepped up filling in admirably, posting a 4-0 record, with a 0.27 ERA, two complete-game shutouts and 22 strikeouts in 25 innings of work. However, Saladino's time on the mound this season will have to wait a few weeks as he continues to recover from surgery after breaking his (non-throwing side) collarbone in January. Wilken said Saladino's ability to return to form on the mound could prove pivotal for the Bulls late-season push.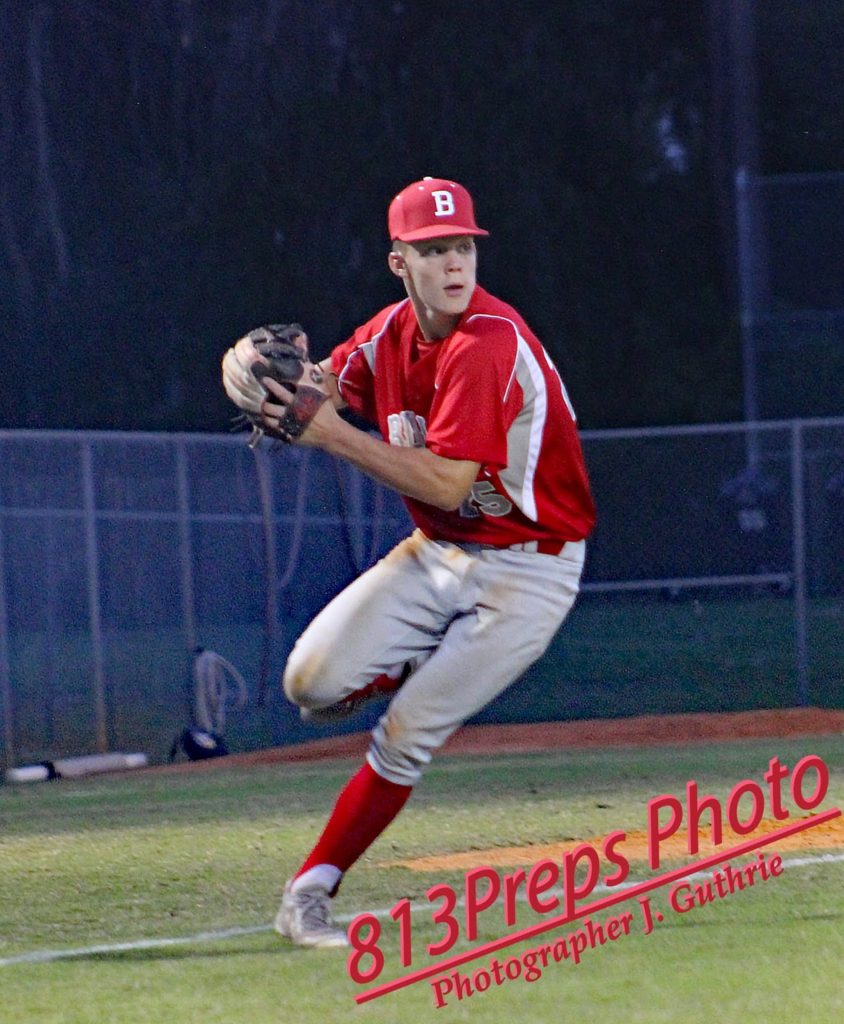 Bloomingdale junior Brock Wilken
Outlook: Bloomingdale's offense is going to make for a fitful, pregame night's sleep for opposing pitchers again this season – the Bulls can flat out swing it. Bloomingdale return six offensive players from its district championship team, which tallied at least 15 hits each and chipped in double-digit run or RBI totals. Seniors Bryce Hazzard (.295, 15 runs, 13 RBI, Nova Southeastern commit) and Kyle Merkle (10 runs, 10 RBI, Presbyterian College commit), juniors Jackson Hobbs (.321, 12 RBI), Dom Gonnella (.387, 21 runs, 14 RBI, also a standout for the Bulls football team) and Brock Wilken (.278, 10 RBI, Wake Forest commit) lead a deep returning offense from last season's district champions … On the mound, seniors Myles Caba (6-4, 2.24 ERA, 67 strikeouts, So. Fla. State College commit) and Justin McCallister (3-0, 0.82 ERA, Swarthmore College commit) return to lead the staff, and if Saladino can return to the form he showed last season the Bulls could have a front-end, back-end combination that'll be tough to beat.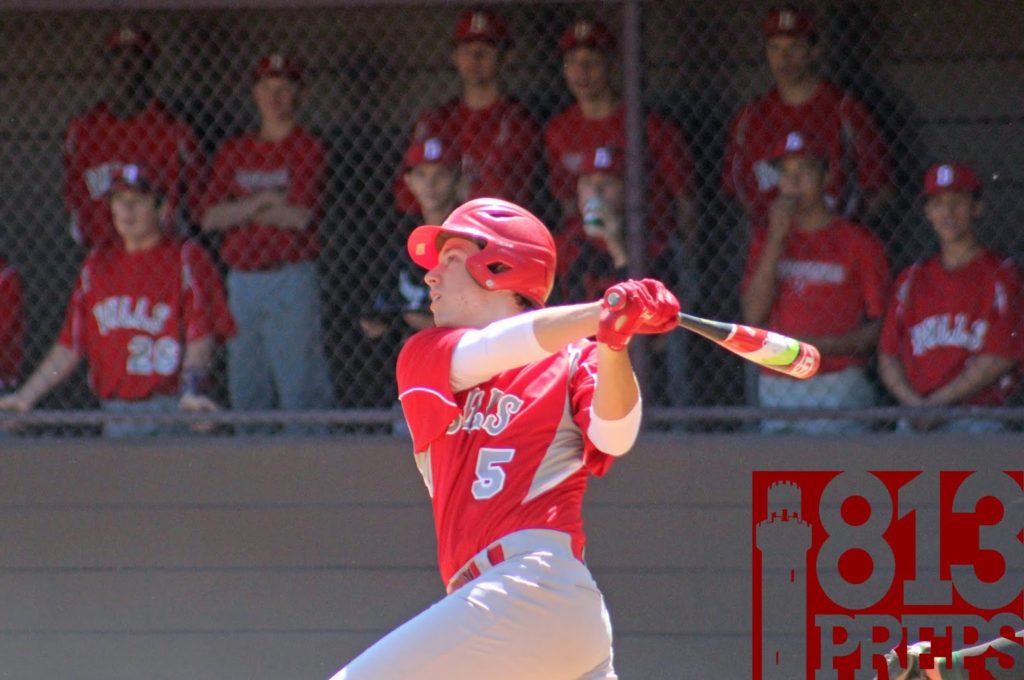 Bloomingdale junior Jackson Hobbs
————————————————
Unlike many independent news organizations, we haven't put
up a subscription paywall – and we hope to be able to keep bringing you the great stories
from high school athletics in the 813 area free of charge. But we are still a small
business with a handful of paid employees, so there are costs including travel, equipment, and other costs associated with running this business.
We are looking for advertising partners, but we also need to count on our
readers for support. If everyone who reads our reporting, who likes it, helps
fund it, we will be able to continue covering these athletes' endeavors.
Support 813Preps.com for as little as $1 by clicking "Donate" button below.
Durant
Coach: Butch Valdes, 11th season
Record last season: 11-12
Notable Returners: Nathan Hood, Sr., RHP; Frankie Martinez, Sr., RHP; Brendan Queen, Sr., CF; Gage Young, Sr., C/1B; Arpod Zsold, Sr., RF
Can unproven pitching step up quickly: All five of Durant's pitchers to reach double-digit innings last season were seniors, so the returning hurlers for the Cougars are a little green at the high school level. And you'd love to ease the staff in, but that is unlikely as within the first six games of the Cougars' season they go up against hard-hitting lineups Newsome, Plant City, Riverview and Sickles. Returning to the mound for Durant will be senior righties Frankie Martinez and Nathan Hood with experience in hand, but some heavy-lifting will likely fall on the shoulders of sophomore RHP Sean Hermann (a USF commit) for the Cougars to compete in this district.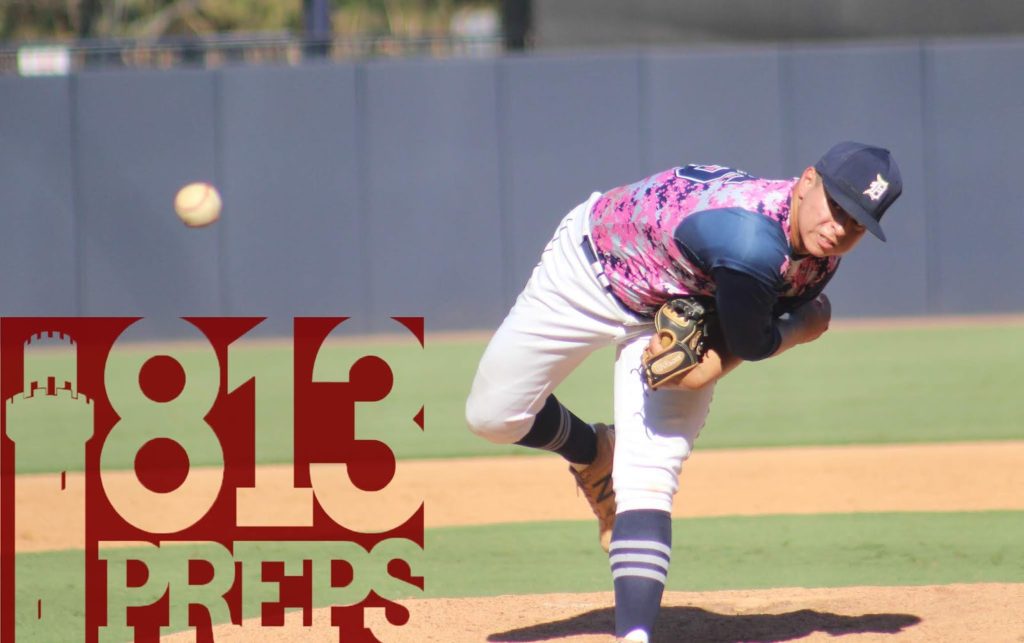 Durant RHP Frankie Martinez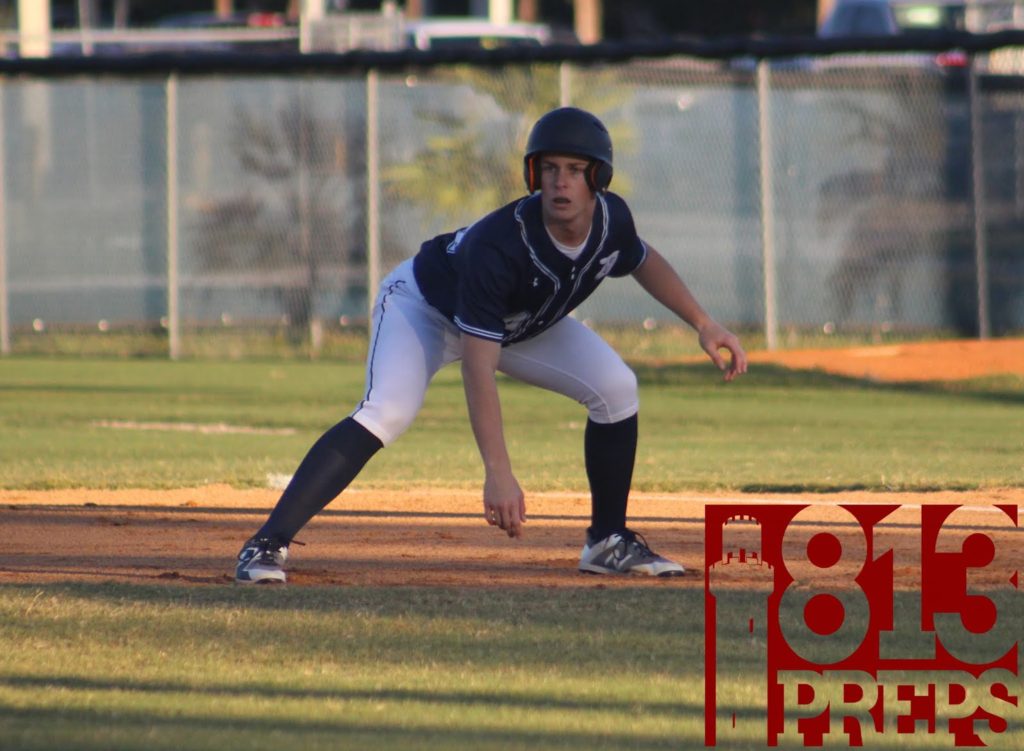 Durant senior Gage Young
Outlook: The 11-12 record last season is a poor litmus test of this team, which on top of playing in a bruiser of a district also played seven non-district games against region qualifiers in 2018. That won't change this year and that's likely just fine for a team that seems to enjoy making others pay for overlooking it. Durant has a good group of veteran returners on offense including seniors Arpod Zsold (.356, 11 runs, eight RBI), Brendan Queen (.281, nine runs scored, 13 stolen bases), and Ahmad Fitts (.283, nine runs scored), and key returners on defense like SS Luke Cadwallader and C Gage Young … And the future seems bright as longtime head coach Butch Valdes said last fall he hasn't been this excited about a group of underclassmen in a long time. The Cougars have nine sophomores and one freshman listed on its varsity roster this season.
East Bay
Coach: Quinton Powell, 1st season
Record last season: 4-19
Notable Returners: Tristan Garcia, Sr., SS
Outlook: East Bay enters the season with its fourth head coach in five seasons, coming off of a four-win season in 2018. The Indians haven't reached the postseason since dropping a region quarterfinal game in 2001, which was also when it last had a winning record. New head coach Quinton Powell knows the job he has in front of him and said his expectations are "high in coming in (and) changing the culture and getting our team in a place were winning is something that happens consistently at East Bay." … Helping that happen will be a handful of key returners and a lot of fresh faces, led by returning starting shortstop, senior Tristan Garcia. Garcia, a NAIA Division, Montreat College signee, is someone Powell said has been a leader by example, who is "hard-working" and has an "unteachable knowledge of the game." … Juniors Zack Berry and Gian Ortiz, and sophomore Dan Wright will factor in on the mound for the Indians this season.
Plant City
Coach: Mike Fryrear, 7th season
Record last season: 16-7
Notable Returners: Hunter Emerine, Sr., C; Grant Gifford, Sr., RHP; Parker Messick, Sr., LHP
Cade Shissler, Sr., SS
Editor's take: Expectations are great, talk is cheap, success is needed – Hey Raiders, how you doin'? Good? Good. It's tough love time. It's time to do something. I get enough flak on social media and in person from your faithful about poll rankings, or post-season honors consideration, I think you guys must be hauling it in on all those trains that rumble through Plant City. And although I appreciate you reading, my answer is always the same – Do something. Seven winning seasons in nine years, three region appearances, no district titles. In fact, no district titles since the school opened its current location and switched from being called the Planters, and just two region first round wins in those 46 years. Changing this will be no easy task, especially in this district. The Fall Steinbrenner Wood Bat Classic championship is an awesome lead-in to the season. Heck, it was a pretty good lead-in for the previous three winners 2016 state champs Steinbrenner, 2017 state runner-up King, and 2018 state semifinalist Leto. You have talent all over the field. An ace pitcher, great defense, and impressive offense. Do. Something. Good chat. Feel free to "@" me. See you soon.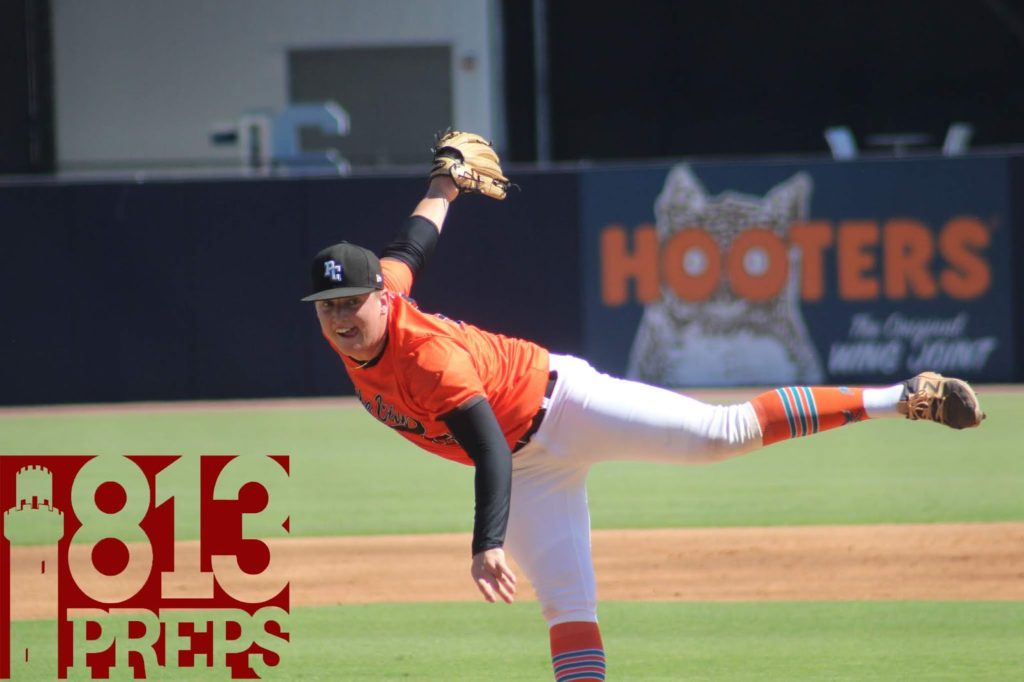 Plant City senior LHP Parker Messick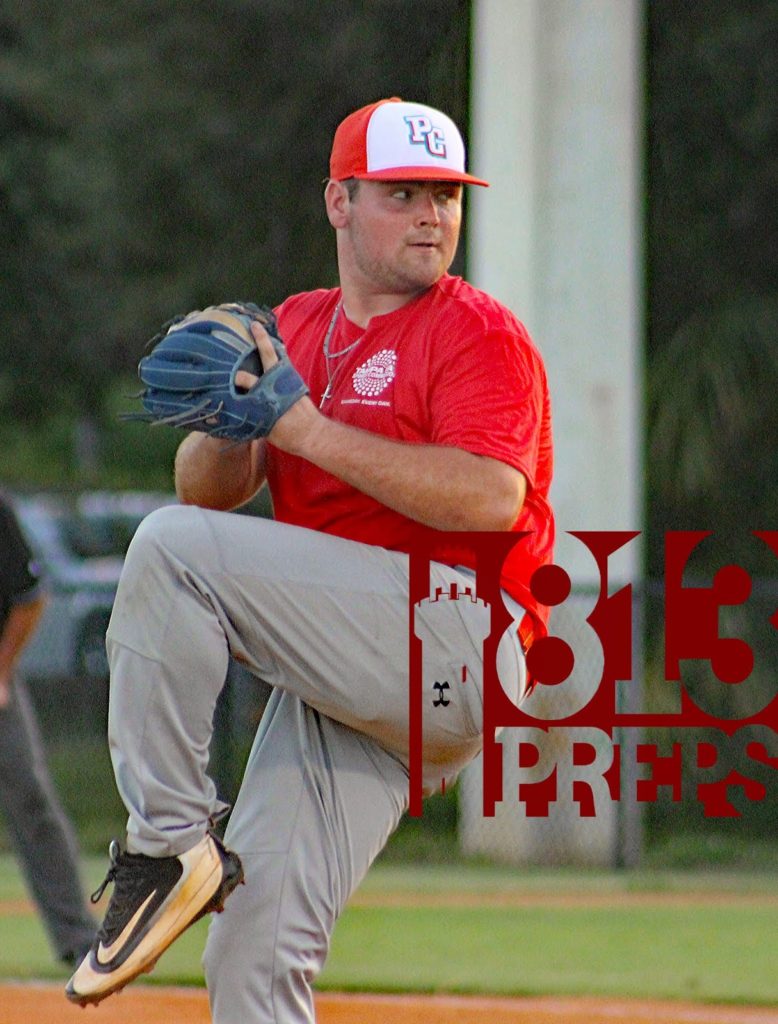 Raiders junior Tyler Dowdy
Outlook: Senior LHP/1B Parker Messick seems like a great place to start. The Florida State commit and team co-captain went 6-3, with a 1.58 ERA and 45 strikeout returns to lead the pitching staff, and also swings a solid stick hitting .298, with four homers, 17 RBI and 14 runs scored last season. Joining Messick as co-captain is Stetson signee and last season's hitting leader, Cade Shissler who batted .321, with 24 runs scored and 10 stolen bases … Catcher Hunter Emerine (13 RBI), 2B Jarod Wingo (11 runs) and OF Casey Mawhinney (12 RBI) are all solid returning pieces … Intangibles galore surround Plant City two-sport standout DeMario Williams, who earned all-state honors as a wide reciever last fall. His speed is stupid and was just hinted at with 18 runs scored and 14 stolen bases last season. An expanded role for Williams could be very fun to watch … RHP's Grant Gifford and Tyler Dowdy will be key in roles on the mound this season … And the arrival of junior transfer Cole Cothren is intriguing after he posted a .383 average, 28 RBI and 22 runs for Lakeland Christian last season.
Riverview
Coach: Mike Migliarese, 1st season
Record last season: 15-11
Notable Returners: Dillon Besnier, Sr., OF; Ty Correa, Sr., RHP/OF; Adam Hunt, Sr., 3B; Mac Jorgensen, Jr., SS
Editorial Take: Coaching staff fluid, pitching staff rock solid – A bit of a shakeup came just before the preseason for Riverview as longtime head coach Bill Leiby stepped down after 15 years at the school, announcing that a core group of decades-committed assistants would serve as a bit of a committee in his stead this season. But Leiby wasn't walking out on a sinking ship. Instead, the Sharks are a team to watch after a district title finish in 2017 and a runner-up finish last season, and though they have a bunch of solid bats, we are excited about what Riverview will put out on the bump. Key returners 6-foot-8, lefty Ty Correa (4-4, 3.63 ERA, Saint Leo commit) and Andrew Martinez (3-2, 2.12 ERA) come back with at least 35 innings of work from last season and plan to factor in for the Sharks, and junior lefty Tyler Misla looks to build on a 1-1 record, with a 1.54 ERA and 22 strikeouts in 13 innings of work last season. Also, the additions on the mound for this season will be big as Ben Migliarese, who was a solid hitter for the Sharks last year but was unable to pitch after having Tommy John surgery, returns with a solid left-handed arm that tops out in the high 80s, and transfer RHP Brendan Herrick, a Jacksonville University commit comes over from Lennard with a live arm as well.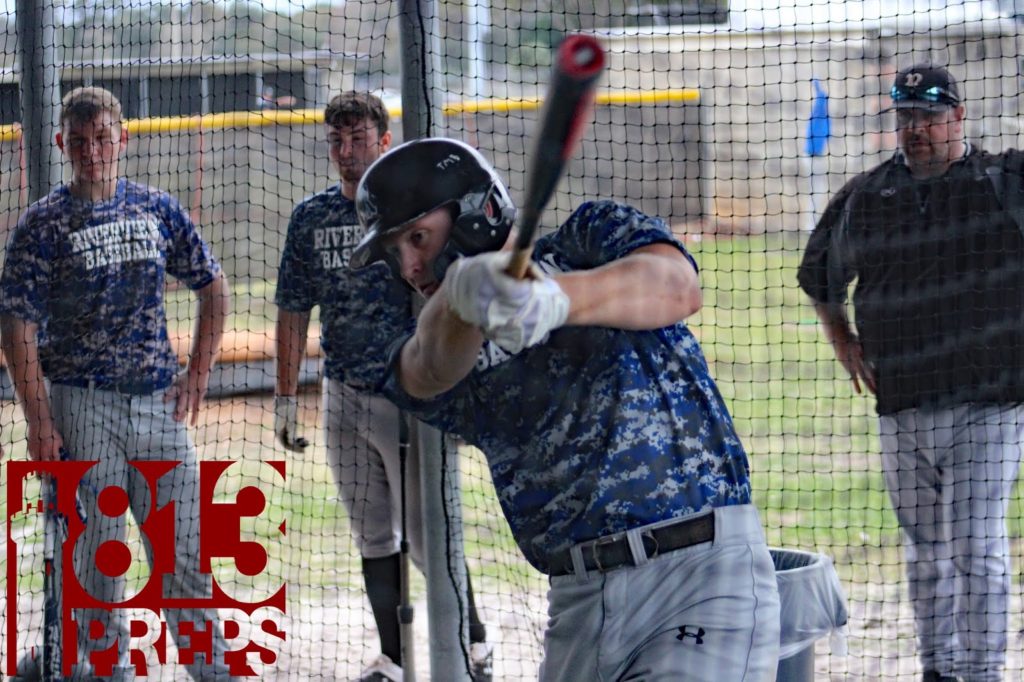 Riverview senior OF Dillon Besnier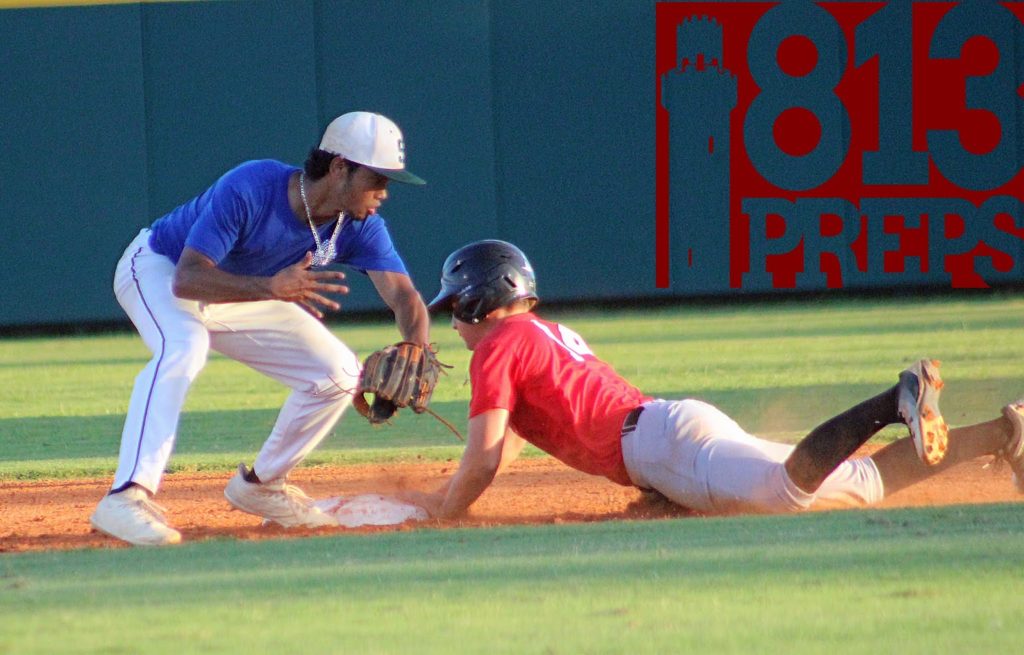 Riverview junior MacAllister Jorgensen slides into second
Outlook: We touched on the pitching, so now let's focus on the hitting and defense. Riverview returns its top five hitters from last season in what was supposed to be a "rebuilding year," and if the building is standing strong it's keystone is last season's All-813Preps first team selection Dillon Besnier. The South Florida commit hit .429 last season, with six home runs, 27 RBI and 23 runs scored, with a rifle of an outfield arm to boot. The Sharks also bring back University of Tampa commit 3B/1B Adam Hunt after his .314, 10 RBI season, SS MacAllister Jorgensen (.267, 18 runs, 10 RBI), Migliarese (.328, 14 runs), and C Cameron Vigh (.279, 11 RBI) to fill out the rest of the lineup.
Check out our district breakdowns so far (click on district)


– – Class 3A-District 4 – –
– – Class 7A-District 8 – –


– – Class 8A-District 4 – –