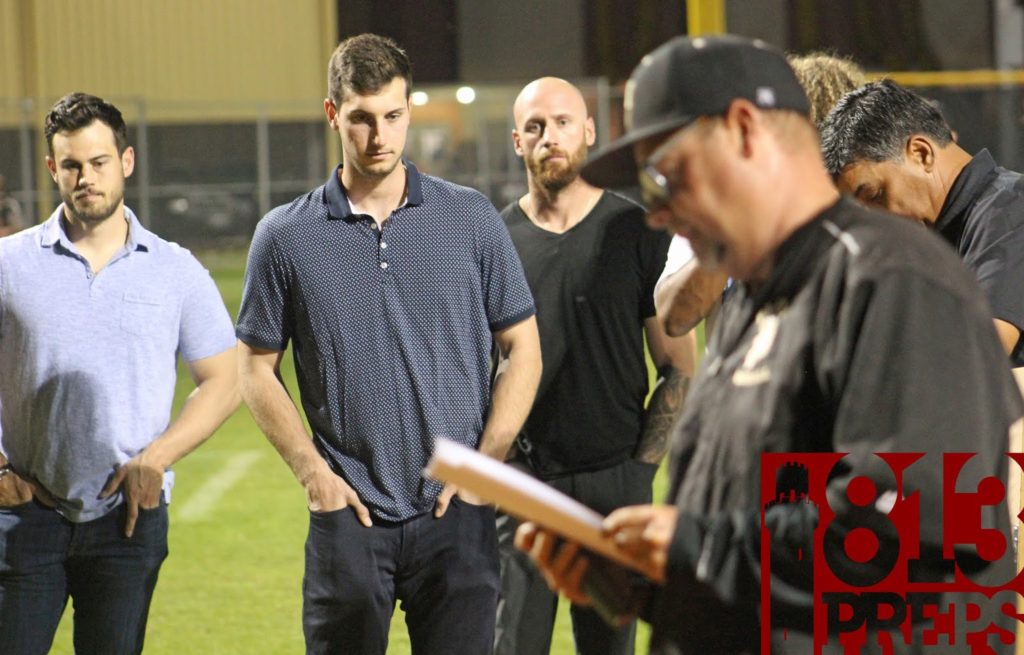 Houston Astros OF Kyle Tucker (dark blue shirt) stands between his brother Preston (left) and Corey Brown, as Plant baseball coach Dennis Braun highlights his high school career at a ceremony retiring Tucker's No. 30 jersey.
By Jarrett Guthrie
Editor
TAMPA – Plant baseball coach Dennis Braun would have liked to recognize Tuesday night's alumni honoree prior to a regular season game, but Kyle Tucker has places to be – namely Spring Training with the Houston Astros.
The ceremony honoring Tucker and retiring the Plant graduate and 2015 Astros first round selection's No. 30 was pushed up to Tuesday, prior to the Panthers preseason opener against Sarasota, so the school could get it in before Tucker had to report to Spring Training with the Astros in West Palm Beach.
————————————————
Unlike many independent news organizations, we haven't put
up a subscription paywall – and we hope to be able to keep bringing you the great stories
from high school athletics in the 813 area free of charge. But we are still a small
business with a handful of paid employees, so there are costs including travel, equipment, and other costs associated with running this business.
We are looking for advertising partners, but we also need to count on our
readers for support. If everyone who reads our reporting, who likes it, helps
fund it, we will be able to continue covering these athletes' endeavors.
Support 813Preps.com for as little as $1 by clicking "Donate" button below.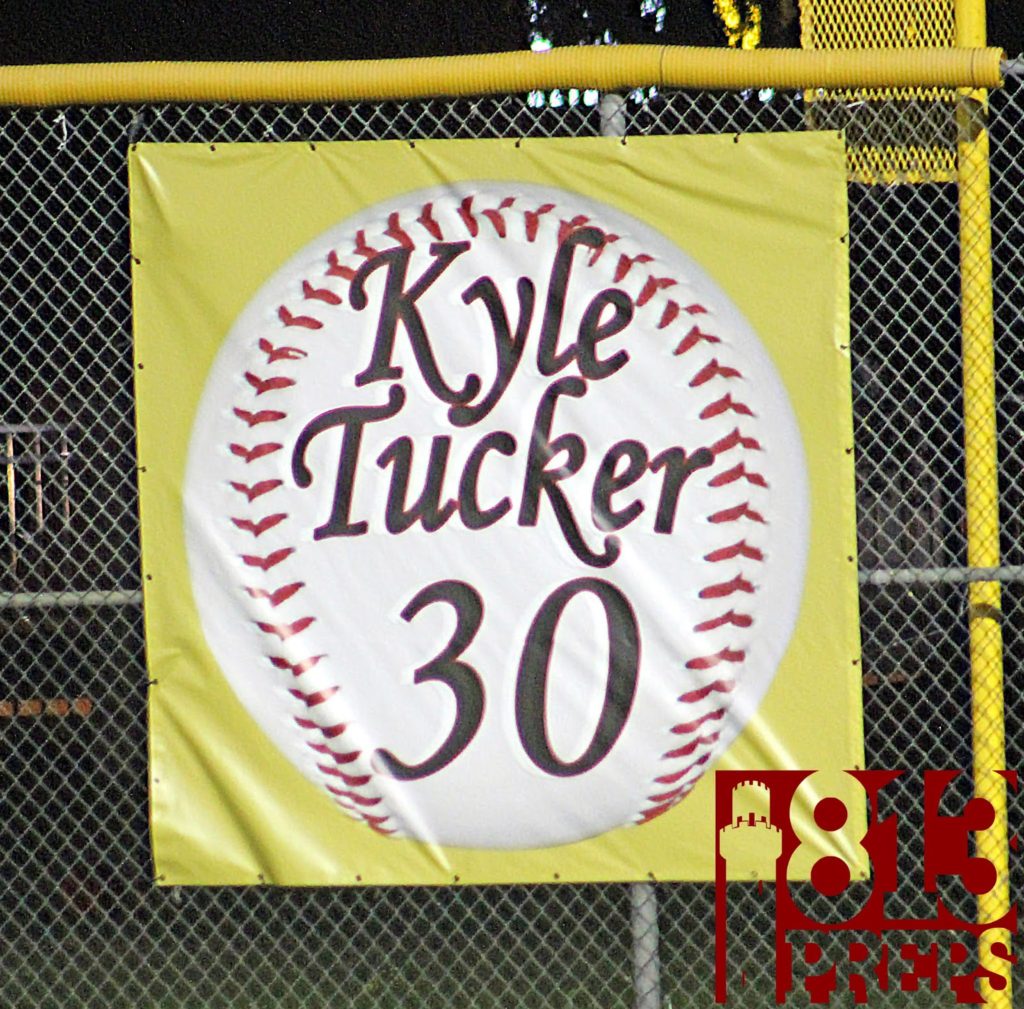 A good-sized crowd welcomed home the former Plant slugger, who in his senior season was named the Gatorade Florida Baseball Player of the Year, the Tony Saladino Award winner, and the All-County Player of the Year by both the Tampa Tribune and St. Pete Times. Tucker finished his career at Plant with a .435 average, 105 runs scored, 94 RBI, 28 home runs, 26 doubles and 24 stolen bases.
In 2018, Tucker put up great numbers for Houston's AAA team in Fresno, CA hitting .322, with 24 home runs and 24 RBI, before making his MLB debut on July 7, and playing in 28 games with the Astros.
At Plant's Wade Boggs Field on Tuesday, Tucker stood flanked fellow Plant alums – brother Preston Tucker (MLB player and current free agent), current Baltimore Orioles pitcher Mychal Givens, former major league players Corey Brown and John Ramos, and University of Tampa head baseball coach Joe Urso, while Braun read a long list of accolades describing the player he dubbed "the best he has coached here" in his 15 seasons.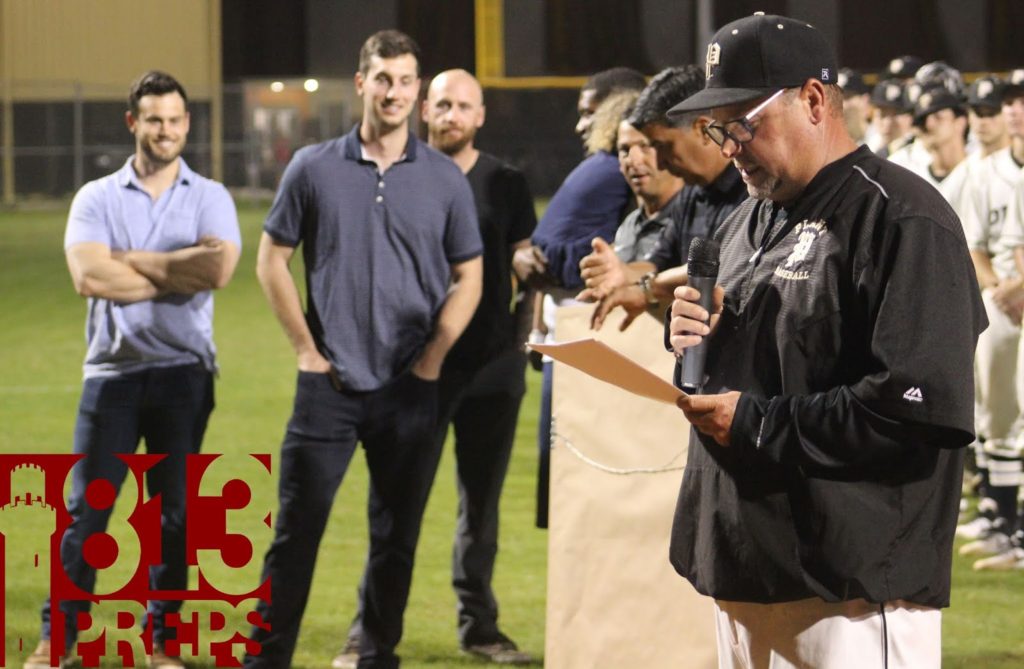 Kyle and Preston Tucker crack a smile when Plant coach Dennis Braun
talk about Kyle's toughness in leading the state in hit-by-pitch, plate
appearances his senior season.
"Kyle Tucker in my opinion is my all-time best," Braun said prior to the on-field unveiling. "I can't say enough about what he's done here, and what he continues to do. The sky is really the limit for him."
Adding: "The talent is not what you can see, it's what you can't see and Kyle Tucker is the smartest, toughest player I've ever coached."
For Tucker, the experience was a special one that he was happy to share with his family, including his mother and father, siblings, and his grandparents, who he recognized during his thank you speech for "never missing a high school game."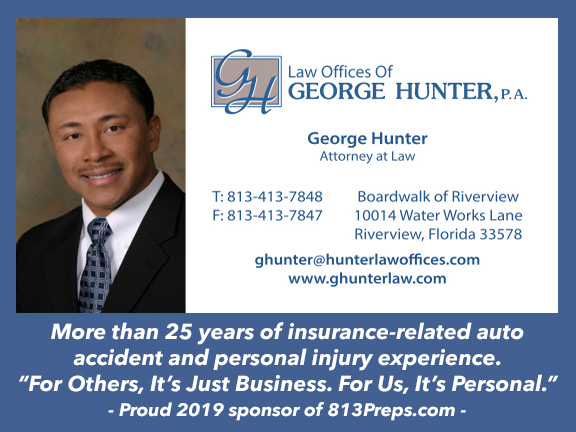 Prior to the ceremony, Tucker said having his name added to the outfield wall, joining the former players who came to celebrate him, as well as MLB Hall of Famer Wade Boggs, former MLB player and Astros closer John Hudek, and former Plant coach Jeff Vardo was an honor. And being able to be up there alongside his brother Preston, made the honor a little bit more special for he and his family.
"This is pretty special when you look at some of the names out there on that wall," he said prior to the ceremony. "Also getting to be up there on the wall beside my brother is a really great feeling for (my family) and me."
"There were a lot of good memories here," Tucker said, "this is kind of where baseball really started for me."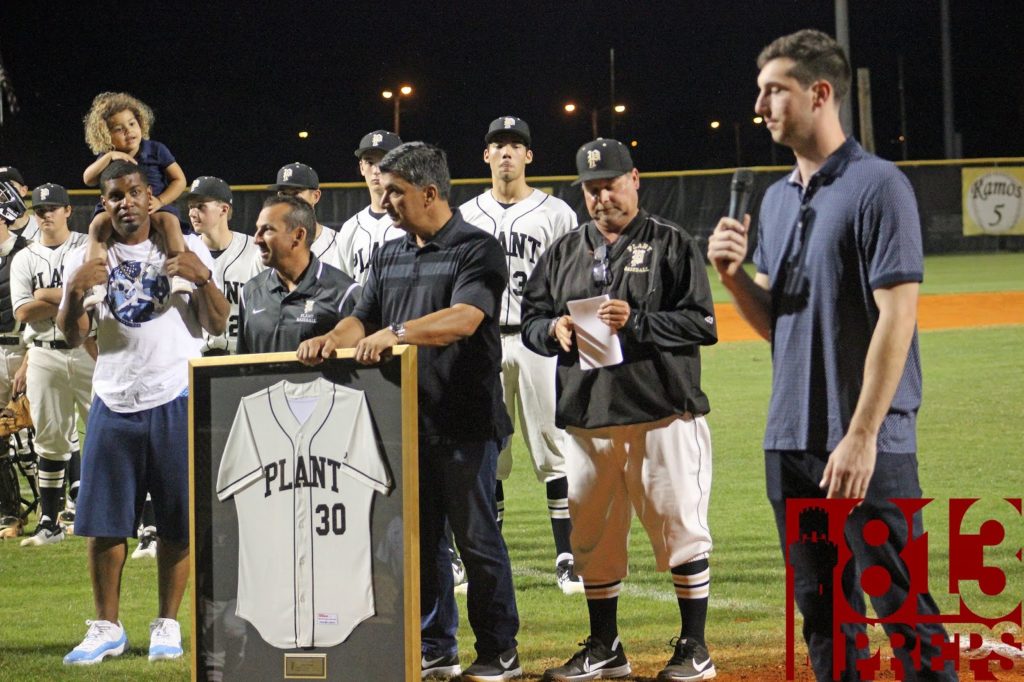 Kyle Tucker addresses the crowd as previous retired number honorees Mychal Givens (left), Joe Urso and John Ramos stand with his No. 30 jersey.
Braun spoke specifically about the three players who he coached that now have their numbers retired: Givens and the Tucker brothers.
"I think it's a great honor for them, but it's really a great honor for me to have been able to coach players like them," Braun said. "It's remarkable what they have done. When you coach them here and they are teenagers and then they come back, I get a little emotional when they leave again because of the great men I've seen them become."