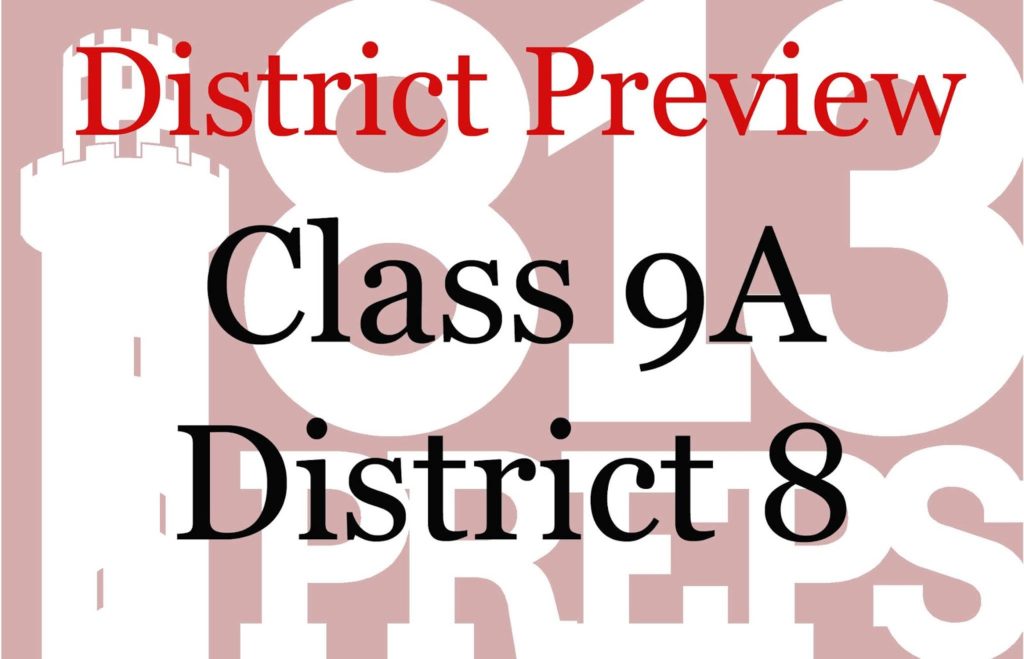 Teams: Alonso, Newsome, Palm Harbor, Sarasota Riverview
Reigning district champion: Palm Harbor University
Alonso
Coach: Landy Faedo, 18th season
Record last season: 14-14, district runner-up
Notable Returners: Sehjin Daley, Jr., 3B/RHP; Sam Drumheller, Jr., LHP/OF/1B; Renzo Gonzalez, So., OF/LHP; Drew Lara, Sr., SS/2B; Conor McNair, Sr., 1B/OF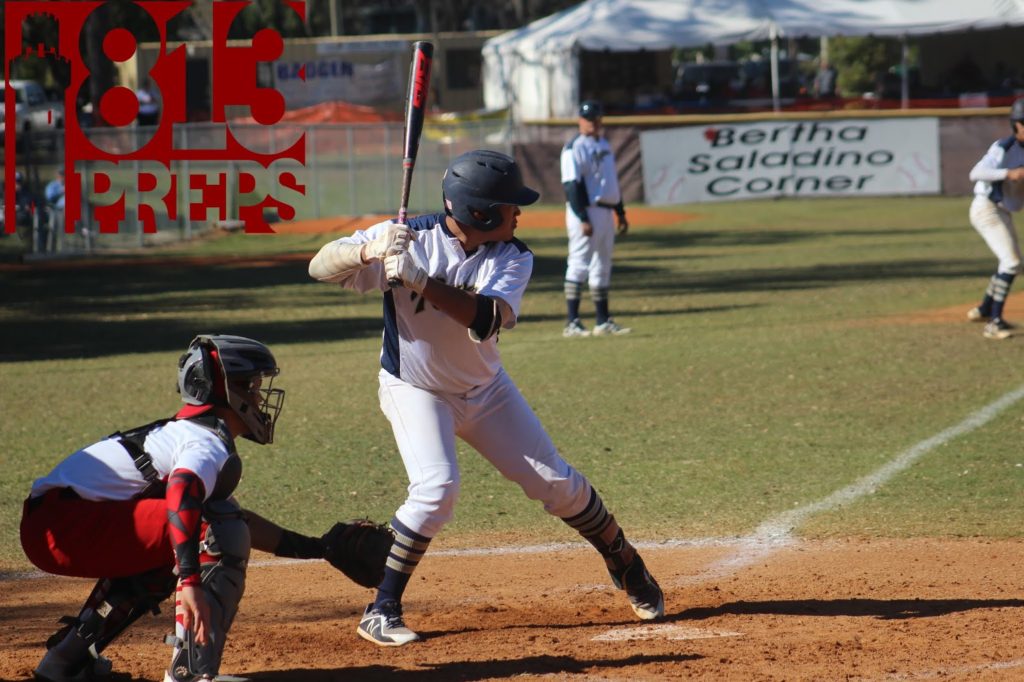 Alonso junior Sehjin Daley
Chance to breakout: Junior Sehjin Daley tallied 26 hits for the Ravens (a .361 average) as a sophomore and according to Faedo, has steadily progressed at the plate. Daley had off-season elbow surgery and has just started his progression with flat-ground throwing, but should factor into the rotation later in the year after going 1-1 with a 3.00 ERA in a dozen innings last season. His bat in the heart of the Ravens lineup will be key to producing runs.
Outlook: Sam Drumheller will be the No. 1 pitcher after making 10 appearances as a sophomore with a 1-3 record and a 1.34 ERA, while also hitting near the top of the Ravens lineup. Seniors Drew Lara and Conor McNair, and sophomore Renzo Gonzalez (a Miami verbal commit, 14 runs scored last season) return to lead the way for Alonso, which aims to make its fifth-straight region appearance.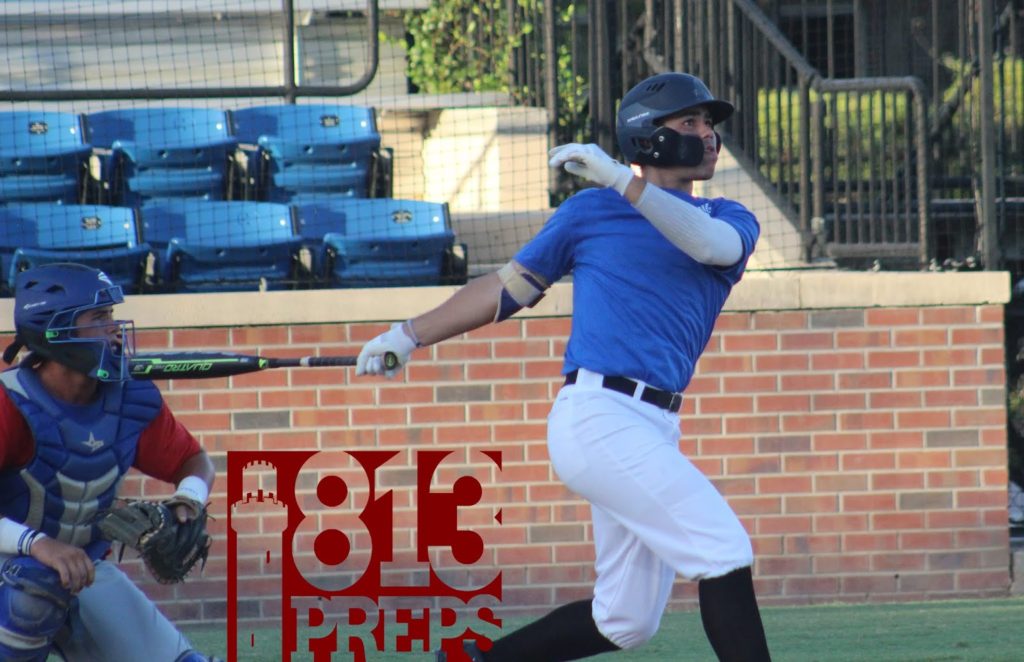 Alonso sophomore Renzo Gonzalez
————————————————
Unlike many independent news organizations, we haven't put up a subscription paywall – and we hope to be able to keep bringing you the great stories from high school athletics in the 813 area free of charge. But we are still a small business with a handful of paid employees, so there are costs including travel, equipment, and other costs associated with running this business. We are looking for advertising partners, but we also need to count on our
readers for support. If everyone who reads our reporting, who likes it, helps fund it, we will be able to continue covering these athletes' endeavors. Support 813Preps.com for as little as $1 by clicking "Donate" button below.
Newsome
Coach: Dick Rohrberg, 5th season
Record last season: 16-7
Notable Returners: Zach Benson, Sr., OF; Zach DeVito, Jr., RHP; Tyler McKenna, Sr., C; Cole Stallings, Jr., RHP
Coaches dream = solid junior pitching: Wolves pitchers Zach DeVito (Tulane commit) and Cole Stallings (Stetson commit) was a pretty solid tandem to have last season. DeVito led all Newsome pitchers in innings with 36, while posting a 4-0 record and a 0.19 ERA, and Stallings tossed 32 innings, going 3-1, with a 1.09 ERA. Both consistently have fastballs in the high 80s with good breaking stuff, and they are back to shove it again this season as the one-two-punch. And did we mention they're only entering their junior season?
Outlook: Newsome has been the top seed in this district's tournament two-out-of-three seasons, including going 5-1 in regular season play last year (split with Alonso). After taking two regular season meetings against Palm Harbor, the dreaded "beat a good team three times in one year" curse snake-bit the Wolves, as the Hurricanes ended Newsome's season in the district semis via a 12-2 loss. That most assuredly didn't sit well with the returning players, who will be out to prove something this year. Seniors Zach Benson (.319, 17 runs, 10 RBI and 15 stolen bases) and Tyler McKenna (.344, 11 runs, 10 RBI) highlight those Wolves offensive returners. Benson, a Saint Leo commit, has a great arm from centerfield with tremendous speed to cover his position and create havoc on the base path. The Wolves catcher, McKenna is a three-year starter committed to play next year at Jacksonville University, who is a great leader according to his coaches.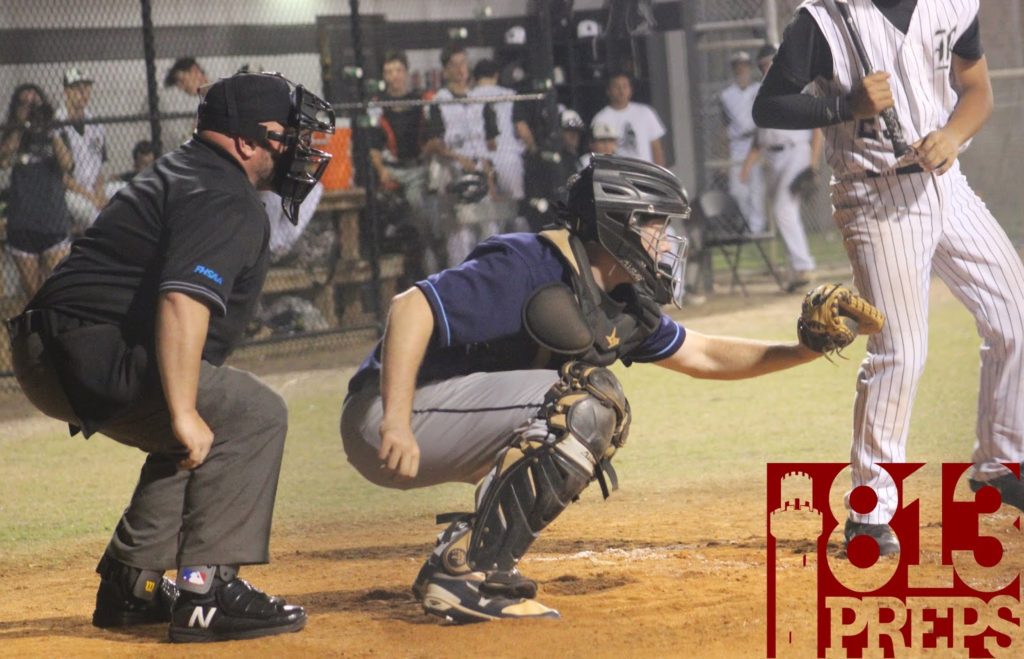 Newsome senior catcher Tyler McKenna
Out-of-County Competition to Watch:
Palm Harbor
Coach: Tom Hilbert, 5th season
Record last season: 14-14
Notable Returners: Andrew Booth, Sr., LHP; Mitch Farris, Sr., LHP/OF; Hunter Mink, Sr., RHP; Tanner Mink, Sr., 3B USF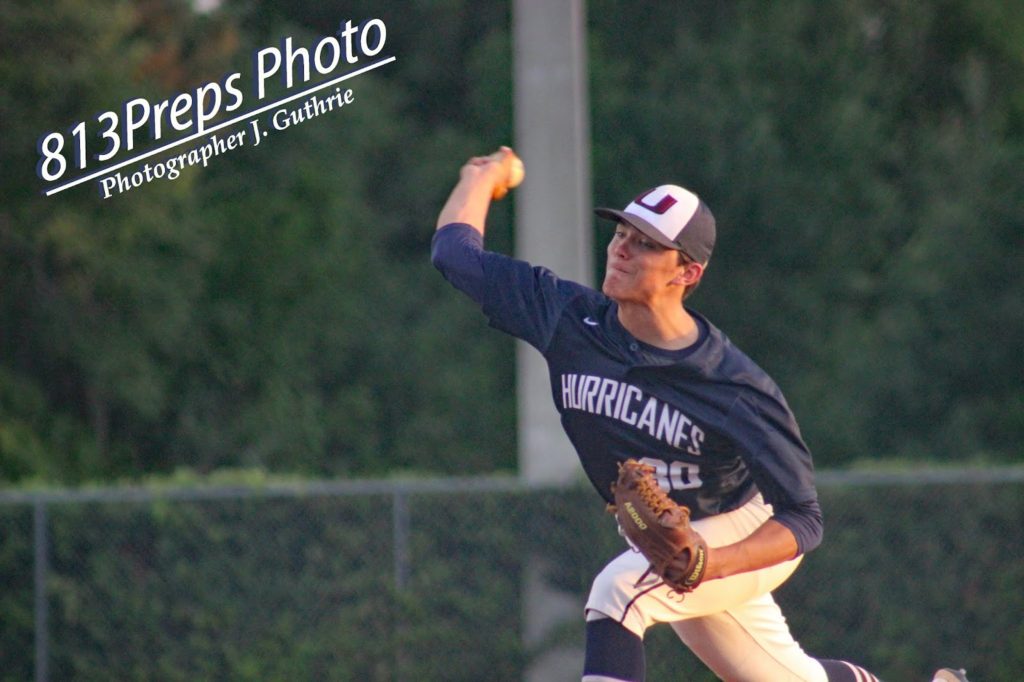 PHU senior Hunter Mink
Outlook: So last season's champion Hurricanes held both Newsome and Alonso to just two runs apiece in the district semifinal and final last season, and the bad news for the Ravens, Wolves and Rams is all three of Palm Harbor's leading pitchers – Wingate commit Mitch Farris, Florida commit Hunter Mink and Saint Leo commit Andrew Booth – return as seniors this spring … Hunter Mink and brother Tanner Mink (a University of South Florida commit), along with returners senior C/RHP Channing Young and junior IF Pat Keenan lead the offense.
Sarasota Riverview
Coach: Jeremy Schmidt, 2nd season
Record last season: 15-11
Notable Returners: Tyler Russin, Sr., OF; Andrew Galbraith, Sr., C
Check out our district breakdowns so far (click on district)


– – Class 3A-District 4 – –