Reigning district champion: Jesuit
Class 6A State Champions: Jefferson
Jefferson
Coach: Juan Fontela, 5th season
Record last season: 22-8
Notable Returners: Mike Dominguez, Sr., RHP; Marc DeGusipe, Sr., 1B; Oscar Galvez, Sr.,2B; Sal Vega, So., SS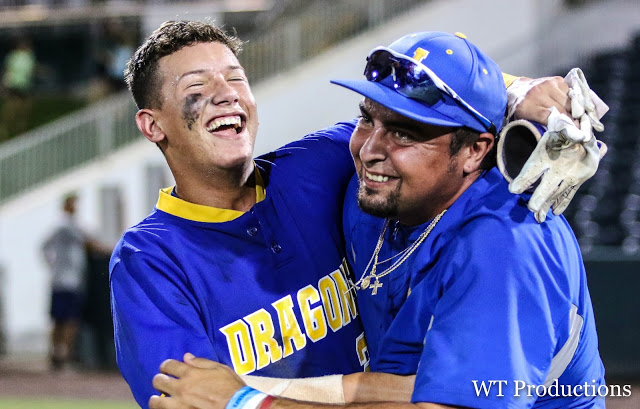 Senior Oscar Galvez returns to help lead the offense for Jefferson this season. Galvez senior here celebrating with Dragons assistant coach Juan "Papo" Fontela after his game winning hit in Jefferson's Class 6A state championship game. (Photo by Will Turner)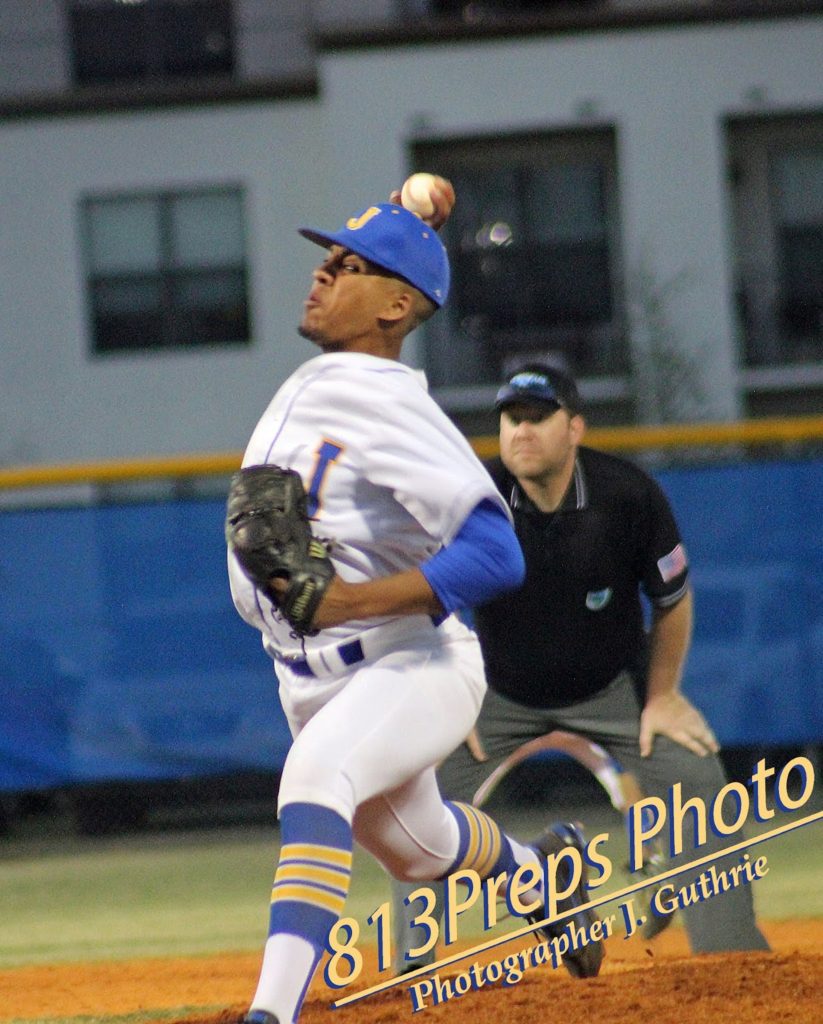 Jefferson senior Mike Dominguez
Championship legacy: Jefferson captured a state championship last year after 78 years of baseball – and to say the win was sweet for one of the most historic programs in Hillsborough County would be a huge understatement. The celebration was deserved after the Dragons battled from a district runner-up finish, toppled Land O'Lakes, avenged the district loss to Jesuit in extra-innings, and shutout Dunnellon in region play to reach the state semis where Jefferson jumped out early and held off Green Cove Springs Clay, and then won a thrilling extra-inning championship final as then-junior Oscar Galvez lined a hit into shallow right field to end the game and seal the title. But this is a new year, time to put the championship medals and rings on a shelf and get to the job of trying to defend them. The challenges of attrition will be significant as the Dragons had an impressive senior class depart including Robby Martin, AJ Mathis, and Charlie Welch, who accounted for 84 runs and 61 RBI last season. However, the Dragons are hardly left weaponless for the campaign for glory in 2019, with righty ace Michael Dominguez returning to run things on the mound. Dominguez, a Florida State commit and an All-813Preps First Team selection last season, finished the year 9-3 with a 1.26 ERA, 116 strikeouts, and returns with a low-90s fastball and a nasty curve. And championship game hero, Galvez returns after batting .341 with 17 runs scored, going a combine 7-for-9 in the Dragons final two games in Fort Myers, and providing tremendous defense from second base all season.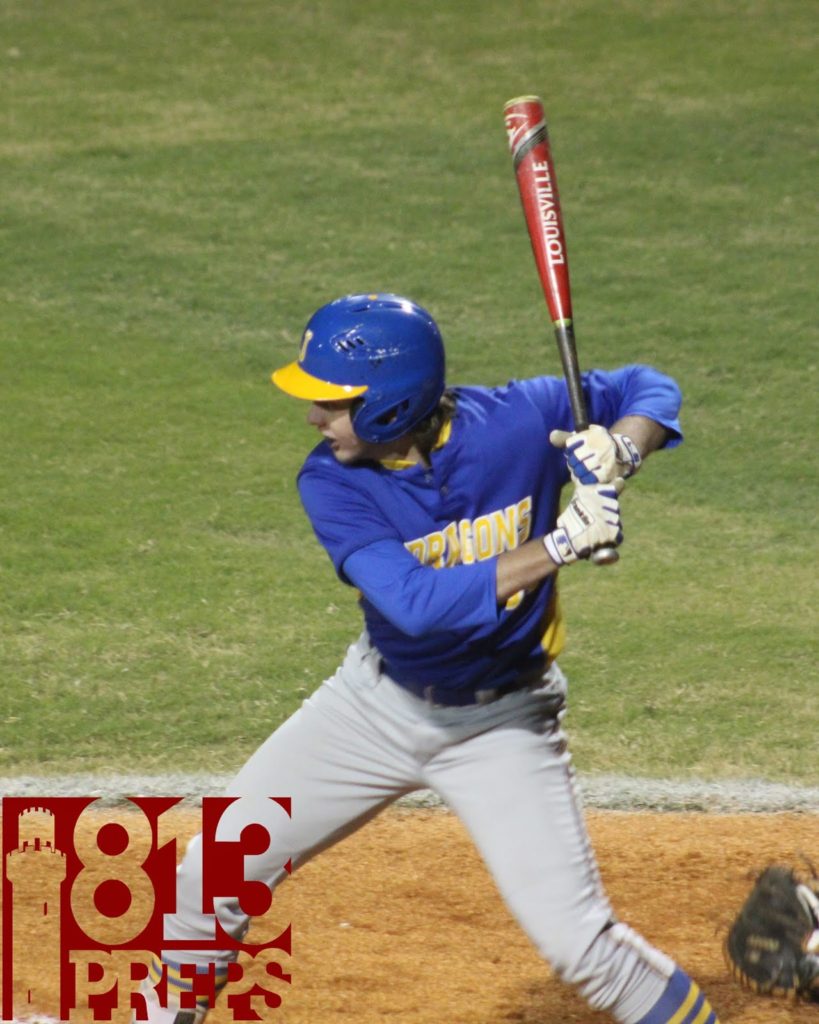 Jefferson senior Marc DeGusipe
Outlook: The Dragons also bring back senior and Florida Atlantic signee Marc DeGusipe, who scored 10 runs and drove in 23 last season, to the lineup. Unfortunately, Jefferson will likely be without the help of DeGusipe's lefty arm on the mound as an arm injury will limit him to offensive duties and first base … A nice surprise last season came from the production of then-freshman Sal Vega, who returns as the Dragons starting shortstop after hitting .271 with 13 runs scored and seven RBI … Sophomore Jaiden Duarte picked up some valuable experience last season, and looks to factor in as a starting centerfielder this season; Nick Perez will play third base after adding 12 RBI last year; and sophomore catcher Mario Lopez has coaches excited about both his arm behind the plate and bat … Miguel Denson, Lamarr Johns, and Andrew Ortiz will contribute on the mound behind Dominguez this season.
————————————————
Unlike many independent news organizations, we haven't put
up a subscription paywall – and we hope to be able to keep bringing you the great stories
from high school athletics in the 813 area free of charge. But we are still a small
business with a handful of paid employees, so there are costs including travel, equipment, and other costs associated with running this business.
We are looking for advertising partners, but we also need to count on our
readers for support. If everyone who reads our reporting, who likes it, helps
fund it, we will be able to continue covering these athletes' endeavors.
Support 813Preps.com for as little as $1 by clicking "Donate" button below.
Jesuit
Coach: Miguel Menedez, 5th season
Record last season: 19-10, district champion, region semifinalist
Notable Returners: Alex Bryant, Jr., RHP; Brandon Incardona, Sr., 2B/SS; Bennett Lee, Jr., C;
Jonathan Shoop, Jr., OF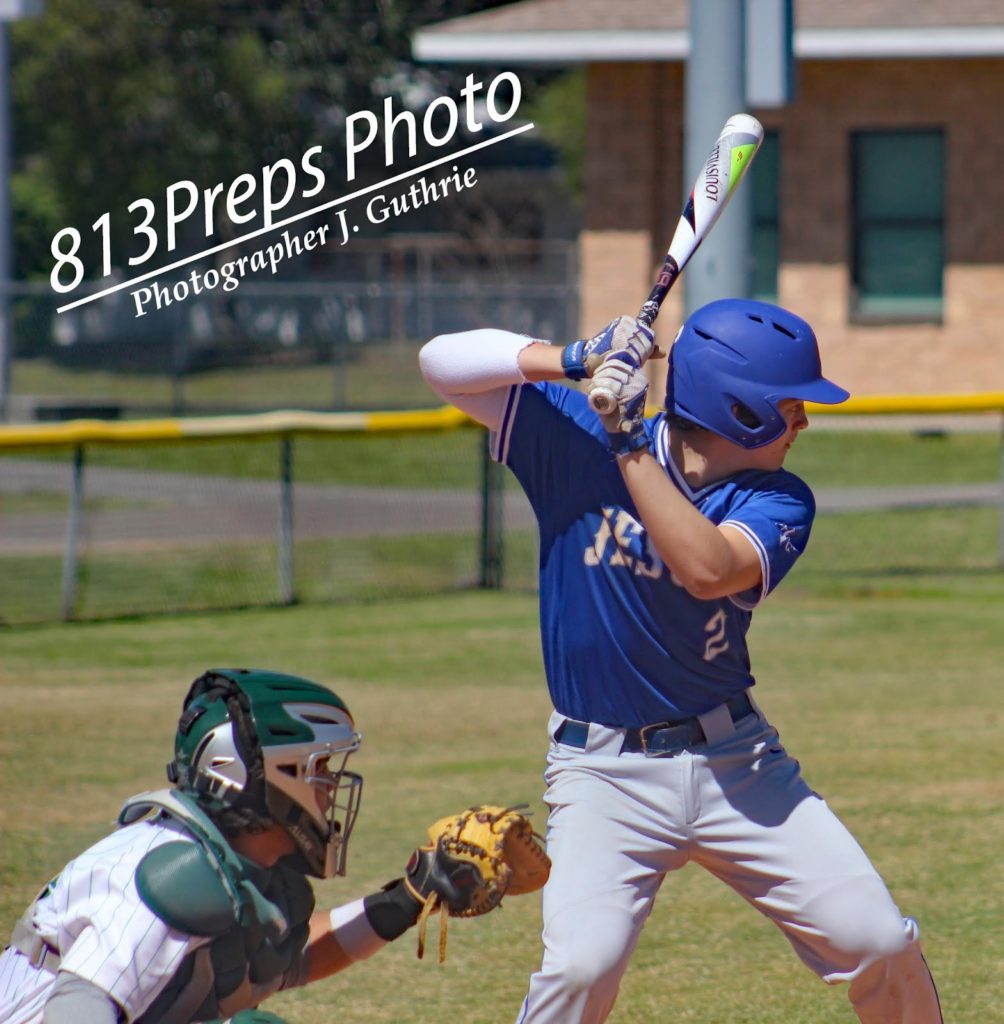 Jesuit junior Bennett Lee
A position of strength: With a wealth of right-handed pitching including three NCAA Division I commits – juniors Camden Minacci (Wake Forest), Josh Mallitz (Ole Miss) and Justin Clark (West Virginia), the Tigers have some lofty expectations on the mound. Minacci and Alex Bryant each posted 3-1 records last season and return with the most varsity innings experience. Minacci recorded a big relief win over Jefferson in the district championship and four, no-hit innings against Blake, while Bryant had a complete-game no-hitter against Spoto last season.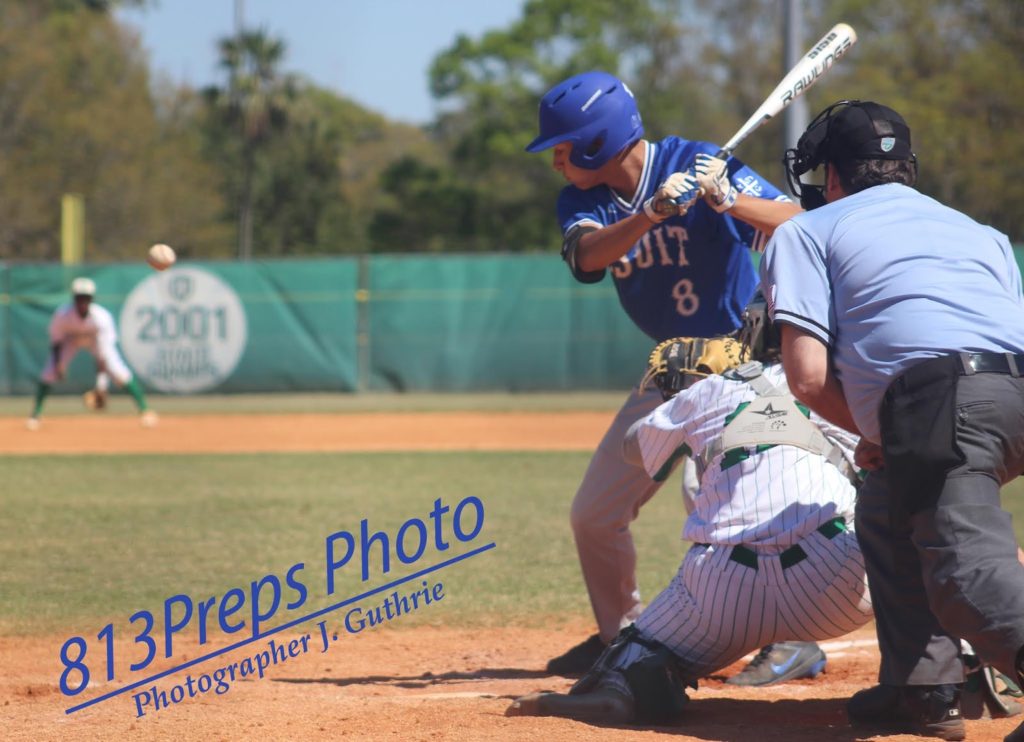 Jesuit senior Brandon Incardona
Outlook: Jesuit won its seventh-straight district title last season, before dropping a heartbreaking, 2-1, region semifinal game in eight innings to Jefferson and finishing the year just shy of 20 wins. Jesuit never seems to be in rebuilding mode though, more accurately often just in refilling mode with an always deep JV program. This season will see some of that, but the Tigers also got a lot of experience from its now-junior class last season – catcher Bennett Lee handled the staff well behind the plate, and also chipped in with a .333 average, 14 runs scored, 14 RBI and two home runs, 1B/C Henry Politz hit .326 with 15 RBI, and outfielder Jonathan Shoop hit .319 and scored 21 runs … Senior second baseman Brandon Incardona, a Canisias signee, returns as one of the Tigers captains after hitting .270 and scoring 10 runs, with a smooth glove on the field … Jesuit also benefits from being a private school and thus setting its own out-of-district schedule to prepare it for the post-season. The Tigers will not take an easy route to the finish this year as it plays a brutal slate, including four of PerfectGame.com's top 26 teams in the nation.
Robinson
Coach: Kevin McCray, 10th season
Record last season: 12-11
Notable Returners:
Koby Fogg, Sr., RHP/OF; Mike Swanson, Sr., SS/RHP; Isaiah Tosado, Sr., C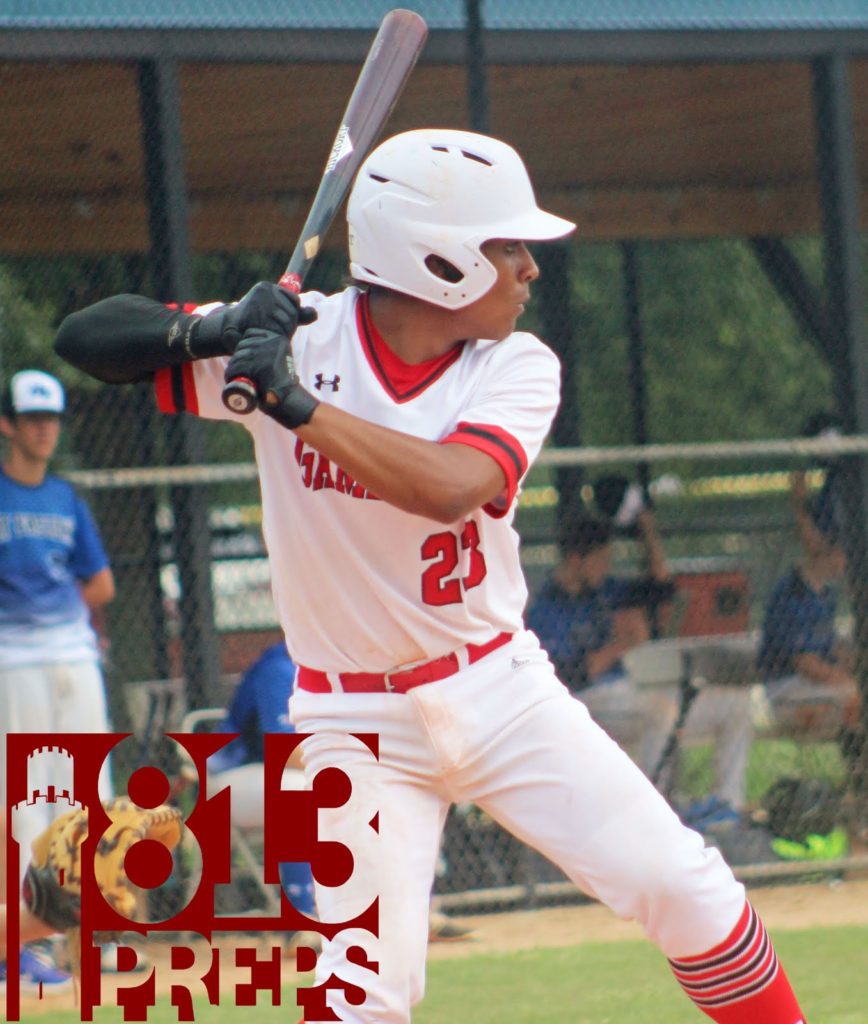 Robinson senior Isaiah Tosado
Outlook: The Knights are far from the forgotten team here and are not lost in the shadow of Jefferson and Jesuit. Robinson consistently puts out solid teams and last season posted an 8-2 district record with a regular-season split against the Dragons and Tigers. The Knights return two solid, senior pitchers in righties Koby Fogg (4-5, 2.91 ERA, 35 strikeouts) and Michael Swanson (1-3, 3.00 ERA, Adrian College commit) to lead things on the mound. Swanson will also see time at shortstop, Fogg will play in the outfield when not pitching, and both will be key contributors at the plate as well … Senior Isaiah Tosado makes the transition from the outfield and pitching rubber to catcher this season and is a South Carolina Union commit … Junior 3B/2B Adam Haidermota and sophomore OF Ben Kim are expected to step up in starting roles this season according to coach Kevin McCray.
Spoto
Coach: Kevin Welborn, 3rd season
Record last season: 4-18
Notable Returners: Miyon Hampton, Sr., Util; Pedro Moronta, Jr., IF; Joel Snelling, Sr., P
Outlook: Though the Spartans lost eight seniors to graduation, third-year head coach Kevin Welborn said the returning players are hungry and looking to make moves forward from the middle-of-the-pack finishes in district the past few seasons. Welborn said the Spartans are hungry and have some solid pieces in place like returning senior Miyon Hampton, who hit .317 last season with eight runs scored and senior pitcher Joel Snelling returns to the mound. Both are dual-sport athletes, with Hampton playing defensive back for Spoto and hauling in four interceptions last fall, and Snelling a center and captain for the Spartans basketball team. Also, looking to have a key role for the Spartans on the diamond this season is junior infielder Pedro Moronta.
Blake
Coach: Ben Davis, 5th season
Record last season: 1-19
Notable Returners: Angel Remigio, Sr., OF/P; – Captain 9 runs, 7 rbi
Lorenzo Almanzar, Sr.,OF
Brandon Mirza P/C – 15 ip
Brief Outlook: Senior Angel Remigio returns after scoring nine runs and driving in seven last season for the Yellow Jackets, along with starting outfielder Lorenzo Almanzar, and pitcher Brandon Mirza, who tossed 15 innings in 2018. Blake's captains are listed on MaxPreps.com as Remigio, Mirza, senior OF/P Bobby Harris, senior 2B/P Savon Watson, sophomore C/1B Jake Montgomery, and freshman C/P Titus Woods.


Middleton
Coach: Ken Meyers, 3rd season
Record last season: 1-22
Check out our district breakdowns so far (click on district)


– – Class 3A-District 4 – –