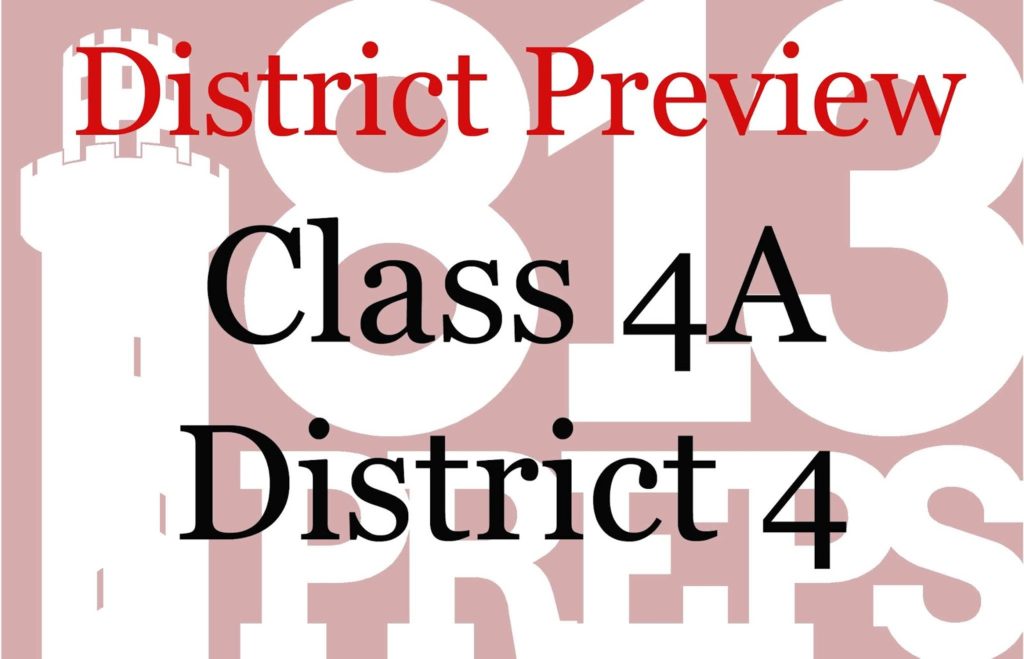 Teams: Berkeley Prep, Brooks DeBartolo, Tampa Catholic, Tampa Prep, Calvary Christian, Clearwater Central Catholic.
Reigning district champion:

Calvary Christian
Berkeley Prep
Coach: Richie Warren, 6th season
Record last season: 17-11, district runner-up
Notable Returners: Jakob Hines, Sr., C; Alex Haire, Jr., OF; Ian Brown, Jr., RHP; Johnathan Bruno, So., 3B/C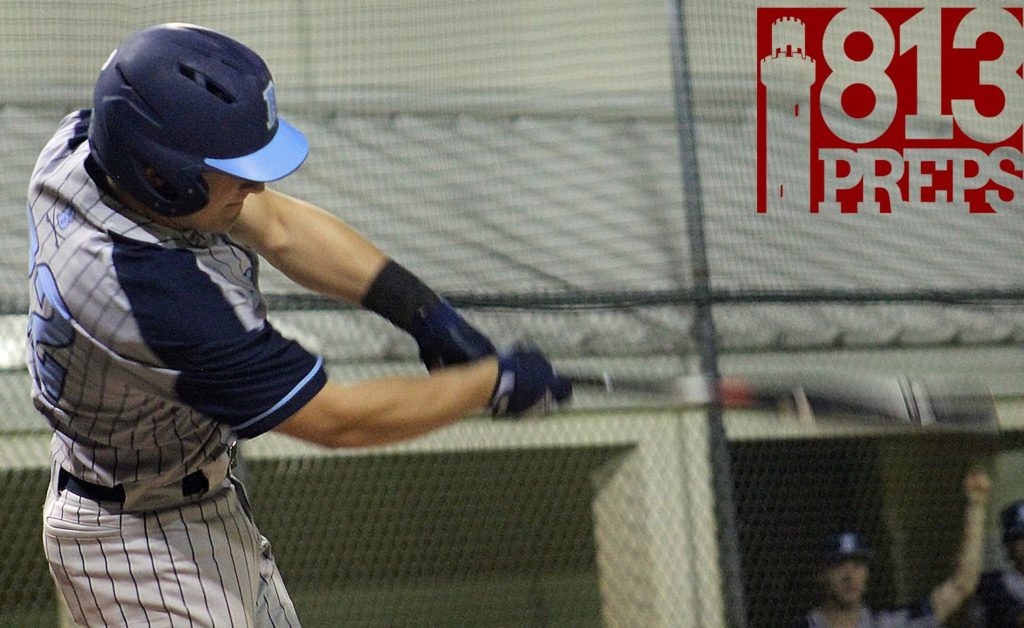 Berkeley Prep senior Jakob Hines
Field general: If you're searching for a player whose example you should follow on the field, a great preparer, a hard worker, a good leader, you're not going to do much better than Buccaneers' backstop Jakob Hines. The two-sport standout, who also played running back at Berkeley Prep rushing for nine touchdowns last fall, always comes to play and was among the top catchers in the area last season. Hines returns to lead the Buccaneers on the diamond one last time after hitting .311, with 11 runs scored, eight doubles and 30 RBI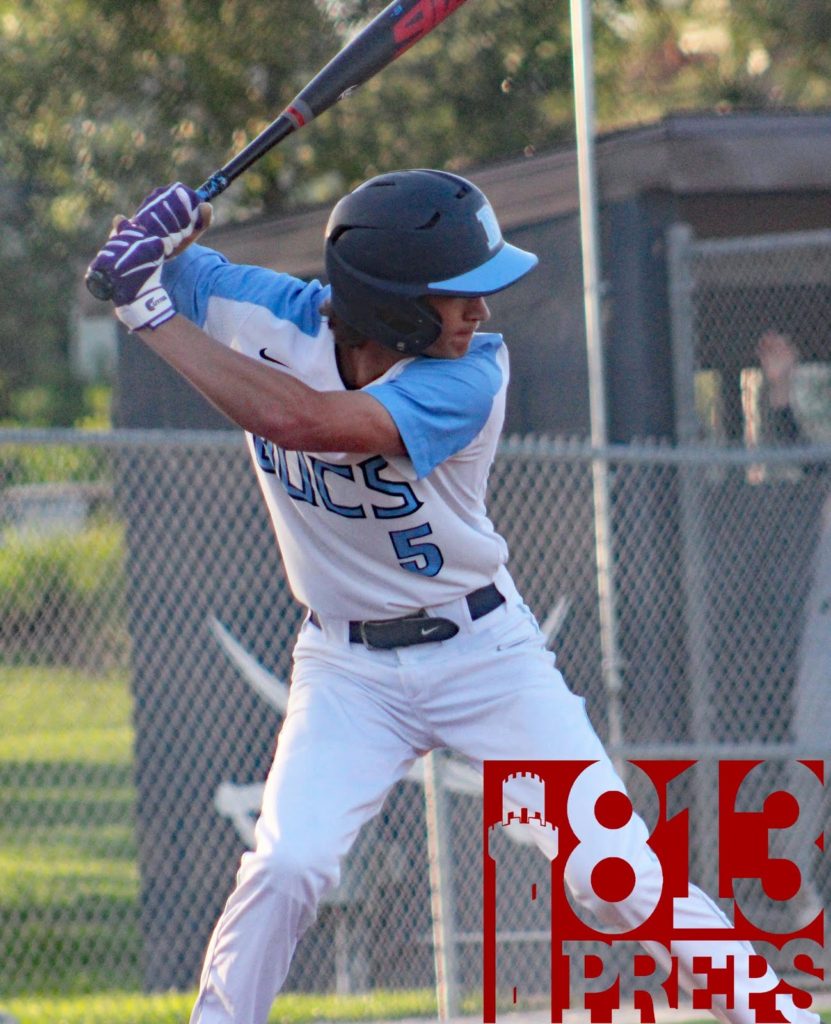 Berkeley Prep junior Alex Haire
Outlook: The Bucs perennially put out winning teams and will challenge for the top of this district again. Yes, Calvary Christian's dominance across the state is impressive, but the Buccaneers jumped ahead twice in the first two innings against the Warriors in the district championship scoring five runs (tied for the most scored all season against the Class 4A state runner-up), but couldn't hold off the team that would eventually run it's win streak to 60 before its first loss in two seasons … With just four seniors, the Buccaneers are a junior heavy squad with a lot of solid returners: outfielder Alex Haire was an All-813Preps Defend10 selection last season, and led the team in hitting as well with a .354 average, 24 runs scored and 10 stolen bases; sophomore infielder Johnathan Bruno hit .347, with 12 RBI and four doubles; and junior righty Ian Brown made 16 appearances posting a 6-0 record, with a 1.54 ERA … Coach Richie Warren said the team is excited to have junior Davis Childers back after missing last season due to back surgery. Davis, one of four team captains, is versatile on the field playing catcher, first base or outfield and is slated to hit in the middle of the lineup.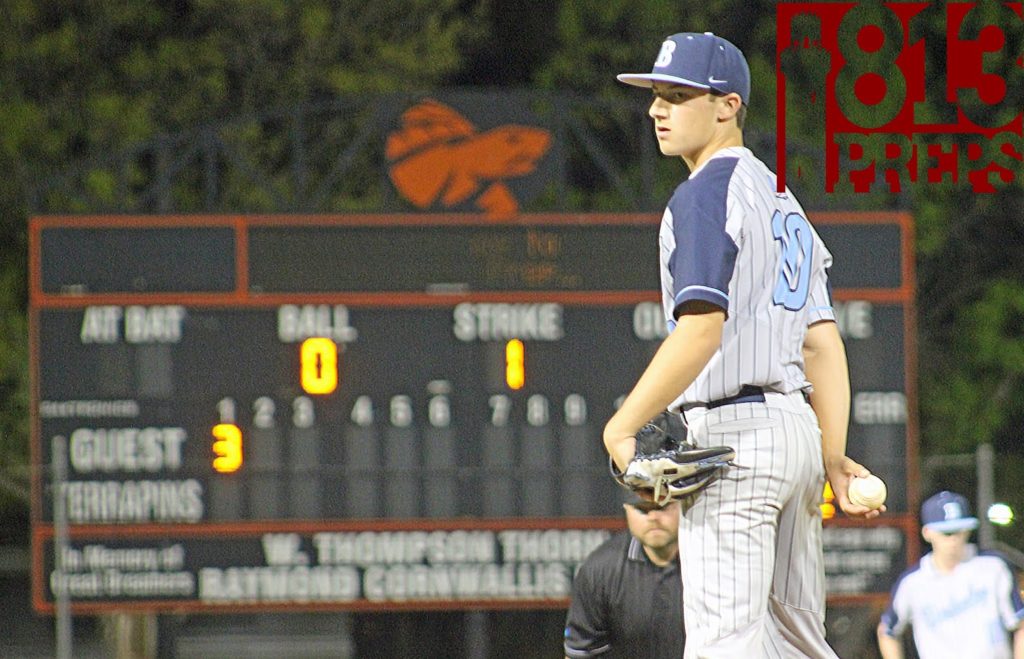 Berkeley Prep junior Ian Brown
————————————————
Unlike many independent news organizations, we haven't put
up a subscription paywall – and we hope to be able to keep bringing you the great stories
from high school athletics in the 813 area free of charge. But we are still a small
business with a handful of paid employees, so there are costs including travel, equipment, and other costs associated with running this business.
We are looking for advertising partners, but we also need to count on our
readers for support. If everyone who reads our reporting, who likes it, helps
fund it, we will be able to continue covering these athletes' endeavors.
Support 813Preps.com for as little as $1 by clicking "Donate" button below.
Brooks DeBartolo
Coach: Frank Scimeca, 1st season
Record last season: 6-18-1
Notable Returners: Ryan Bradarich, Jr., P/OF; Nicholas DiCecco, Sr., Util; Ryan Martin, So., P/OF/1B
Outlook: Brooks DeBartolo makes the transition to its fourth head coach in as many seasons as Frank Scimeca takes over for Ryan Pryor this season. The Phoenix struggled against district opponents last season finishing 1-9 in district play before dropping a district tournament opener, 6-0 to Clearwater Central Catholic. The team will look to change a history of no more than three wins against 4A-4 opponents in a season with experience returning, but will have a challenge immediately as they face Calvary Christian, Tampa Catholic (the Phoenix lone district win as the two teams split last season), and Berkeley Prep in its first three games of the season … Junior left-handed pitching, switch-hitting Ryan Bradarich will be key for the team. A Nova Southeastern commit, Bradarich led the team in innings last year, striking out 41 in 33 1/3 innings, with a 3.57 ERA … Senior utility player Nicholas DiCecco hit .241 last year with seven runs scored and seven RBI … Sophomore outfielder and left-handed pitcher Ryan Martin returns after hitting .333, with five RBI last year, and posting a 2.90 ERA in nearly 20 innings of work on the mound.
Tampa Catholic
Coach: Ty Griffin, 8th season
Record last season: 9-15
Notable Returners: Sebastian Figga, Sr., C; Ryan Gonzalez, Jr., RHP; Kaleb Sierra, So., LHP; Tony Watson, Jr., 2B/SS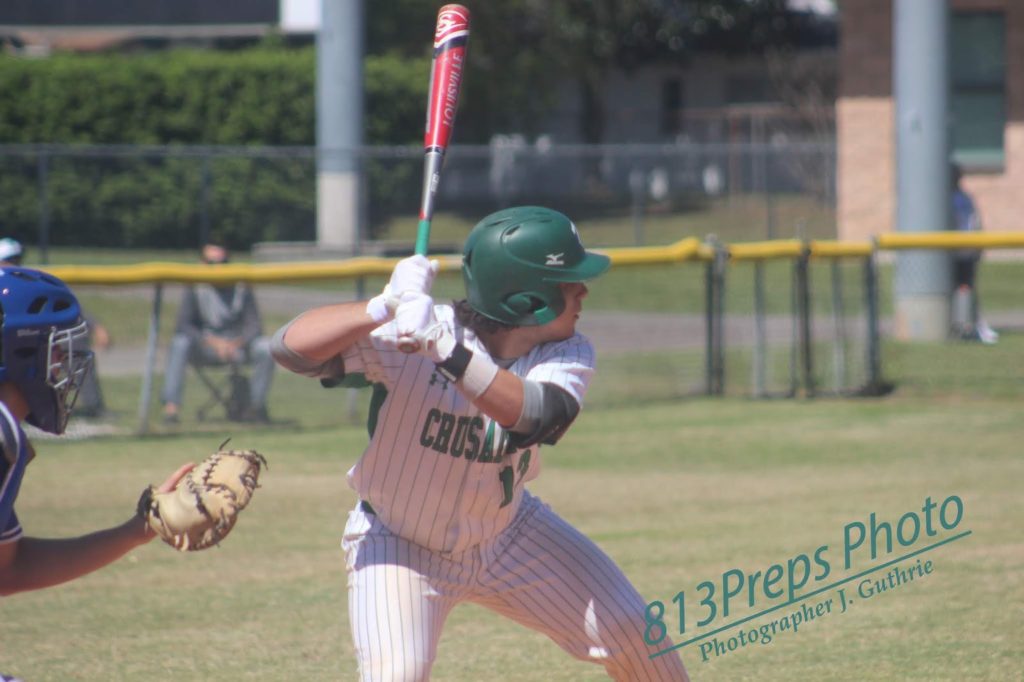 Tampa Catholic senior Sebastian Figga
.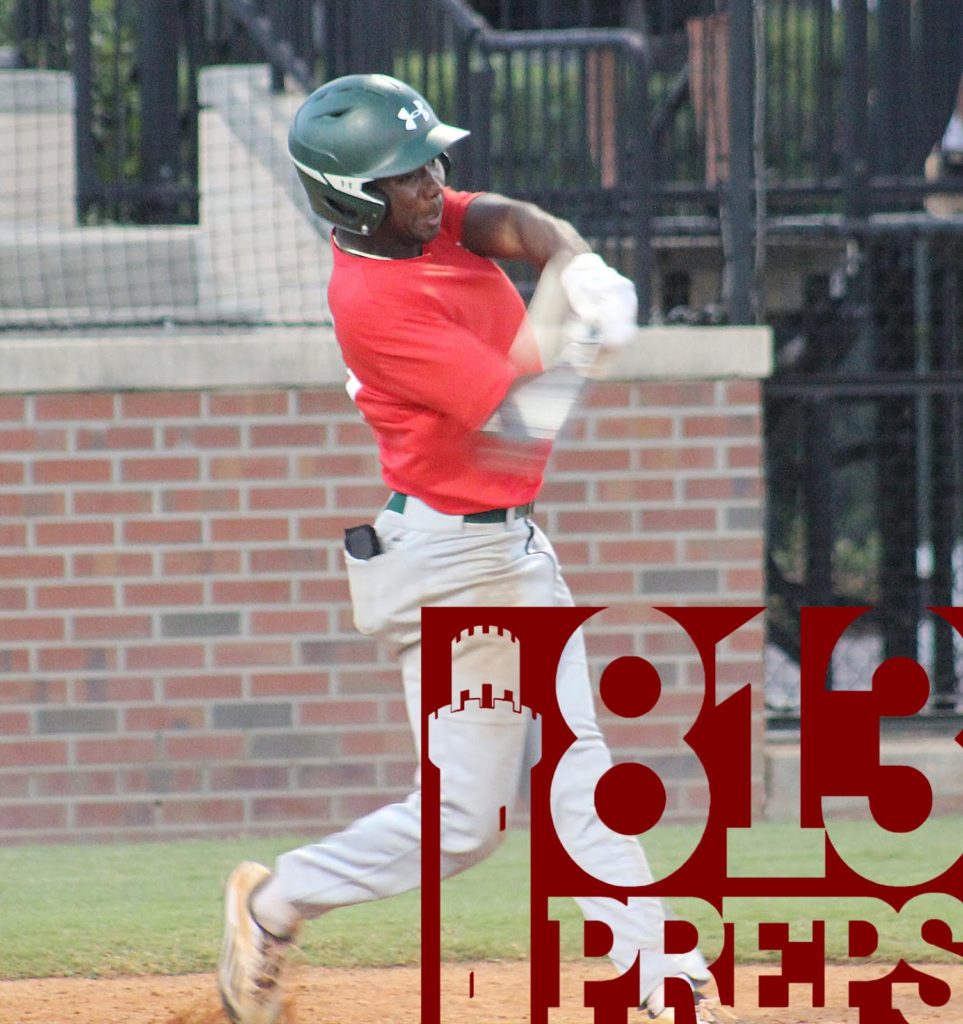 Tampa Catholic junior Tony Watson
Outlook: Two-straight, nine-win seasons have been a bit tough for the Crusaders, and run production last season was a problem. But Tampa Catholic is looking to put that behind them and according to Coach Ty Griffin, team-speed is a plus this year and he hopes that will help the team manufacture a bunch more runs … Senior catcher Sebastian Figga (.328 average in 2018) and junior 2B Tony Watson (10 runs, eight RBI, 11 stolen bases) are experienced offensive returners to build around and a strength up the middle of the diamond on defense … Sophomores 3B Josh Batteese and SS MJ Bundick saw playing time last season and will see their roles take a big uptick this year … Junior righties Ryan Gonzalez and Ty Garcia, and sophomore lefty Kaleb Sierra will be tasked with eating up innings on the mound as six-of-seven of the Crusaders double-digit innings pitchers were seniors last season … Griffin said juniors Kian Knutson (centerfield) and Ryan Valenti (3B/RHP) should be newcomers to watch for the varsity program.
Tampa Prep
Coach: AJ Hendrix, 19th season
Record last season: 13-13
Notable Returners: Nico Apostolores, Sr., OF; Gilbert Marquis, Sr., RHP/3B; Charlie Vari, Sr., C; Colby Welch, Jr., P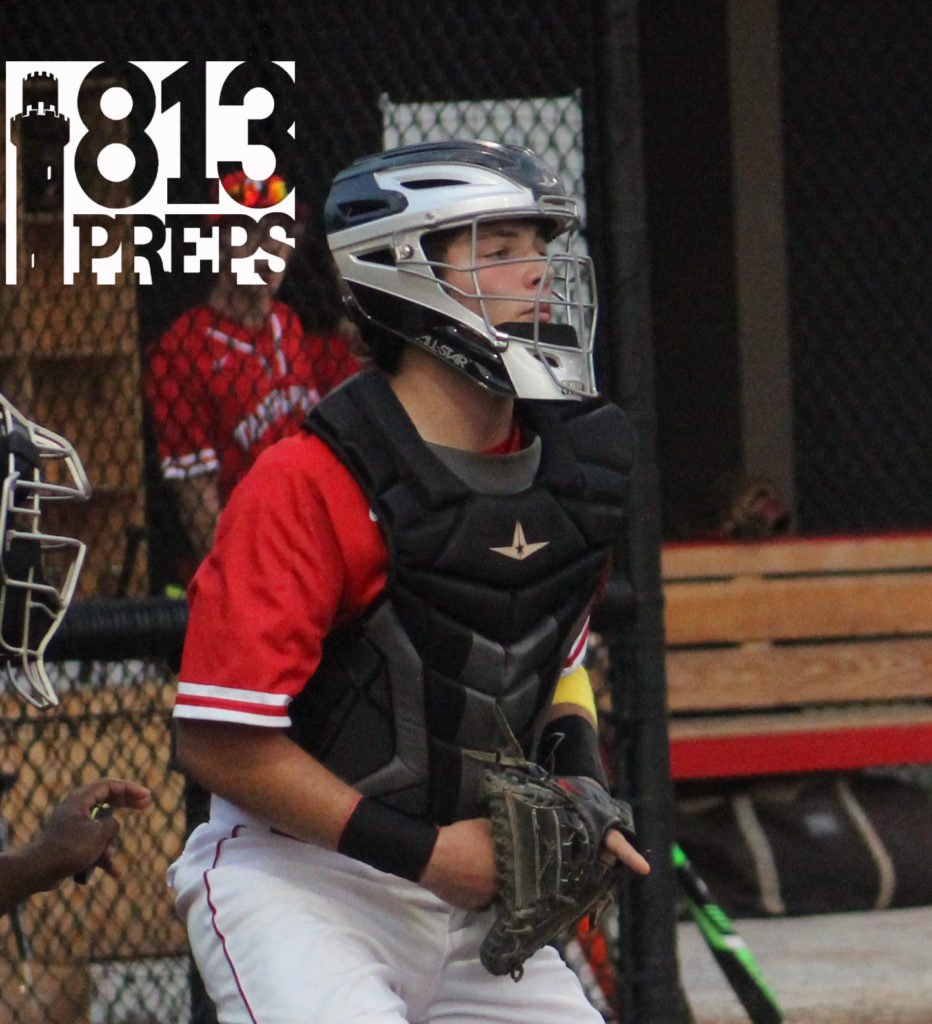 Tampa Prep senior Charlie Vari
Outlook: Senior Charlie Vari, a High Point University commit, led the Terrapins with 13 RBI and two home runs last season and will be a significant leader at the plate and on the field this season. Tampa Prep finished the year at .500 after going 5-2 to close the season, however fell to eventual state runner-up Calvary Christian in the district semifinal and missed out on the region tournament. Senior righty Gilbert Marquis and junior Colby Welch will lead things on the mound for the Terps this season. Both got some weather-testing assignments on the mound last season while contributing at least 26 innings apiece, but solid run production by the offense will be needed against a tough district slate this year. Nico Apostolores returns to the outfield for Tampa Prep and will look to improve on his season at the plate last year where he provided double-digit runs scored and RBI in 2018.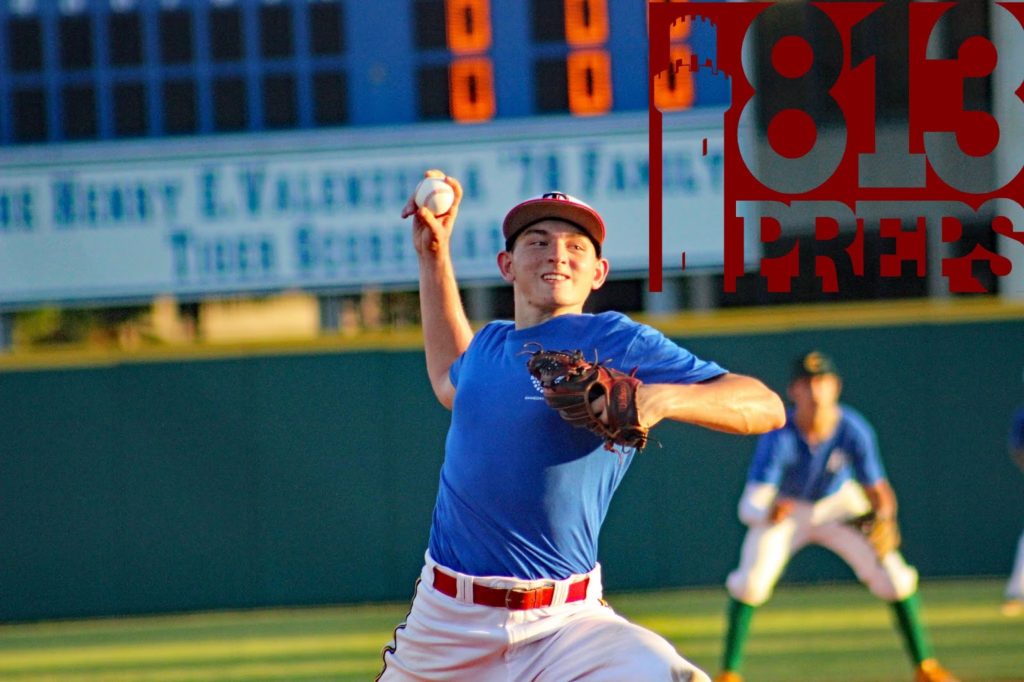 Tampa Prep junior Colby Welch
Out-of-County Competition to Watch:
Calvary Christian
Coach: Greg Olsen, 8th season
Record last season: 30-1, district and region champ, state runner-up
Notable Returners: Christian Cairo, Sr., SS; Brayden Halladay, Sr., RHP; Nolan Hudi, Sr., LHP; Tommy White, So., 3B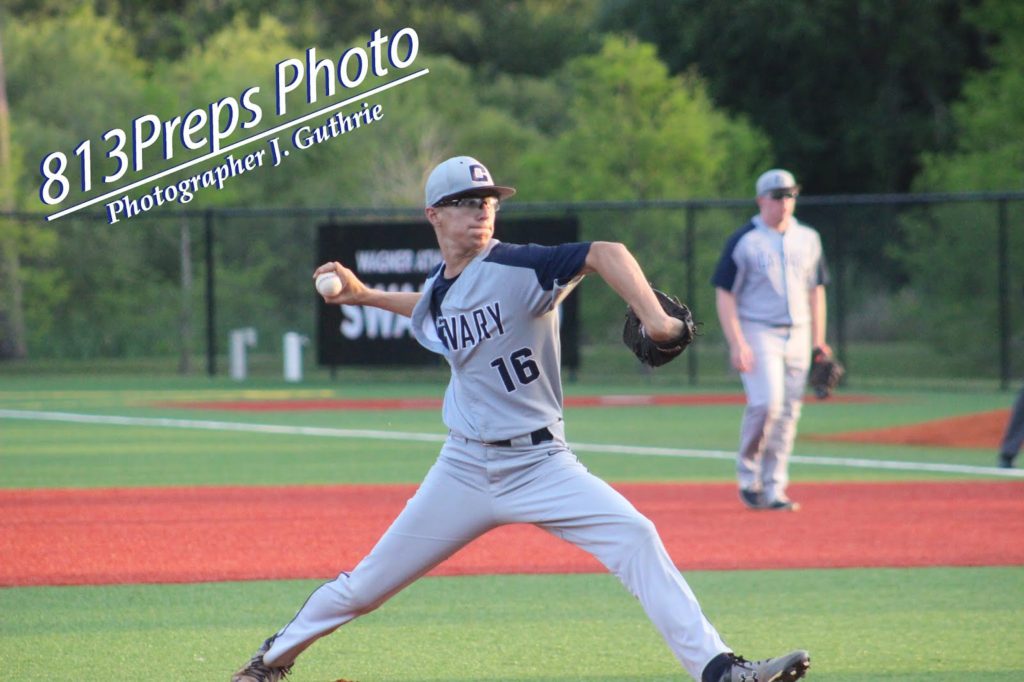 Calvary Christian senior Braden Halladay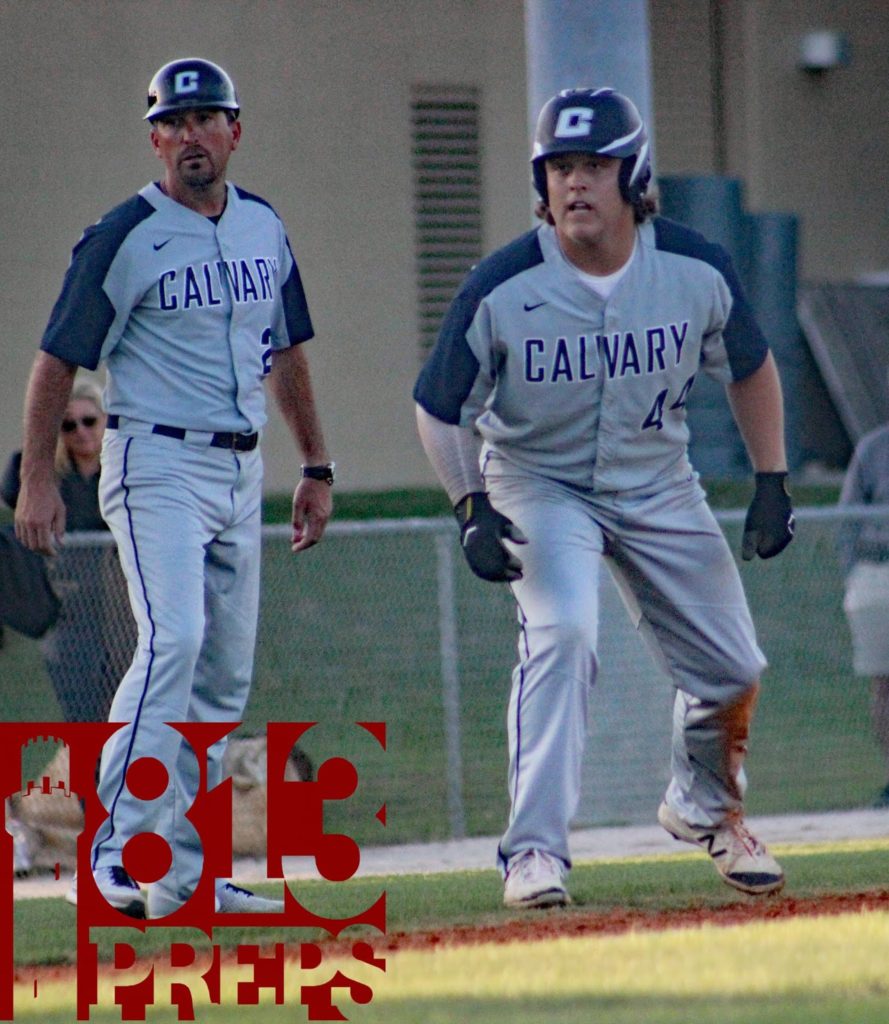 Calvary Christian sophomore Tommy White
Outlook: *Spoiler Alert* Calvary Christian is pretty good at baseball. That hasn't changed. Neither has the starting tandem on the mound of seniors Nolan Hudi (TCU signee) and Braden Halladay (Penn State singnee), who allowed just 25 of the 42 total runs the Warriors gave up last season. Hudi, a lefty who tossed 80 innings last year, posted a 13-0 record with a 0.44 ERA and 119 strikeouts, while the righty Halladay went 7-1, with a 2.12 ERA in nine starts last season. Calvary Christian stretched its unprecedented win streak to 60 before falling in the state final to Fort Lauderdale Calvary Christian … If the one-two punch of Hudi and Halladay isn't enough of a nightmare tandem, let's not leave out returning senior RHP Josh Emerson (Liberty signee) who finished the year 4-0, with a 1.01 ERA in 16 appearances with four saves … Shortstop and LSU signee Christian Cairo hit .370, scored 45 runs, with 26 RBI and 20 stolen bases last year in his junior season and sophomore 3B Tommy White (already committed to NC State) scored 13 runs and had 14 RBI last season return to lead the offense.
Clearwater Central Catholic
Coach: Todd Vaughan, 31st season
Record last season: 16-9
Notable Returners: Anthony Bennetti, Sr., OF; Nicholas DiMiceli, Sr. LHP; Dean Mercer, Sr., C; Blake Wright, Jr., SS
Outlook: The Marauders finished third in Class 4A-4 last season and have an experienced team returning this season. The offense brings back senior outfielder Anthony Bennetti (a Barry signee) hit .375 last season with 15 runs scored, 17 RBI, and 11 doubles, junior shortstop Blake Wright (a USF commit) who led the team in runs as a sophomore with a .337 average, 20 runs scored and 14 RBI, and senior catcher Dean Mercer, a Wilson College commit, who hit .288 with 15 runs and 12 RBI … On the mound CCC returns senior lefty Nicholas DiMiceli, who was 6-1 last season with a 1.46 ERA and 51 strikeouts.
Check out our district breakdowns so far (click on district)


– – Class 3A-District 4 – –