1. Sickles – The Gryphons get to wear the first target with the top spot in our ranks heading into the season. Sickles returns an impressive lineup and two solid starting options on the mound. Senior Dylan Eskew, a Miami commit, leads the team after an All-813Preps First Team selection last season, and junior Chase Centala (USF commit) returns as well going 6-1 last season, with 1.36 and 49 K's. Catcher Danny Bernstein, Eskew and 2B/SS Trey Bacon drive the offense. Last year, Sickles (22-5) posted its first 20-plus win season and claimed the programs first district title.
2. Jesuit – The Tigers are a baseball machine every year in Hillsborough County, and that will not change here. A loaded pitching staff, with three D-I commits NCAA Division I commits – juniors Camden Minacci (Wake Forest), Josh Mallitz (Ole Miss) and Justin Clark (West Virginia), as well as Alex Bryant will help Jesuit navigate a brutal schedule this season. Jesuit won 19 games last season and is setting its sights on a fifth state title for the program.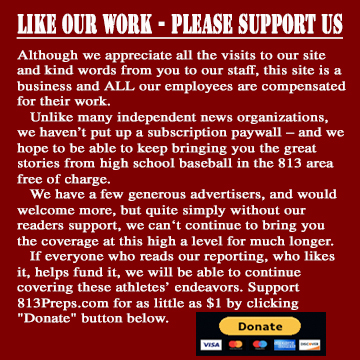 3. Bloomingdale –
A powerful lineup drives the Bulls up our list to start the season, where production seniors Bryce Hazzard and Nico Saladino get on in front of thumpers Dominic Gonnella and Brock Wilken. The Bulls stay ahead of two other district foes (for now) in this Top 10 after claiming the Class 8A-6 title last season and finishing the season 18-8. On the mound, seniors Myles Caba, Justin McCallister and Saladino will have the task of trying of navigating the monster district lineups ahead.
4. Riverview – The Sharks return an almost complete team from last season's 8A-6 runner-up finish and 15-11 campaign, losing just one senior. The addition of Lennard transfer Brendan Herrick on the mound to join a staff that includes returners seniors Ty Correa, Andrew Martinez and Ben Migliarese, gives Riverview a solid starting rotation. Offensively, seniors Adam Hunt, Zach Hawkins and Migliarese are a formidable lineup, but you throw USF commit Dillon Besnier, who led the county with six home runs last season, into that group and this offense is lethal.
5. Plant City – The Raiders have a true ace in senior lefty Parker Messick, a Florida State signee, who went 6-3, with a 1.58 ERA and 45 strikeouts last year. Look for those numbers to improve this season, and Messick also to help lead the way on offense as well, along with senior shortstop Cade Shissler, senior catcher Hunter Emerine, junior second baseman Jarod Wingo, and transfer Cole Cothren. Plant City won the Steinbrenner Wood Bat Classic last fall, a showcase whose previous three winners reached at least the state semifinals the following spring.
6. Leto – The Falcons are another team that had a breakout year in 2018, but also took a big graduation hit. Fortunately for Leto, one big returning weapon climbs upon the mound in Stetson signee and All-813Preps First Team selection Christian Suarez. The right-handed Suarez was 11-0, with a 0.95 ERA and 73 strikeouts, and has notched up his fastball from last season. Seniors Javy Hernandez and Tomas Lozano are steady offensive producers and will lead the offense.

7. Newsome – The Wolves just steadily go about the business of baseball posting at least 15 wins a season the previous three years. A great duo of junior pitchers – Cole Stallings and Zach DeVito – will have Newsome in every game, while offensive leaders Zach Benson and Tyler McKenna key things on offense. Newsome looks to reach the post-season for just the fourth time after last making a one-and-done region quarterfinal appearance in 2017.
8. Plant – Rebuilding year? Don't sleep on Plant. Some key pieces return to the South Tampa big cats as seniors Gabe Rincones, Matt Coker, JD Urso lead the Panthers offense this year. The pitching staff may not include the big-K threat it has had in the past, but lefty Leo O'Shinski, righty Kyle Gates, and Coker are all experienced on the mound and could breakout as top performers in any outing.
9. Jefferson – The Dragons claimed a state title last season and return a great team, but the hits from graduation were significant, and the extra hit of the off-season loss of Marc DeGusipe as a pitcher will make the run at a repeat a bit of a steeper climb. However, All-813Preps first teamer, ace righty Mike Dominguez (FSU signee) looks to continue where he left off last season with his 9-3 record, with a 1.26 ERA, 116 strikeouts. Though he likely won't make it to the mound, DeGusipe (FAU commit) will be a big threat with the bat this year, joined by returners Oscar Galvez, Sal Vega, and Nick Perez the Dragons won't surprise anyone if they rocket up this list in the weeks to come.
10. Gaither – The Cowboys get on base, move guys over and tack digits on the scoreboard and that will continue this season. Led at the top of the lineup by speedy Jordan Williams and a solid bat in Derek Crum, Gaither will likely battle Leto for the top spot in 7A-8. Sophomore Austin Grause had a nice first season on the mound in 2018 and looks to continue to progress this year, and Crum and Ray Peguero also factor in to the pitching staff this season. The Cowboys have high expectations this season in a district that has produced a state semifinalist the past three seasons, including Gaither's 2016 Class 7A state title.
The Next Five:
11. Strawberry Crest
12. Wharton
13. Durant
14. Berkeley Prep
15. Alonso