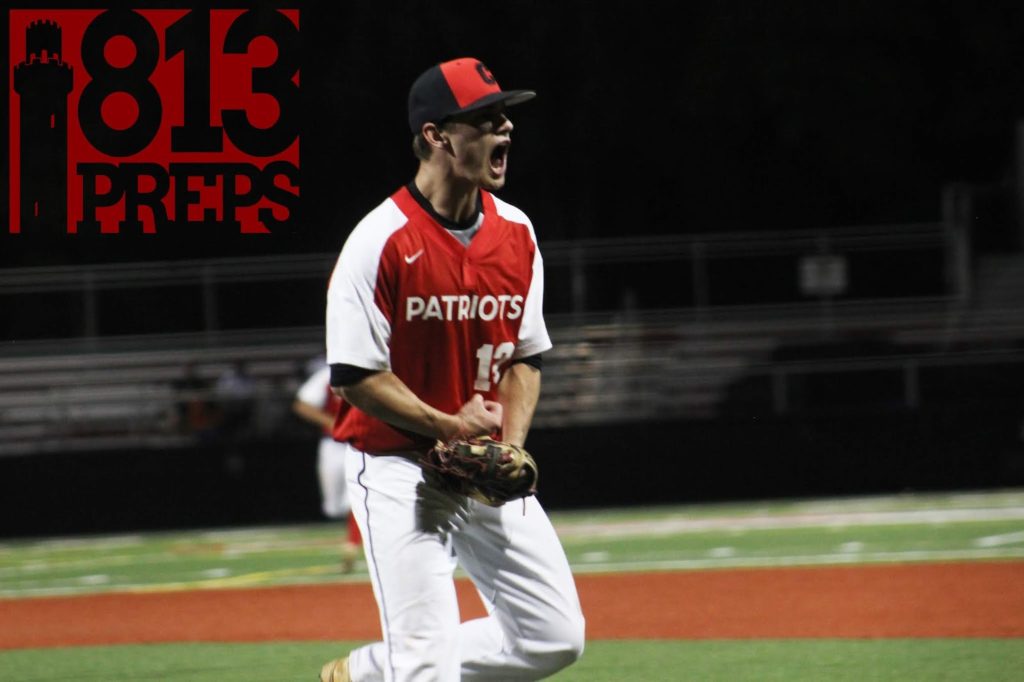 Carrollwood Day senior Blake Hooker lets out a yell after stranding the bases loaded to seal the Patriots' 1-0 win over Wiregrass Ranch. 
TAMPA – Carrollwood Day played 12 games last season decided by one run, with the Patriots coming out the victor in nine of those tilts. Unfortunately for the 2018 CDS team, one of the one-run games of which they were not on the victorious side, ended the Patriots most successful season in program history in a FHSAA Class 3A state semifinal loss to Tallahassee North Florida Christian.
Starting things off this year, Carrollwood Day returned to the win column, notching – you guessed it – a 1-0 win in the season opener over Wiregrass Ranch.
————————————————
Unlike many independent news organizations, we haven't put
up a subscription paywall – and we hope to be able to keep bringing you the great stories
from high school athletics in the 813 area free of charge. But we are still a small
business with a handful of paid employees, so there are costs including travel, equipment, and other costs associated with running this business.
We are looking for advertising partners, but we also need to count on our
readers for support. If everyone who reads our reporting, who likes it, helps
fund it, we will be able to continue covering these athletes' endeavors.
Support 813Preps.com for as little as $1 by clicking "Donate" button below.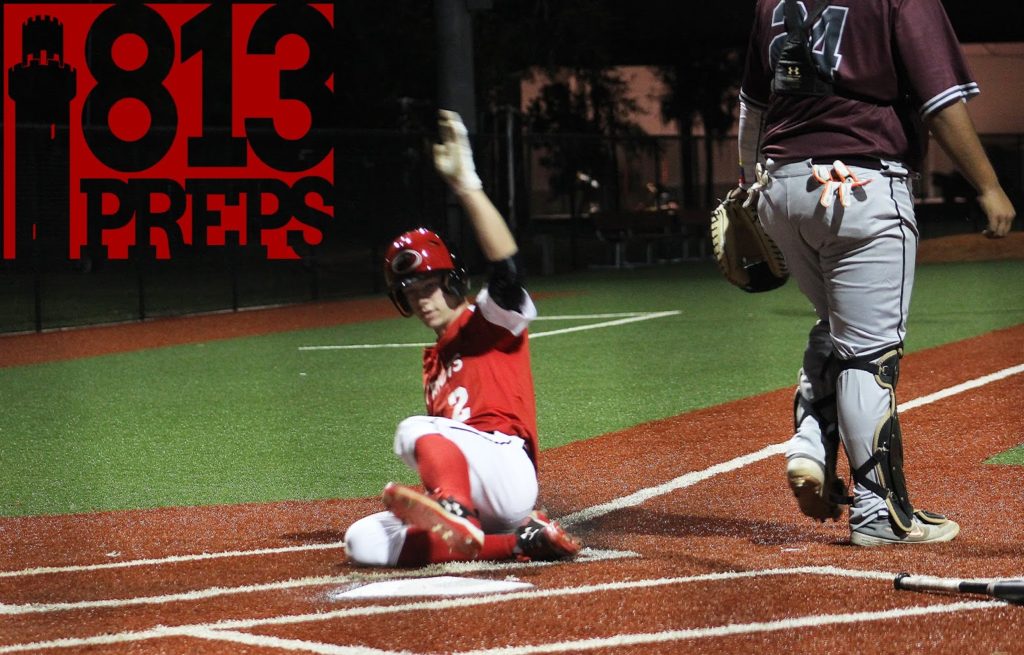 Patriots senior Dillon Baker scores the lone run in the first.
The Patriots took advantage of Bulls senior pitcher Nate Crissey's shaky start, as the right-hander walked the first two he faced in the home-half of the first inning and an error loaded the bases, for a Jay Garvey single to find some grass behind second base driving in Dillon Baker.
Baker went to work from there from the pitching rubber, tossing five innings to earn the win, while allowing just one Wiregrass Ranch hit – a Dillon Lewis single in the fifth – and striking out six.
"We had a few guys on our team who had played for (Wiregrass Ranch) coach (Marshall McDougall) before, so we knew his tendency was to take first pitches," Baker said. "So, my goal on the mound was to make sure that I threw first-pitch strikes and got ahead in the count early."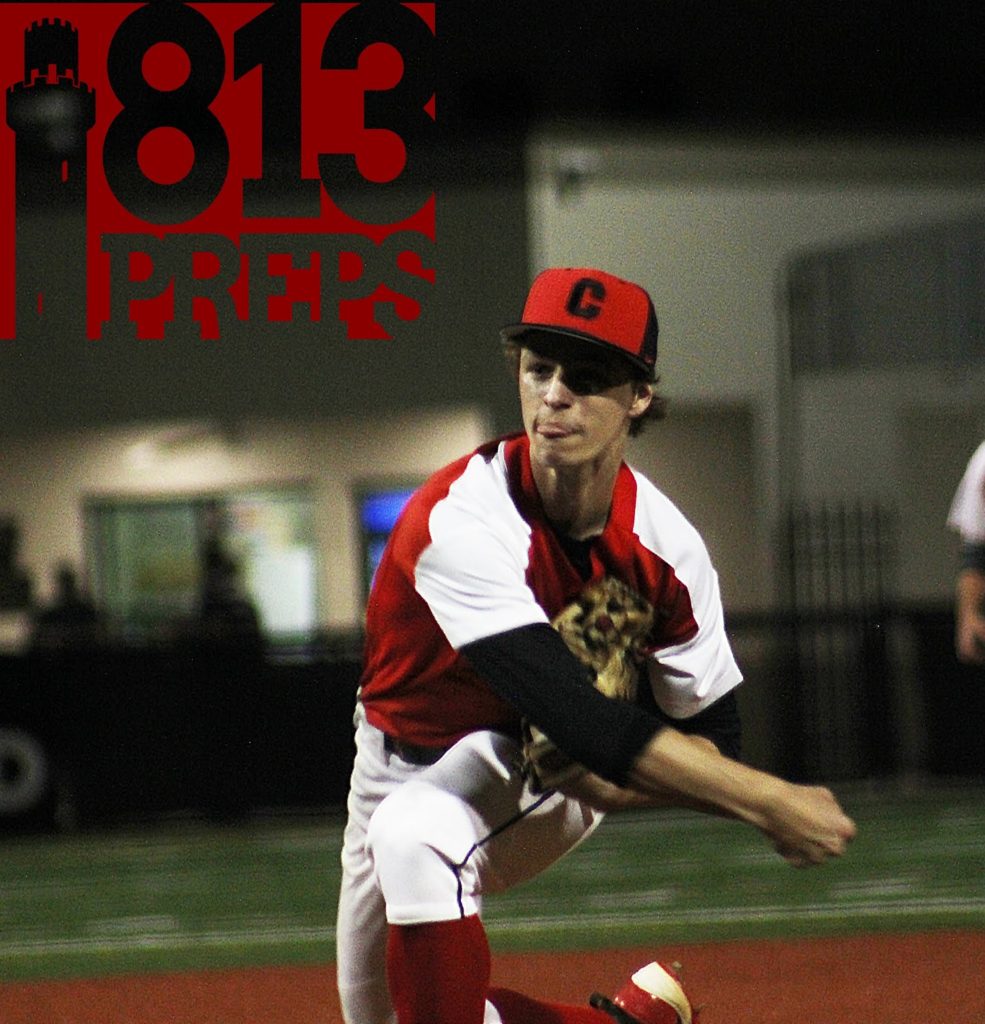 Dillon Baker earned the win on the mound for CDS.
Wiregrass Ranch's offense struggled and despite having four runners reach on Carrollwood Day errors, the Bulls were unable to move a runner past second for the first six innings. Three of those miscues came with Baker still on the mound, and two started innings. But the Patriots senior didn't let those runners shake him on the mound and as one of the more experienced returners to a team that, though lists 10 seniors on its roster, also lost most of its starting lineup from last season, he said he is confident those miscues will be lessened as the season goes on.
"We are not a young team, but with 10 seniors last year, a lot of these guys are still a little inexperienced," Baker said. "But I know once we get in the swing of things we're are going to be fine."
One of those lead-off errors in the fourth, provided Garvey with a way to impact the game beyond his RBI single, as the junior catcher erased the Bulls runner on the second pitch of the next at-bat with a laser down to second base.

"Being able to shut that down and take a runner out of scoring position meant a lot right there," Garvey said. "That really helped our pitcher, and our whole team's mentality, the rest of the way."
For the Bulls, Crissey found a rhythm after the first four CDS hitters scratched out the run, working four innings, allowing four hits, while striking out six to take the tough loss on the night.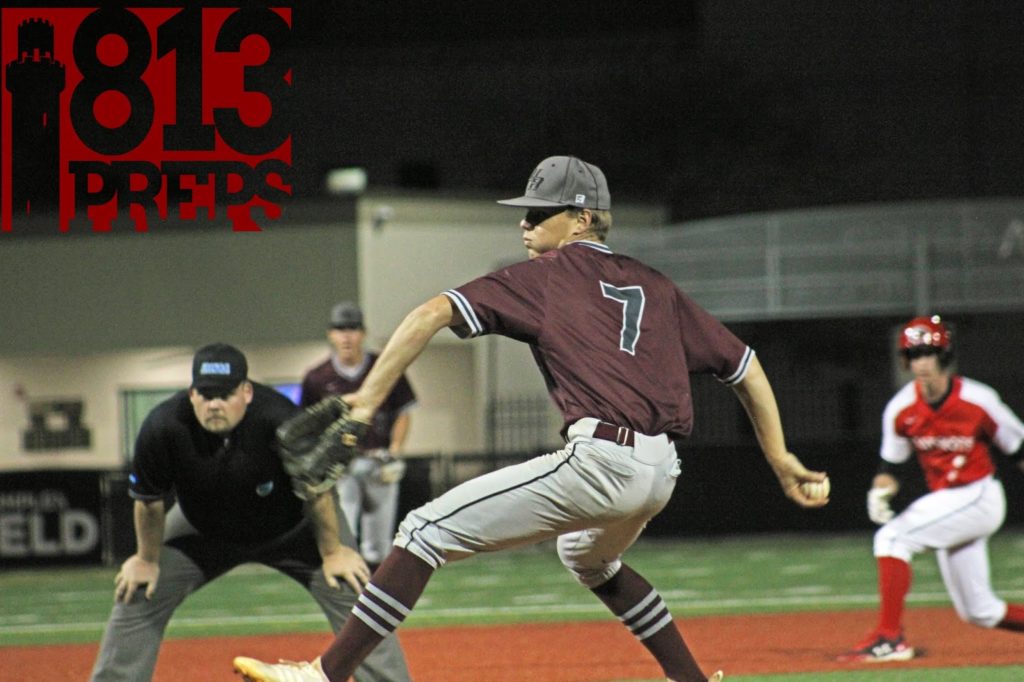 Wiregrass Ranch senior RHP Nate Crissey took a tough loss, allowing one run, while striking out six. 
Senior Blake Hooker, who was 2-for-3 at the plate with a double to the left field fence, took over on the mound in the sixth and worked the final two innings to earn the save. Hooker found himself in some late trouble as the fourth Patriots error allowed a leadoff runner, an Austin Hiatt single, and a walk to Lewis loaded the bases with one out. However, Hooker found his composure and finished of the Bulls with a strikeout and groundout.