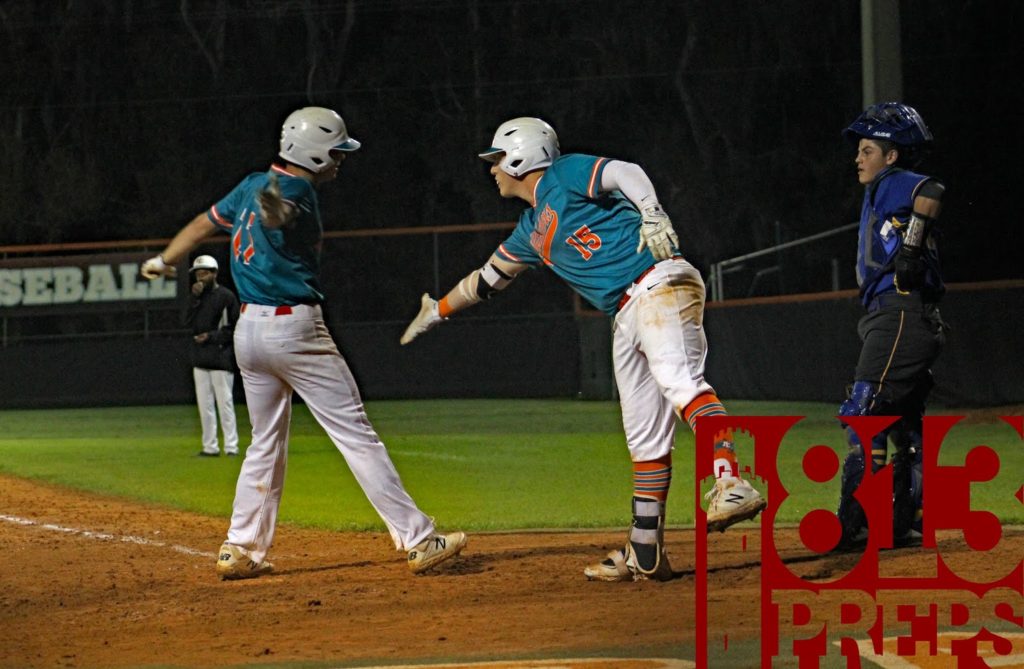 Raiders senior Cade Shissler is greeted at home by fellow captain Parker Messick after his third-inning solo home run plated the game's first run. Shissler finished the game 3-for-4, with two RBI. 
PLANT CITY – Cade Shissler led off the home-half of the first inning for Plant City with a screaming liner that Jefferson third baseman Nick Perez snatched out of the air for an out. For the rest of the night though, the Raiders senior and Stetson signee proved a tough out finishing the night 3-for-4, with a home run, two RBI and two runs scored leading Plant City to a 5-3 victory over the defending Class 6A state champion Dragons.
The Dragons however, did not go quietly as Jefferson found itself in a five-run hole in the seventh, with two quick outs on the board, but closed the gap with three runs highlighted by a pair of RBI doubles from Sal Vega and Mario Lopez.
————————————————
Unlike many independent news organizations, we haven't put
up a subscription paywall – and we hope to be able to keep bringing you the great stories
from high school athletics in the 813 area free of charge. But we are still a small
business with a handful of paid employees, so there are costs including travel, equipment, and other costs associated with running this business.
We are looking for advertising partners, but we also need to count on our
readers for support. If everyone who reads our reporting, who likes it, helps
fund it, we will be able to continue covering these athletes' endeavors.
Support 813Preps.com for as little as $1 by clicking "Donate" button below.
But with a runner in scoring position, junior righty Tyler Dowdy tightened down on the mound and finished off his three-inning save and the win with his fifth strikeout.
"Some of our Plant City teams in the past, they'd fold (there)," Raiders coach Michael Fryrear said. "The last two years we've started to get tougher, we don't fold, and I think that is because the guys we've had around here for three or four years are really buying into what we are telling them to do."
"We've seen what happened when we let games like this slip away, and the older guys we have now are great leaders and they are tired of it and not going to let it happen."
Jefferson turned to senior and Florida State signee Michael Dominguez on the mound for the start, and the righty who was an All-813Preps First Team selection a season ago, was in pretty solid form. He worked around some scattered base runners the first two innings, picking up four fast punch outs.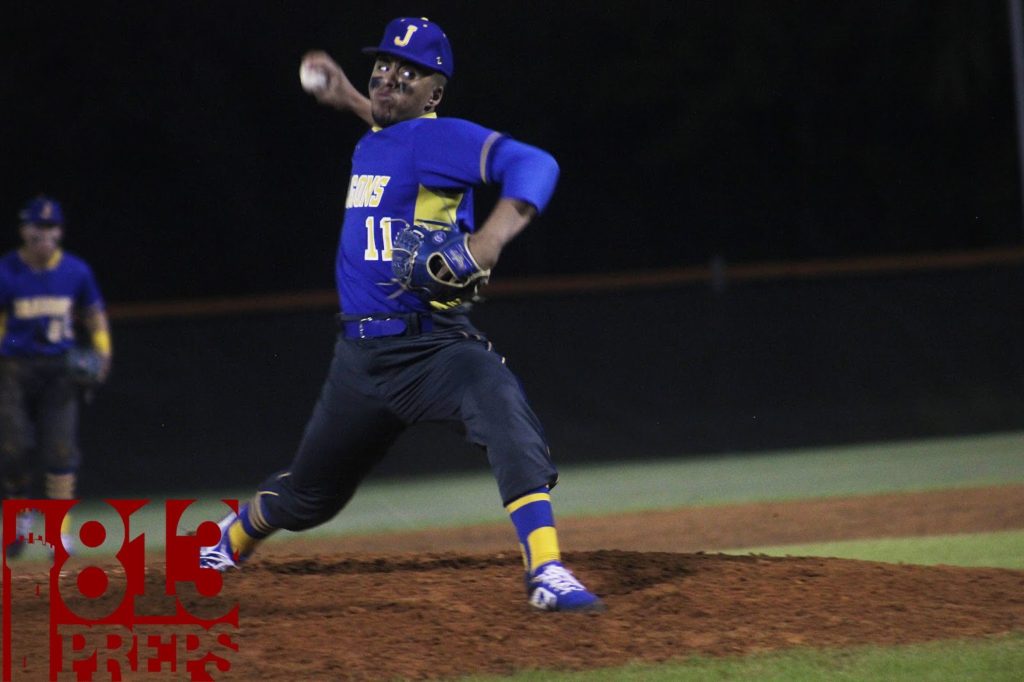 Jefferson senior Mike Dominguez, an FSU signee, worked four innings on the mound striking out nine. 
To start his third inning on the mound, Dominguez quickly got ahead of Shissler with two strikes and looked poised to add to his K total, but the Raiders leadoff man had his eyes peeled for a fast ball, got one to his liking and deposited over the fence in right field.
"I knew (Dominguez) is a great pitcher and he was spotting me outside," Shissler said. "He got two on me quick, so I just stuck my bat out there and let it do the work."
After that Dominguez worked efficiently for his remaining two innings, finishing with eight total strikeouts in four innings of work, allowing just the lone run on three hits.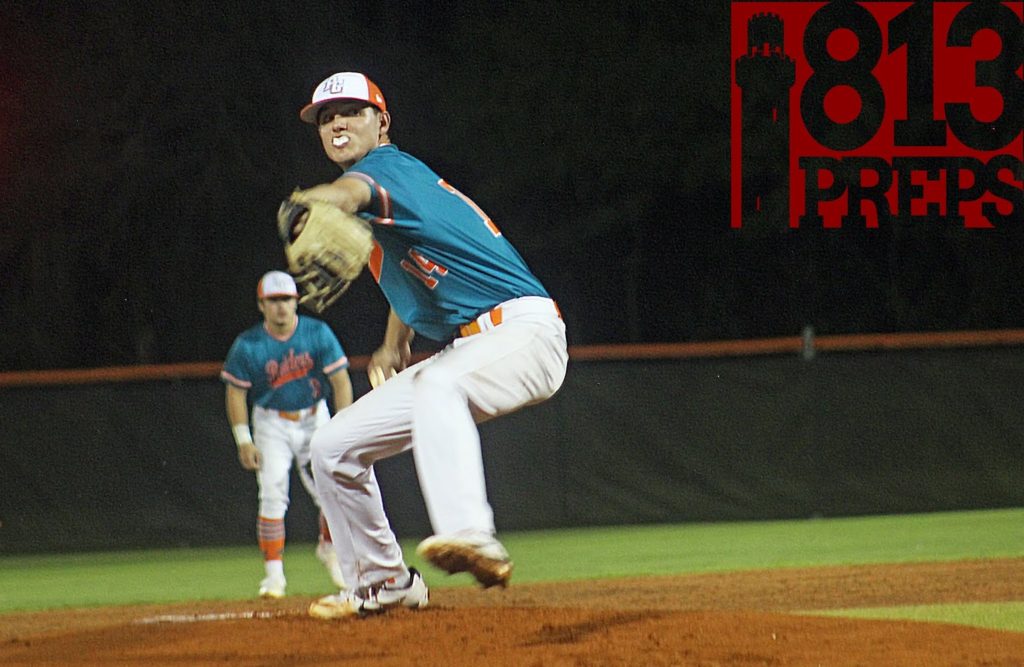 Plant City RHP Grant Gifford earned the win. 
Matching up on the mound for the Raiders was senior Grant Gifford (Polk State commit), who also went four innings, allowing no runs, on three hits and striking out three.
The Raiders offense came to life in the fifth, welcoming new pitcher LaMarr Johns to the game as DeMario Williams singled up the middle to start things off. Then Johns made a big mistake with an errant throw to first base allowing the standout speed of Williams to be displayed as the highly recruited football star motored around the bases to third base. From there, Shissler quickly cashed in the run with a single of his own, Parker Messick singled in Shissler, Cole Cothren doubled, and later Casey Mawhinney added an RBI single as the Raiders hung four runs in the frame.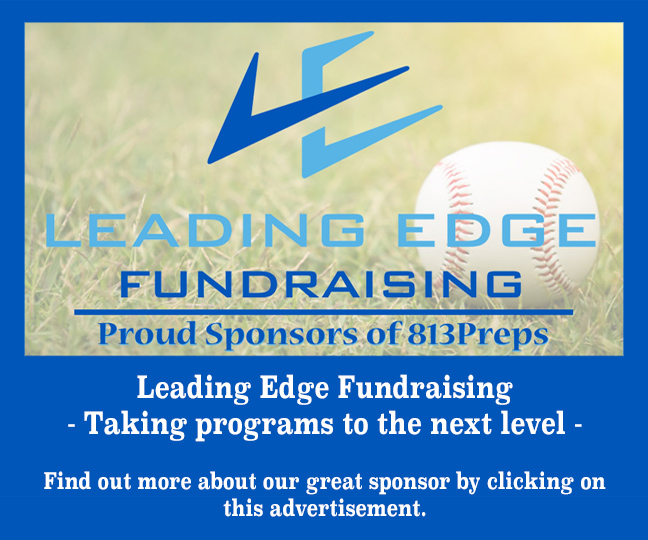 Shissler said the team focus this season is to try and go out every game and go 1-0, to avoid the pitfalls of focusing on future hopes or past accomplishments, and losing focus on the one-game-at-a-time mentality.
"I think in previous seasons, we've focused too far ahead or too far behind, and we've let that get to us," Shissler said. "We are going at it this year focusing on going 1-0, focusing on every game, on every pitch. If we do that, we'll be fine."
For Jefferson, Oscar Galvez had the first hit of the game and Lopez went 2-for-3 in the loss. Yadiel Perez, who entered in the fifth as a defensive replacement made a trio of nice plays on hard groundballs to third base for outs – two to end the fifth and one to start the sixth inning.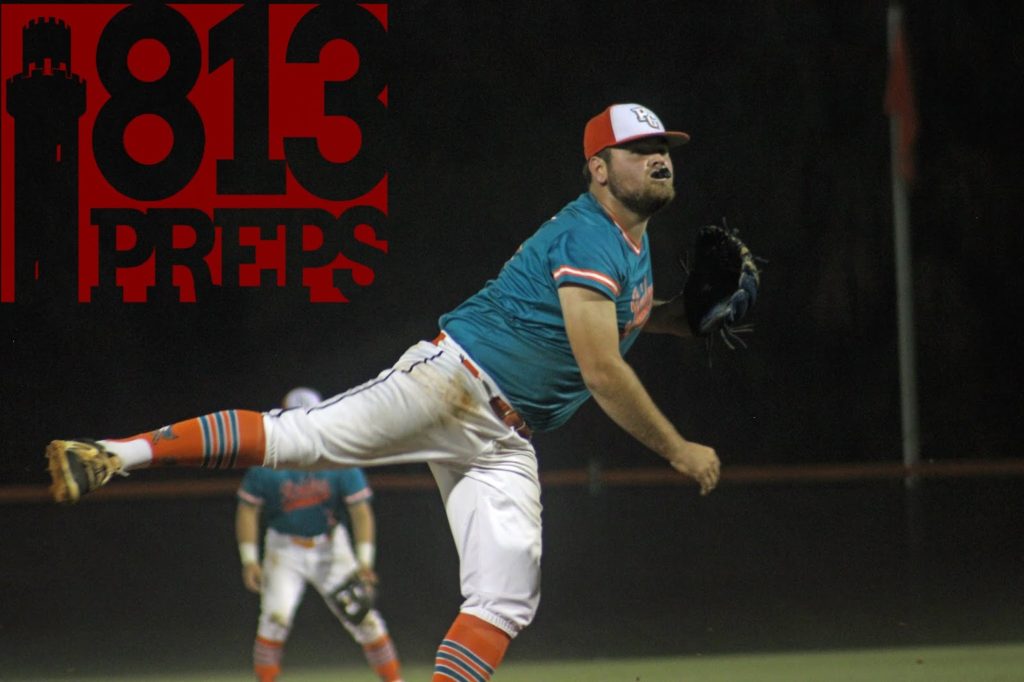 Raiders junior RHP Tyler Dowdy picked up a three-inning save.