Sickles senior Danny Bernstein went 3-for-4 and drove in five RBI on Thursday evening. (Photo by Mike Camunas)
By Mike Camunas, correspondent
TAMPA — It's hard to miss.
On the right-hand side of the entrance to Sickles' dugout is the team's goals for the season. They're broken up into sections: goals for the pitchers, as well as the offense – and then team goals.
The team goals are what you expect, from winning the 8A-5 district title to being undefeated at home and all the way at the bottom: State Champions.
One might think these are lofty goals, but coach Eric Luksis knows expectations have to be high for a Sickles team coming off its best season (22-5) in program history.
"We've got a great group of guys this year that are really motivated and expectations are high," Luksis said. "We're not going to let it get to us because we know we're a good ball club. … Last year, we got a taste of it and we have a lot of experience back and that experience for us was our foot in the door though we fell a little bit short. But that motivation has really seemed to push through into this year and it started in the offseason."
————————————————
Unlike many independent news organizations, we haven't put
up a subscription paywall – and we hope to be able to keep bringing you the great stories
from high school athletics in the 813 area free of charge. But we are still a small
business with a handful of paid employees, so there are costs including travel, equipment, and other costs associated with running this business.
We are looking for advertising partners, but we also need to count on our
readers for support. If everyone who reads our reporting, who likes it, helps
fund it, we will be able to continue covering these athletes' endeavors.
Support 813Preps.com for as little as $1 by clicking "Donate" button below.

Sickles (2-0) has seemingly picked up where it left off back in May, including picking up an 8-1 win over rival Gaither (0-1) on Thursday evening. In that game, catcher Danny Bernstein drove in five RBI, while starting pitcher, Chase Centala, struck out 11 in five-plus innings pitched.
Luksis is returning many players from last season's historic run, including 12 juniors and five seniors and realizes his "old team" will be helpful to try and accomplish the goals hanging on the dugout wall.
"These guys know that sticking together as a team and executing all the plans we have will propel us through the season," Luksis said.

About the night's offensive leader, Luksis was effusive about his longtime backstop, Bernstein.
"Bernstein is underrated," Luksis adds. "He does an absolute great job and he's caught 90 percent of our games the last three years. He's a hard-nosed, blue-collar guy who knows exactly what do to out there at the plate and behind it and to lead this team."
As a four-year starter, Bernstein is glad to be on one of the top teams in the county, especially since in first two seasons Sickles went a combined 17-29.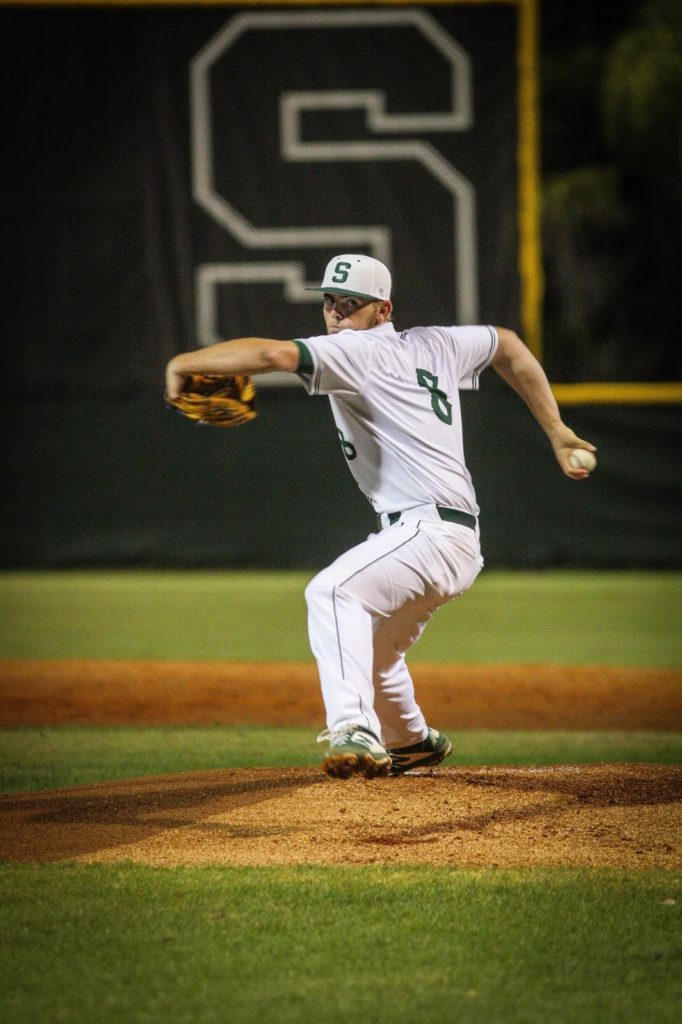 Sickles RHP Chase Centala struck out 11 to earn the win for
the Gryphons on the mound. (Photo by Mike Camunas)
"It was nice to come in and turn this program around," Bernstein, a Tallahassee Community College commit, said. "Because (my) first two years we weren't very good. So, it feels good to come out here knowing what we're capable of and know what kind of team we have, which is one that can play with anyone."
Now that Sickles, as well as the rest of the competition, knows it can play with anyone, the Gryphons have become the team to topple. So Luksis knows the secret is out and has been since last season ended with a May 15 loss to Plant.
"Yeah, we kind of snuck up on a few teams last year and that changed toward the end of the year — that's (not) going to happen this year," Luksis said. "So big games like (against Gaither) are going to prepare us for all our games and really get us where we want to be and that's state champs."
Gaither's lone run of the game came in the sixth inning as senior Derek Crum doubled in Jordan Williams.
– Mike Camunas is a longtime veteran journalist who is always seeking true stories, trained under J. Jonah Jameson and takes better photos of Spider-Man than Peter Parker. Follow Mike on Twitter @MikeCamunas