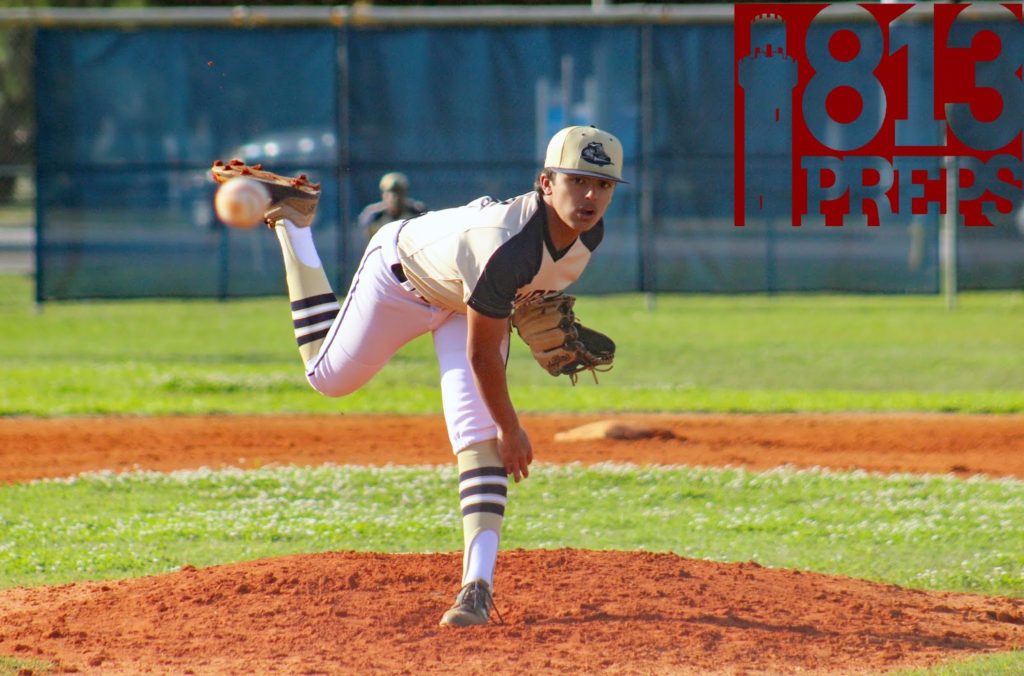 Cambridge Christian freshman pitcher Julian Montes earned the win on the mound.
TAMPA – Cambridge Christian steadily produced in its season opener against Academy at the Lakes, before opening things up with a four-run, fifth inning to end the game early, 10-0 via the mercy-rule.
————————————————
Unlike many independent news organizations, we haven't put
up a subscription paywall – and we hope to be able to keep bringing you the great stories
from high school athletics in the 813 area free of charge. But we are still a small
business with a handful of paid employees, so there are costs including travel, equipment, and other costs associated with running this business.
We are looking for advertising partners, but we also need to count on our
readers for support. If everyone who reads our reporting, who likes it, helps
fund it, we will be able to continue covering these athletes' endeavors.
Support 813Preps.com for as little as $1 by clicking "Donate" button below.

Lancers senior leadoff hitter Duane Drummond started it all off with a double, and scored the first run of the season two batters later as Josh Morin drove him home with a groundball to the right side.
Drummond, who had two hits and reached in all three of his at-bats, spoke about getting the quick lead and said the teams focus was to keep applying pressure and not relaxing.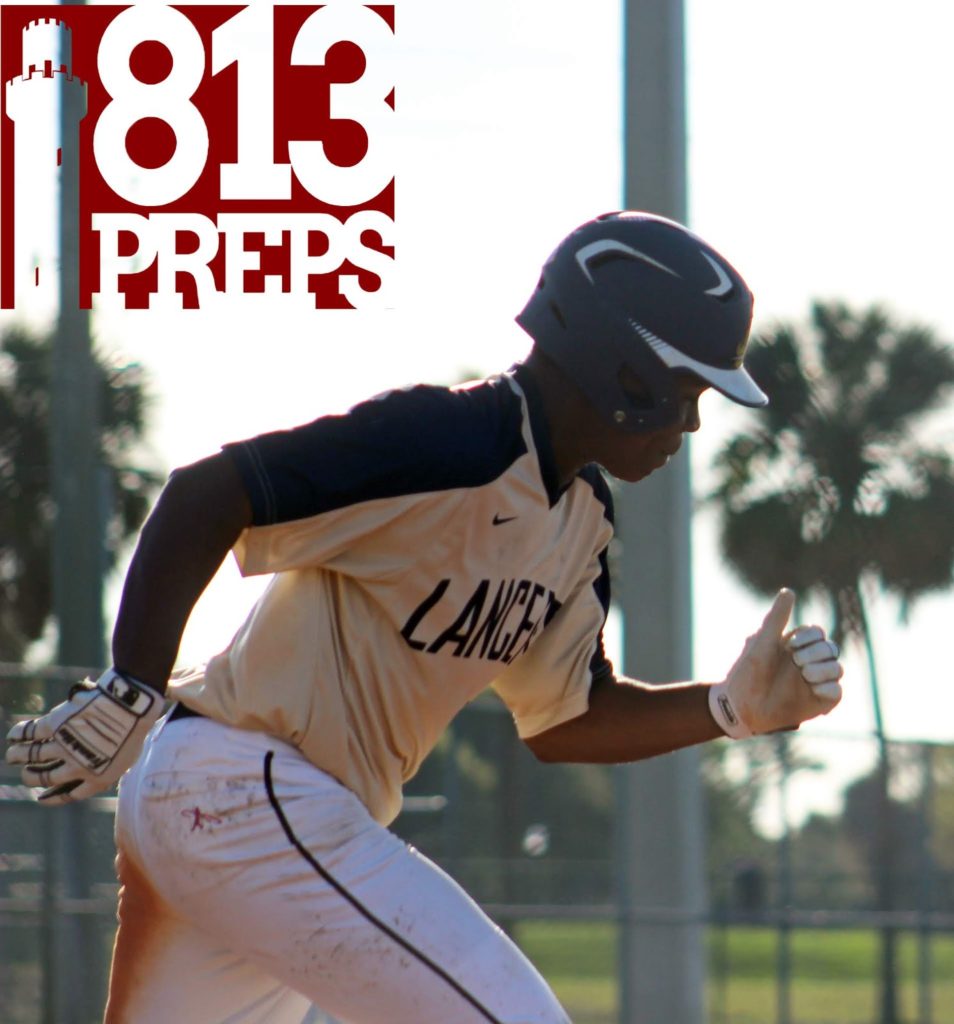 Lancers senior Duane Drummond breaks out of
the box after his first innings double. 
"Getting ahead early means doing all the little things correctly," Drummond said. "And once we get ahead, we had to keep our foot on the neck – you can't let off or it will catch up with you."
The Lancers added two runs in each of the next two innings as Jack Stayte singled in a run and Jacob Lightbody (2-for-2, two runs) doubled in a pair of runs.
Morin, who finished 1-for-3, with a run scored added another productive at-bat in the fourth, getting the runner in from third with another ground ball to the right side.
The run support was more than enough for Cambridge Christian freshman Julian Montes to win in his varsity debut. Montes, a 5-foot-8, right hander cruised through 4 1/3 innings striking out four and allowing just one hits, walking one and hitting a batter.
Montes had veteran poise on the mound and said he recognized some tendencies early from the Wildcats hitters and adjusted his game-plan accordingly.
"Once the game got started, I saw how they reacted to the pitches and how they were hitting to the right side, so I started throwing to the outside to try and jam them," he said. "They were backing away a little bit and the fastball outside really worked and we got the win."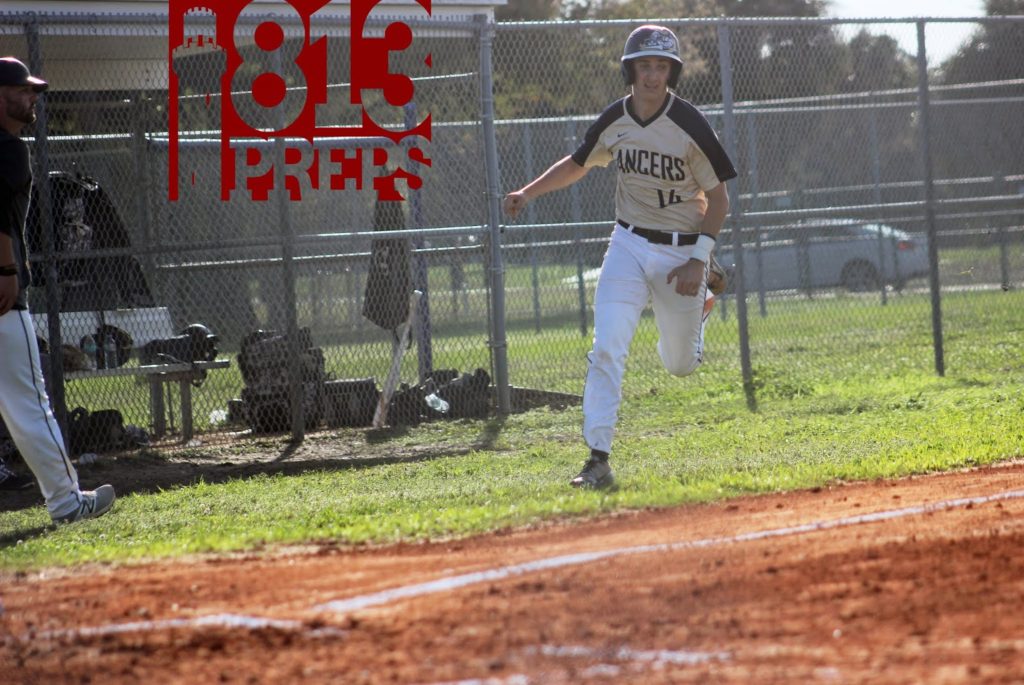 Cambridge Christian's Jacob Lightbody scores a run in the second inning. Lightbody, a junior was 2-for-2 in the game, with a double, two runs scored and two RBI. 
Working in relief, senior Dawson Nores barely broke a sweat recording two outs to end the fifth on just two pitches, including helping out his own cause by fielding a comebacker to the mound.
The play of the game however, belonged to Drummond who tracked down a fly ball in centerfield in the fourth and then gunned down a tagged-up Wildcats runner trying for third base.
The Lancers ended the game early with four runs keyed by another RBI from Stayte, a pinch-hit RBI single by Chase Murphy and a game-ending RBI single by Tilden Agee.