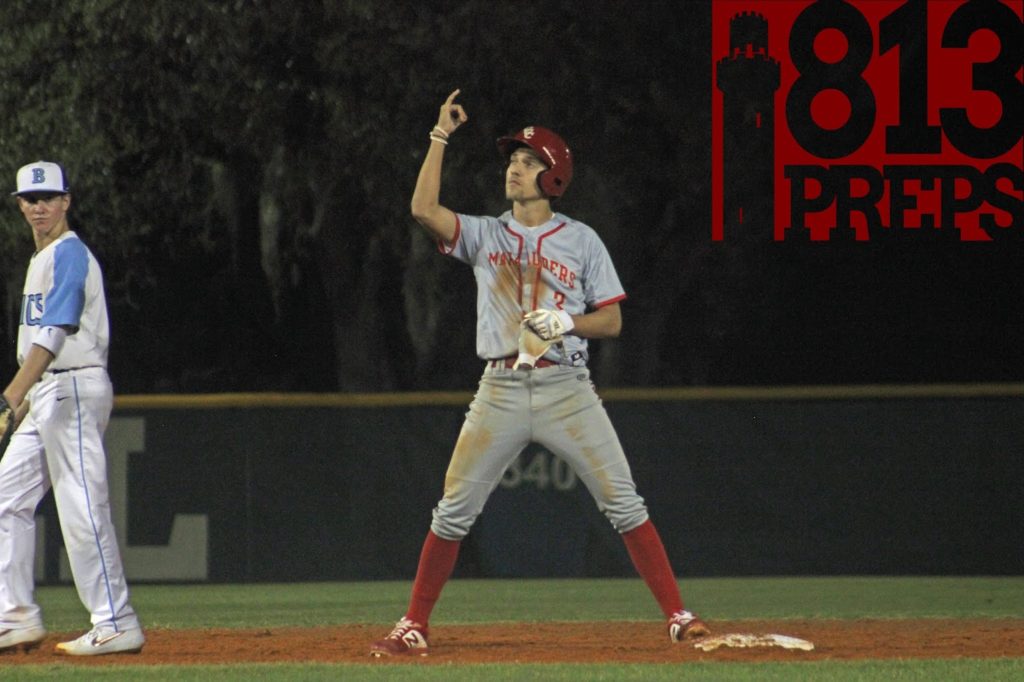 CCC's Anthony Bennetti points to the heavens after his fourth-inning double. The senior and Barry University showed speed and range in the outfield and also picked up the save in the Marauders win. 
TAMPA – Clearwater Central Catholic took advantage of costly errors to score a run in the first and seventh innings, as pitching and defense kept Berkeley Prep off the scoreboard and allowed the Marauders to come away with a 2-0, district win.
CCC (1-1, 1-0 in Class 4A-Disrict 4) got ahead early as Blake Wright slashed a two-out double to the wall in right-center in the first, then scored from second on a throwing error on the next play.
————————————————
Unlike many independent news organizations, we haven't put
up a subscription paywall – and we hope to be able to keep bringing you the great stories
from high school athletics in the 813 area free of charge. But we are still a small
business with a handful of paid employees, so there are costs including travel, equipment, and other costs associated with running this business.
We are looking for advertising partners, but we also need to count on our
readers for support. If everyone who reads our reporting, who likes it, helps
fund it, we will be able to continue covering these athletes' endeavors.
Support 813Preps.com for as little as $1 by clicking "Donate" button below.

From there, senior Nick DiMiceli was steady on the hill for the Marauders, filling the zone and allowing his defense to back him up. DiMiceli worked six innings, scattering three Berkeley Prep hits, and struck out four.
"I just did my thing, located the ball and they mishit it," DiMiceli said, "then my defense was behind me. They've got my back."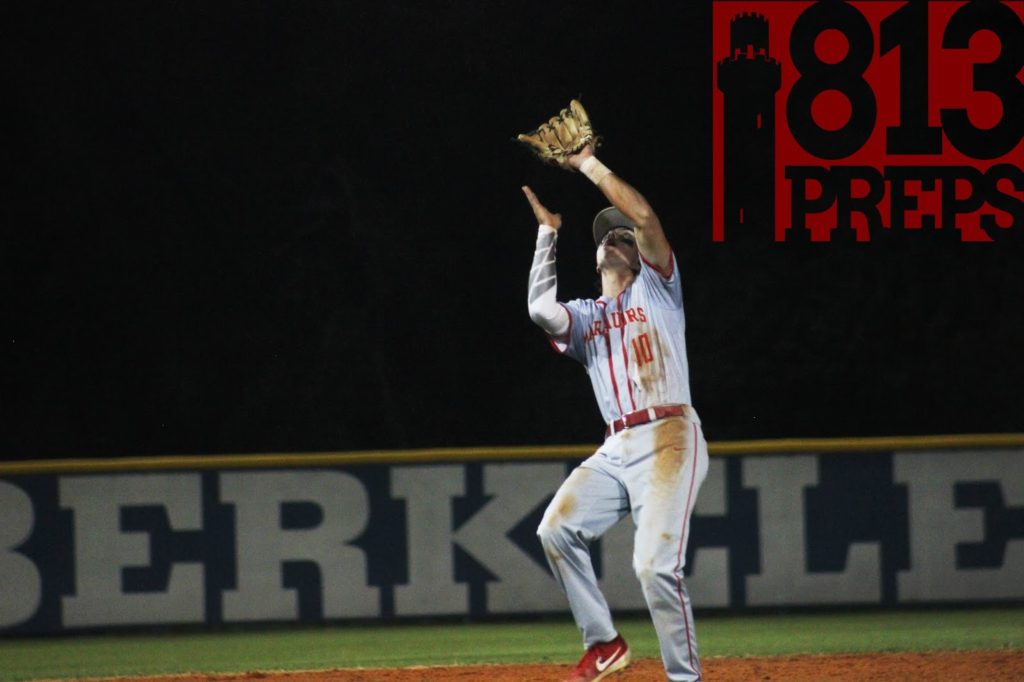 CCC shortstop Blake Wright, who doubled and scored the winning run, settles under a pop fly in the second inning.
DiMiceli's efforts on the mound were aided by some nice defense behind him, especially in the outfield, where speedy centerfielder Anthony Bennetti showed his range on three great plays.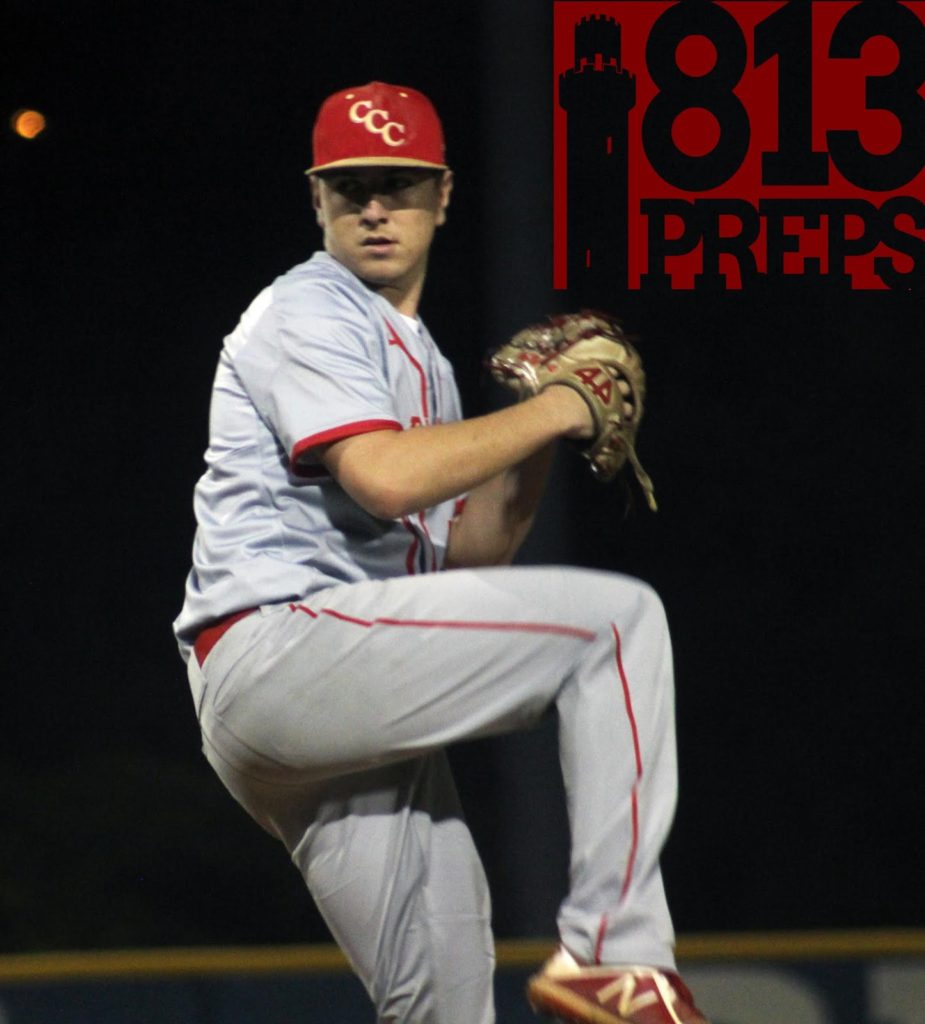 Marauders LHP Nick DiMiceli
"One-hundred percent, I trust those guys with my life," DiMiceli said of his outfielders. "Those guys out there are three of the fastest guys on our team, they run amazing routes, and every time there is a pop fly, I know someone is going to be under it."
The Buccaneers also had a few bright spots on defense including a nice play in no-man's land by third baseman Johnathan Bruno, making a nice scoop-and-throw for an inning-ending third out, and some solid work behind the dish by senior Jakob Hines, as well as an excellent throw to catch a would-be base stealer at second base in the seventh.
Berkeley Prep (1-1, 0-1 in 4A-4) threatened with a runner reaching second early but left him stranded, and had Tucker Fine wear a pitch in the sixth, steal second, move to third on a fly ball out, but saw the inning end with the tying run 90 feet away as Bennetti ran down a ball in the gap.
A leadoff walk in the seventh was followed by another Berkeley Prep error allowing the runner to get into scoring position with no outs, and CCC scratched out another run for some insurance.

That was all the extra help, Bennetti would need as he moved from the outfield to the mound to pick up the save with a pair of strikeouts ending the game.
"I'm going to be honest, that second run lifted a little bit of the weight off my shoulders," Bennetti said with a grin. "But one run, five runs, 10 runs, whatever lead we've got we have to keep the intensity and finish things out."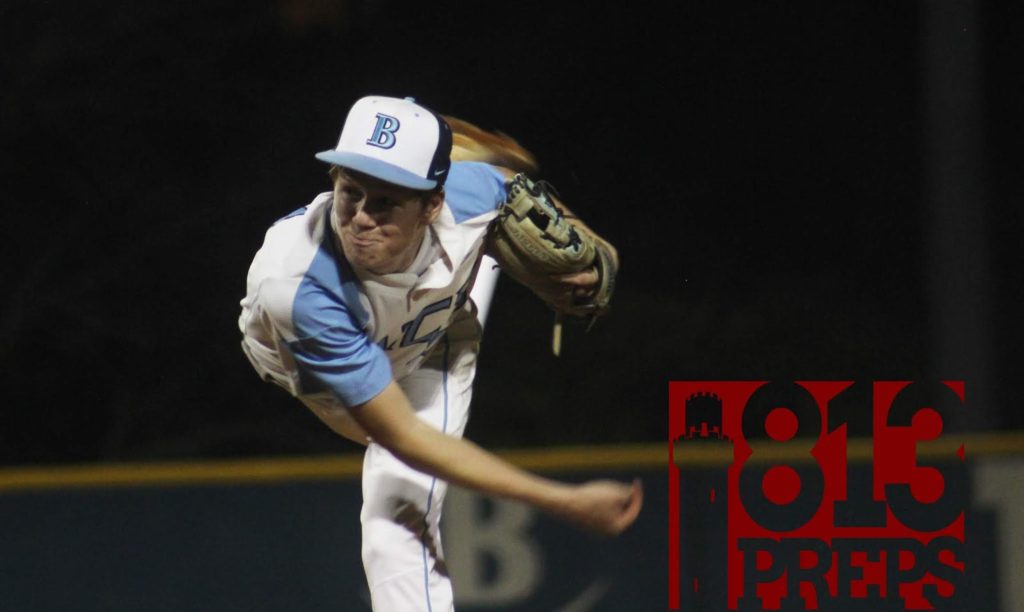 Berkeley Prep junior Ryan Leavy struck out four in two-plus relief innings on the mound. 
Berkeley Prep had some solid work on the mound from starting pitcher John Dooley, who worked three innings, allowing one unearned on two hits, and struck out three, while Ryan Leavy worked two-plus innings and struck out four.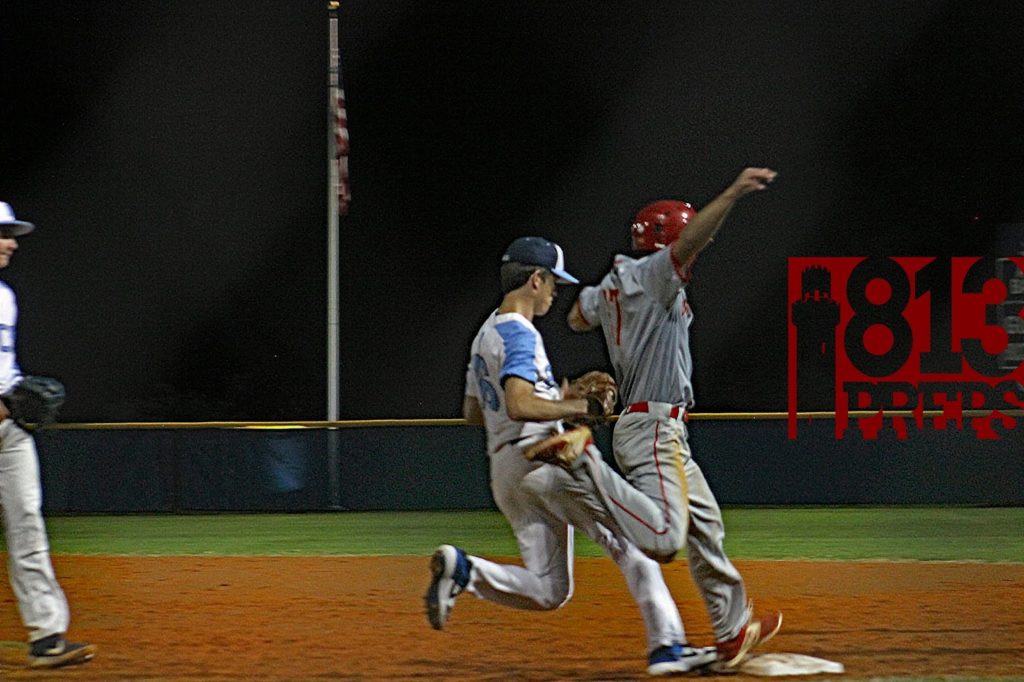 Berkeley Prep reliever Will Parkinson gets over to cover first on a weakly hit ground ball to first in the fourth inning.