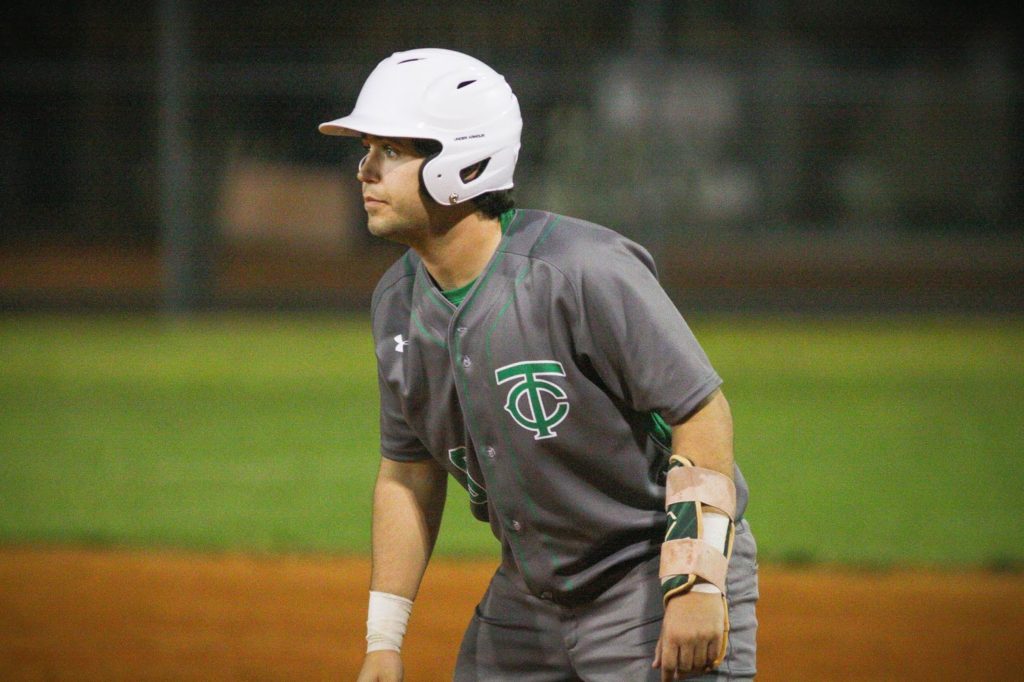 Tampa Catholic senior Anthony Lefler drove in a pair of runs in the Crusaders district win over Brooks DeBartolo. (Photo by Mike Camunas)
By Mike Camunas, correspondent
TAMPA — Two young teams in an early-season district matchup gave each other all they had, but it was the Crusaders that came out on top.
Despite blowing a 6-1 lead, Tampa Catholic (2-0) held Brooks-DeBartolo (0-2) and its game-tying rally, as well as bases-loaded opportunity, off for a 12-7 win Friday evening at Rome & Sligh Park.
"Thing about us," Crusaders first baseman and DH Anthony Lefler said, "is we never give up. We always fight and we know that we are always in the game."
————————————————
Unlike many independent news organizations, we haven't put
up a subscription paywall – and we hope to be able to keep bringing you the great stories
from high school athletics in the 813 area free of charge. But we are still a small
business with a handful of paid employees, so there are costs including travel, equipment, and other costs associated with running this business.
We are looking for advertising partners, but we also need to count on our
readers for support. If everyone who reads our reporting, who likes it, helps
fund it, we will be able to continue covering these athletes' endeavors.
Support 813Preps.com for as little as $1 by clicking "Donate" button below.
Tampa Catholic jumped out to a 6-1 lead, but the Phoenix tied it in the fifth thanks to a 6-1 run of its own, including a three-run fifth behind Ryan Bradarich, who had two RBI.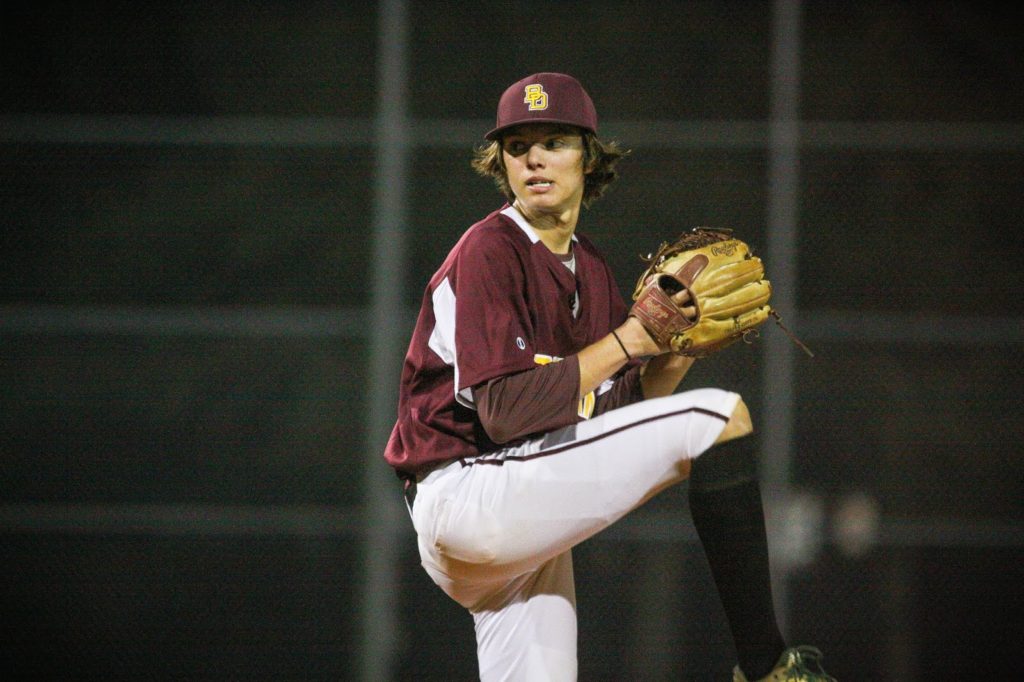 Phoenix junior LHP Ryan Bradarich. (Photo by Mike Camunas)
"I don't think we let up," Crusaders coach Ty Griffin said. "They came out and kept battling and everyone knows that anything can happen in a district game and just about did tonight. … Both of us are young teams, so you're going to get games like that with changing leads — you just have to survive the counterpunches of the other team."
Brooks-DeBartolo had a chance to break up the 7-7 tie in the bottom of the sixth with a bases-loaded opportunity, but reliever Ryan Valenti got a two-out, strikeout to end the threat.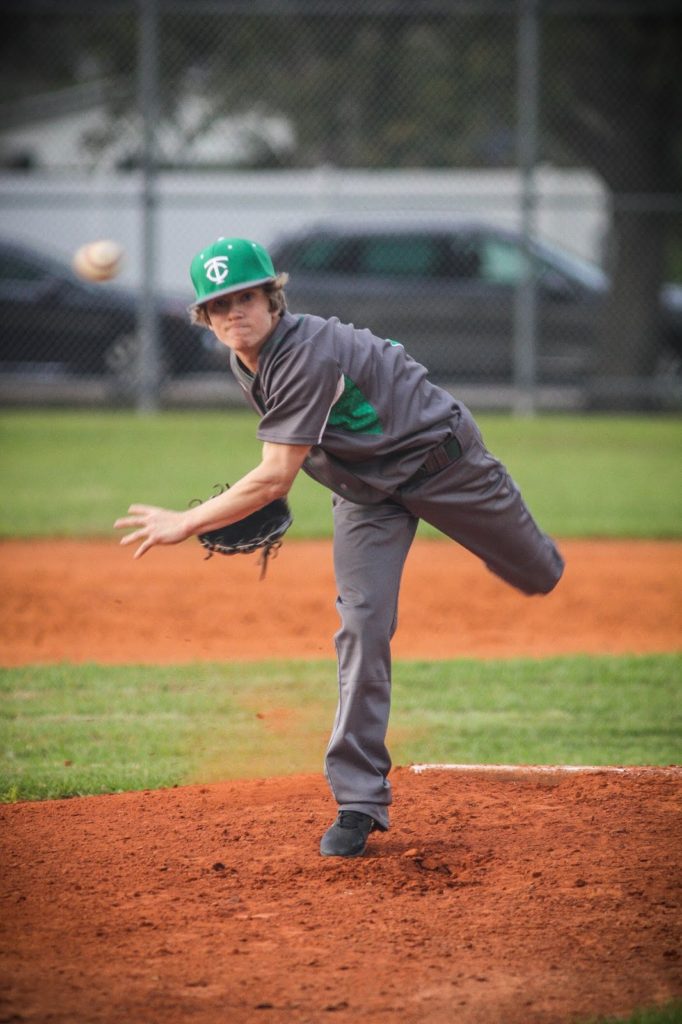 TC sophomore Kaleb Sierra.
(Photo by Mike Camunas)
"You've got to get the guys at this level, once they get to high school, to realize that every inning counts," Griffin said. "We're up 6-0, and they come back and they even had a chance to win it, but you can't get too high and you can't get too low. You have to bring it every inning. You can't get up 6-0 (and start celebrating), so you've got to be even keel and keep at it every inning."
Tampa Catholic then pulled away in the top of the seventh, scoring five runs, including the go ahead on a two-run single by Lefler. Tony Watson also plated two in the seventh and had three total RBI on the night.
Lefler said his team was glad to pick up the district win, but he does realize, as Griffin said, that his team is young. Lefler is just one of four seniors on the roster, but he also feels the young talent on the team can take the Crusaders where they want to go.
"We lost 17 players (going into the 2018 season), which hurt us a little bit," Lefler said. "But our guys go out there and work hard and do their best. … I grew up with those guys (from that season), so it was it hard, but we have to play and we're going to go out there and go as far as we can and try and get a ring."
– Mike Camunas is a longtime veteran journalist who is always seeking true stories, trained under J. Jonah Jameson and takes better photos of Spider-Man than Peter Parker. Follow Mike on Twitter @MikeCamunas