* Our Week 1 rankings were voted on by 813Preps editor Jarrett Guthrie, staff writer Will Turner, and 95.3WDAE's Jay Recher. Follow Jay's coverage of all things Tampa Bay sports at his blog by clicking here. *


1. Jesuit (3-0) [First place votes: 2] – The Tigers traveled south and swept three games in a tournament in Broward County, defeating Westminster Christian behind a combined effort, two-hit shutout, where four pitchers struck out a total of 16, coming from behind eight runs to defeat reigning 5A state champs Monsignor Pace 9-8, and defeating North Broward Prep 12-6, as Bennett Lee went 4-for-5, with two doubles, two runs scored, three RBI and Cole Russo also drove in three. The three wins came against three programs that won at least 18 games in 2018.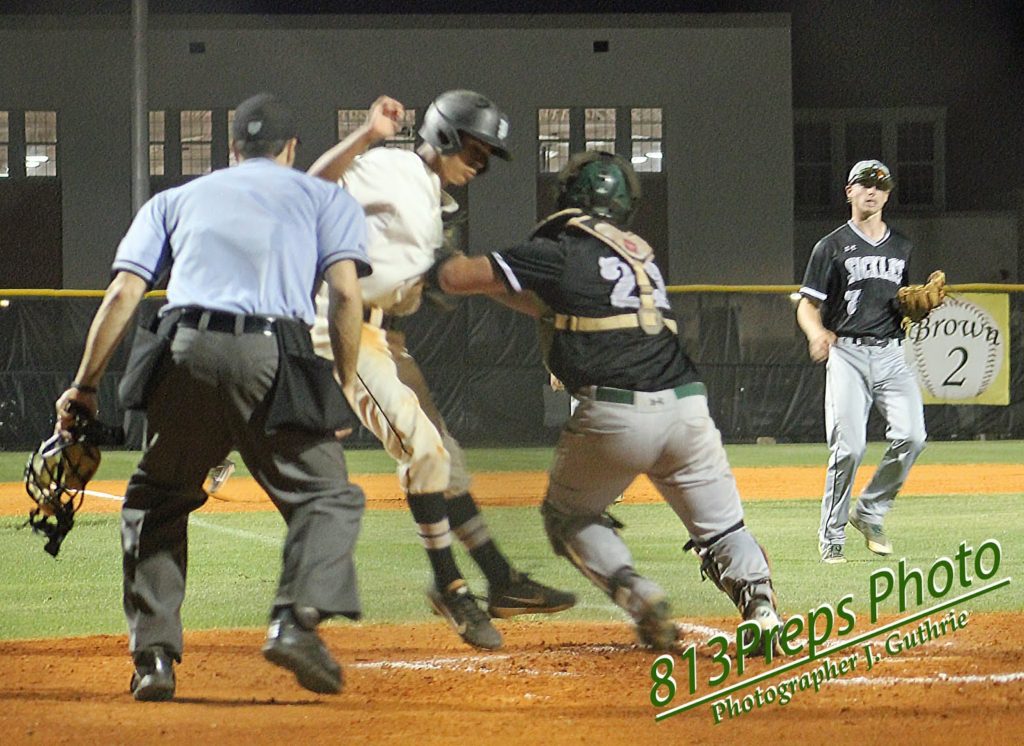 Sickles C Danny Bernstein applies the tag at the plate in a game
last season.
2. Sickles (2-0) [First place votes: 1] – The Gryphons narrowly slip from the No. 1 spot from our preseason poll, but Sickles took care of business in the first week. Senior Dylan Eskew started his second-straight year on the mound with a five-inning no-hitter as the Gryphons blanked Robinson. Not to be outshined, Chase Centala went out a day later and struck out 16, while Danny Bernstein tallied five RBI in the Gryphons win over Gaither (click here to read our coverage from this game). We'll see if a trio of challenging games against Steinbrenner, Bloomingdale and Plant City this week tests the Gryphons.
————————————————
Unlike many independent news organizations, we haven't put
up a subscription paywall – and we hope to be able to keep bringing you the great stories
from high school athletics in the 813 area free of charge. But we are still a small
business with a handful of paid employees, so there are costs including travel, equipment, and other costs associated with running this business.
We are looking for advertising partners, but we also need to count on our
readers for support. If everyone who reads our reporting, who likes it, helps
fund it, we will be able to continue covering these athletes' endeavors.
Support 813Preps.com for as little as $1 by clicking "Donate" button below.
3. Plant City (2-0) – The Raiders held off a seventh-inning, two-out rally to defeat defending 6A state champs Jefferson, 5-3 as senior Cade Shissler produced at the plate in a 3-for-4, one home run, two RBI night on Wednesday (click here to read our game coverage). Then Plant City kept rolling by defeating Wharton 9-1, as senior Parker Messick made his regular season debut on the mound working five innings and striking out seven, to go along with another 3-for-4, two RBI night from Shissler. A tough slate of Newsome, district opponent Durant, and a Saturday game at Sickles lays ahead of the Raiders this week.
4. Riverview (2-0) – Riverview stays in the same spot from the preseason rankings, but gets leapfrogged by PC in another strength-of-schedule situation. The Sharks also took care of business last week demolishing Spoto, 20-0, then defeating Middleton by a score of 9-3. Riverview will face a test on Tuesday as the Sharks host Plant giving us a better look at the mettle of team, and will also square off in a district tilt against East Bay on Thursday.

5. Leto (2-0) – An ugly win (or two) is still a win, and the Falcons remained undefeated in the first two outings of the season. Leto scored a run in the first inning on Thursday, and relied on the arm of ace Christian Diaz to get by Steinbrenner, 1-0 (click here to catch up on this game). Then senior Franklyn Hernandez did some heavy-lifting on the mound after inheriting a three-run deficit, punching out a dozen as the Falcons rallied to win 4-3 against Alonso on Friday. Leto faces Blake, Chamberlain and Plant this week.

6. Newsome (2-0) – Sawyer Smith's four-RBI night, and seven strikeouts from Zach DeVito keyed the Wolves 15-1, six inning win over East Bay on Thursday, and Newsome handled business against Durant, 6-1, as Cole Stallings limited the Cougars to one hit over four shutout frames (check out our story from this game by clicking here). The Wolves travel to Plant City on Tuesday, before hosting Alonso in its district opener on Thursday.
T7. Bloomingdale (1-1) – Bloomingdale takes a bit of a tumble from the No. 3 preseason spot, as the Bulls came out flat against Armwood, losing 3-2 despite a Brock Wilken home run. The Bulls righted the ship a bit taking things out on Tampa Bay Tech with a 15-1 victory, where Wilken added his second home run of the season, and finished a single away from the cycle. In the win over the Titans, Bryce Hazzard and Colby Shelton also hit homers. Bloomingdale squares off against two Week 1 Top 10 teams as the Bulls travel to Strawberry Crest on Wednesday and faces Sickles on Friday.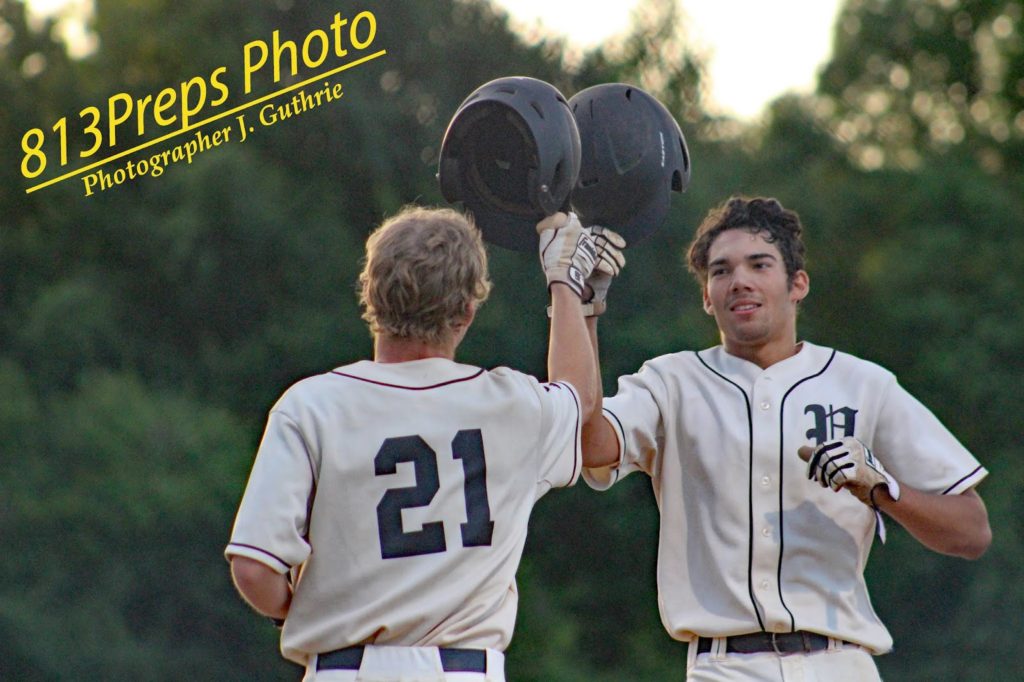 Plant senior Gabe Rincones hit a home run against Chamberlain
last week. (file photo)
T7. Plant (2-0) – Gabe Rincones belted his first homer of the season as the Panthers defeated Chamberlain 7-2, and Rincones scored the decider in a 1-0 victory against Robinson last week, where senior Kyle Gates won out in a pitching duel against Robinson's Koby Fogg, by allowing just one hit and striking out four (click here for our coverage).
9. Strawberry Crest (1-0) – The Chargers climbed into the Top 10 with a 14-0 win over TBT as Jacob Heath doubled, homered and drove in three. Alex Marshall picked up the win allowing one Titans hit over three innings with three strikeouts, before Brent May worked the final two innings allowing no hits and striking out four. Business picks up a bit at home for Crest this week as the team sandwiches a district game versus Freedom on Wednesday, between games against Bloomingdale and King.
10. Wharton (1-1) – A mixed bag for the Wildcats in week one, as Wharton opened its season with a 5-1 win over King, as senior Brian Baughman struck out nine in five innings of work, but fell flat in a 9-1 loss to Plant City. The Wildcats travel to Chamberlain (0-2) on Tuesday and host a its district opener against Wiregrass Ranch (1-2) on Thursday.
The Next Five(ish):
11. Gaither (0-1)
T12. Alonso (1-1)
T12. Berkeley Prep (1-1)
T12. Jefferson (0-2)
T15. Armwood (2-0)
T15. Durant (1-1)