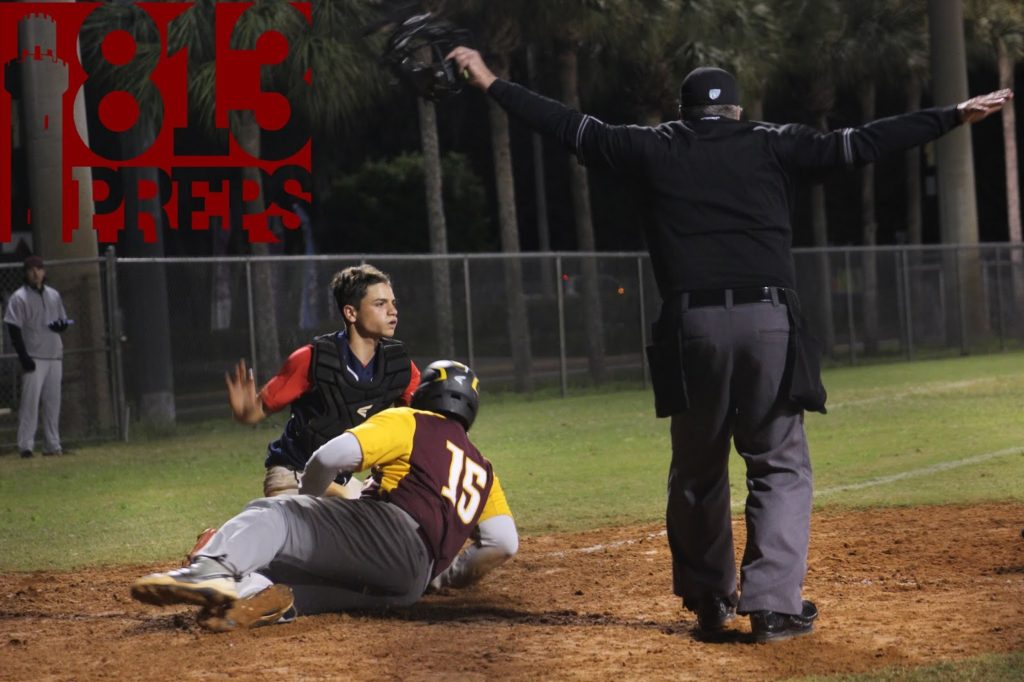 Middleton's Cedric Lee scores on a sac fly from Marques Smith in the sixth inning.
TAMPA – Middleton junior Jose Monroy may not strike an imposing figure out at on the mound, but the 5-foot-2, right-hander is just fine if he and his Tigers' teammates are underestimated this season.
Monroy said he hopes the perception that his team is a pushover keeps playing in the minds of their opponents, but that this is not a team consistent with the one that has seen just six wins total across the past seven years.
"At the end of the day, if we do poorly that's our fault, but if we do well, we know we can win," Monroy said. "If teams take us for granted, that's fine, when we win we'll know we have earned it."
———————————————–
Unlike many independent news organizations, we haven't put
up a subscription paywall – and we hope to be able to keep bringing you the great stories
from high school athletics in the 813 area free of charge. But we are still a small
business with a handful of paid employees, so there are costs including travel, equipment, and other costs associated with running this business.
We are looking for advertising partners, but we also need to count on our
readers for support. If everyone who reads our reporting, who likes it, helps
fund it, we will be able to continue covering these athletes' endeavors.
Support 813Preps.com for as little as $1 by clicking "Donate" button below.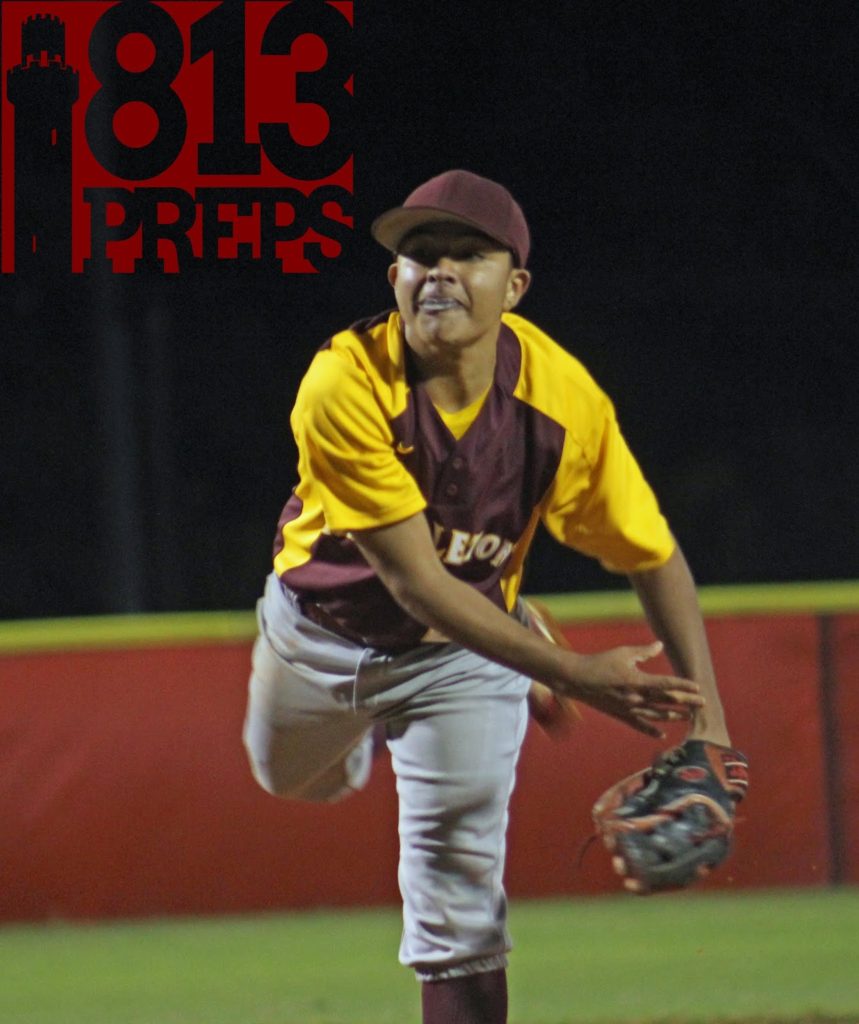 Middleton junior Jose Monroy.
Middleton (1-2) already matched its win total from a season ago as the Tigers, behind a complete-game effort on the mound from Monroy, defeated Tampa Bay Tech, 4-2 on Tuesday night.
Monroy worked quickly, allowing just four Tampa Bay Tech hits in his seven innings of work, earning the victory while striking out three.
"I came out here to play and wanted to come out with the 'W'," Monroy said. "A lot of teams underestimate us, so we are coming out every game trying to prove them all wrong."
TBT (0-3) got a good start on the mound from senior Noah Andrus-Rhoads, who allowed just a single walk over his three innings of work. The Titans took the game's first lead in the fourth as Eli Espinosa singled, moved over on a sac bunt and scored on a Tigers' throwing error.
However, the lead was short-lived as Middleton evened things in the fifth when an error allowed a base runner, who was moved to third on a Marques Smith double, and scored on another costly mistake – a wild-pitch, strike three that extended the innings. The Tigers added two more in the sixth, with Smith again coming through, this time with an RBI sac fly, and yet another Titans' error allowing an insurance run.
"I've been struggling a little bit (at the plate)," Smith said. "So, I was just looking to get a base hit or anything to help, and it feels great to come through like that tonight."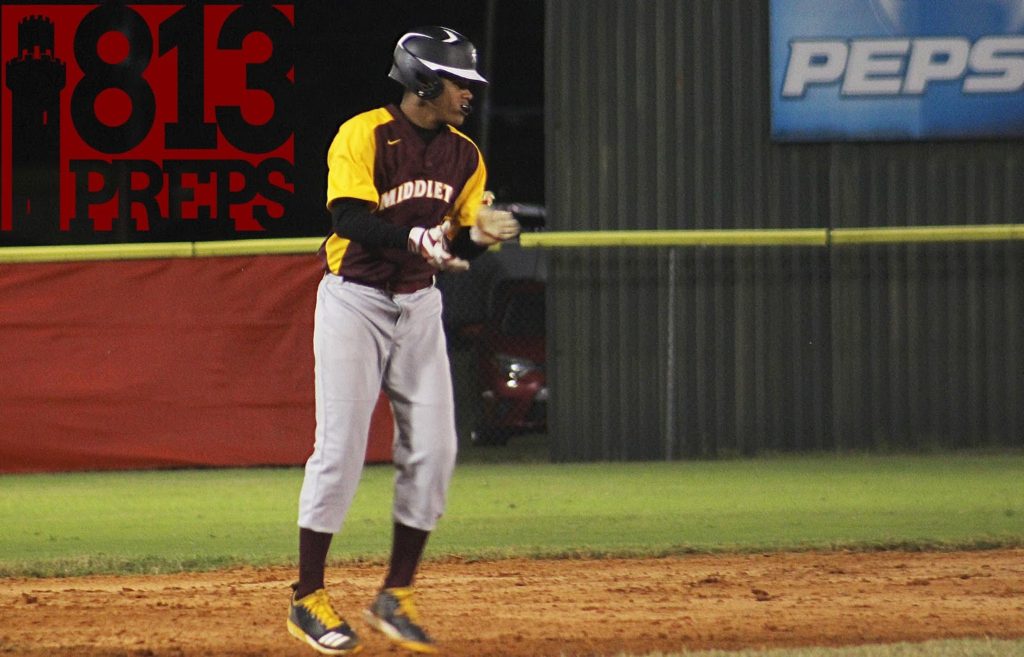 Middleton's Marques Smith claps after roping a double in the fifth inning. Smith would add an RBI sac fly an inning later.
More cushioning came in the top of the seventh as Maleek Moreno singled, was replaced by pinch runner Dominique Jones, who stole second and third, before scoring on a wild pitch.
Tech tried to answer in its final at-bats with Andrus-Rhoads picking up a one-out double and later scoring on a throwing error, but Monroy got the final two outs to end the game and seal Middleton's first win of the season.

The Titans got some solid defensive work from centerfielder Joe Lewis, who tracked down five fly balls for outs, and got a nice throw from catcher John Figueroa to get a runner at second base in the second inning. Middleton got a pair caught-stealing throws from catcher Cameron Williams, and shortstop Jakob Haynes started a nicely-turned 6-4-3 double-play in the sixth.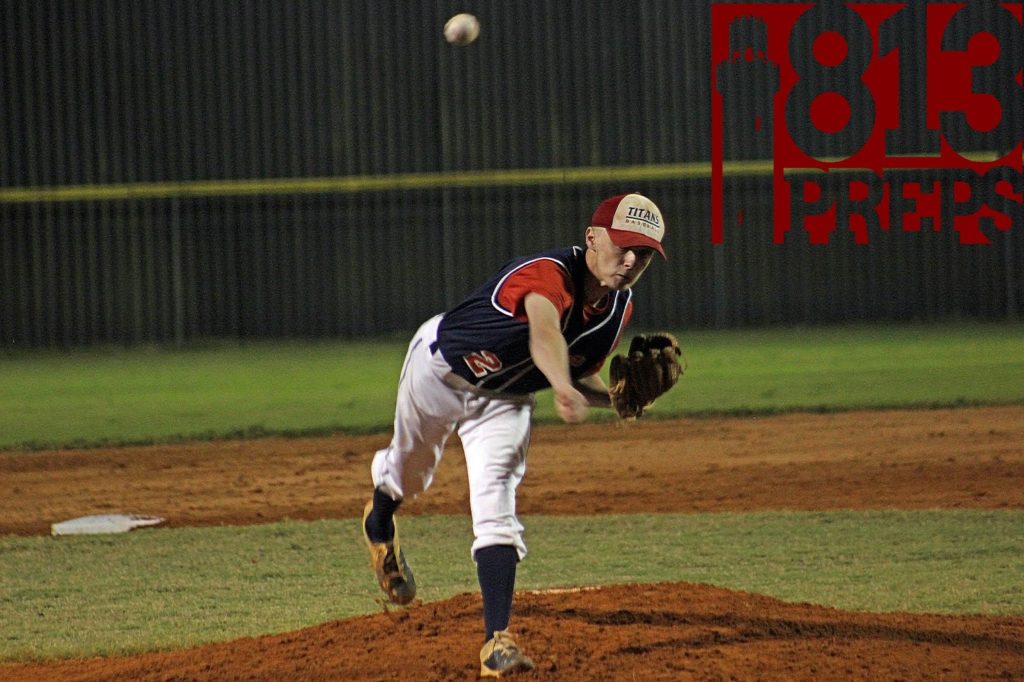 Tampa Bay Tech senior Noah Andrus-Rhoads worked three shutout innings. 
The Tigers are still a young team, with some room for improvement, but last season Middleton saw its first 11 games end via the mercy-rule. This season's first two games ended in losses to Hillsborough and Riverview, but both games had the Tigers push things to complete, seven inning games and score four and three runs respectively.
Middleton (1-2) takes the field this season under a new coaching staff led by MLB veteran Mark Whitten, and some of the team's new cohesiveness can be attributed to what the staff imparted last summer with many of the Tigers also playing for Whitten with the MLB-sponsored Reviving Baseball in Inner Cities (RBI) Baseball team, which won the junior division World Series last August.