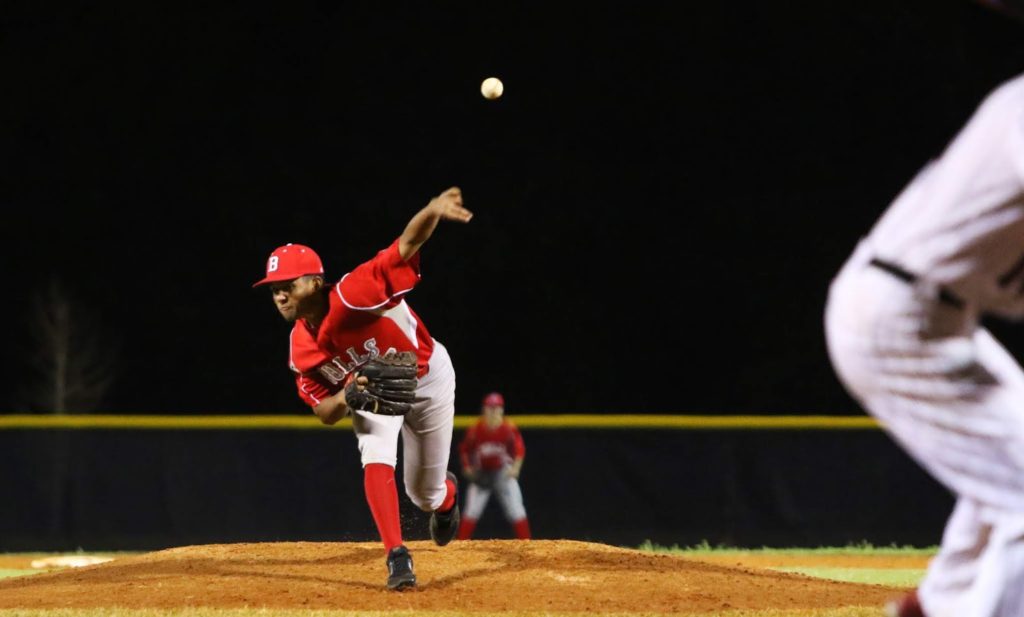 Bloomingdale pitcher Myles Caba earned the win on the mound. (Photo by Will Turner)
DOVER – Myles Caba dueled with Armwood's Trevor Finan in Bloomingdale's season opener in his first start of his senior year, ultimately getting a no-decision after four innings of work.
He improved on that start, on Wednesday night against Strawberry Crest, and more importantly, he won the decision this time.
————————————————
Unlike many independent news organizations, we haven't put
up a subscription paywall – and we hope to be able to keep bringing you the great stories
from high school athletics in the 813 area free of charge. But we are still a small
business with a handful of paid employees, so there are costs including travel, equipment, and other costs associated with running this business.
We are looking for advertising partners, but we also need to count on our
readers for support. If everyone who reads our reporting, who likes it, helps
fund it, we will be able to continue covering these athletes' endeavors.
Support 813Preps.com for as little as $1 by clicking "Donate" button below.

Caba's five innings of three-hit baseball was a major key for Bloomingdale to push past the host Chargers, 5-0.
"When he throws strikes and he really goes at hitters, he's really difficult for the opponents," Bloomingdale head coach Kris Wilken said. "He really committed himself to going at hitters and trying to go after early contact and was really effective tonight."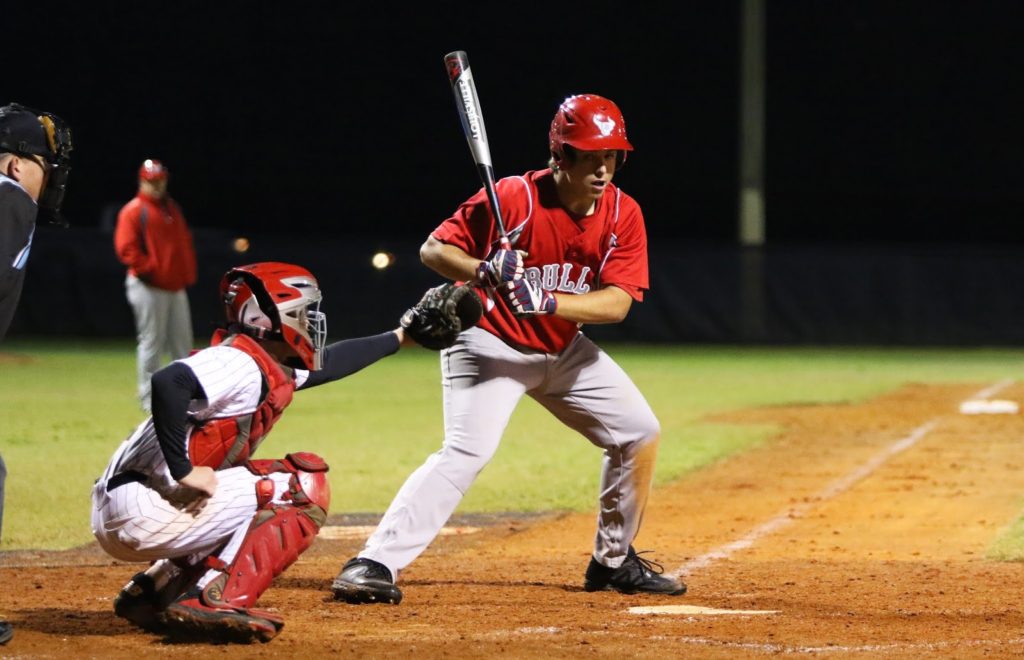 Bloomingdale junior Jackson Hobbs was 1-for-4 with the
game-winning RBI in the first. (Photo by Will Turner)
Bloomingdale got on the board in the first to give Caba some valuable run support. Brock Wilken and Bryce Hazzard did their parts with a leadoff single and double, respectively. Jackson Hobbs singled home Wilken in the next at-bat. Dominic Gonnella grounded into a fielder's choice, which scored Hazzard.
The Bulls put a third run on Strawberry Crest starting pitcher Alex Marshall in the second, when Brock Wilken ground into a fielder's choice of his own but plated Colby Shelton.
The three runs were all Caba needed to lock things down.
"After those two runs in the first inning, I told myself to relax and to pitch with the lead," Caba said.
He struck out two Chargers in the first and second. Caba worked around a one-out double from Jacob Heath in the second, getting Marshall and Juan Gonzalez to chase two-strike pitches for strikeouts.
"My in-and-out fastball was working and that's a key piece to my pitching," Caba said. "Wilken keeps telling me .162, which is the opponents' batting average I had last year, he puts that in my mind and says that no one can really get hits off of me."
Brent May made his second pitching appearance for Strawberry Crest on the season on Wednesday night and looked good. May got a trio of strikeouts between the third and fourth. He walked two and allowed a single from Kyle Merkle.
Heath got his second hit of the ballgame in the fourth and was the only one to really have a sense of what Caba was throwing. Bloomingdale quickly got out of that when Brock Wilken gunned down Caleb Weaver trying to steal second.
Nico Saladino relieved Caba in the sixth. He issued a two-out walk to Ryan Dell and a single to Ben Pues, but got a weak fly ball to the second baseman to get out of the jam.
It was all Strawberry Crest could put together. Christian Bolt doubled in the seventh off of Dylan Martin – the hit served as just a breakup between Martin's three strikeouts to end the game.
Bloomingdale capped their night off offensively after capitalizing on three errors from Strawberry Crest. Gonnella scored after an error at first and Shelton knocked an RBI single that let Antonio De Jesus come home.

Kade Manderscheid pitched a pair of innings for Strawberry Crest and struck out five. The Chargers' pitching staff struck out 11 on the night.
Merkle had the only multi-hit game for Bloomingdale on a 2-for-4 day with a stolen base. Five different Bulls scored in the performance. As a staff, Bloomingdale allowed just five hits and issued four walks.
"That's a very good team [that we beat]," Wilken said. "But, just like we need to flush losses, we've got to do the same things with wins."
Bloomingdale returns to the diamond on Friday to host Sickles, while Strawberry Crest looks to rebound on Friday when they host Freedom.
– Will Turner is a student at the University of South Florida pursuing a double major in mass communications and history. He is the owner of WTurnerProductions.com, a high school sports website covering the entire Tampa Bay Area. Follow Will on Twitter at @TBTurner813 and @WTProTampa.