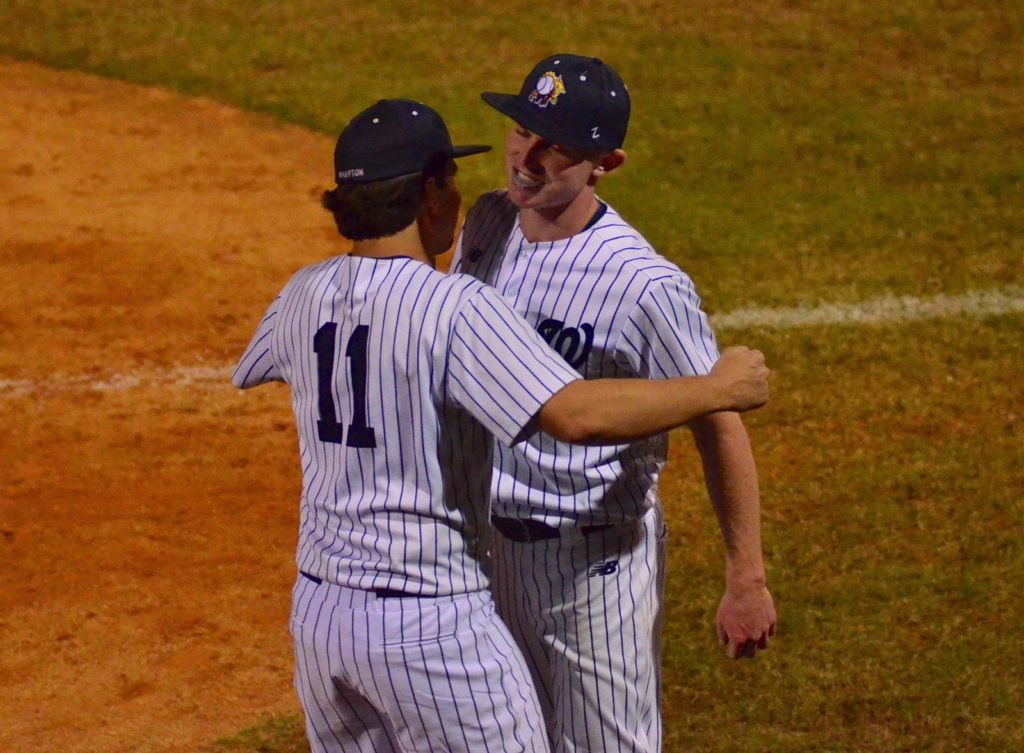 Wharton starting pitcher Carson Caso (No. 11) and Brian Baughman, who closed the game out with a 1-2-3 inning celebrate the Wildcats win. (Photo by Andy Warrener)
By Andy Warrener, correspondent
TAMPA – In a tight-fisted contest between the host Wharton Wildcats (3-1) and visiting Wiregrass Ranch Bulls (1-3) a pair of explosive bursts of base-running made the difference for the Wildcats as they topped the Bulls, 7-4.
————————————————
Unlike many independent news organizations, we haven't put
up a subscription paywall – and we hope to be able to keep bringing you the great stories
from high school athletics in the 813 area free of charge. But we are still a small
business with a handful of paid employees, so there are costs including travel, equipment, and other costs associated with running this business.
We are looking for advertising partners, but we also need to count on our
readers for support. If everyone who reads our reporting, who likes it, helps
fund it, we will be able to continue covering these athletes' endeavors.
Support 813Preps.com for as little as $1 by clicking "Donate" button below.

The first came in the bottom of the first inning, when the Wildcats loaded the bases on a Dylan McDonald double and a pair of walks. With Frank Micallef in a full count and two outs, McDonald was squeezing in hard from third base, when Micallef hit a sharp grounder to second base allowing the run to score easily. A throwing error compounded things and alos let Zach Ehrhard score, while another bad throw to the plate let Grady Maguire in.
"It was 3-2 with two outs and we all sprinted our butts off," McDonald said, "and we've got guys that are fast enough to get all the way around."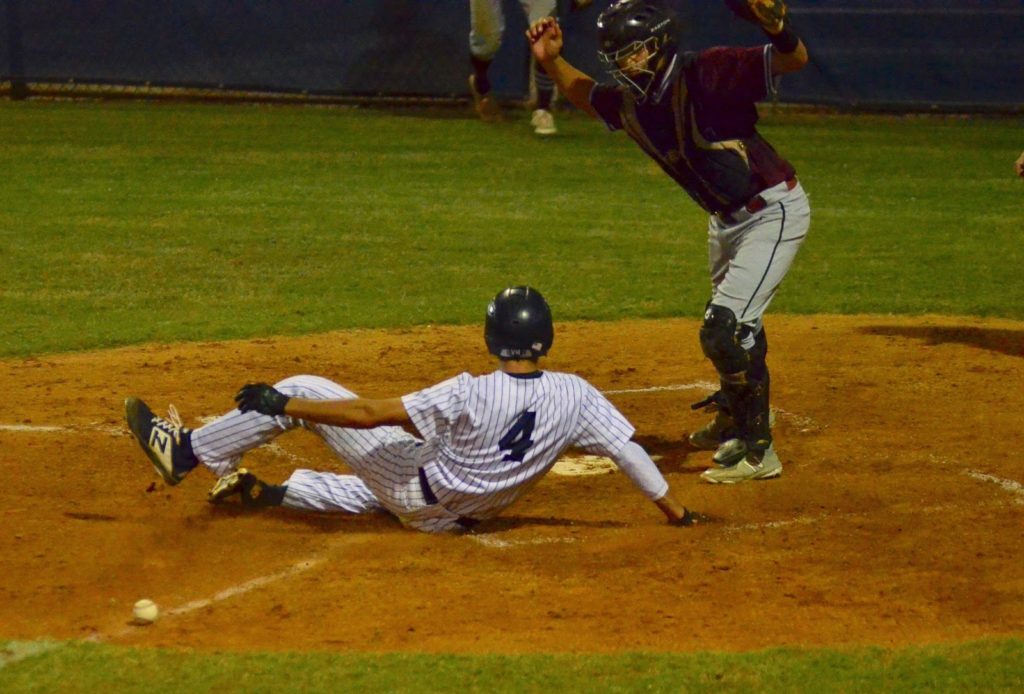 Wharton's Grady McGuire scores a run in the Wildcats win. (Photo by Andy Warrener)
The Bulls scored a pair of runs in the second off a Nate Crissey ground out and an error. The Bulls would tie the game at 4-4 in the top of the sixth as a double from Jalenn Mead and a single from Derek Baker set up runners on the corners with one out. A slow dribbler up the first base line by Andres Medina caught both pitcher Carson Caso and first baseman Micallef going for it. McDonald made it in time to cover first for the out but not before Mead crossed the plate. Then an RBI single from Dillon Lewis knotted the game.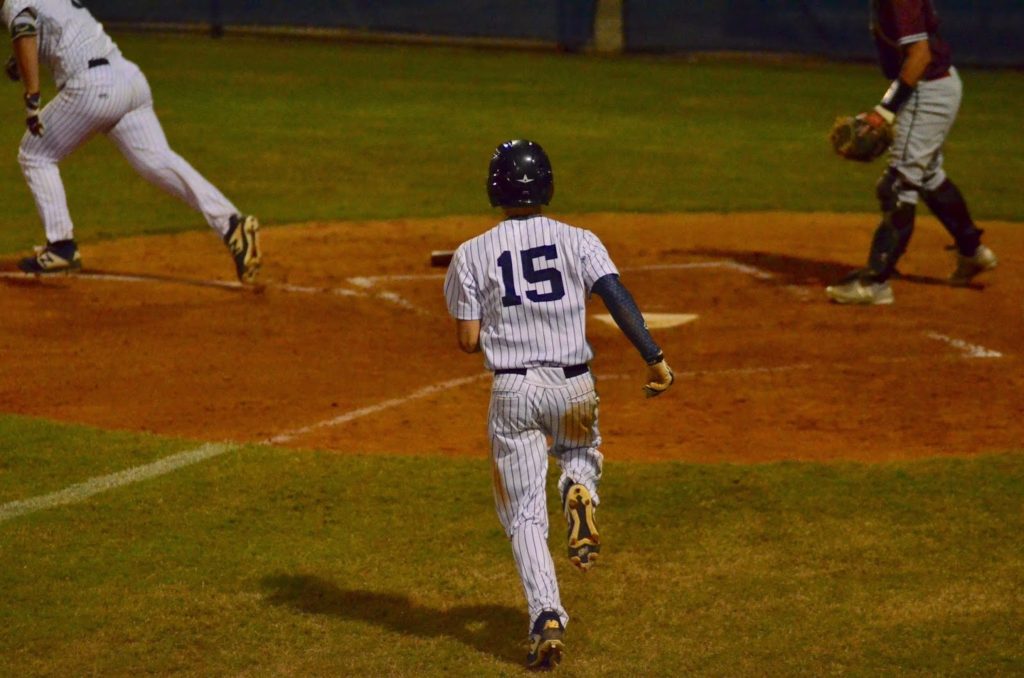 Dylan McDonald hustles home in the bottom of the first innings. (Photo by Andy Warrener)
Wharton would answer with some more savvy base running. In the bottom sixth, Nick Albury laced a double to center and Colton Calleja bunted him over to third, Tyson Sutton was hit by a pitch and summarily stole second without a throw. The Bulls intentionally walked McDonald to load the bases and Wiregrass reliever Chase Wills walked a run in to hand the lead back to the Wildcats. Sutton scored from third on a fly ball to right from Brian Baughman. Zach Ehrhard on first base, got Wills attention with a huge lead off. It drew a throw and Ehrhard was caught in a rundown but the ruse worked and McDonald dashed home for the score.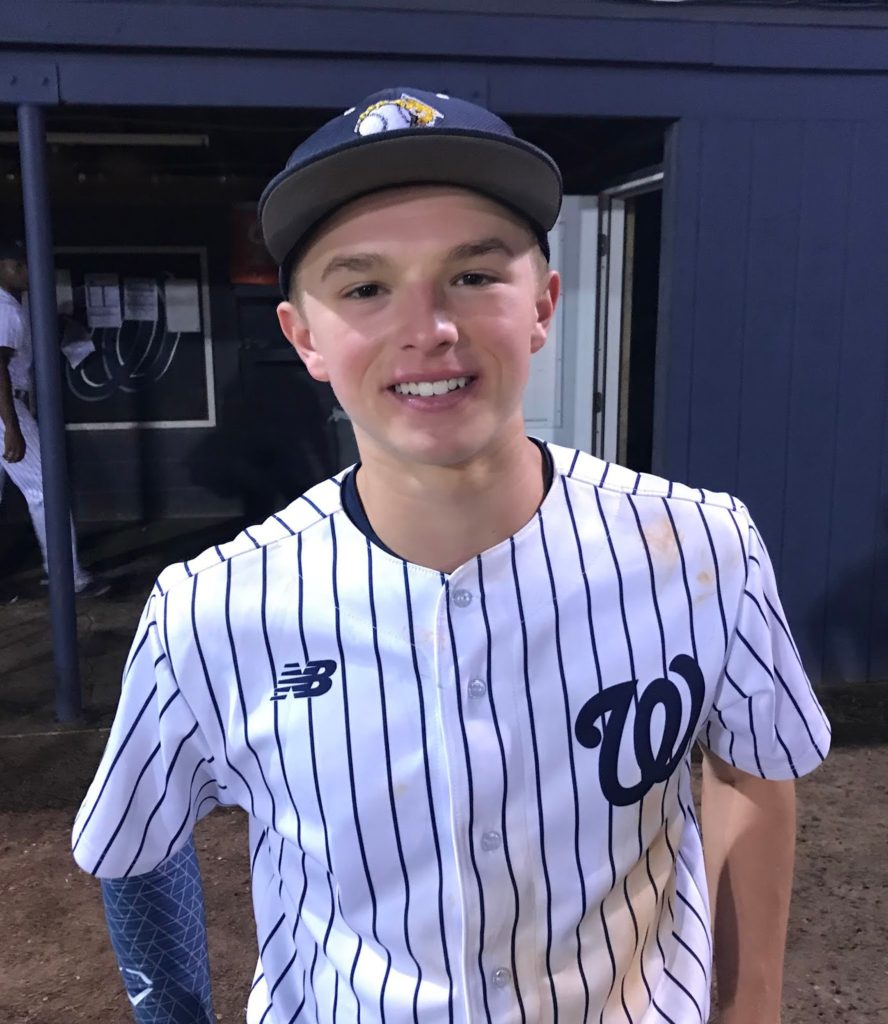 Wharton sophomore Dylan McDonald
"Once you get their (pitcher's) attention, they get rattled and start throwing balls," McDonald said. "Base running like that is how coach (Scott Hoffman) likes to play the game and we have the guys that can execute it."
McDonald went 2-for-2 with a double, a walk and three runs scored. The Bulls out-hit the Wildcats 7-4. Baughman came on in the seventh to close out the game, getting a ground out and a pair of strike outs, the last on just three pitches. Wharton starter Steven Hotinski logged five strike outs in two-and-one-thirds innings of work.