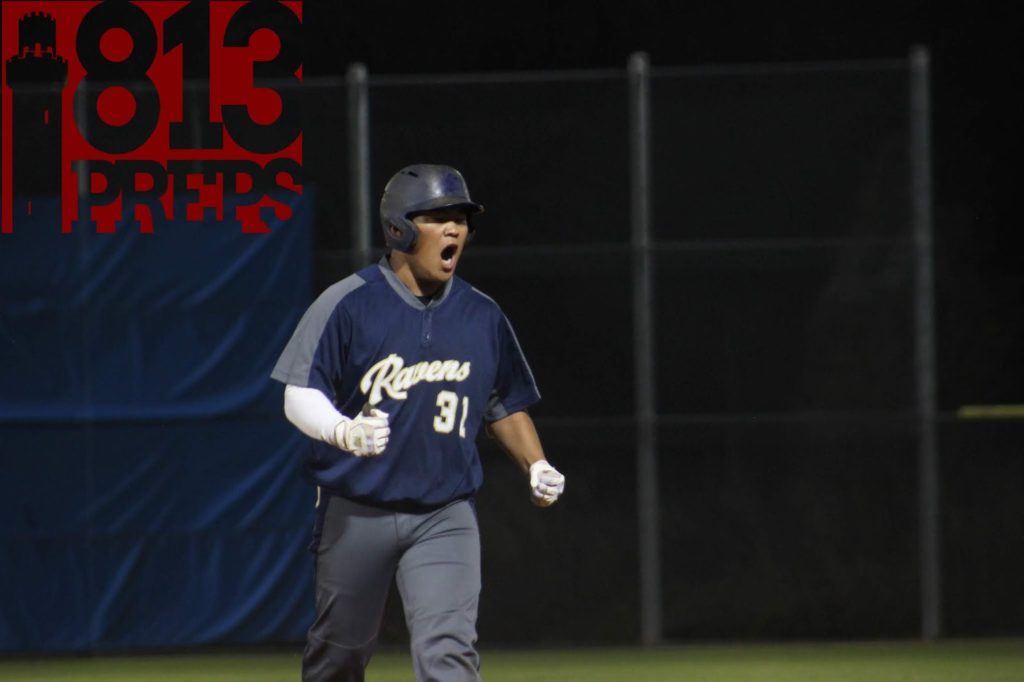 Alonso junior Sehjin Daley lets out a yell after putting his team on the board with a two-out, two-run single in the seventh. 
LITHIA – After a pair of pitchers on each side battled through six scoreless innings, Alonso made the most of a pair of two-out, hit batters in the seventh, plating a trio of runs and heading back across Hillsborough County with a big 3-0, district win on Thursday.
Cole Stallings, who entered on the mound in relief for the Wolves in the fourth worked steadily for the next nine outs, but unfortunately things caught up with the Newsome junior late in the game when he plunked both Riley Morgado and Ty Bitman before leaving the game. Then and after a walk to Renzo Gonzalez loaded the bases, Sehjin Daley made the struggles on the mound hurt, flipping a single into right field to score two unanswerable runs.
————————————————
Unlike many independent news organizations, we haven't put
up a subscription paywall – and we hope to be able to keep bringing you the great stories
from high school athletics in the 813 area free of charge. But we are still a small
business with a handful of paid employees, so there are costs including travel, equipment, and other costs associated with running this business.
We are looking for advertising partners, but we also need to count on our
readers for support. If everyone who reads our reporting, who likes it, helps
fund it, we will be able to continue covering these athletes' endeavors.
Support 813Preps.com for as little as $1 by clicking "Donate" button below.

"I knew it was about keeping my composure in that situation," Daley said. "I had been able to square the ball up the whole game, so I felt like it was time for me to get one to drop in."
"District opponents make you a little more tensed up, but it's still about having fun with your friends out here."
Alonso (3-1, 1-0 in Class 9A-District 8) added a little extra insurance, as Conor McNair went the other direction with an RBI single to left in the next at-bat.
"Riley has been a little plagued with injuries, and in his first at-bat this year he gets hit and starts that whole thing off," Ravens coach Landy Faedo said. "Our guys showed some resiliency, some moxie and some grit, we had guys on base early with Sam (Drumheller) pitching, but we didn't get those runs."
"We just kept going and were able to take advantage of it at the end."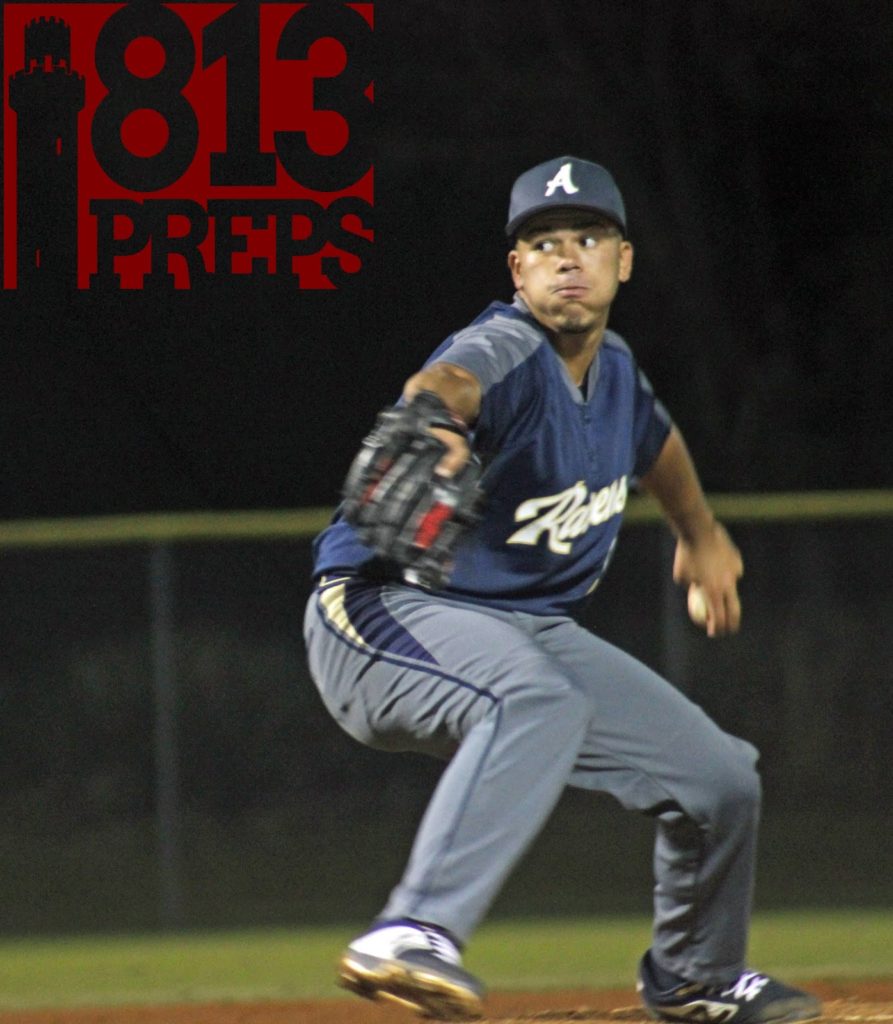 Alonso sophomore Renzo Gonzalez
From there, Gonzalez who came on in relief for the Ravens in the sixth finished things off in the seventh, striking out four total in his two innings of work, including the final hitter.
"When I went back out, I was way more pumped then when it was 0-0," Gonzalez said. "You know in district games it's going to be tough, so with that 3-0 lead I was going back out to throw strikes, and make sure I shut the door for my team."
Newsome (3-1, 0-1 in 9A-8) starter Zach DeVito worked 3 2/3 innings striking out five, but ran into some trouble allowing a pair of two-out singles from Zen Hiatt and Andrew Lara in the fourth. Stallings took over and got the Wolves out of the jam in that frame and allowed just two walks and no hits on the mound for his night.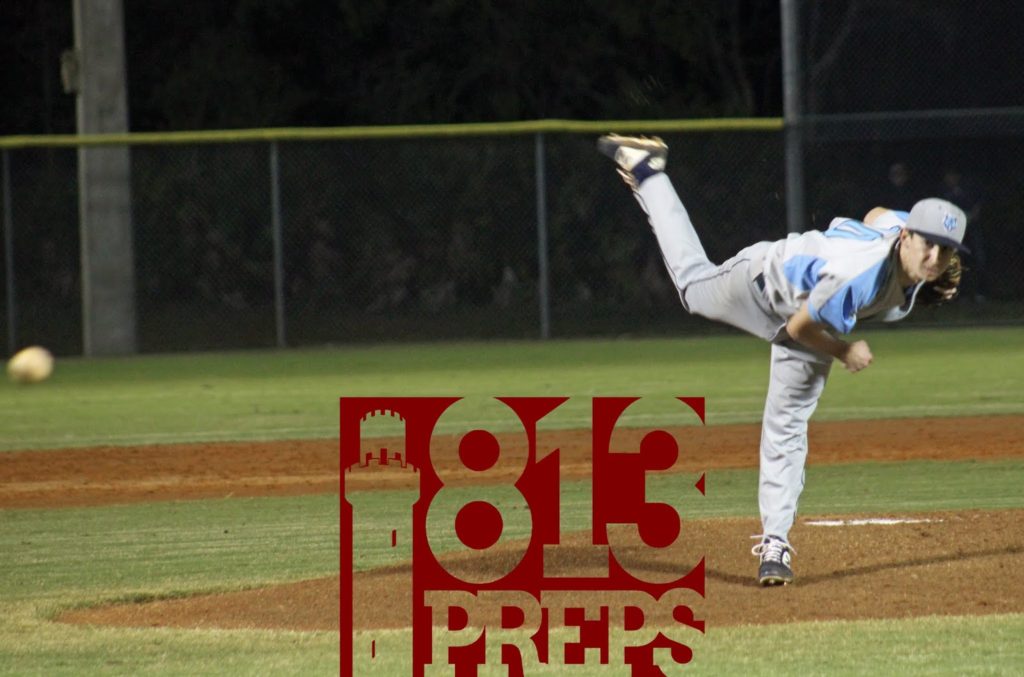 Newsome junior pitcher Zach DeVito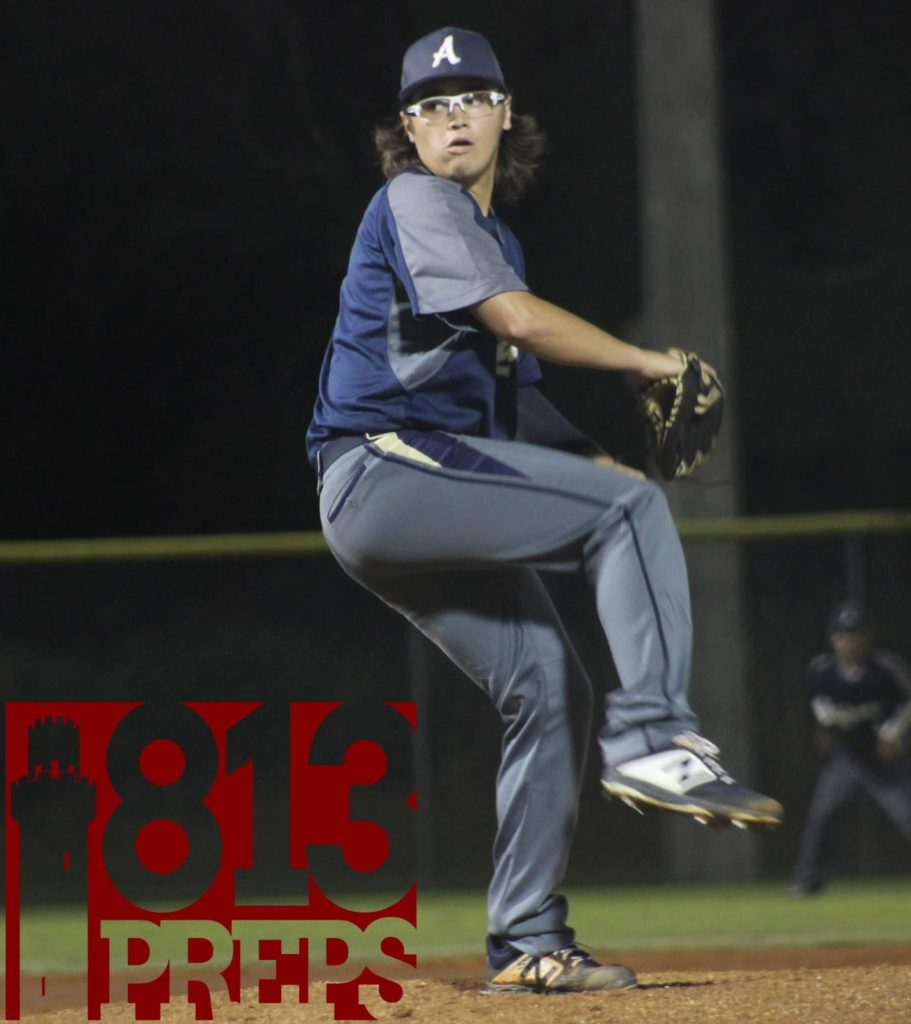 Alonso junior Sam Drumheller
On the hill to start for the Ravens, junior Sam Drumheller worked five scoreless innings, striking out nine batters. Drumheller found himself in a pair of jams in the first two innings, but with runners in scoring position in each frame he stranded them on the base with two punch-outs each time.
"He's a good pitcher, and good pitchers are going to do that," Faedo said, adding with a laugh, "I just wish he'd do that at the beginning of the inning for me."
Jack Tomich was 2-for-3 at the plate for the Wolves, and Newsome got a solid game defensively from Tyler McKenna, who was a wall behind the plate, and second baseman Lucas Phelps, who had four assists on groundball outs in the loss.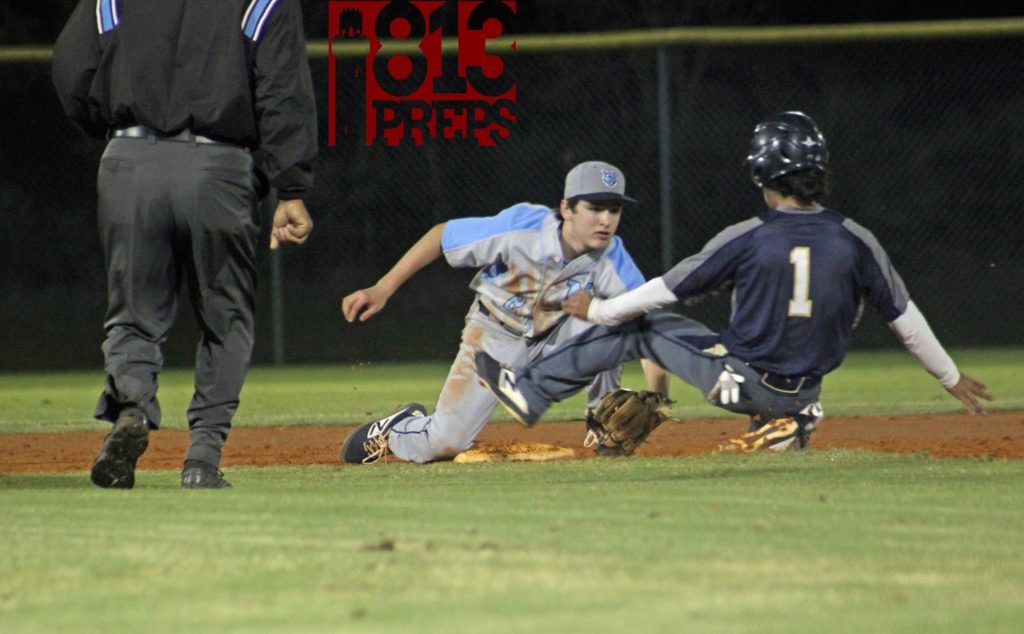 Newsome second baseman Lucas Phelps applies the tag on a would-be base stealer after catcher Tyler McKenna's great throw in the third innings.