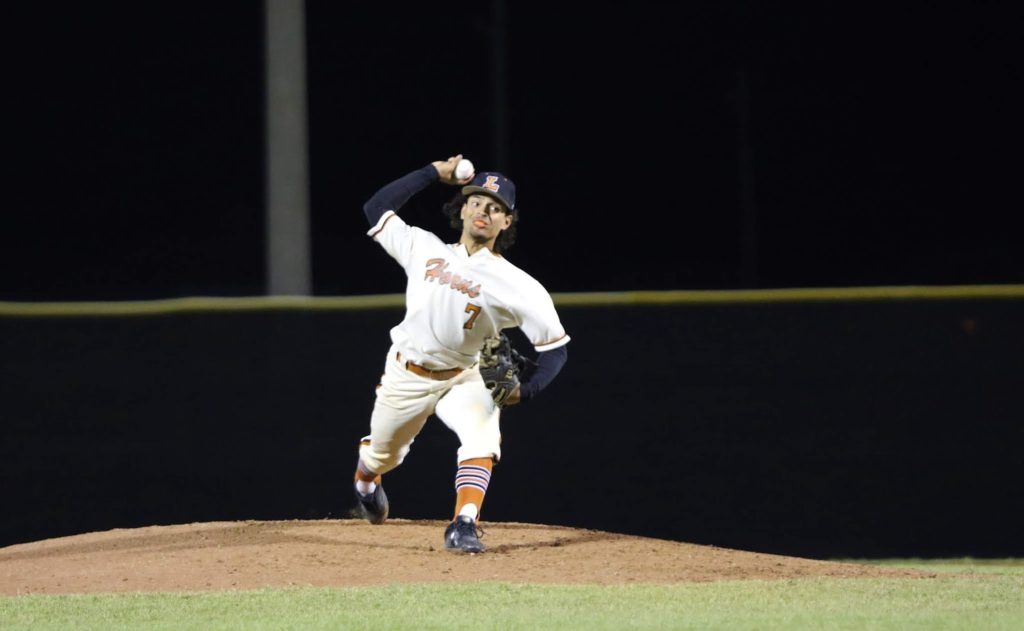 Longhorns senior Yazael Nunez struck out a career-best 14 Armwood hitters as Lennard defeated the Hawks, 6-1 on Thursday. (Photo by Will Turner)
RUSKIN – The pitching was phenomenal. The offense came a little unconventionally. At the end of it – Lennard stood strong in a battle of unbeaten squads on Thursday night.
Yazael Nunez pitched a gem of a complete game in the, 6-1, triumph over Class 7A-District 9 foe Armwood.
Armwood jumped out to a lead in the first inning and looked like it would win the pitcher's duel, as Trevor Finan doubled to the corner wall in left, scoring Tyler Castelli.
It was Nunez' only blemish of his outing, while his curveball was nearly untouchable as he struck out Hawk after Hawk.
"I liked how my team had my back through the first inning to the seventh," Nunez said. "I trusted my pitches and I knew my catcher had me too."
For the majority of the night, Armwood's Cameron Oliu looked capable to match everything Nunez was throwing. He worked around a pair of base runners in the first and second to keep the Longhorns off the board. Oliu sat down the Longhorns in order in the third.
"Hats off to him," Lennard head coach Kennedy Duran said. "He's a great pitcher and pitched a hell of a game."
Nunez worked out of a couple jams, the first coming in the fourth. He stranded a pair of runners in scoring position when he pulled the string on a 1-2 pitch to Bradley Johnson. The same situation – this time with one out after a sacrifice bunt – occurred in the top of the sixth. Nunez worked out of the stretch and forced a fly ball and struck out his 12th batter to that point to get out of the inning.
Armwood's inability to get insurance in the sixth hurt.

A dropped third strike in the home-half led to Nunez racing for the plate, making it and tying the game at one.
"I tried to be aggressive there," Nunez said. "We had momentum in that inning … and we made sure to take advantage of it."
The wheels came off from there, as the Longhorns put a six-spot on the board.
With two outs, a throwing error by the Armwood second baseman allowed Gabe Mangual and Fransisco Alaniz to come home, which pushed Armwood into the lead. Adrian Munoz doubled home Duece Waller. In the next at-bat, Alex Mangual delivered the final blow with a two-run single to score Miguel Figueroa and Munoz.
All of that offense came off of a dropped third strike that sparked a two-out rally.
"That's not one of those you plan in the books," Duran said.
Nunez made quick work of the bottom of the order to finish off his complete game. He struck out 14 on the night, a career-high.
His career-high before Thursday? An 11-strikeout performance in a home victory against those same Hawks in 2018. Nunez allowed five Armwood hits on Thursday night.
"I changed their eye vision and I was able to speed it up," Nunez said. "They just couldn't catch up."
Lennard's win gave it its first 4-0 start in program history, as Duran looks to have a really good thing going on E. Shell Point Road.
"These guys have put in the work in the weight room and in the offseason," Duran said. "They came in ready, they've gotten stronger, they've gotten faster, and they've played some smarter baseball."
Lennard will have a week to reflect on its hot start, as they travel to Jefferson on Thursday. Armwood will have another opportunity to get its first district win with a home bout against Braden River coming on Tuesday night.
– Will Turner is a student at the University of South Florida pursuing a double major in mass communications and history. He is the owner of WTurnerProductions.com, a high school sports website covering the entire Tampa Bay Area. Follow Will on Twitter at @TBTurner813 and @WTProTampa.