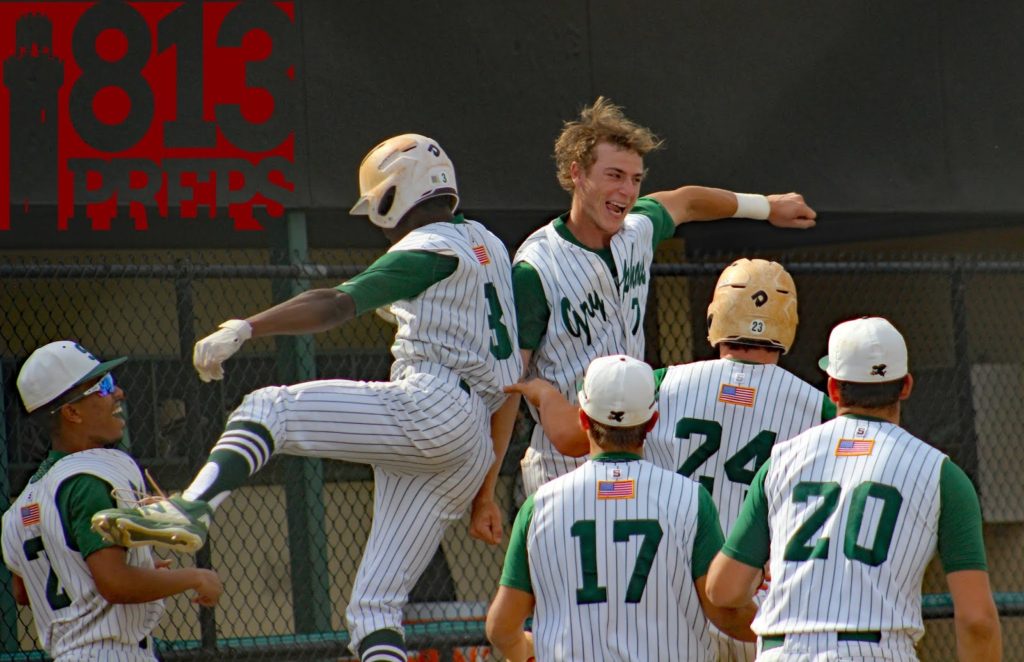 Sickles senior Justin Turk (No. 3) leaps into his cheering teammates after belting his first high school home run, keying a five-run third inning for the Gryphons.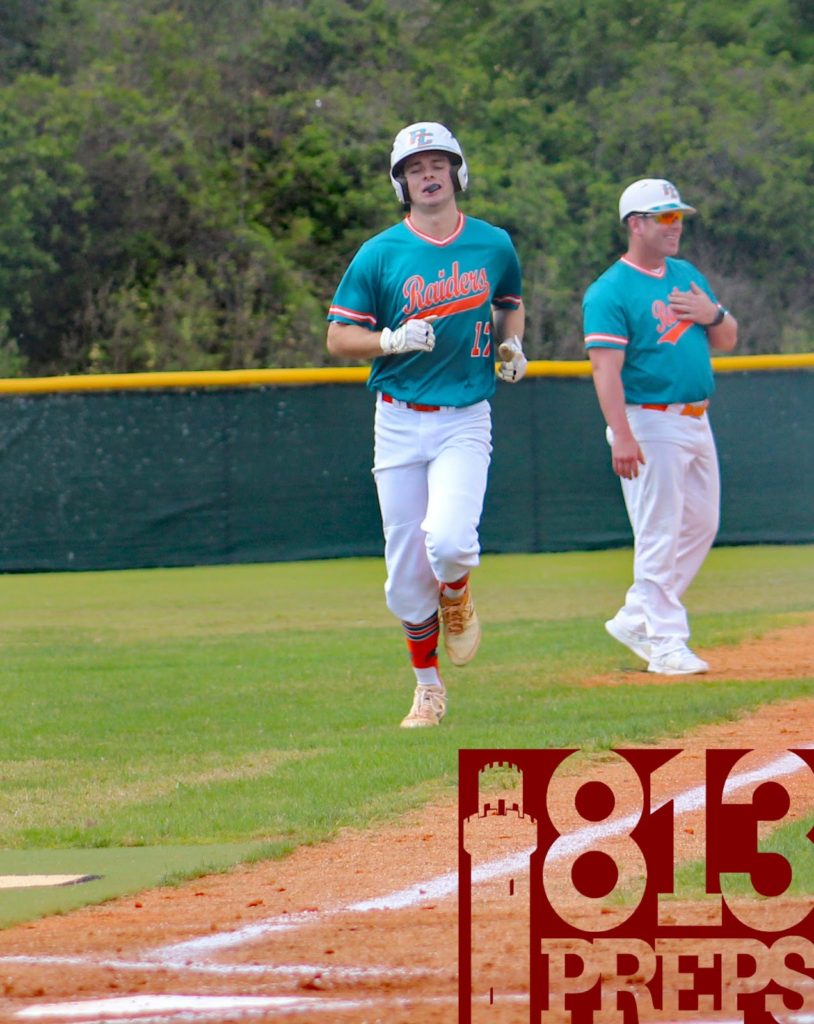 Plant City Cade Shissler heads for home after his
leadoff home run on Saturday. The dinger was
Shissler's third of the season. 
TAMPA – It looked like business was going to continue to be booming for Plant City as senior Cade Shissler smashed the second pitch of the game over the left field wall for his third home run of the season, in Saturday's afternoon matchup against Sickles.
However, from there the Raiders offense never took off, as Plant City finished the game with just three more hits.
Sickles offense though? That had no problems finding a groove, as the Gryphons shook off a tough loss Friday evening at Bloomingdale, by putting a hurting on the ball and handing Plant City its first loss of the young season, 11-1 in a six-inning, mercy-rule-shortened affair.
————————————————
Unlike many independent news organizations, we haven't put
up a subscription paywall – and we hope to be able to keep bringing you the great stories
from high school athletics in the 813 area free of charge. But we are still a small
business with a handful of paid employees, so there are costs including travel, equipment, and other costs associated with running this business.
We are looking for advertising partners, but we also need to count on our
readers for support. If everyone who reads our reporting, who likes it, helps
fund it, we will be able to continue covering these athletes' endeavors.
Support 813Preps.com for as little as $1 by clicking "Donate" button below.
Sickles (4-1) found momentum in the third as a two-out rally started by a Kohl Robertson single, steamrolled through an RBI single by Danny Bernstein (2-for-3, triple, two runs scored) and was highlighted by a monstrous three-run blast off the bat of senior Justin Turk over the left-center fence. Known a bit more for his speed than his power, Turk said he was pretty pleased at the timing of his first high school home run.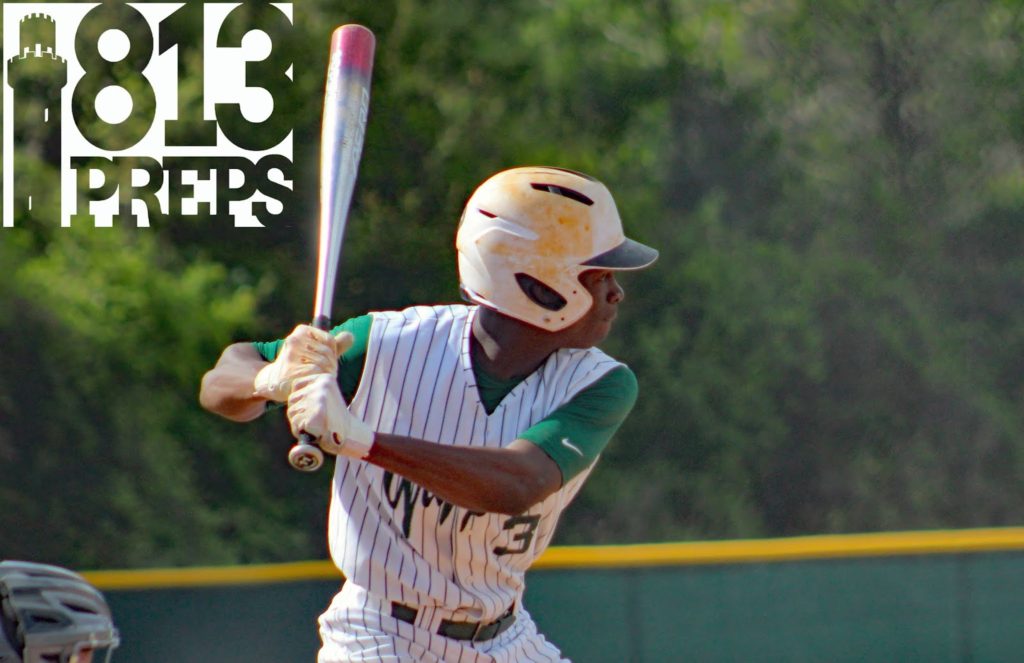 Sickles senior Justin Turk
"That was the first one ever in high school play, so that is pretty cool," Turk said. "It was big and busted the game wide open, and made us feel like we had it won from that point on."
Robertson chipped in again the next inning with an RBI double and has found a nice home near the top of the Gryphons' lineup so far.
"Last night (the 9-4 loss at Bloomingdale) was a little tough, so we didn't want to let two games get away," Robertson said. "Our goal is to win every game at home and I'm going to try to do whatever I can to get the team rowdy."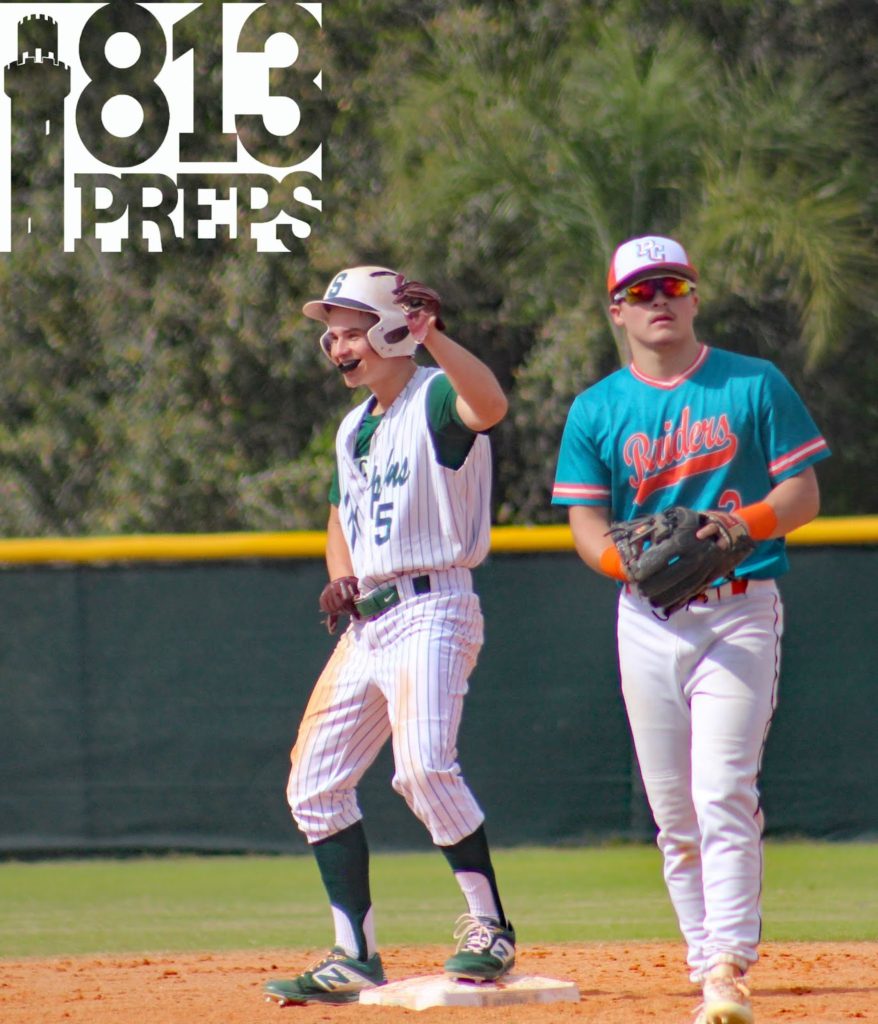 Sickles sophomore Kohl Robertson was 2-for-4, 
with an RBI double and a run scored. 
Gryphons head coach Eric Luksis said the key on Saturday, was how quickly his guys were able to get back on the field and move on from the loss Friday evening.
"The mindset that we had after last night was to flush it really quickly and get right today, and a lot of times high school kids don't get the opportunity to play back-to-back games in an 18-hour time span," Luksis said. "So, to have the game we had last night, and then come right back out and put it on a team that is as good as Plant City says a lot about the type of players we have."
The Gryphons offense had one more, big burst ahead as Sickles pounded out five runs, on five hits in the sixth inning to wrap the day up an inning early. Senior Dylan Eskew and junior Derek Shaw each contributed a two-run single to the frame, while Rolando Linares walked and scored to start the inning, and coming around again, ended the game with an RBI knock to right field scoring Bernstein.
Luksis said dependability is commonplace of his senior leaders, especially Eskew and Bernstein, and how the finish games strong is crucial for the team's younger players to see.
"Those are the guys we lean on, the two guys we look up to, to set the table and they do that more often than they don't," Luksis said. "When the younger guys see exactly how they work to put a team away in the big moments … it speaks volumes of the kind of guys they are and the consistency they've provided for our program for years now. "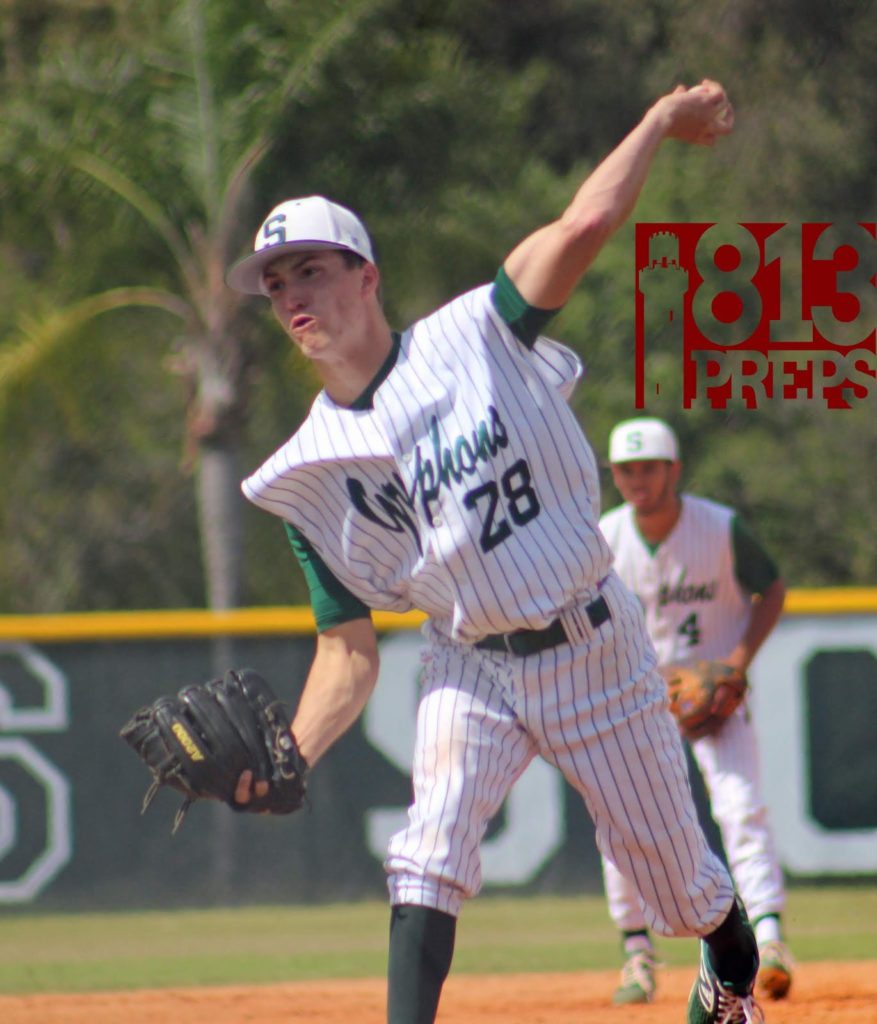 Sickles sophomore Holden Wade earned the win.
Sophomore lefty Holden Wade survived Shissler's leadoff home run, working three innings, allowing one run on three hits and striking out a pair, before Tyler Green contributed two, no-hit innings, and Eskew worked the sixth and final frame allowing just on hit.
Plant City (3-1) got a double off the bat of Cole Cothren in the third and even loaded the bases behind it, but were unable to scratch out any more runs. The Raiders picked up a district win over Durant, 7-0 earlier in the week, and return to action on Monday traveling to Newsome.
Sickles hosts district opponent Plant on Tuesday in the Gryphons only game of the week.