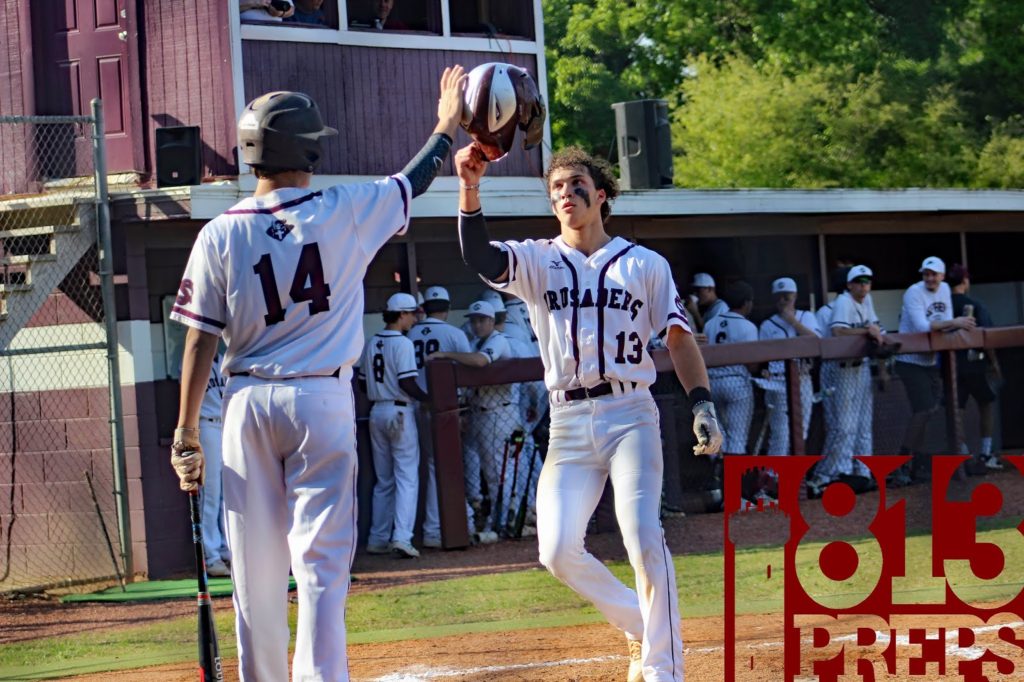 Seffner Christian junior Daniel Tomasello steps on home plate and is greeted by Spencer Boynton after his second inning solo home run. 
SEFFNER – Daniel Tomasello had waited 10 long days to take a cut that meant something at the plate, so when the Seffner Christian junior saw a first-pitch fastball in his first at-bat of the much-delayed first game of the Crusaders regular season he nearly came out of his shoes swinging, but sent it spiraling foul.
However, when he got another chance with another fastball, Tomasello made the correction, turned on it and deposited the ball over the left field wall.
————————————————
Unlike many independent news organizations, we haven't put
up a subscription paywall – and we hope to be able to keep bringing you the great stories
from high school athletics in the 813 area free of charge. But we are still a small
business with a handful of paid employees, so there are costs including travel, equipment, and other costs associated with running this business.
We are looking for advertising partners, but we also need to count on our
readers for support. If everyone who reads our reporting, who likes it, helps
fund it, we will be able to continue covering these athletes' endeavors.
Support 813Preps.com for as little as $1 by clicking "Donate" button below.
"I was noticing the first four batters before me he was going first-pitch fastball, so I was thinking in my head if he gives me that fastball, I'm going to hit it," Tomasello said. "I actually missed that first one, but he came back at me with another fastball and there was no way I was going to let that one get away."
The swing-early technique the Crusaders employed for the next two innings proved sufficient as Seffner Christian defeated Bell Creek 6-3, in a Class 3A-District 4 afternoon game.
Seffner Christian (1-0, 1-0 in Class 3A-4) saw a delay to its regular season opener as rainouts postponed a pair of games, and a school decision was made to delay the game between SCA and Bayshore Christian as both schools wanted their student-athletes to be able to support their respective schools in the state basketball final four taking place last week. So there was definitely some excitement and jitters for the Crusaders early in the game.
"We had gone 10 days without a game," Tomasello said, "so we were definitely ready to play."
Bell Creek pitcher Brendon Gerena-Lee capitalized on this a bit, starting things off well on the mound striking out the Crusaders in order in the home first. But Tomasello's one-out homer in the second, followed immediately by a Spencer Boynton single took the Panthers junior out of rhythm a bit.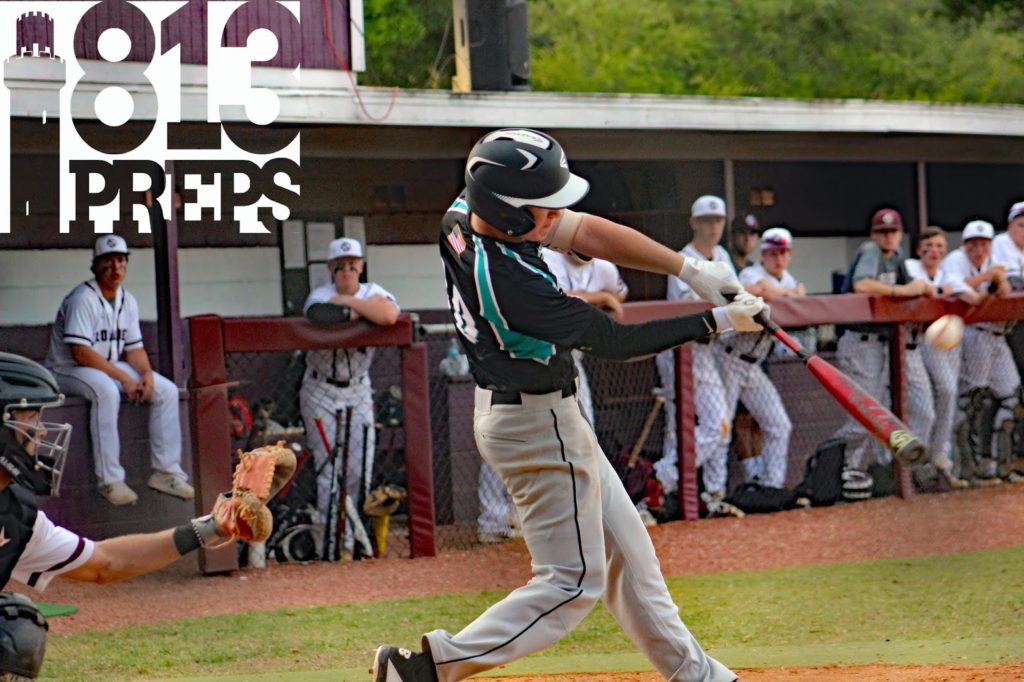 Bell Creek sophomore Dean Hotz connects on a fifth-inning, RBI sac fly. Hotz was 2-for-3 for the Panthers on the day.
However, it was the home third where the Crusaders free-swinging pushed the game decisively in the favor of Seffner Christian. Jackson Shelton, Tommy Turkett and Brandon Grant all singled in the first five pitches of the inning, with Grant's groundball through the left side plating a run. The next pitch saw Bryce Mitchell poke a single down the right field line, and a misplay in the outfield allow another run as the inning started to snowball on Bell Creek. Another single from Boynton furthered the lead, and a balk added another to spot Seffner Christian to a five-run advantage.
"We teach our guys in practice to be really aggressive, see a pitch, hit the ball and build off each other," Seffner Christian coach Sal Giardina said. "That's what we did that inning, got a hit, the next guy got up and got a hit, then the next guy got a hit – it just kept building."
Crusaders senior lefty Bobby Wellen worked around a Bell Creek single in each of the first three innings on the mound, while his team built up the lead.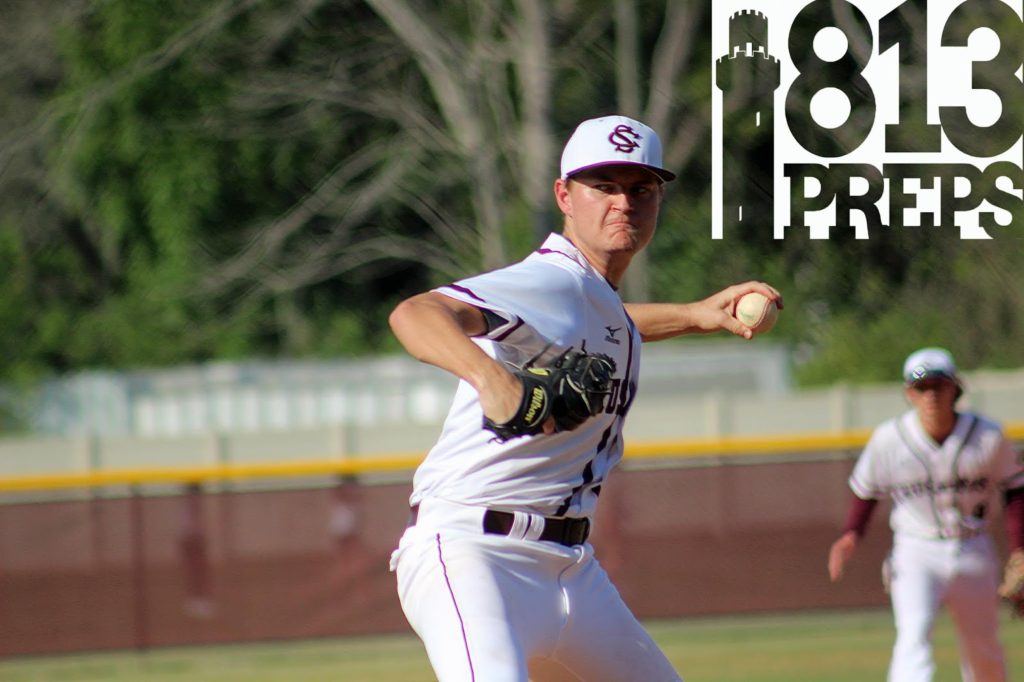 Seffner Christian senior Bobby Wellen earned the win on the mound, tossing four innings, allowing one run on four hits with two strikeouts. 
Bell Creek (2-3, 0-2 in Class 3A-4) cut into that lead in the top of the fourth when Eric Bucheli walked, went to second on a wild pitch, third on a Nolan Lalond (2-for-3) single, and crossed the plate on another wild pitch. But Wellen stranded Lalond at third recording a strikeout to end his day on the mound and qualify for the win.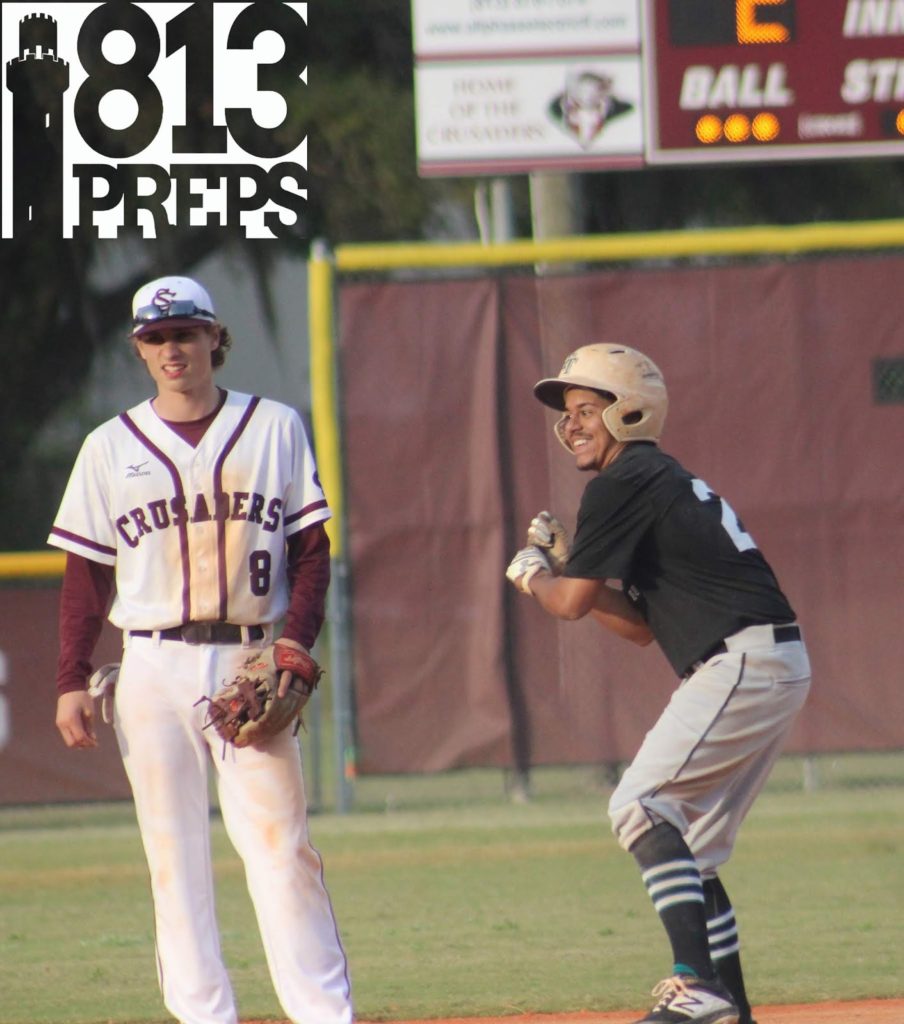 Bell Creek senior Eric Bucheli smiles and re-enacts his
swing on an RBI double in the fifth. 
Mitchell added another single to plate the Crusaders sixth run in the home fourth, and the extra insurance was helpful as the Panthers would answer with two runs in the fifth highlighted by an RBI sac fly by Dean Hotz (2-for-3) and an RBI double from Bucheli.
The Crusaders returned toward the dugout to a fired up Giardina, who called out his guys and challenged them not to get complacent and let a good team come back and take the game away from them.
"We scored a bunch of runs and our guys got a little lazy in the dugout," the veteran coach said. "We started talking about other things and not being focused on the game. We are going to be a lot stricter and more disciplined than that this year, and I gave them a little grief and our leaders on this team stepped up and made sure we finished."
The Panthers looked to continue to rally with a leadoff single from Troy Gonzalez in the sixth, but Tomasello wasn't done having an impact and from the catcher's position, cut down Gonzalez trying to swipe second with a laser down to the shortstop, Shelton. That out was sandwiched between a pair of strikeouts from Boynton, who took over on the mound in the fifth.
"I was waiting for one of them to try and steal second," Tomasello said with a huge grin. "My arm felt so good today, I just wanted to hose a kid."
Giardina said he has high expectations for Tomasello, the lone junior captain this season alongside seniors Wellen and Shelton.
"Daniel is going to be huge for us over the next two years," Giardina said. "Everyone feeds off of him, he has so much energy behind the plate and so much energy in the dugout."
"When he hit that home run it got everybody fired up, and then all of a sudden, we've got a little bleeding going on and he throws a hose down to second base and everybody feeds off that, too. That's why he's a captain."
Turkett moved in from first base to finish out the game with a 1-2-3, seventh inning including a game-ending strikeout.