* Our Week 2 rankings were voted on by 813Preps editor Jarrett Guthrie, staff writer Will Turner, and 95.3WDAE's Jay Recher. Follow Jay's coverage of all things Tampa Bay sports at his blog by clicking here. *


1. Jesuit (5-0) {3 first place votes} – The Tigers took care of business in two decisive wins last week over Georgia's Pace Academy and district opponent Middleton – both by mercy-rule. Junior Bennett Lee is 12-for-18 on the season with four doubles, six runs, and six RBI, while sophomore Cole Russo has 10 RBI in the first five games, and Camden Minacci has 17 punch-outs in seven innings. [Ranked No. 1 last week]
2. Plant (5-0) – The Panthers picked up three big wins topping Riverview behind three home runs from Matthew Coker, Sam Nation and Leo O'Shinski, and then dominating wins over Brandon and Leto (click here for our photo gallery from this game). Plant travels to Sickles on Tuesday for a Class 8A-District 5 meeting. [No. 7 (T) last week]
————————————————
Unlike many independent news organizations, we haven't put
up a subscription paywall – and we hope to be able to keep bringing you the great stories
from high school athletics in the 813 area free of charge. But we are still a small
business with a handful of paid employees, so there are costs including travel, equipment, and other costs associated with running this business.
We are looking for advertising partners, but we also need to count on our
readers for support. If everyone who reads our reporting, who likes it, helps
fund it, we will be able to continue covering these athletes' endeavors.
Support 813Preps.com for as little as $1 by clicking "Donate" button below.
3. Bloomingdale (3-1) – A pretty strong showing from the Bulls last week in shuting out Strawberry Crest, 5-0 (click here to read our coverage from this game), and taking down Sickles on Friday, behind a 2-for-4, four-RBI night from Jackson Hobbs. Bloomingdale faces Wharton tonight, district opponent East Bay on Wednesday, and kicks off the Saladino with a game against Brandon on Saturday. [No. 7(T) last week]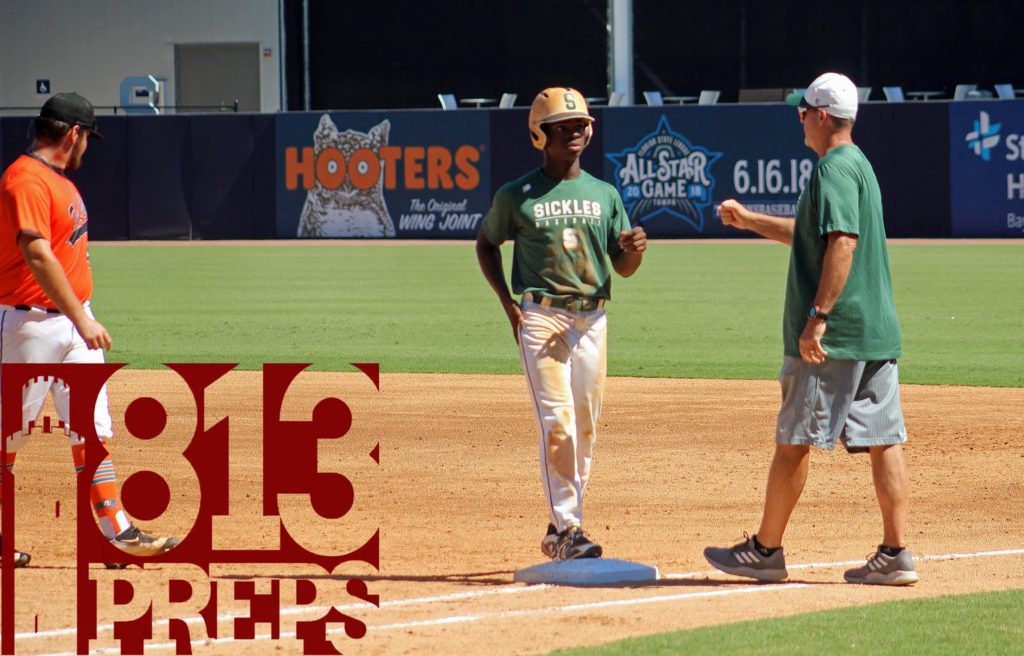 Sickles senior Justin Turk (File photo)
4. Sickles (4-1) – The Gryphons picked up a district win over Steinbrenner on Tuesday, but then dropped a tough one to Bloomingdale, 9-4 on Friday for its first loss of the season. However, the loss was put away quickly as Sickles dominated Plant City 11-1, behind a big three-run home run from Justin Turk in a Saturday afternoon game (click here to catch up on the action from this game). A big district meeting against Plant at home on Tuesday is up next, and the Gryphons travel to Jefferson for the Saladino on Saturday, where the team opens up against Durant. [No. 2 last week]
5. Plant City (3-1) – The Raiders got hit pretty hard on Saturday in a mercy-rule loss to Sickles, but did pick up a 7-0 district win over Durant early in the week with senior Cade Shissler hitting home runs in both games. Things do not get easier this week as Plant City faces three Top 10 opponents traveling to Newsome (tonight), against Strawberry Crest (Thursday) and opens Saladino play against Plant at UT on Saturday. [No. 3 last week]
6. Leto (4-1) – Routs over Blake and Chamberlain had the Falcons undefeated heading into the weekend, but a quiet day at the plate on Saturday would prove insufficient against a cruising Plant team, which handed Leto an 11-0 loss. The Falcons have a district showdown at Hillsborough on Tuesday, and start the Saladino Tourney with another game against Steinbrenner – which it defeated 1-0 in its season opener – on Saturday. [No. 5 last week]

7. Alonso (3-1) – A decisive win over Hillsborough was a good response to a loss for the Ravens, but it was Thursday's late victory over Newsome that was the true highlight of the week for Alonso (we were there and you can read about it by clicking here). Alonso heads into another game against Hillsborough for tournament play on Saturday in its only action of the upcoming week. [No. 12 (T) last week]
8. Newsome (3-1) – The Wolves bounced right back after dropping one to Alonso with a 2-1 victory against Riverview in the Boyette Road-Fishhawk Blvd showdown, with junior lefty Eric Green working 3 1/3 shutout innings on the mound for the win. The Wolves host Plant City tonight, travel to Sarasota Riverview for a district game on Tuesday, and square off with Carrollwood Day to open Saladino play on Saturday. [No. 6 last week]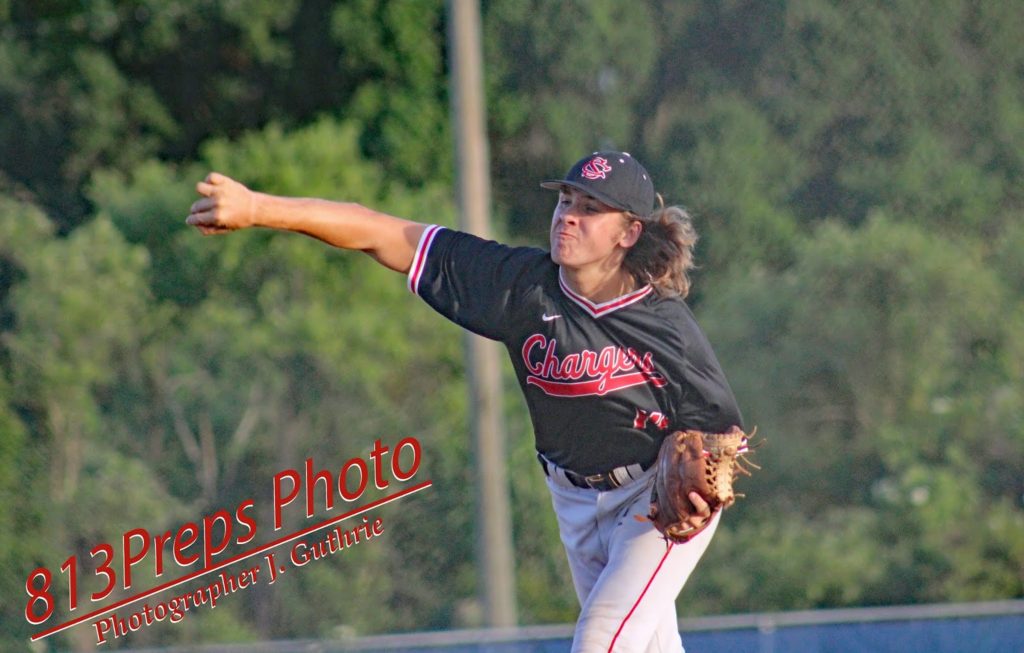 Chargers pitcher Kade Manderscheid (File photo).
9. Strawberry Crest (3-1) – The Chargers lost to Bloomingdale to start the week, but posted two shutout wins over Freedom (district opponent) and King to salvage the week. Alex Marshall, Brent May, Kade Manderscheid, Eli Garner and Bryan Boully combined in the two wins to allow just five total hits and strike out 22. A district game at Wiregrass Ranch on Tuesday and a trip to Plant City will challenge the Chargers, prior to Crest's Saladino pool-play opener against Chamberlain on Saturday. [No. 9 last week]
10. Wharton (3-1) – A one-sided victory over Chamberlain on Tuesday as Jacskon Perkins and Zach Ehrhard combined for the five-inning no-hitter, and a district win over Wiregrass Ranch (which you can read about by clicking here) made up Wharton's week 2. The Wildcats travel to Bloomingdale tonight, and to Freedom for a district game on Tuesday, and open the tournament against Middleton. [No. 10 last week]
The Next Five:
11. Riverview (3-2) – [No. 4 last week]
12. Lennard (4-0) – [Previously unranked]
13. Gaither (2-1) – [No. 11 last week]
14. Berkeley Prep (3-1) – [No. 12 (T) last week]
15. Tampa Catholic (4-1) – [Previously unranked]
Dropping out of the rankings this week: Jefferson (0-4), Durant (2-2), Armwood (3-1).