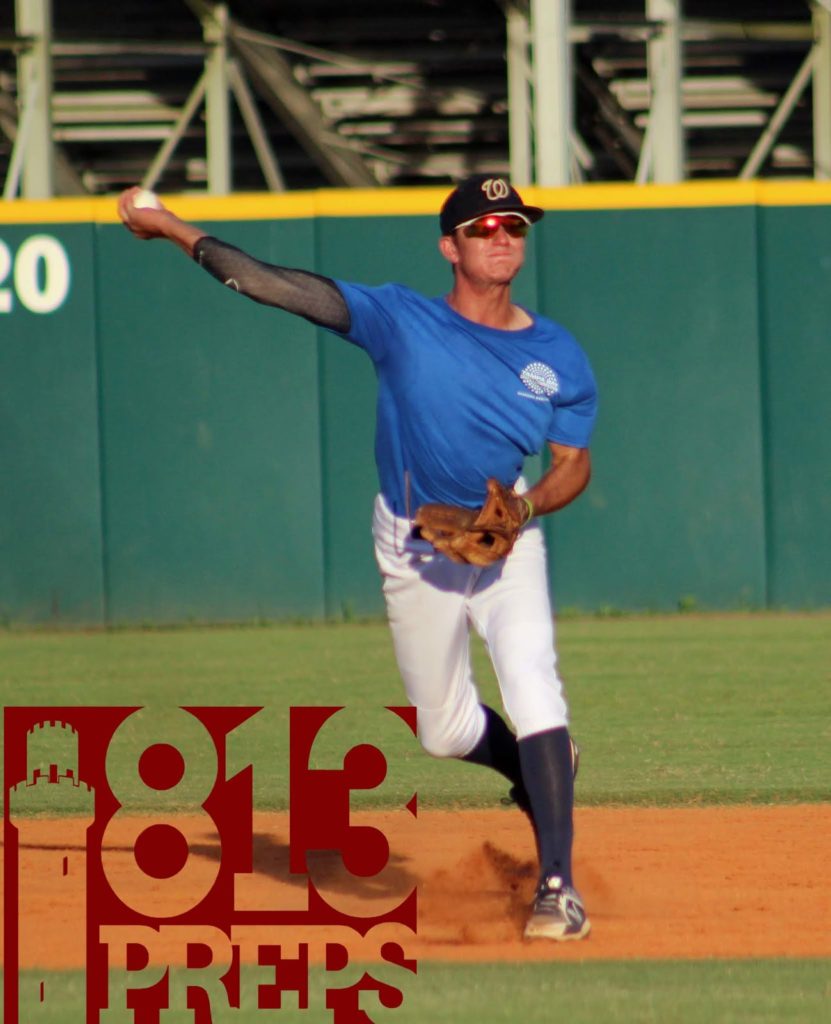 Wharton's Grady Maguire led the Wildcats' comeback win against Bloomingdale with a three-run homer in the seventh inning. (File photo)
VALRICO – There wasn't much going on for the Wharton Wildcats through the first 4 1/3 innings against Bloomingdale. The Wildcats were down six runs after three early home runs by Bloomingdale in the first two innings.
After Brock Wilken belted his second home run of the game in the second inning, the Wildcats wouldn't allow another run for the rest of the game, and Wharton's offense answered back with two big innings to mount a 7-6 comeback win.
————————————————
Unlike many independent news organizations, we haven't put
up a subscription paywall – and we hope to be able to keep bringing you the great stories
from high school athletics in the 813 area free of charge. But we are still a small
business with a handful of paid employees, so there are costs including travel, equipment, and other costs associated with running this business.
We are looking for advertising partners, but we also need to count on our
readers for support. If everyone who reads our reporting, who likes it, helps
fund it, we will be able to continue covering these athletes' endeavors.
Support 813Preps.com for as little as $1 by clicking "Donate" button below.
Jackson Perkins was a big part of keeping the Bulls offense at bay after its early surge, coming into the game in the first inning with one out in relief of Ryan Fry. Jackson would just give up two runs while pitching 5 2/3 innings on 82 pitches, while collecting six strikeouts and giving up only four hits. He pitched four consecutive scoreless innings.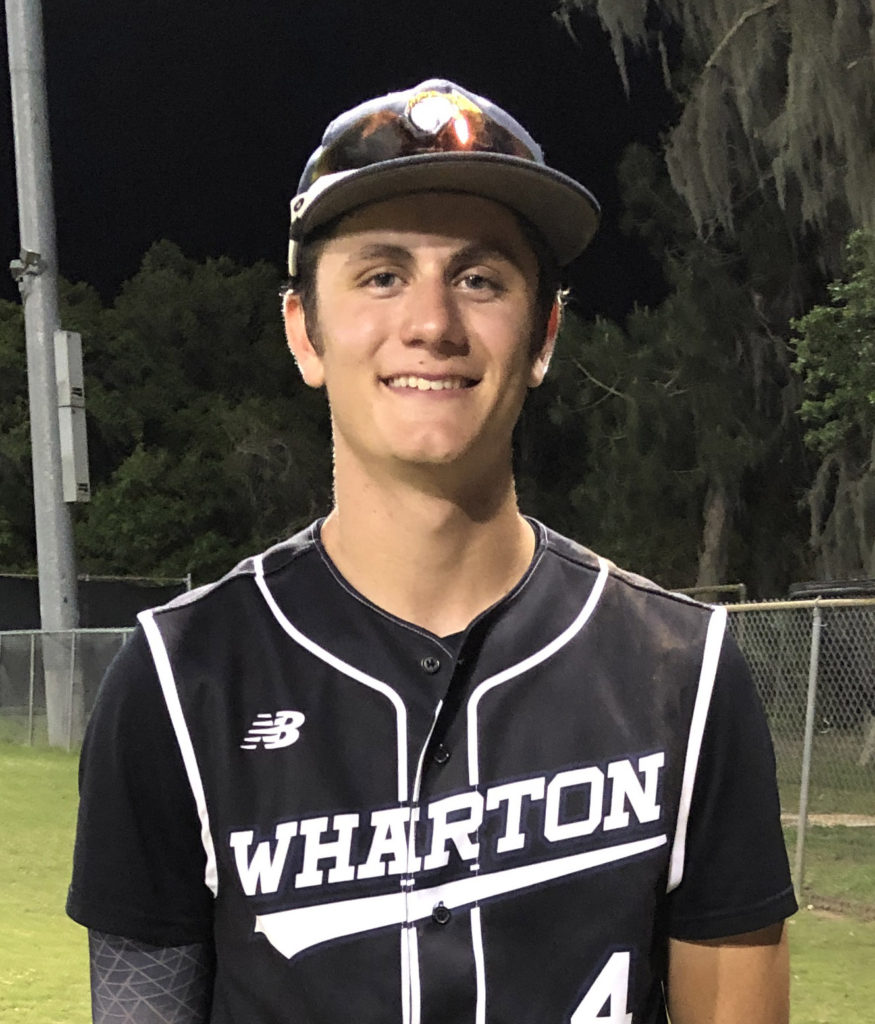 Grady Maguire, Wharton
Wharton got on the board in the top of the fifth inning on an RBI groundout by Brian Baughman, and Steven Hotinski followed with a two-run single to cut the Bloomingdale lead to three.
Fast forward to the seventh inning. The Wildcats were down to their final out of the game with nobody on base and Bloomingdale's Riley Moore dealing in his second inning of relief. Baughman reached on an error by third baseman Jackson Hobbs when the ball went underneath his glove, and Wharton found new life. Hotinski would then reach on a walk, putting the tying runner aboard with Grady Maguire coming up to the plate. Maguire would be the hero.
"I was just looking for a good pitch to drive and got a fastball down the middle and just put a good swing on it," said Maguire.
He hit the ball in the air and over the right field fence to tie the game at 6-6. Maguire said that he wasn't necessarily trying to hit a home run.
"I was trying to stay short and drive one in the gap, that's my mindset all the time," he said.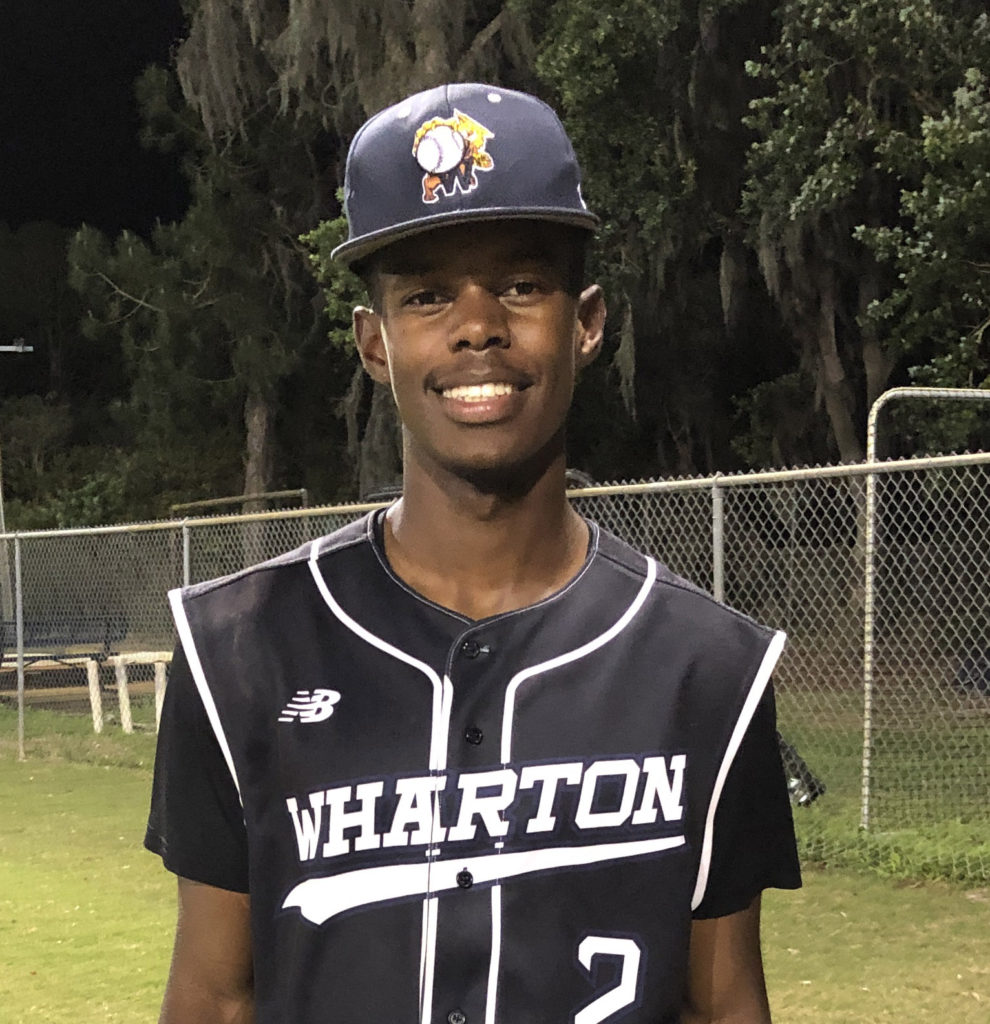 Nick Albury, Wharton
Shane Saunders came on in relief of Moore with two outs with the score tied. Frank Micallef reached on a walk and then advanced to second on a wild pitch, setting up Nick Albury who drove in the game-winning run on an infield single. Albury entered the game as a pinch-hitter one inning prior and went 2-for-2 with two singles.
"There was someone on second and I knew that this was a chance for me to be a hero, so I just took a nice approach and took it up the middle," Albury said. "This is one of the best games I've played in my life. Coach always says that you gotta be ready to come up when your name is called, and I was ready."

Michael Rivera came in to close the game in the bottom of the seventh, completing a comeback victory for the resilient Wildcats, improving their record to 4-1 on the season.
"We got off to a slow start," said Wildcats coach Scott Hoffman. "We showed a lot of resolve to be able figure out how to get a win any way possible. Guys came through when they needed to."
For Bloomingdale (3-2), senior Bryce Hazzard was 2-for-3 with a home run, and Antonio De Jesus drove in a pair.
– Nick Nahas is a freelance writer in eastern Hillsborough County and covers a wide range of topics. Be sure and follow Nick on Twitter by clicking here.