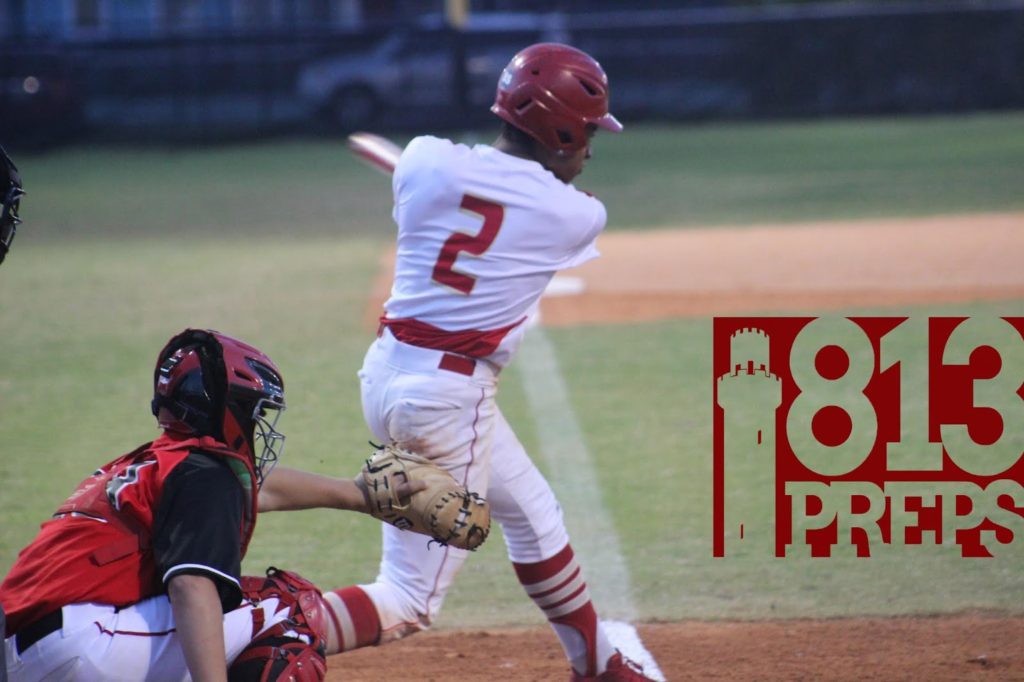 Leto's RJ Gutierrez connects on a double in the third inning. Gutierrez would finish 3-for-4, with two runs, an RBI and two stolen bases. 
TAMPA – Off the bat, Leto centerfielder Damien Breto broke straight back on a ball off the bat of Hillsborough's Terence Doston that looked headed for extra bases, but Breto picked out a good spot to run for and made a slight adjustment as the ball came in for an incredible catch to end the game and hold off the Terriers as the Flacons won 4-3.
"I saw the ball going up and I said, 'I need to dip,'" Breton said. "I started running full speed, turned around and the ball was coming in on me and I had to make a quick slant … To be honest, I don't know exactly how I got there. I just felt it. I was in the moment."
————————————————
Unlike many independent news organizations, we haven't put
up a subscription paywall – and we hope to be able to keep bringing you the great stories
from high school athletics in the 813 area free of charge. But we are still a small
business with a handful of paid employees, so there are costs including travel, equipment, and other costs associated with running this business.
We are looking for advertising partners, but we also need to count on our
readers for support. If everyone who reads our reporting, who likes it, helps
fund it, we will be able to continue covering these athletes' endeavors.
Support 813Preps.com for as little as $1 by clicking "Donate" button below.

Leto (5-1, 2-0 in Class 7A-District 8) got ahead early as RJ Gutierrez singled to lead off the game, moved to second on a pop out, stole third and scored on a Javy Hernandez groundout. Gutierrez led off the third with a double, stole third again and scored a second run as Breton drove him in on a sac fly, and Bryan Perez added a little cushion with an RBI single later in the inning.
Hillsborough (2-3, 0-2 in 7A-8) scratched on back in the home third when Kyle Bincarousky doubled in Varkery Scott (running for the catcher Tanner Scott, who had singled).
The Terriers went to sophomore Michael Ireland in relief in the fourth, and Leto scratched out one more on an RBI ground out from Gutierrez (who was 3-for-4 in the game) in the fourth. But Ireland was solid in his four innings of work allowing just four hits, and striking out five.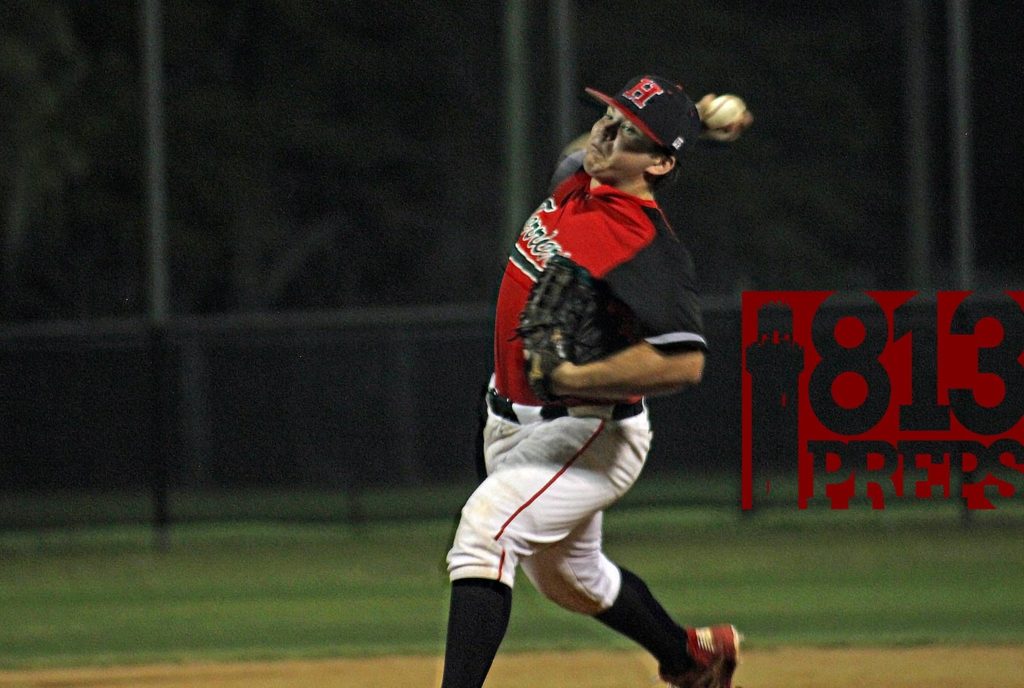 Hillsborough reliever Michael Ireland tossed four solid innings, striking out five. He also added an RBI single at the plate. 
"It was nice to see us go out there and throw well and keep us in the ballgame," Hillsborough coach Kenny White said. "We made a few mental mistakes, but being in the ball game is always pretty good."
The Terriers defense also played well highlighted by a great play on a ripped line drive toward the bag snagged by the second baseman, Bincarousky, and a great diving catch from right fielder Adrian Arroyo, both coming in the sixth inning.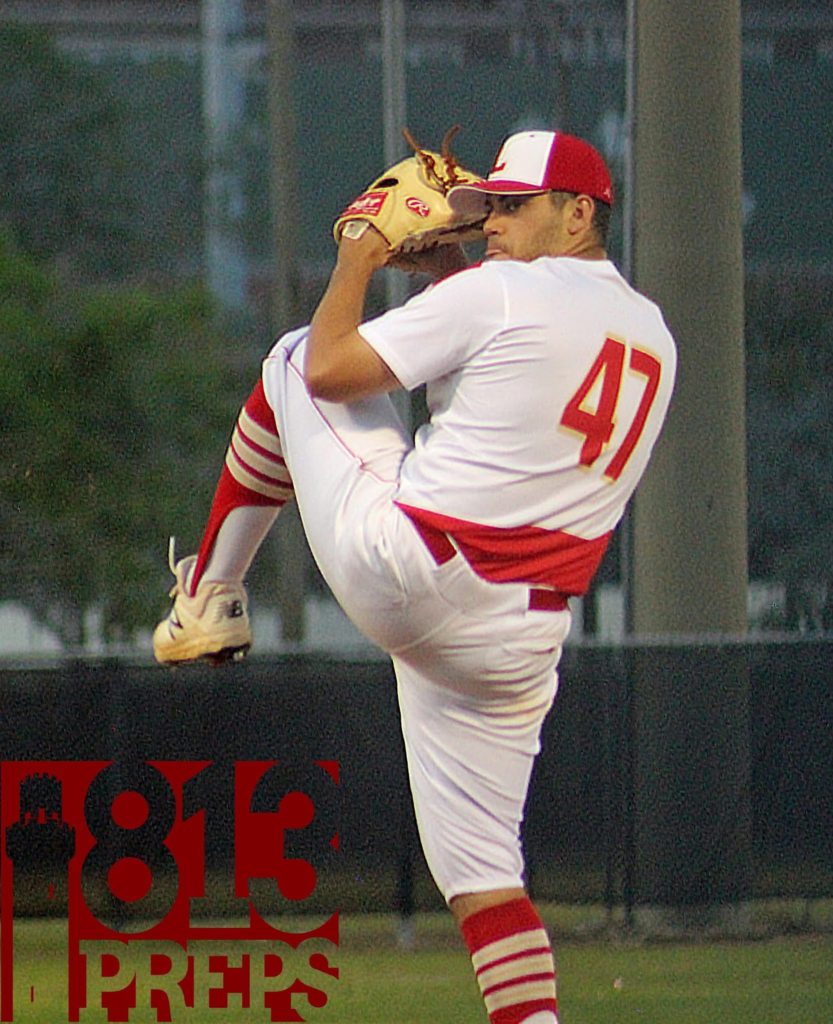 Leto starting pitcher Christian Suarez tossed a complete game
to improve to 3-0 on the season. 
Hillsborough picked up two more in the sixth off Leto starting pitcher Christian Suarez, slashing four straight hits including RBI singles from Ireland and Carlos Romero. But Suarez avoided further damage and preserved his win, tossing a complete game and striking out five to improve to 3-0 on the season.
Leto wasn't without some spectacular defense of its own, none better than the Major League play from Gutierrez at shortstop, tracking down a pop fly in no-man's land behind second base to keep the runners in position in the sixth.
"Coach had moved me over in the shift to the left, and when I saw the ball shallow and when I turned around I saw our (centerfielder) deep," Gutierrez said. "When I saw that, I knew I had to go get the ball."
Gutierrez said he expected a battle against a tough district opponent, and added it likely will be a hotly contested game in the next meetings between the teams.
"Hillsborough is always a strong team, this year and last year, they gave us a fight," Gutierrez said. "We'll see them two more times, most likely, and we'll need to be ready against a team like that the next time we see them."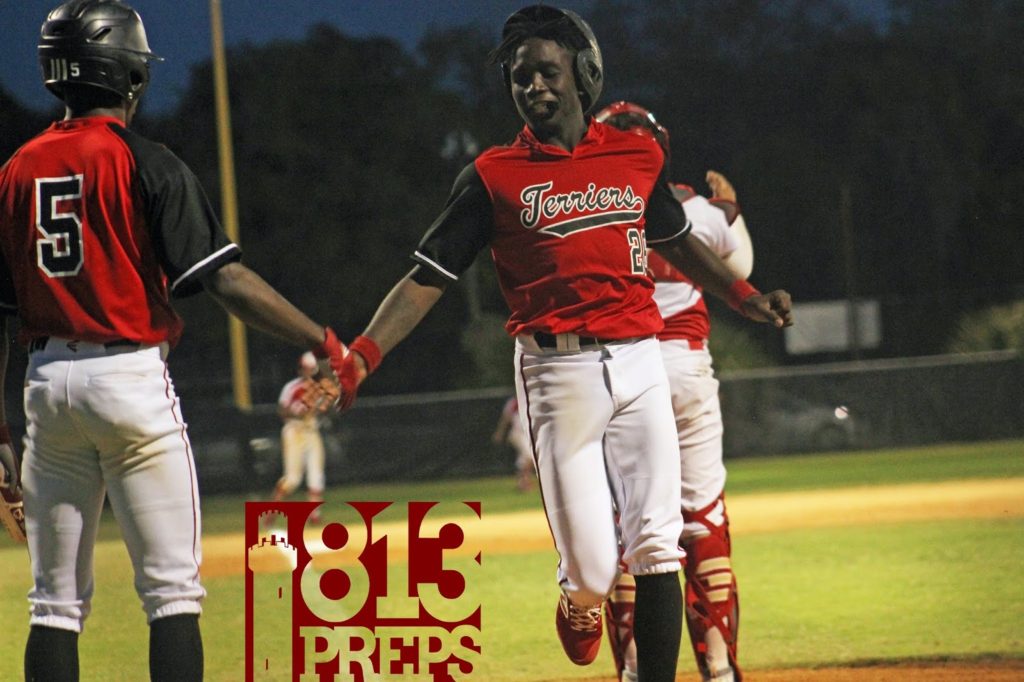 Hillsborough's Varkery Scott is greeted by teammate Terence Doston after scoring a run in the third inning.