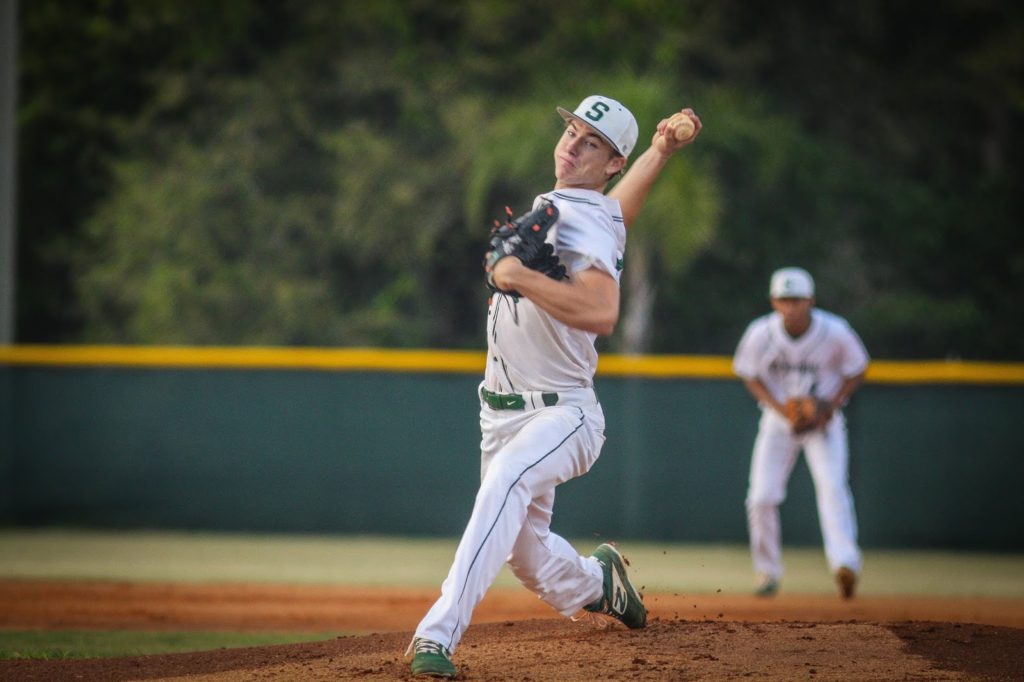 Sickles senior pitcher Dylan Eskew delivers a pitch Tuesday evening vs. district rival Plant. Eskew allowed just one hit over six-plus innings of work while striking out 11 and giving up a late-game walk.
 (Photo by Mike Camunas)
By Mike Camunas, correspondent
TAMPA — It was circled on the schedule before the season started.
It was unfinished business. An anticipated rematch nearly a year in the making.
"It's not that we had bad blood, but they're the one who knocked us out," Sickles senior RHP Dylan Eskew said of facing district rival Plant, the same team that knocked the Gryphons out of the regional semifinals last season. "We definitely had a bitter taste in our mouths."
Well, Eskew and Sickles had all the motivation they needed to make quick work of the Panthers. Sickles defeated Plant 3-0 behind a stellar pitching performance from Eskew in an early-season Class 8A-District 5 meeting.
————————————————
Unlike many independent news organizations, we haven't put
up a subscription paywall – and we hope to be able to keep bringing you the great stories
from high school athletics in the 813 area free of charge. But we are still a small
business with a handful of paid employees, so there are costs including travel, equipment, and other costs associated with running this business.
We are looking for advertising partners, but we also need to count on our
readers for support. If everyone who reads our reporting, who likes it, helps
fund it, we will be able to continue covering these athletes' endeavors.
Support 813Preps.com for as little as $1 by clicking "Donate" button below.
With several major-league scouts in attendance, Eshew threw 102 pitches over 6-plus innings of work, allowing just one hit, a walk and striking out 11.
"He was lights out tonight," Gryphons coach Eric Luksis said. "He had three pitches working for strikes, was keeping guys off balance and working both sides of the plate. It's crazy to think that we're at this point that we expect that from him, but every time we give him the ball we're confident he's going to give us an outing like that every time.
"It's a fun way to coach, but it's also fun to watch."
Once Sickles (5-1, 2-0 in Class 8A-5) gave Eskew a lead, he never let his foot off pedal. The Gryphons took a one-run lead in the first on an RBI single by Danny Bernstein, then added to that with another RBI single from Bernstein in the third. Justin Turk would add the third run in the sixth by scoring from first on a passed check throw.
Trey Bacon would close out the seventh for the save.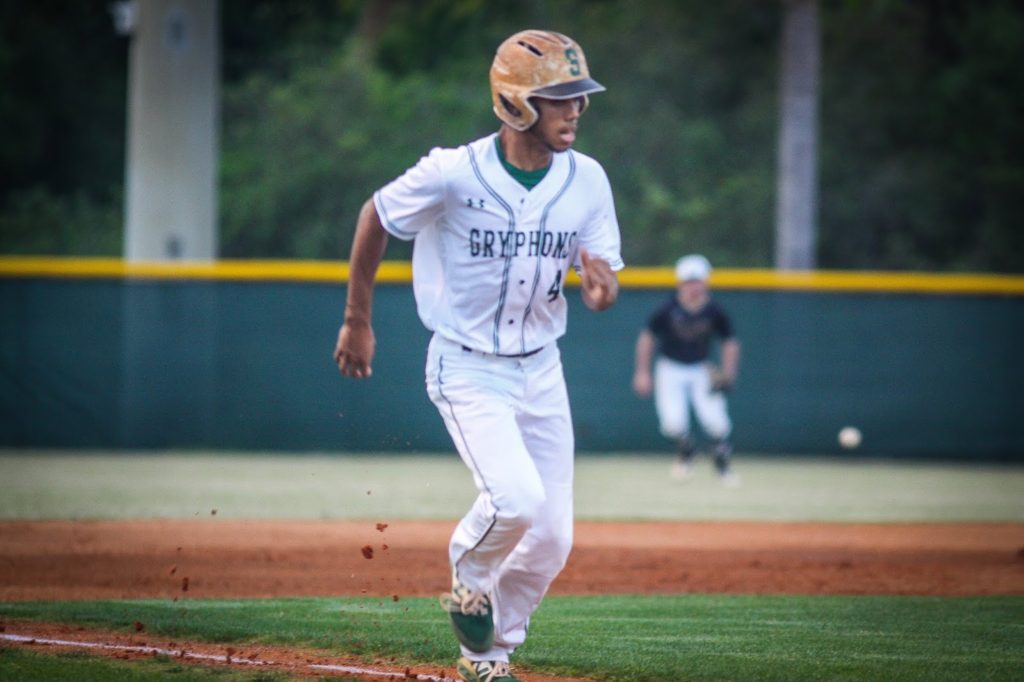 Sickles junior SS and RHP Trey Bacon cheers as he heads home
to score on an RBI single by senior Danny Bernstein in the
Gryphons' 3-0 win over district rival Plant.
(Photo by Mike Camunas)
Eskew had a high pitch count, but said his off-speed pitches were getting him strikes, which came in handy against a tough Plant (5-1, 0-1 in 8A-5) lineup.
"With a team like that, there's no one guy you can take off," Eskew said. "Every batter you have to come in with the best pitches, and I knew that. We always know that when we face a team like that."
"We know it's a team we're going to see again," Luksis added, "so we can't be too overconfident. We know we'll see them once, possibly two or three more times again this season."
Sickles feels it has had a hard-fought, early-season schedule, with its lone loss coming at the hands of Bloomingdale last week. But at 5-1, the Gryphons now ride into the annual Saladino Baseball Tournament that starts this weekend with confidence.
"We had all tough games (this early in the season)," Luksis said. "We've gotten tested early, but that's what we want. We're going to continue to battle it out and we'll see where we're at the end of the season, but we like where we're at so far."
Eskew agrees.
"We've got the confidence, but we don't like to get too cocky. We're going to take it one game at a time into this weekend and see where that takes us."
– Mike Camunas is a longtime veteran journalist who is always seeking true stories, trained under J. Jonah Jameson and takes better photos of Spider-Man than Peter Parker. Follow Mike on Twitter @MikeCamunas