The 39th Annual Saladino Baseball Tournament – A Primer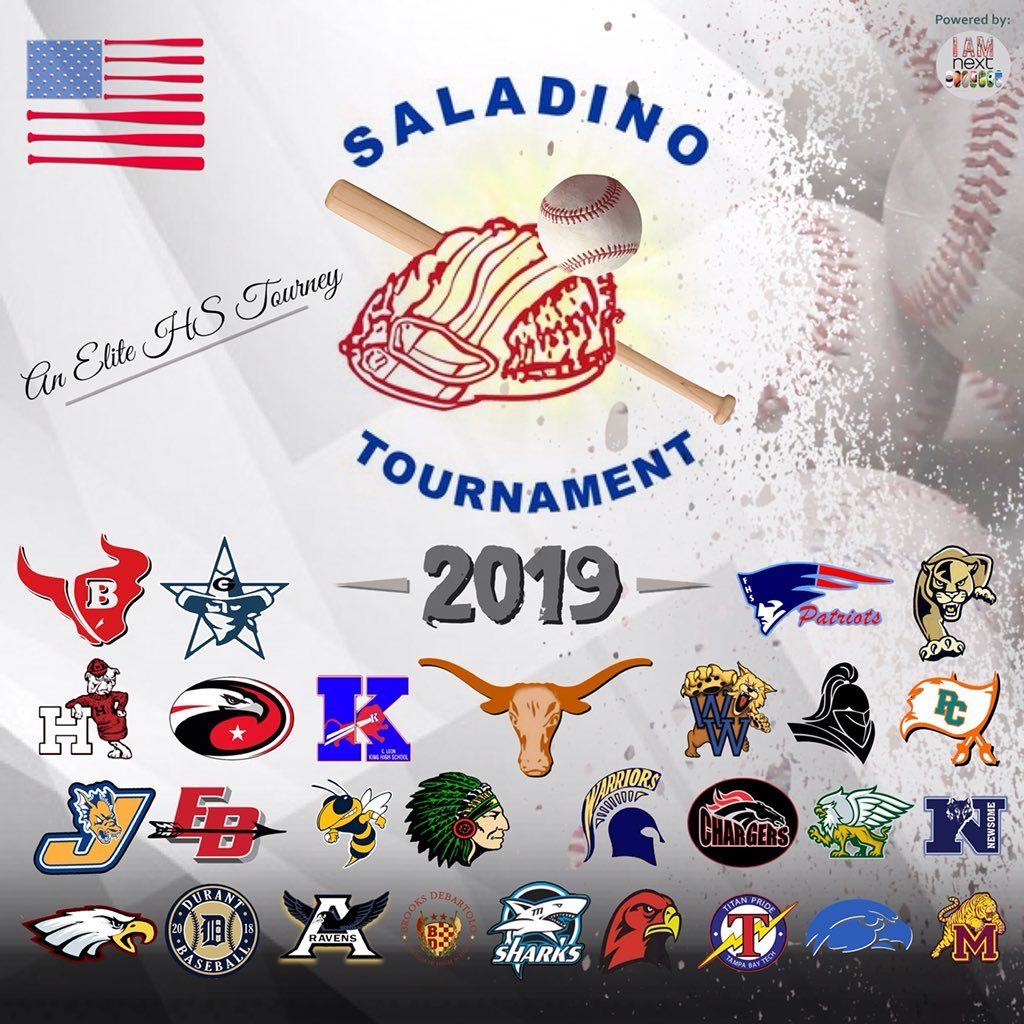 (Graphic designed by Kavier Nunez)
For our money, the baseball season isn't quite in its groove until the Saladino Tournament rolls around. It's taxing, tiring and often grueling. But because of this, it's signature moments, and championship victories are cherished by the players forever.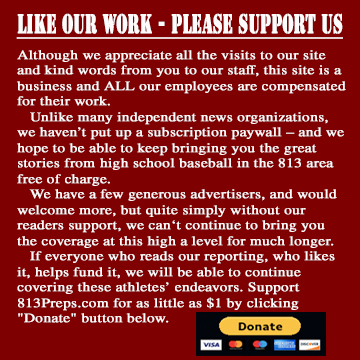 Take last season's championship final, where King rallied twice against Alonso to claim the crown, in part thanks to the relief pitching of then-senior Addison Barger, who climbed atop the pitching mound for the first time in two seasons for a game-ending, championship-clinching strikeout.
This season will undoubtedly have some similar moments and as the week-long tournament kicks off on Saturday in pool-play from Brandon, Jefferson and Lennard High Schools, as well as the University of Tampa, we have breakdowns of all seven pools.
There are always pool favorites prior to the start, but the very best part of a potential six-game week means that top-tier talent will get you only so far, while strategy, planning, coaching and a smattering of unheralded breakthrough performances are the true key to winning it all.
Get yourself primed here: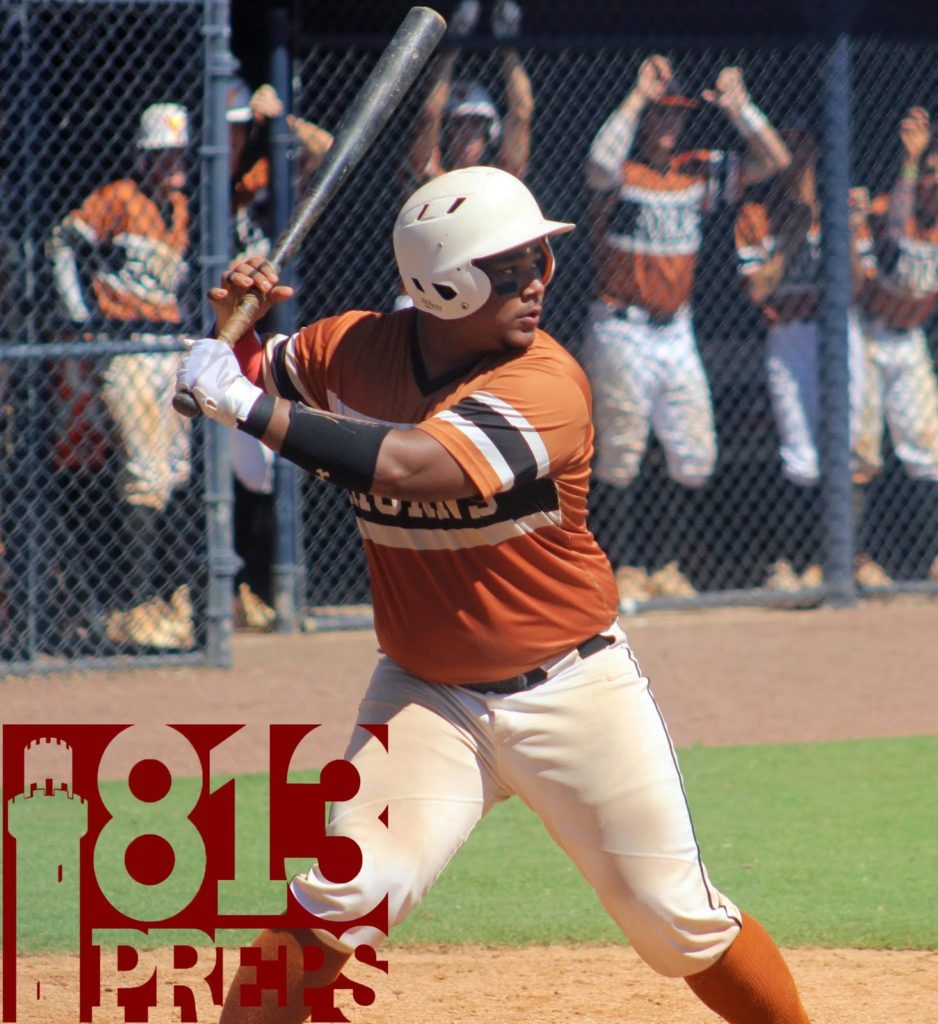 Lennard senior C Levi Montero
Pool One Breakdown (at Lennard): The county's lone remaining undefeated team is, wait for it, the Lennard Longhorns, which for the first time in program history is 5-0. The Longhorns have been on the rise for a few seasons and things seem to be going their way as we reach the week-long Saladino tournament. Lennard will host pool-play again this season and will have to contend with King (1-5), Carrollwood Day (3-5), and Newsome (4-2) … Obviously, Tuesday's 4 p.m. meeting between the Longhorns and Wolves is the "must-see" game in pool-play. However, last season's Saladino champions King, and Carrollwood Day, which reached the Saladino semis two seasons ago, will look to play spoiler.
Players to watch: SS Cade Afeld, Newsome – .350 .avg, 8 runs, two doubles; C Levi Montero, Lennard – .583, 7 RBI; SS/P Yazael Nunez, Lennard – .352 .avg, 7 runs, 1-0 record, 0.70 ERA, two saves;  P Zan Rose, King – 1-0, 0.58 ERA, 17 K; P Cole Stallings, Newsome – 2-1, 1.20 ERA, 20 K in 11 2/3 innings;  P/IF Daniel Vassallo, Carrollwood Day – .545 .avg, 3 RBI, 1-1, 1.05 ERA, 16 strikeouts.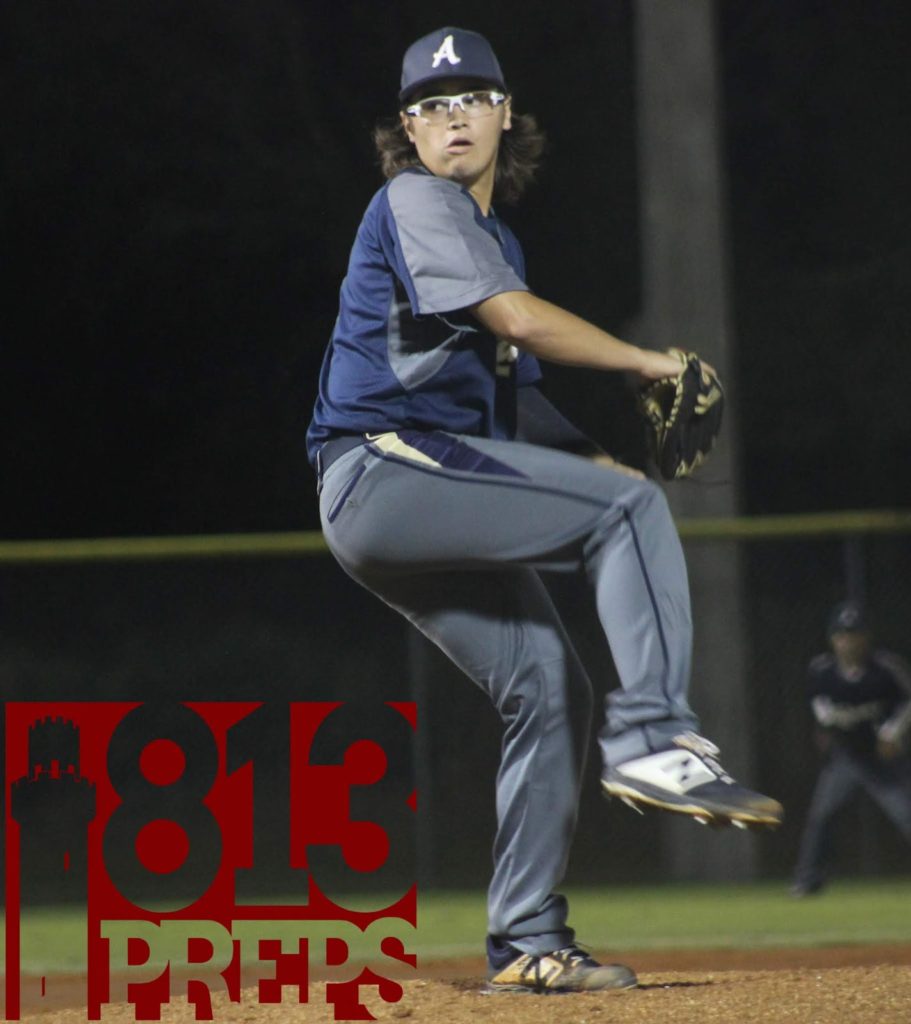 Alonso junior Sam Drumheller
Pool Two Breakdown (at Brandon):  Alonso (3-1) has advanced out of Saladino pool-play for five-straight seasons including reaching the final the previous four years, and claiming the 2015 tourney crown – the program's fourth title overall … Wharton (5-1) enters the tourney on a four-game winning streak and Tuesday's 1 p.m. showdown between Wildcats and Ravens should be a great one … Hillsborough (2-4) has a lot of athleticism and will be no pushover as the Terriers have a ton of history in the tourney, winning three times including the inaugural event in 1981 (also won in 1993 and 2006) … Middleton (2-4) has shown marked improvement this season with wins over Tampa Bay Tech and Jefferson, the Tigers will likely look to be in the spoiler role if taken lightly.
Players to Watch: OF/P Brian Baughman, Wharton – .286, 7 RBI, 5 runs, 2-0, 0.45 ERA, 24 K; OF Terence Doston, Hillsborough – .350, five runs, two doubles, three stolen bases; P Sam Drumheller, Alonso – 1-0, 0.78 ERA, 15 strikeouts; IF Zach Ehrhard, Wharton – .412, 6 runs, 5 RBI, 5 stolen bases; SS Drew Lara, Alonso – returns with a home run in each of the past two tournaments;  P/SS Jose Monroy, Middleton – complete-game victory against TBT earlier this season.
Pool Three Breakdown (at Univ. of Tampa): Saturday's nightcap has "game of the week" written all over it as Plant (6-1) and Plant City (5-1) square off at 7 p.m. Both teams have only one loss (each to Sickles) and are looking to make a push for a title. Historically, the Panthers have had a little more tourney luck, with five past titles, but the Raiders are looking to add Plant City's name to the champions list this season. Blake (0-6) and Brooks DeBartolo (1-4, prior to Friday night's game vs Bayshore Christian) are both looking to turn around tough starts to the year.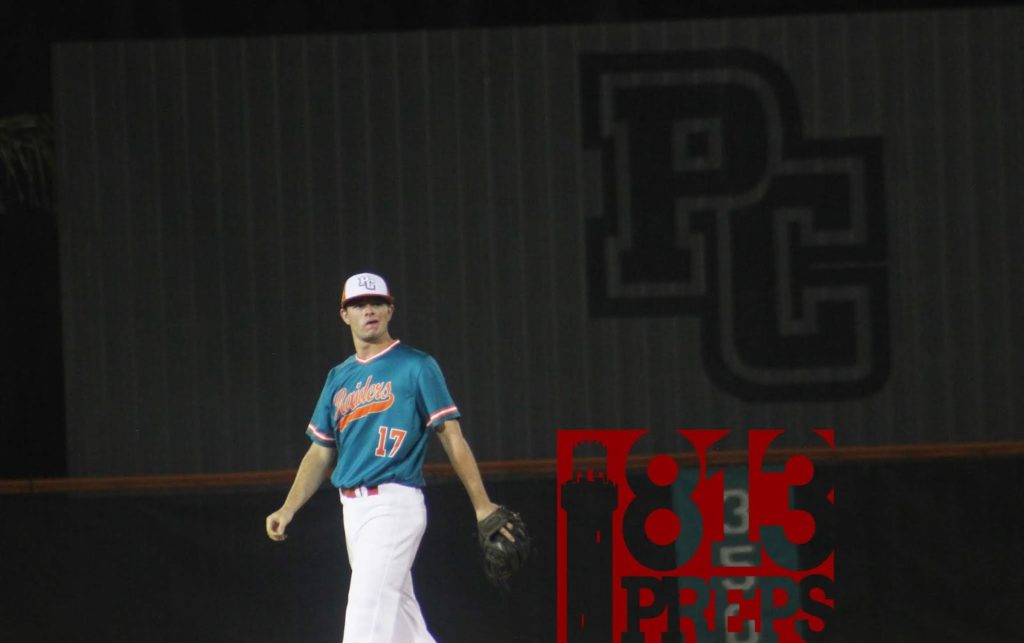 Plant City senior SS Cade Shissler
Players to Watch: Util Nick DiCecco, Brooks DeBartolo – .467, 5 RBI; P Kyle Gates, Plant – 2-0, 0.00 ERA, 8 strikeouts; P/1B Parker Messick, Plant City – 2-0, 0.50 ERA, 19 K; SS Angel Remigio, Blake – .308, 3 runs, 2 stolen bases; OF Gabe Rincones, Plant – .294, 5 runs, two home runs; SS Cade Shissler, Plant City – .429, three home runs, 8 RBI, 7 runs.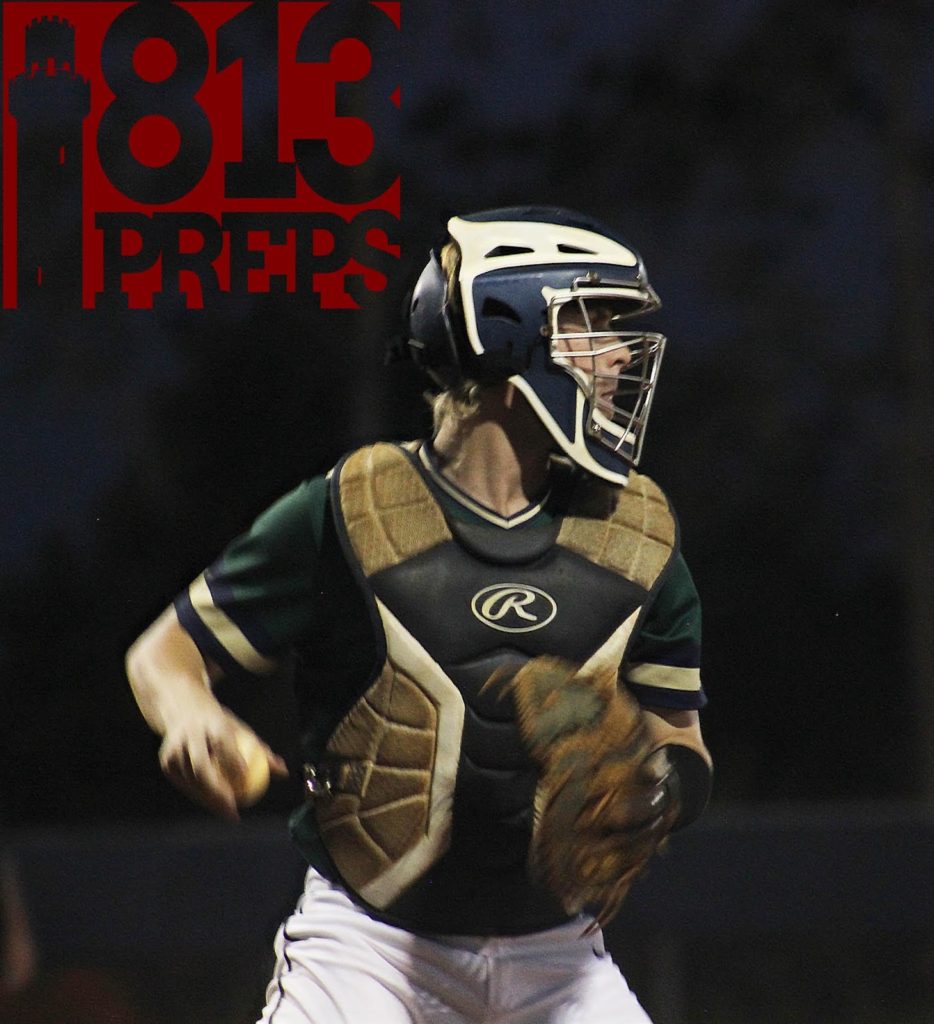 Durant C Gage Young
Pool Four Breakdown (at Jefferson): Sickles (5-1) has bounced back nicely from its loss to Bloomingdale, with wins over Plant City and Plant and enter the tournament looking to make a splash. The Gryphons won back-to-back tourney titles but it was before most of its current roster was born in 2001-02. Sickles definitely wears the target here … Durant (2-3) will be the first to test Sickles on Saturday at 4 p.m. and the Cougars are hoping to get things going in the right direction on the mound to contend in tourney play this season … Armwood (4-2) poses an interesting challenge here as the Hawks are off to a solid start including opening the year with three-straight wins … Jefferson (0-6) is in a tailspin after a state title last season and are hoping to have some luck in the next week.
Players to Watch: C Danny Bernstein, Sickles – .529, 9 RBI, 4 doubles, triple, huge plus behind the plate; OF Tyler Castelli, Armwood – .467, 5 runs, 5 RBI, 2 HR; SS/P Dylan Eskew, Sickles – .368, 8 RBI, 3 HR, 3-0, 0.00 ERA, 25 strikeouts; SS/P Trevor Finan, Armwood – .375, 6 RBI, 3 doubles, 1-1, 0.00 ERA, 22 K; C/OF Mario Lopez, Jefferson -.250, 4 RBI, 2 doubles; C Gage Young, Durant – excellent defensive leader for the Cougars.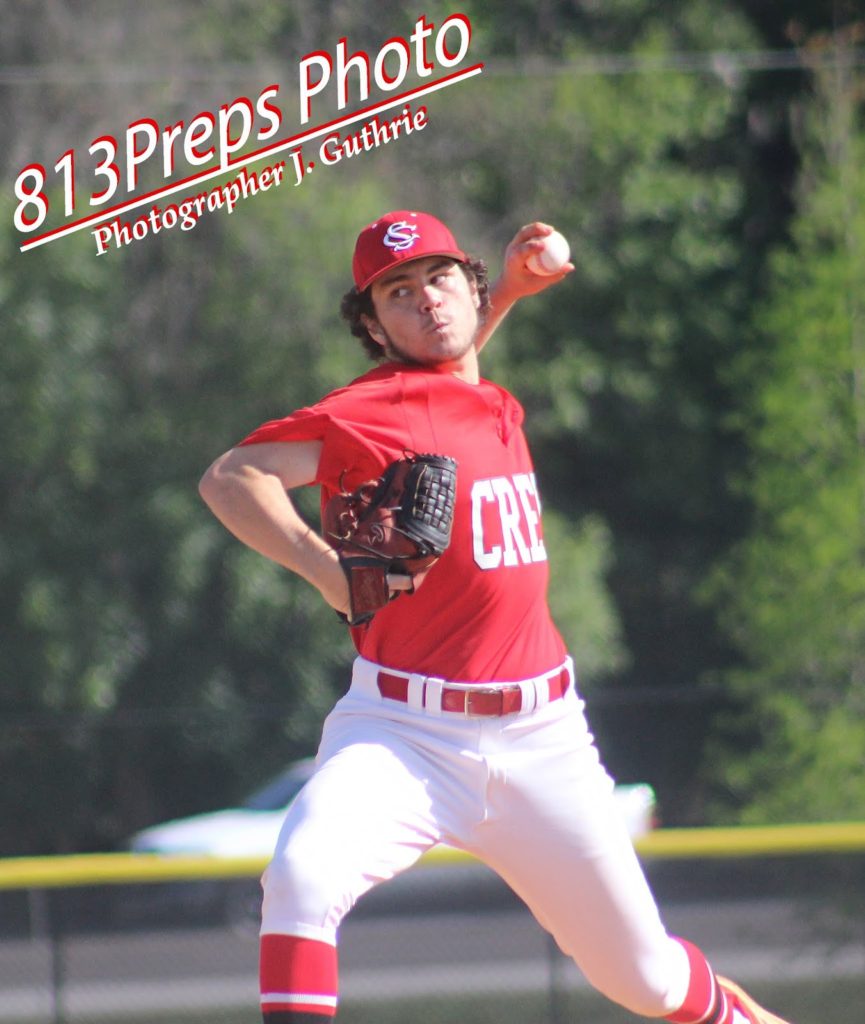 Chargers senior P Alex Marshall
Pool Five Breakdown (at Brandon): Bloomingdale (4-2) already holds a 5-0 victory over Strawberry Crest (4-2) this season, but expect the 4 p.m. meeting between the Bulls and Chargers to be the deciding factor in this pool. Bloomingdale has won three tournament titles, last winning under head coach Kris Wilken in 2014 … Strawberry Crest made a 8A state final four run a season ago and this tourney would be a great place to show the level of play, of which the Chargers are capable … Brandon (1-4) is under new coaching this season as John DiBenedetto is working with nearly an entirely fresh crop of players. The Eagles play tournament host again this season, and will have its work cut out if it hopes to claim a sixth Saladino Tournament title … Chamberlain (0-7) had some competitive games to start the year, but have hit a bit of a rough patch of late. The Chiefs are progressing, but will have a big hill to climb here as depth in a week-long tournament will be a strain for the 14-man Chamberlain squad.
Players to Watch: P Myles Caba, Bloomingdale – 1-0, 0.50 ERA, 16 K; OF/C Manny Caballero, Chamberlain – .375, 6 runs, 2 doubles, 11 stolen bases; P Marcos Herrand, Brandon – 1-2, 1.68 ERA, 31 K; P Alex Marshall, Strawberry Crest – 3-1, 1.00 ERA, 22 K; OF Alex Mussenden, Strawberry Crest – .571, 6 runs, 4 RBI, 3 doubles, 6 stolen bases; C Brock Wilken, Bloomingdale – .571, 6 HR, 9 RBI, double, triple.
Pool Six Breakdown (at Univ. of Tampa): Riverview (4-2) is riding a four-year streak of advancing out of pool-play in the tournament, but oddly the Sharks have never claimed a title. Riverview hopes to change that in 2019, with solid hitters and a lot of depth on the mound, which should play well if they find a way out of Pool Six … Gaither (3-2) should be fired up this year after missing out on advancing as last year's wild card team by a single run allowed. The Cowboys claimed Saladino crowns in 2003 and 2005 … TBT (2-4) enters the tournament on a mini-win streak with victories against Brandon and Blake … Freedom (2-4) comes in on a bit of a skid after winning its first two games of the season.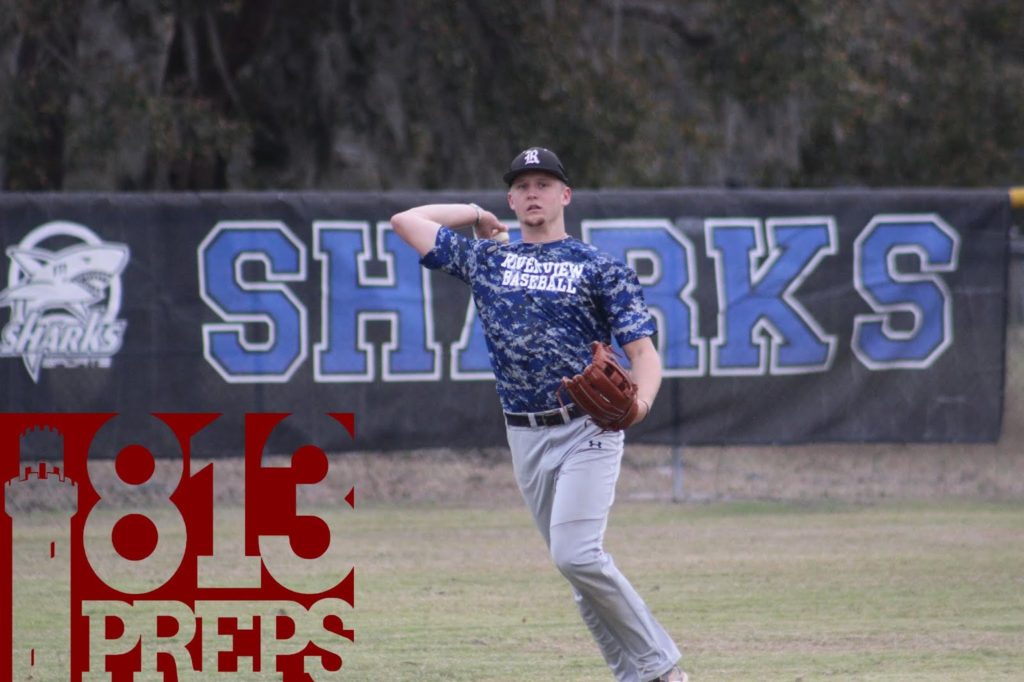 Riverview senior OF Dillon Besnier
Players to Watch: 
OF Dillon Besnier, Riverview – .312, 3 runs; P/1B Ty Correa, Riverview – 2-0, 1.56 ERA, 15 K; OF Derek Crum, Gaither – .438, 6 RBI, HR; OF/P Alex Jackson, Tampa Bay Tech – .250, 3 runs, 1-1, 3.82 ERA, 15 K; P Mitchell Leroy, Freedom – 1-3, 1.88 ERA, 27 K; P Roy Peguero, Gaither – 1-0, 0.00 ERA, 15 K.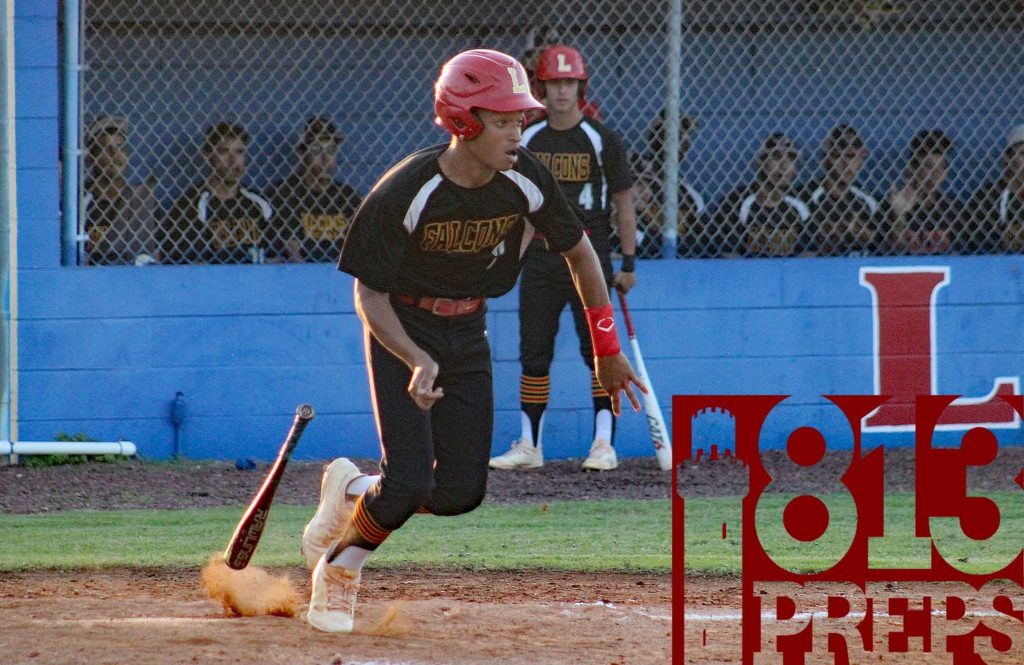 Leto SS RJ Gutierrez
Pool Seven Breakdown (at Jefferson): This one has fun written all over it as Leto (5-1) and Steinbrenner (4-2) opened the season with a hotly contested, 1-0 Falcons win, and face off immediately Saturday in the 1 p.m. slot … The Falcons were a Class 7A state final four team last year, while the Warriors won a state title and Saladino championship in 2016, and both teams advanced to the knockout rounds of the tourney last season … The inclusion of Robinson (4-2) is what makes this arguably the toughest bracket in this year's event. The Knights enter winners of four straight, and have a couple of solid pitchers to make them a big threat … East Bay (0-5) hasn't found a rhythm yet, but have battled in close games with Freedom and Bloomingdale this season.
Players to Watch: P Koby Fogg, Robinson – 2-1, 0.36 ERA, 15 K; OF Donovan Garcia, Steinbrenner – .312, 5 RBI, 4 runs; SS RJ Gutierrez, Leto – .500, 7 runs, 4 RBI, 5 stolen bases; P Bryce Leonhardt, Steinbrenner – 1-2, 2.56 ERA, 13 K; P Christian Suarez, Leto – 3-0, 1.15 ERA, 25 K; IF Michael Swanson, Robinson – .385, double, 2 runs; OF Hans Walker, East Bay – .333, 2 runs, 2 RBI.


View the full schedule below: