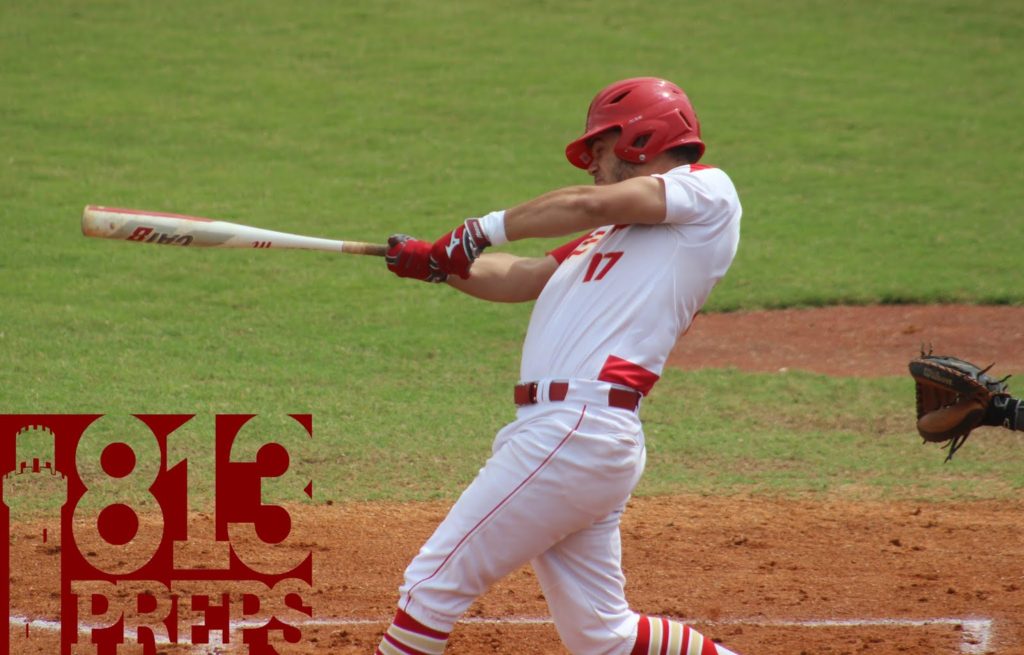 Leto senior Bryan Perez crushes a solo home run to left field in the third inning to put the game out of reach. Perez finished  2-for-4 with a double and two runs scored in the game. 
TAMPA – With just a handful of at-bats this season, the message No. 6 Leto freshman Brayan Cruz said he got from Falcons coach JJ Pizzio was simple. In the sixth inning, Pizzio called into the dugout to Cruz telling him to grab a bat for a pinch-hit.
"Coach Pizzio told me to believe in Jesus," Cruz said, "and hit the ball over the fence."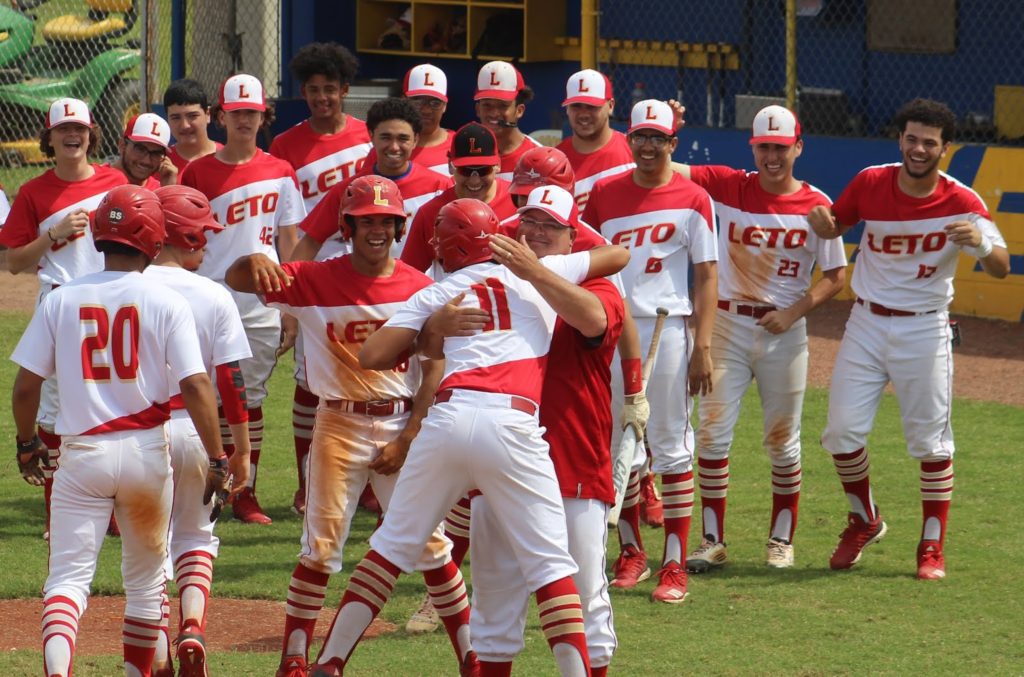 Leto head coach JJ Pizzio greats his freshman, Brayan Cruz after his pinch-hit, first-pitch, grand slam in the sixth inning. 
With the bases juiced, Cruz stepped to the plate and on the very first pitch sent a ball rocketing toward Heaven and cleared the bases with a grand slam.
The homer was mere window dressing for Leto, which already held a lead and finished strong against Steinbrenner, claiming an 11-3, pool-play opening win.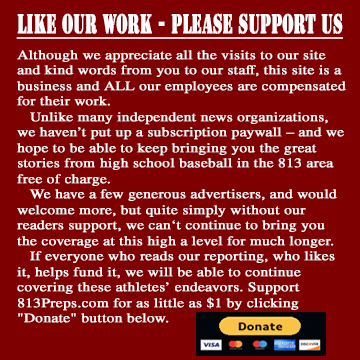 Pizzio left Cruz in the game, and the freshman added to his already impressive day roping a two-run double the next inning as well.
Leto (6-1) jumped ahead early as the Warriors gave away extra opportunities. The third inning started with a flubbed error on a bunt, followed by an indecisive fielder's choice play that allowed another bunt to put runners on the corner, a dropped ball on the pitcher's mound for a balk allowed the first run, RJ Gutierrez singled home a run, before a passed ball added a third.
Then with two outs, senior Bryan Perez capped the four-run inning with a massive blast to left field for a home run.
"We try and take advantage of any mistake the other team makes," Perez said. "We try to put the ball in play and when we have runners on second and third and the team makes mistakes … we are going to put balls in play to bring them in."
Perez added a double of his own late in the game and scored on Cruz's double in the seventh to cap the latter's six-RBI day.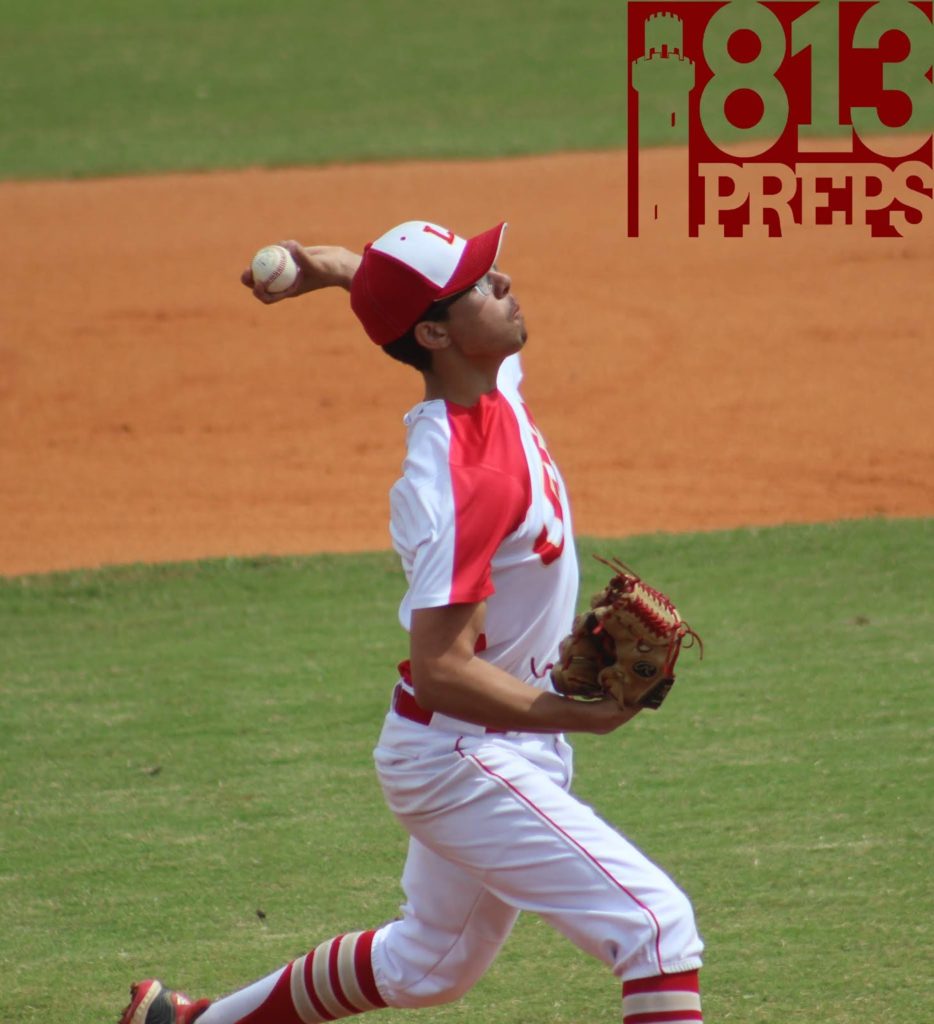 Leto starting pitcher Franklyn Hernandez
Leto senior Franklyn Hernandez moves to 1-1 on the season with a crafty start on the mound. He allowed three runs (one earned) on eight hits, but held the Warriors in check stranding six on base and striking out six in 5 1/3 innings of work. Julio Acosta worked the rest of the way to finish things out giving up just one walk, and getting out of a huge bases loaded jam in the sixth.
"(Franklyn) was dominant," Perez said of his teammate. "He knew how to throw the right pitch when he needed to throw it. Situations, 1-2 or 2-2, he listened to the coaches who told him to find his best pitch. That's exactly what he did."
Steinbrenner (4-3) scored a run in the fifth as Tayden Hall hit a one-out double to right and scored on a Griffin Garcia single, and the Warriors added two more in the sixth as Hall and Griffin Garcia (3-for-4) each added RBI singles, while Donovan Garcia was 2-for-4 in the loss.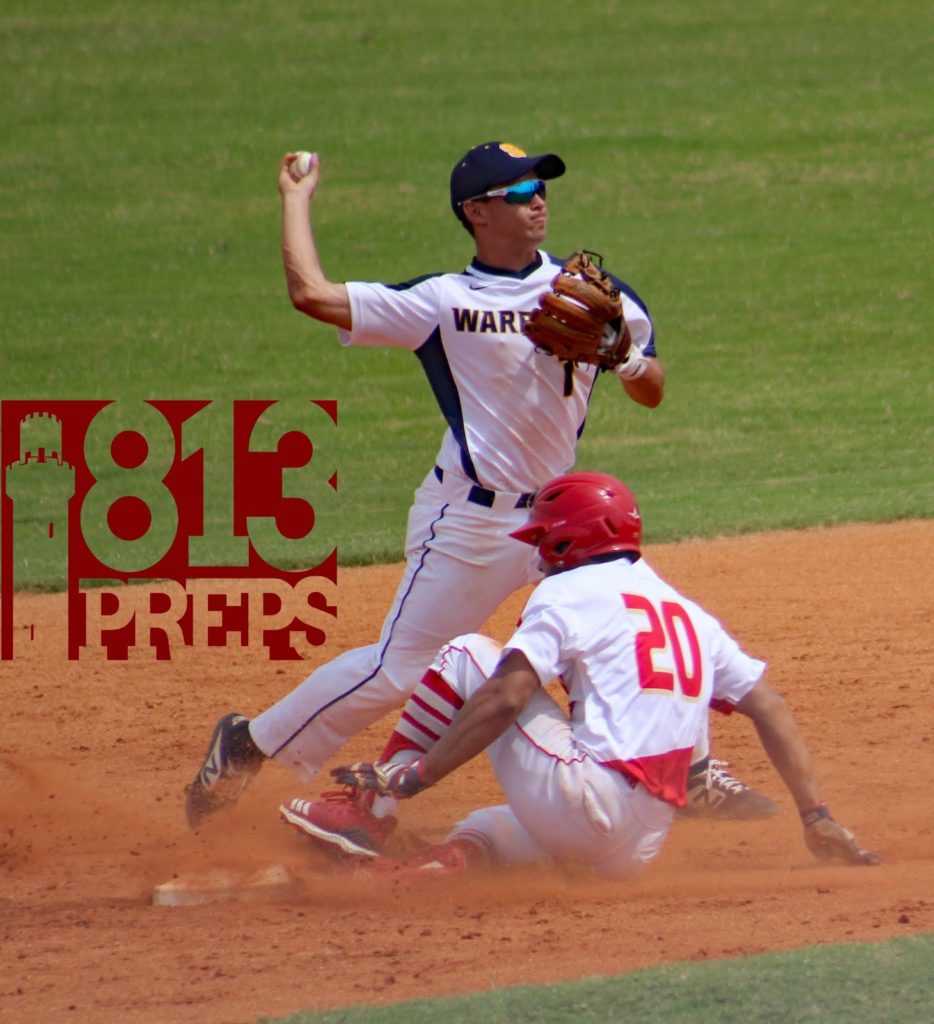 Steinbrenner junior SS Donovan Garcia makes the out and tries to turn two in the 

second inning. Donovan Garcia was 2-for-4 in the Warriors loss.