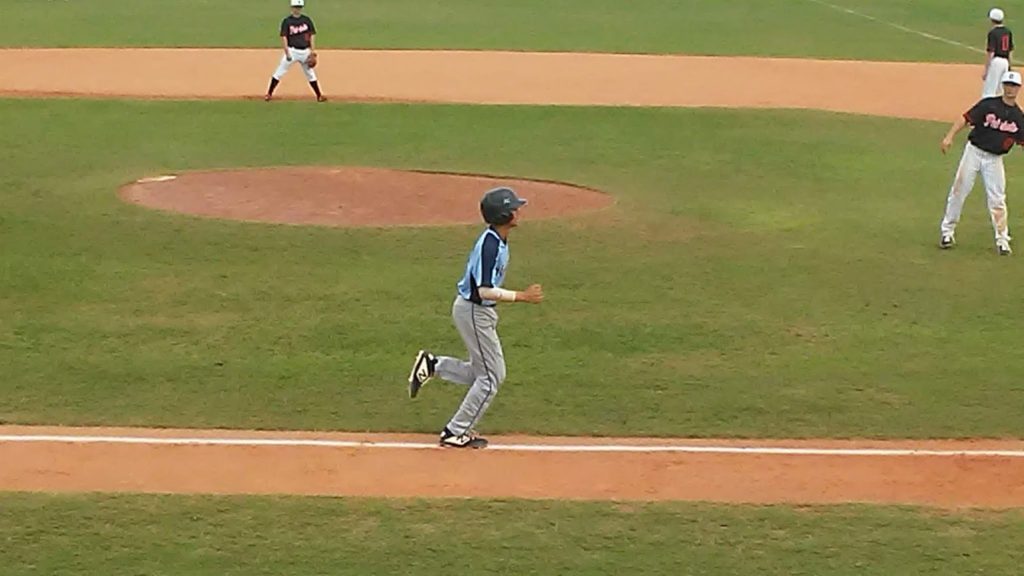 Tyler McKenna trots home on a bases loaded walk that lifted Newsome to a 2-1 triumph against Carrollwood Day in Saladino pool-play at Lennard High. (Photo by Bob Bellone)
By Bob Bellone
RUSKIN – A pitcher's duel nearly developed into the real thing before No. 8 Newsome notched a 2-1 victory against Carrollwood Day in the opening round of the 39th Annual Saladino Tournament on Saturday.
A pair of junior right-handers – Zach DeVito of Newsome and Daniel Vassallo of CDS – were working on shutouts entering the fifth inning. That's when things began to get testy.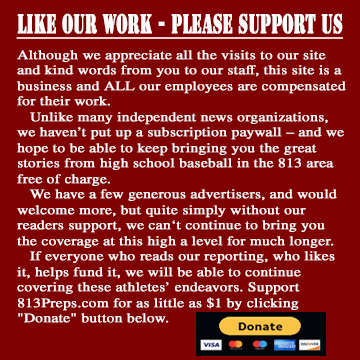 Charlie Owen led off the top half for CDS with a single, advanced on a passed ball and scored on a base hit by Blake Hooker. Two outs later, Hooker broke for second and thought he had the base stolen after dislodging the ball from the glove of second baseman Lucas Phelps.
The umpires didn't drop the ball, however, calling Hooker out for an illegal slide.
"Dirty slide," said Newsome coach Dick Rohrberg, whose players took offense to it. "The state stresses that you've got to slide on the ground, and his foot was clearly a foot off the ground when he made contact and kicked the ball out."
The tension increased as the pitchers exchanged icy stares before DeVito led off the home fifth. Vassallo promptly drilled his counterpart, and DeVito was animated as he made his way toward first base.
"I think that got our team excited, more hyped up, and we wanted to get on and get runners across," he said. "I knew he was going to try to come at me, and I was going to eat it."
DeVito then absorbed a hit from his coach on the way back to the dugout after being lifted for courtesy runner Eric Green.
"He was staring the other dugout down and running his mouth, and we don't tolerate that," Rohrberg said. "We're going to have class on and off the field."

Green eventually produced the tying run, taking second on a passed ball and scoring from there on an infield error. Vassallo retired the next three batters, then gestured toward the Newsome dugout as he headed off. He never returned, having been thumbed out by the umpires who earlier had issued warnings to both teams.
The Wolves (5-2) benefited from the ejection, scoring the deciding run in the sixth on three walks and an error, and Austin Johnson shut down the Patriots in order in the seventh for the save.
Newsome takes on reigning champion King when Pool 1 competition resumes at 1 p.m. Monday. CDS (3-6), which already has two more losses than it endured during a glorious 24-4 run to a Class 3A state semifinal appearance last year, will face host Lennard at 4.
– Bob Bellone, with nearly a half-century of experience in sports journalism, is in his second season with 813Preps.com.