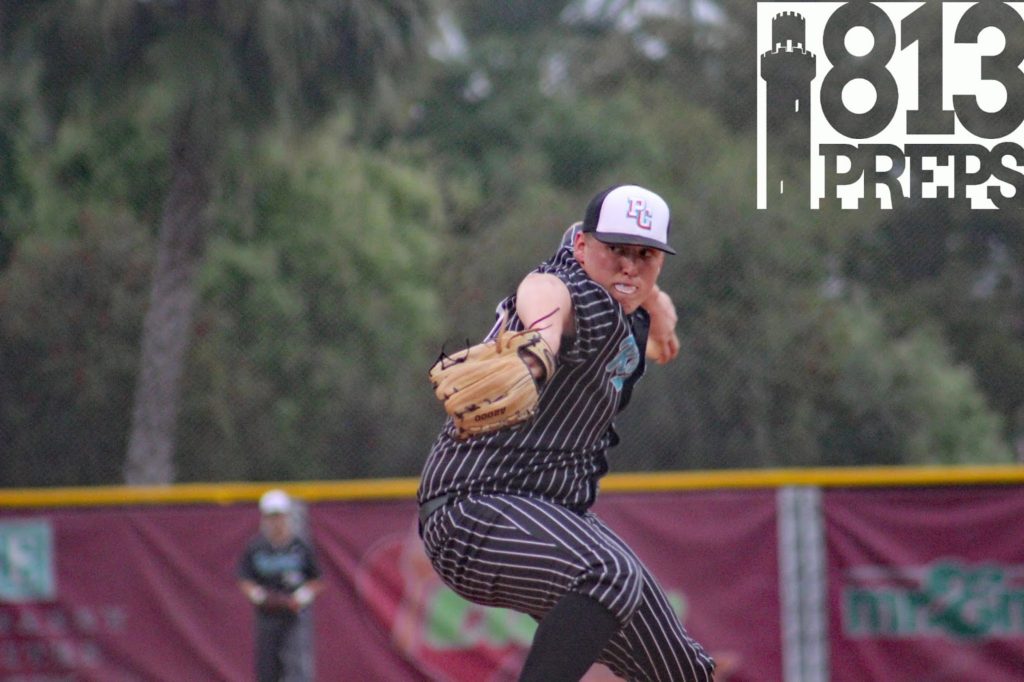 Plant City senior LHP Parker Messick improved to 3-0 on the season working six innings and striking out nine. 
TAMPA – Plant City came out swinging against No. 2 Plant in each team's Saladino Tournament pool-play opener at the University of Tampa, Saturday night.
The Raiders slapped out five hits including a two-run double by Parker Messick, an RBI double from Hunter Emerine and an RBI single by DeMario Williams to stake No. 5 Plant City to a four-run lead.
"We were just trying to pick out good pitches and be patient at the plate," Messick said. "We try and pick the ones we want to hit, and not chase the ones the pitcher wants us to hit, and right now we are driving the ball."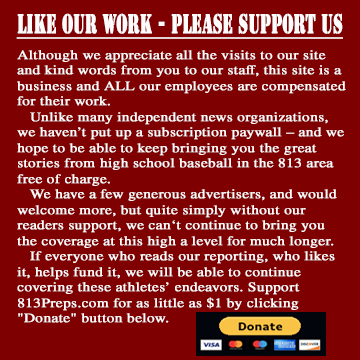 Though the Panthers answered back behind a two-run bomb to right field off the bat of senior Gabe Rincones, the Raiders never relented adding late insurance and taking the victory, 7-3.
"We put it on them in the first inning, and they put it back on us real quick," Messick said. "But we had to bear down, didn't let it get out of hand and kept our lead."
Emerine, who finished 2-for-4, made the most of an opportunity late in the game as well, slapping his second double of the game in the seventh after an intentional walk to Messick put runners on the corners.
— 813Preps (@813Preps) March 17, 2019
"We knew we had to keep the offense going," Emerine said. "We had to try and score as many runs as possible … this is a big motivational booster and we hope to keep it rolling the rest of this Saladino (Tournament)."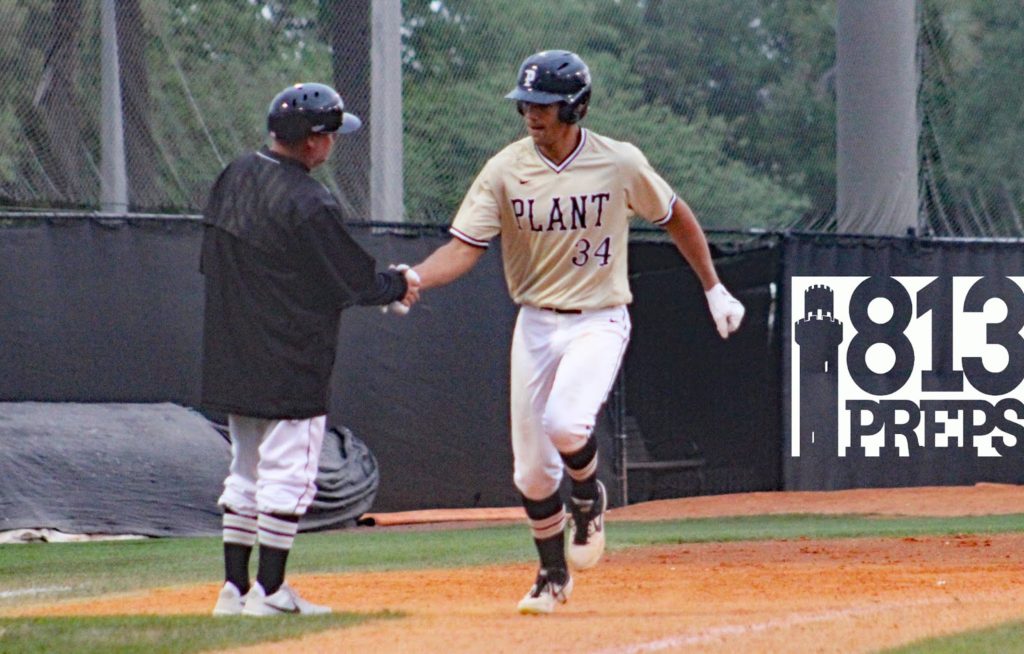 Plant senior Gabe Rincones shakes hands with Panthers
coach Dennis Braun after hitting his 2-run homer in the first.
The home run was his third of the season. 
Messick, the Raiders Florida State committed southpaw, worked six strong innings on the mound allowing three runs (two earned), on four hits and struck out nine. Messick improves to 3-0 this season Plant City (6-1).
"Parker always comes out great when it's time to play," said Emerine, Messick's battery-mate at catcher. "He had a bunch of pitches tonight, he's a bulldog when it's time for him to play, every pitch is on."
Casey Mawhinney (2-for-4) added an RBI single in the sixth for the Raiders, while Plant (6-2) senior J.D. Urso smashed a groundball down the third base line for an RBI double in the home half of the sixth.
Defensively, Plant's Reece Blanco put on a show, as the Panthers' backstop hosed down a trio of base stealers in the game, and Williams made a huge robbed what looked like a gapper going for extra bases, showing off his speed in centerfield to make a grab in the first inning.