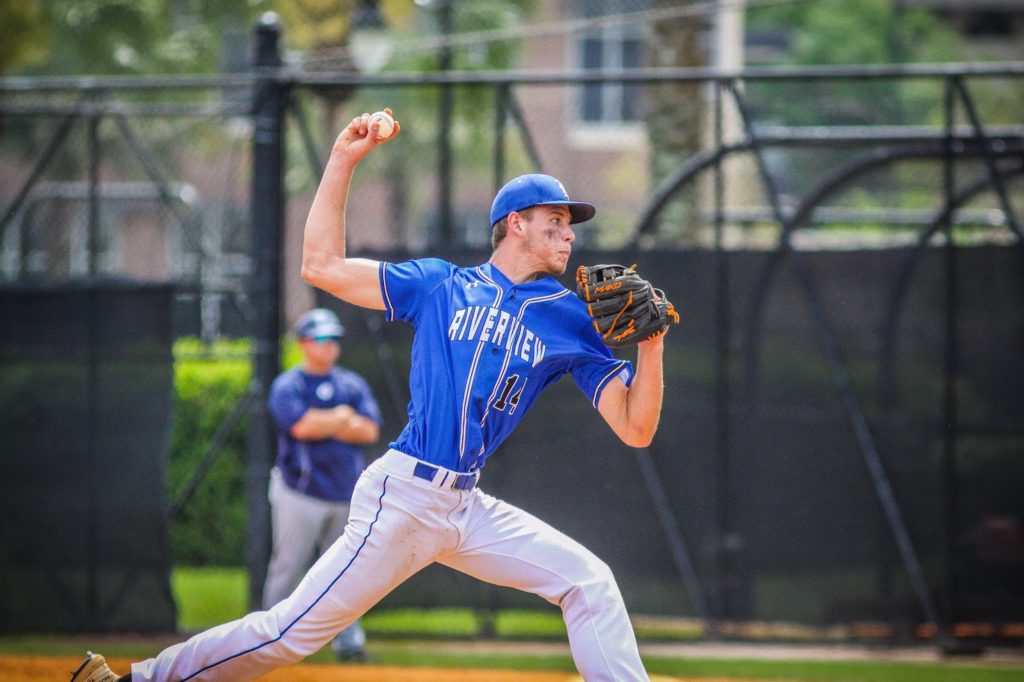 Riverview's Ty Correa delivers a pitch Saturday afternoon during the Shark's 6-4 win over Gaither at the University of Tampa. (Photo by Mike Camunas)
TAMPA — Riverview had one game in mind at the start of the Sharks' appearance in the 39th annual Saladino Tournament.
That game: No. 13-ranked Gaither.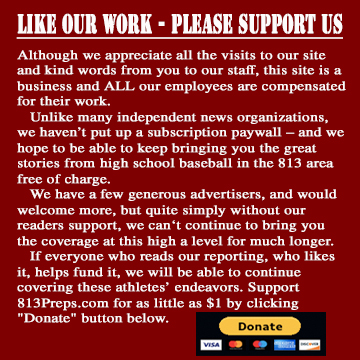 "This is a great start," Sharks senior Dillon Besnier said. "Gaither beat us last year at home, so we really wanted this one, so I think it's a great start and a huge confidence booster."
No. 11-ranked Riverview opened up tournament play Saturday afternoon, defeating Gaither 6-4 at the University of Tampa thanks, in part, to a strong pitcher performance by Ty Correa, who threw 6 1/3 innings, allowing the four runs, but also drove in two at the plate.
Oh, and Besnier (last season's county home run leader) added a two-run blast, his first of the season, to left field as the difference maker.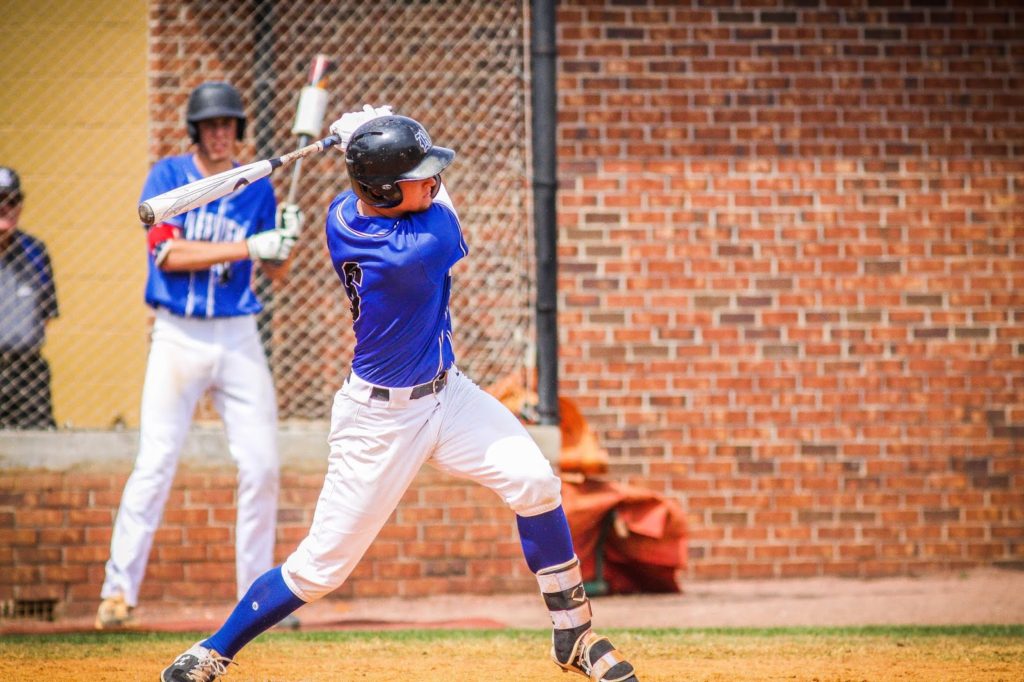 Riverview senior Dillion Besnier takes a big cut during the Sharks' 6-4 win over Gaither at the University of Tampa on Saturday afternoon. Besnier went 2-for-4 with a two-run homer and a double. (Photo by Mike Camunas)
"Correa has been great at the plate and on the mound," Sharks coach Ronnie Rodriguez said. "He showed he can do it both (on the mound and at the plate) today."
Riverview jumped out to a 3-0 lead in the bottom of the first, though the Cowboys chipped away throughout behind Sebastian Greico, who had two hits and a late-game RBI double.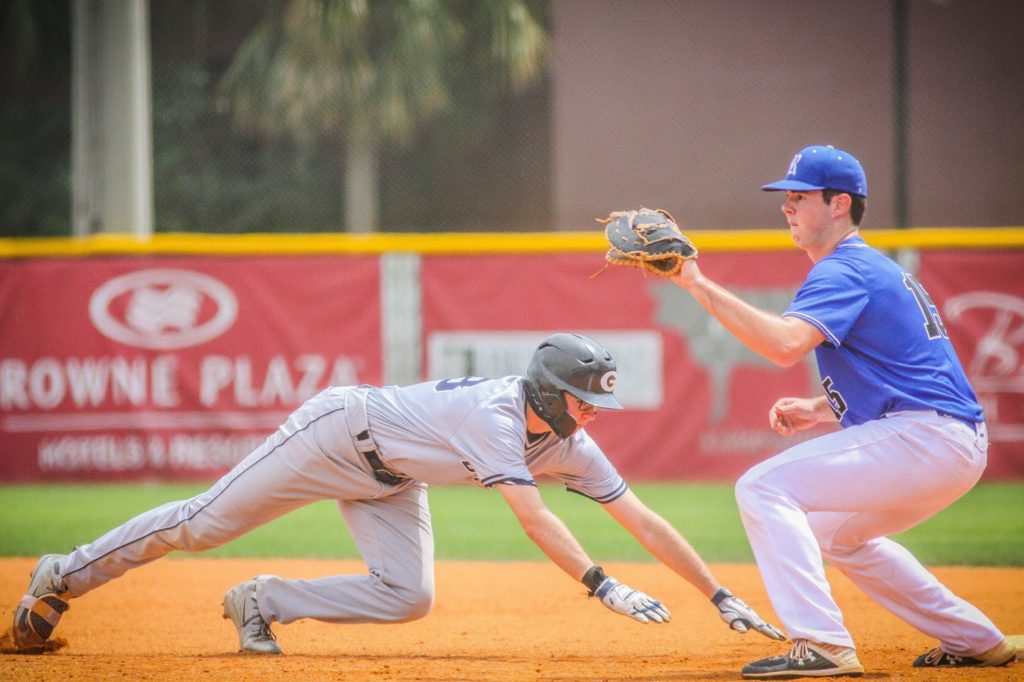 Gaither's Sebastian Greico dives back to first while Riverview's Adam Hunt defends on Saturday afternoon.
(
Photo by Mike Camunas)
Gaither was without four standout players, including senior Derek Crum, who is serving a suspension due to a postgame incident that occurred last week.
Cowboys coach Nelson North noted that shouldn't matter, as he's confident in any lineup that's fielded.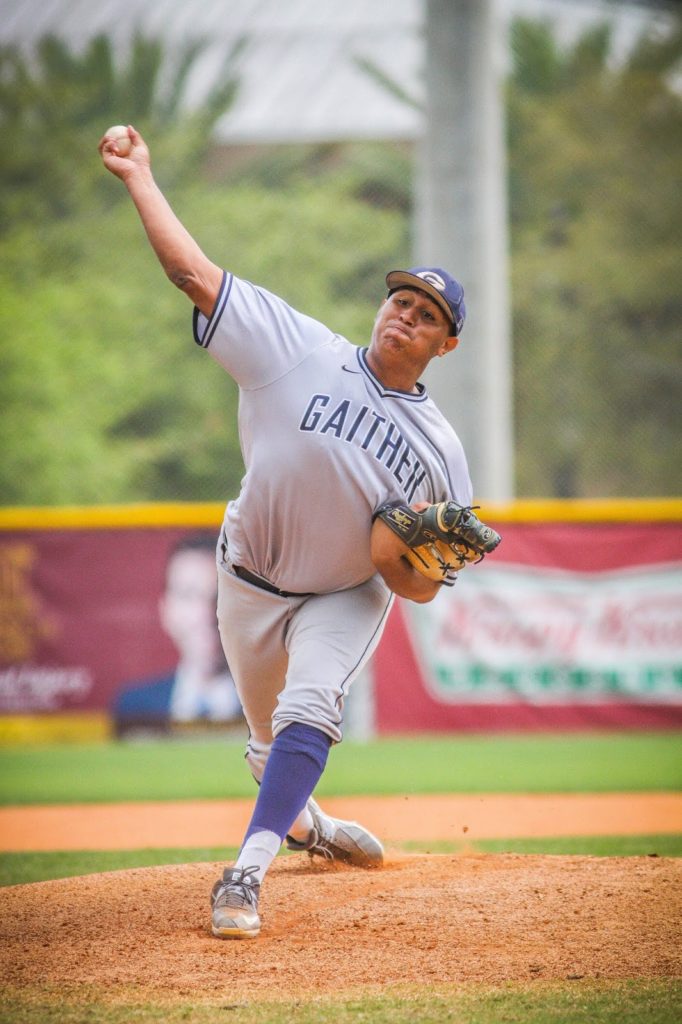 Gaither SP Roy Peguero struck out seven in four innings on the mound.
"Our philosophy doesn't matter who we put out — we play to win," North added. "(Riverview) played a really good game, and we faced a really good pitcher. My guys battled the whole game, never game up, but it's also a Saladino game. I'm not going to make any excuses about who is or isn't out there."
Riverview, on the other hand, has high expectations in the Saladino Tournament, especially after a big win Saturday. It should be noted it's coming off last year's impressive Saladino showing that saw the Sharks go 3-1, only to lose to King, the eventual champs, in eight innings.
"We expect to win it," Rodriguez said. "This was a big game for us, as far as we were concerned, we have 10 seniors, so we feel very confident, especially after a win like today."
– Mike Camunas is a longtime veteran journalist who is always seeking true stories, trained under J. Jonah Jameson and takes better photos of Spider-Man than Peter Parker. Follow Mike on Twitter @MikeCamunas