* Our Week 2 rankings were voted on by 813Preps editor Jarrett Guthrie, staff writer Will Turner, and 95.3WDAE's Jay Recher. Follow Jay's coverage of all things Tampa Bay sports at his blog by clicking here. *


* We've got a tournament to cover, so short and sweet this week.
1. Jesuit (8-0) – The Tigers picked up three wins last week including adding two more no-hitters in victories over Blake and Spoto, and closing the week with a 6-3, win over 2018 Class 7A region qualifier Winter Haven. Jesuit has a bit of a break, but picks up again on Friday as they take on Tampa Catholic.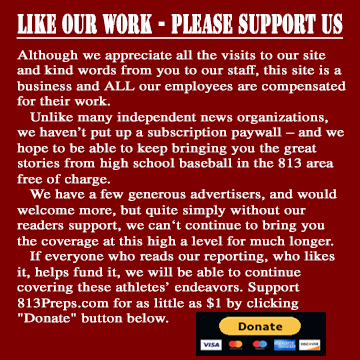 2. Sickles (6-1) – The Gryphons have the district lead through the first go-round after adding a 3-0, win over Plant to its win two weeks ago over Steinbrenner. Sickles also opened Saladino play with a tough win over Durant. The Gryphons will have to contend with Jefferson tonight and Armwood tomorrow if they want reach the tournament quarters.
3. Plant City (6-1) – The Raiders had an impressive week with wins over three Top 10 teams – Newsome, Strawberry Crest, and Plant. The win over the Panthers put Plant City in the pool-play driver's seat and have games left against Blake and Brooks DeBartolo.
4. Leto (6-1) – After closing Week 2 on a sour note loss to Plant, the Falcons took care of district business with a win at Hillsborough (read here), and Leto picked up its second win of the season over Steinbrenner (read here).
5. Alonso (4-1) – A light scheduled week here as the Ravens played just one Saladino game against Hillsborough on Saturday, winning 9-1. Alonso faces off against Wharton today as both teams are 1-0 to start the tournament, in the game that most likely determines the pool winner.
6. Plant (6-2) – The Panthers dropped a district game to Sickles, defeated Hillsborough, and fell to Plant City in Saladino play on Saturday. The Panthers have given up seven runs in the tournament so far, so will need some help and to be near perfect against Brooks DeBartolo and Blake to have the chance at making the tournament knock out round for the sixth straight season.
7. Wharton (6-1) – Just taking care of business, the Wildcats topped Bloomingdale, district opponent Freedom, and improved to 1-0 in Saladino play with a pool-play win over Middleton on Saturday. The Wildcats square off with Alonso in the early battle of tournament unbeatens at Brandon, 1 p.m.

8. Bloomingdale (5-2) – The Bulls week started with a tough one-run loss to Wharton, but they rebounded with a one-run district win over East Bay and a Saladino opening, mercy-rule win over Brandon. Bloomingdale faces Chamberlain and have a big rematch against Strawberry Crest in pool-play the next two days to likely decide the pool's advancer.
9. Newsome (5-2) – The Wolves shook off a Monday loss to Plant City, by crushing district opponent Sarasota Riverview, and winning a squeaker against Carrollwood Day to open its Saladino Tournament. Newsome faces King (winners 2-1 over Lennard) today, and the Longhorns tomorrow.
10. Strawberry Crest (5-2) – The Chargers bookended a loss to Plant City, with a district win vs. Wiregrass Ranch, and a tourney opening win against Chamberlain. Today's 4 p.m. game against Bloomingdale will be a good one as the Bulls are swinging the bats well, and the Chargers have a 5-0 loss from earlier in the season to try and avenge.
The Next Five:
11. Riverview (5-2)
T12. Lennard (5-1)
T12. Berkeley Prep (4-2)
T14. Tampa Catholic (4-1)
T14. Robinson (5-2)