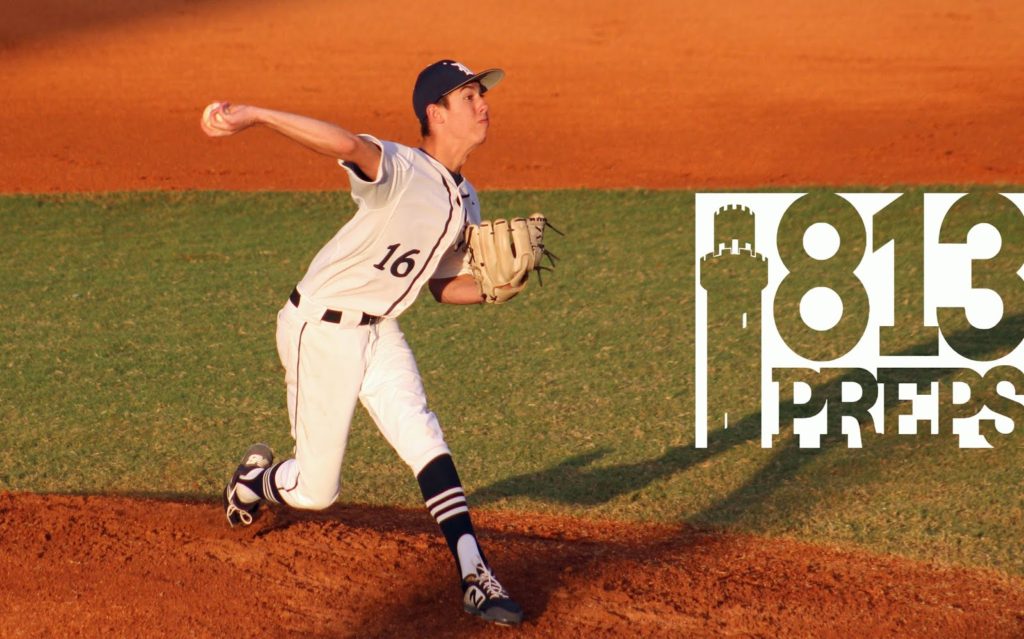 Durant sophomore Sean Hermann pitched six innings, allowing one unearned run on three hits, and striking out nine as the Cougars advance to Saladino Quarterfinal play for the first time in four seasons. 
TAMPA – Durant needed everything to go right – needed a win, needed to keep it close, and needed a signature performance.
The Cougars hit the trifecta, as sophomore righty Sean Hermann bullied the Dragons hitters, allowing just one, first-inning, unearned run in his six innings of work to lead his team to a 10-1 win and, despite Durant losing its opening game of pool play, a berth in the Saladino Tournament quarterfinals tomorrow for the first time in four seasons.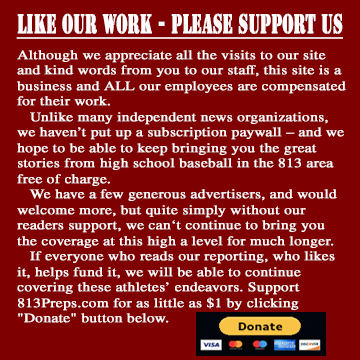 "This is a family," Hermann said. "And whenever you can come through for family, it's awesome."
Marc DeGusipe doubled with one out in the top of the first as Jefferson, due to pool seeding was the visitors at home. He moved to third on an error, and scored when Hermann was called for a balk a batter later.
It was the last true mistake of the evening for the young righty as he worked six innings, striking out nine and allowing just three total hits.
"With Sean it's not even a matter of not allowing any runs," Durant coach Butch Valdes said, "it's that he's not going to allow anyone to beat him."
"That's Sean's personality, his attitude and we love it, especially out of a sophomore. We've got so much to look forward with him the next few years."
Taking the burden off the win, the Cougars offense jumped all over Jefferson (2-7) in the second inning as mistakes by the Dragons and a hitting clinic from Durant (4-4) posted eight runs to the scoreboard. An error, back-to-back walks and a passed ball tied the game, before Frankie Martinez bunted for an RBI, reached on a single and another error allowed the go-ahead run. From there things went the Cougars way in a hurry, as Luke Cadwallader doubled in a pair and Jacob Mimbs later added an RBI single to the onslaught.
"I was looking first-pitch to hop on something," Cadwallader said. "Start us off."
"We felt like we played well on Saturday (in an 7-6 loss to Sickles) but just didn't come away with a win, that really turned us around and we came together in the dugout with everybody fired up, every pitch."
Mimbs added another RBI single in the fourth and Coleton Brogden added some extra insurance with his late pinch hit, RBI single.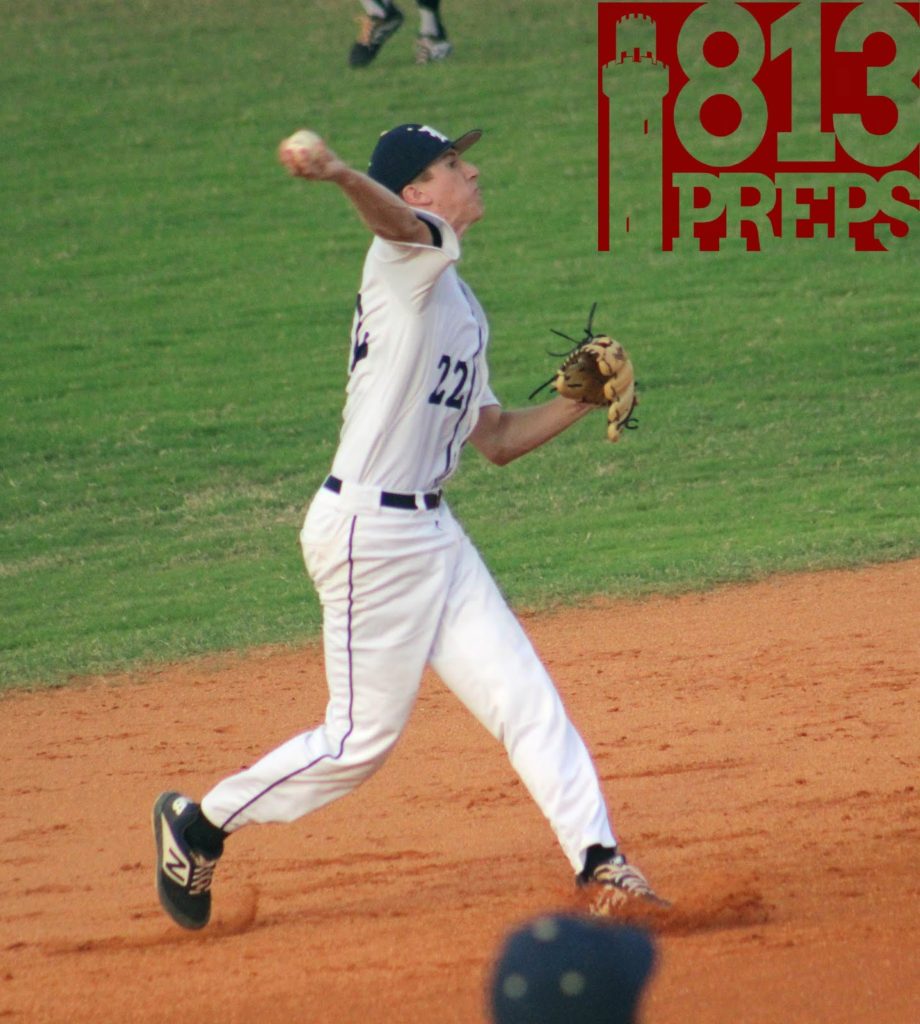 Durant junior shortstop Luke Cadwallader got it done
at the plate (two run double) and defensively. 
Cadwallader also got it done on the field making some nice plays at shortstop, none better than the final out of the fourth inning, charging a slow hopper, and throwing a dart that Martinez dug out of the dirt at first base.
Ahmad Fitts finished the game going 3-for-4 for Durant, while Brendan Queen added an RBI single and a run scored to the Cougars big second inning.
The win made Durant, Jefferson and Sickles each 2-1 in the pool, but the Cougars kept the Gryphons from advancing with the runs allowed tie-breaker 11 to 14. Sealing that up was senior reliever Carlos Curnow, who took to the bump for the final frame as he had the previous two games, and finishing off the win with a big pair of strikeouts.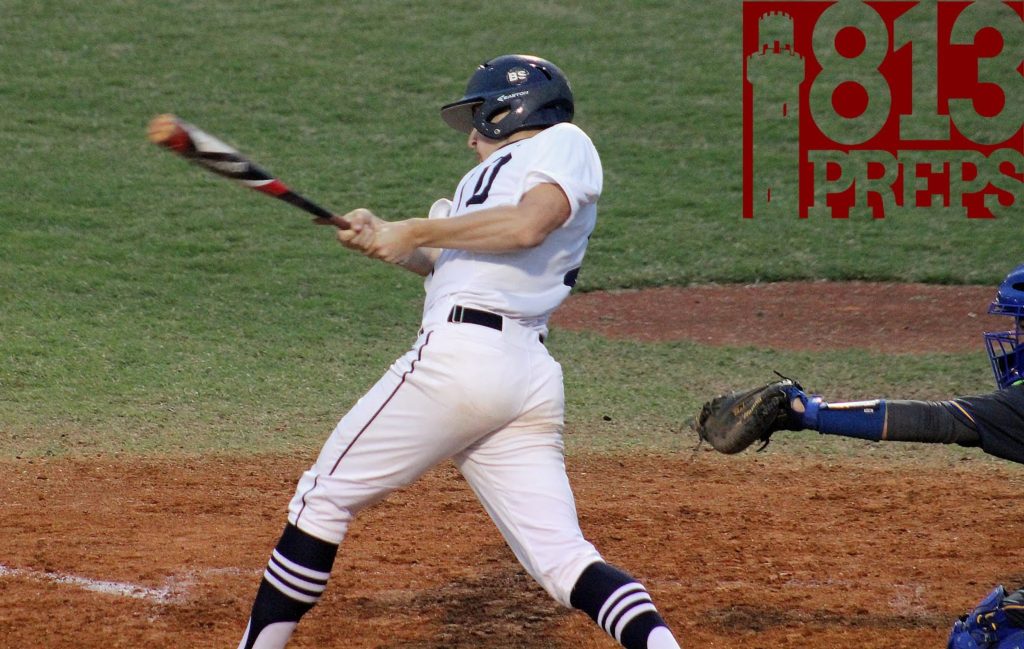 Senior Brendan Queen drives an RBI single up the middle in the Cougars eight-run second innings. 
"Coming in at the end of these games, that these coaches and these guys are behind me, there is just nothing better than that," Curnow said. "I had that (the runs allowed scenario) in my head while I was warming up and I knew I had to do it so we could move on in this Saladino Tournament."
Curnow got to experience the quarterfinal rounds as a member of Brandon two years ago, and said he wanted to get there again and get his fellow Cougars there for the first time during this grouping.
"I wanted to do this for my team, because these guys haven't been able to experience that," he said. "Going over there to Brandon, playing in front of all your friends and seeing everyone up there, it's just a great experience."