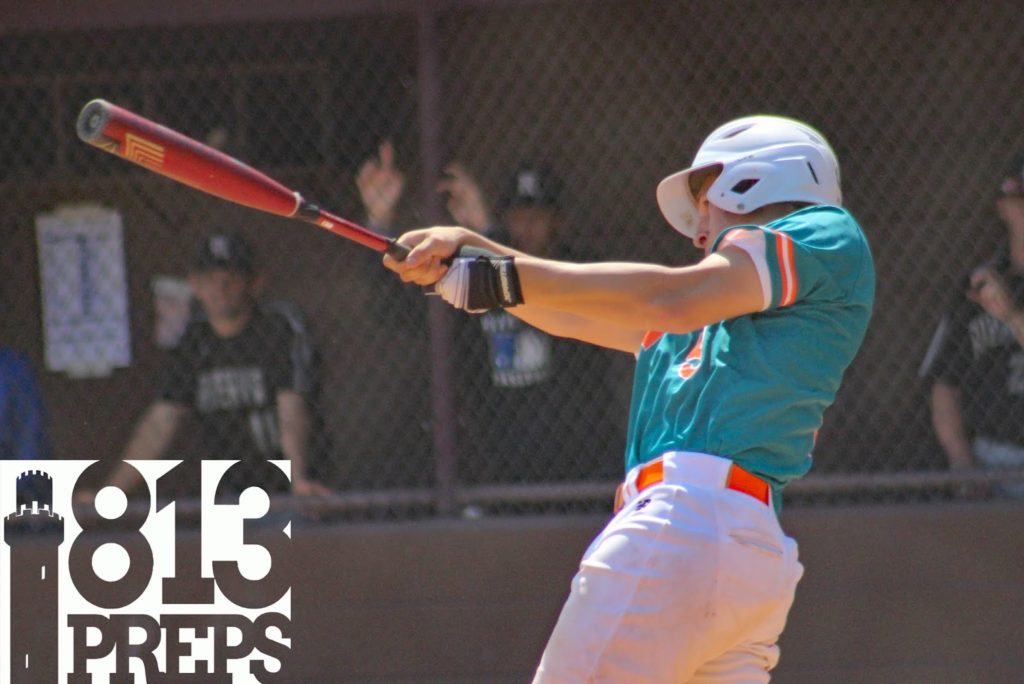 Raiders senior Hunter Emerine belts a double over the centerfielder in the seventh to walk it off for Plant City in the Saladino Quarterfinal win over Riverview. 
BRANDON – With the game on the line, the chance to advance to the first Saladino Tournament semifinal in forever, the moment might have been overwhelming for some. But for Plant City senior Hunter Emerine, bases loaded in the home half of the seventh was just where he wanted to be.
"When you have bases loaded and no outs, it's just a confident booster," Emerine said. "I feel like, okay, I got this, just throw your hands out in front and hit the ball far."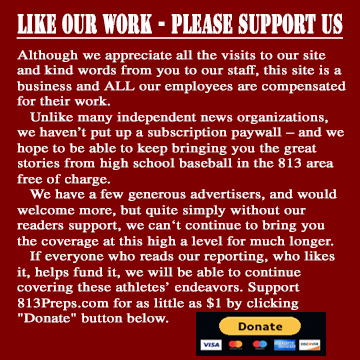 Emerine wasted no time, slashing at the first pitch he saw and drilling a double and walking off the Raiders win, 4-3 over Riverview in Saladino Quarterfinal action on Thursday.
"Just to be able to do that, keep it going in the seventh inning and finish it like that," Emerine said, "it's just an amazing feeling."
Emerine has been on a torrid pace this tournament as the game-winning stroke was his fourth double in three games played, the runs driven in were his seventh and eighth, and he has also added five runs scored. Translation: no one better for the situation according to Raiders head coach Mike Fryrear, especially after Plant City's sluggish start to the game which saw just three hits in the previous six innings.
"Our approaches were real bad the first six innings, finally we started to take a pitch and I knew in that situation they were going to groove a fastball to Hunter," Fryrear said. "I told him, 'Don't miss.' And obviously he listened."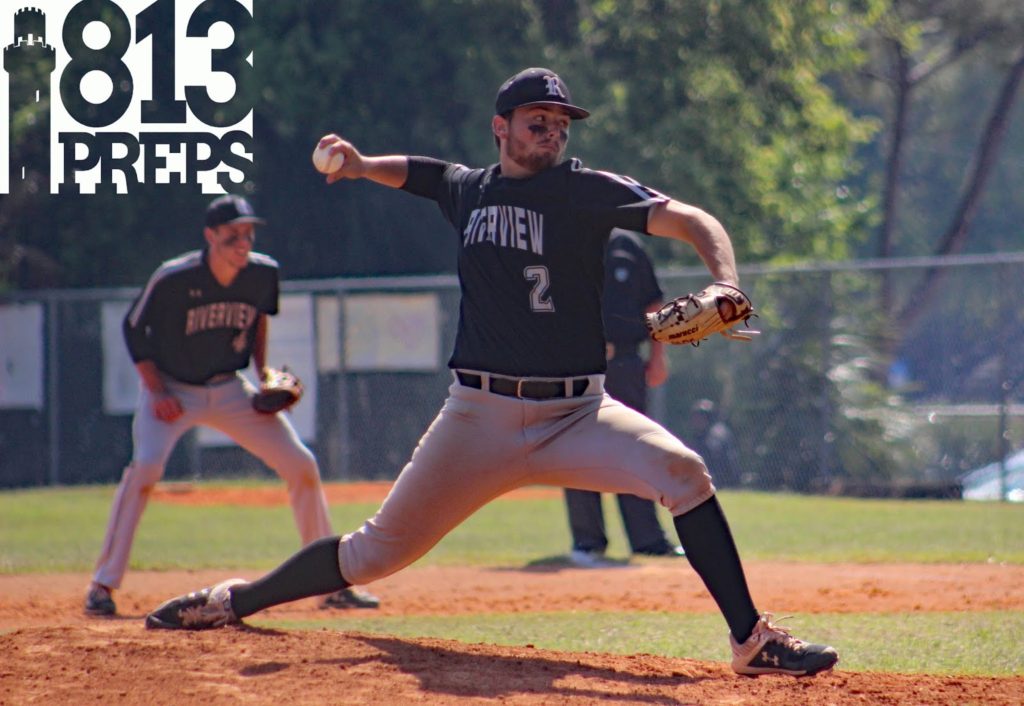 Riverview senior Brendan Herrick worked five innings for the Sharks allowing two runs and striking out eight.
Riverview (7-3) took the lead from the beginning as Brendan Herrick, the Sharks starting pitcher gave himself a boost with a two-run single in top of the first.
Plant City (9-1) would respond with a pair of runs in the second with an RBI groundball by Casey Mawhiney (1-2, double) and a run on a wild pitch.
From there, Herrick was solid working five innings, allowing just three hits and striking out eight.
In response, Raiders senior ace Parker Messick worked six innings on the mound and struck out six. Messick allowed a leadoff double to Sharks senior Cameron Vigh and one batter later, Ben Migliarese broke the draw with an RBI single to right.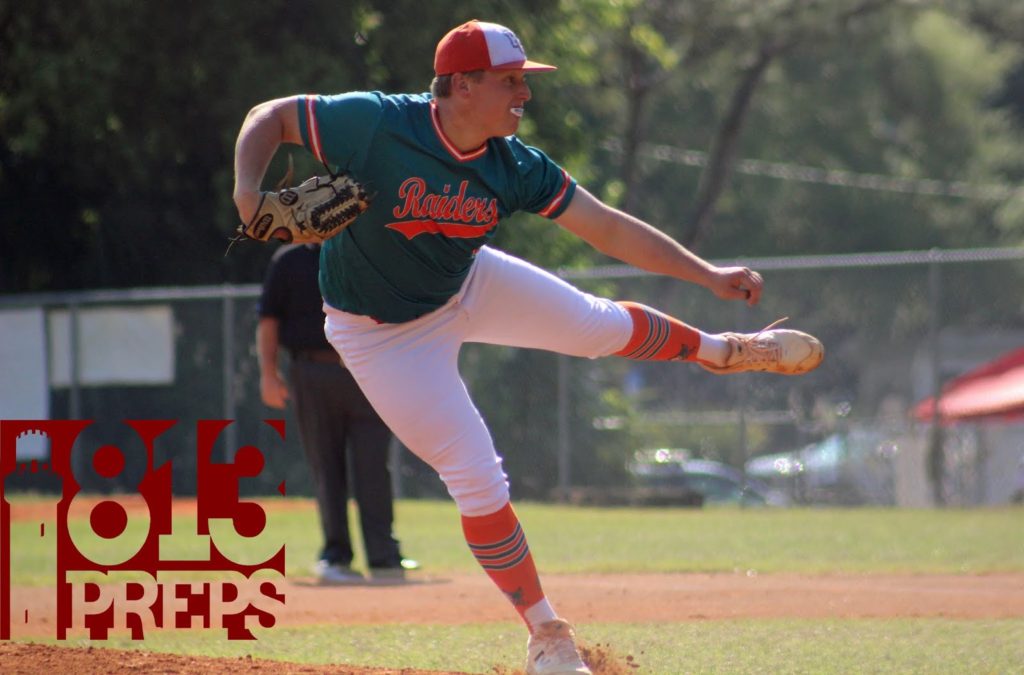 Plant City senior Parker Messick worked six innings in a no decision for the Raiders, but came up with a late hit to keep things going in the seventh prior to Emerine's game winner. 
However, the Raiders weren't finished and after a scoreless inning of relief from Jarod Wingo (win, one hit, one strikeout) as things spiraled for the Sharks with a leadoff walk to Chris Rodriguez (1-for-2, two stolen bases), and back-to-back singles by Cole Cothren and Parker Messick loaded the bases for the game winner from Emerine.
Plant City reaches the tournament semifinals for the first time in the 39 years of the event according to Fryrear and he has high hopes for his Raiders.
"For our seniors, this is their moment to live," Fryrear said. "I'm really proud of this group, Parker didn't pitch his best stuff, but came through with that late hit and Hunter got it done. I'm really proud of this group."