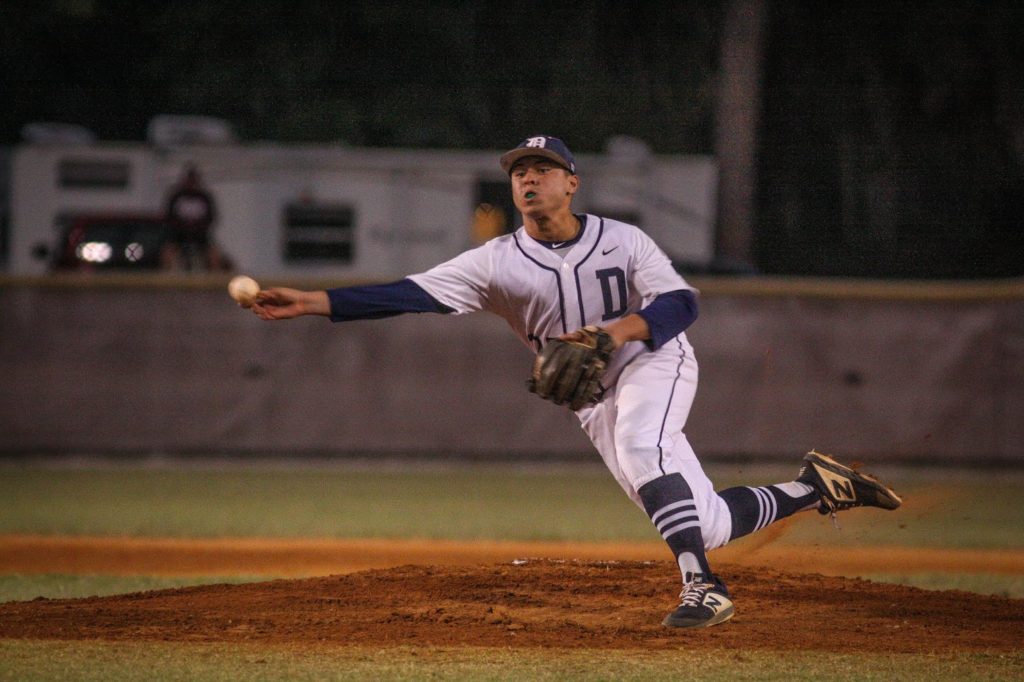 Durant senior RHP Frankie Martinez struck out eight in his 5 2/3 innings of work on the mound. 
BRANDON — Strawberry Crest and Durant saved the best game for last.
With four quarterfinal games on the penultimate day of the 39th Annual Saladino Tournament, the Chargers and the Cougars faced off in a back-and-forth, well-pitched final outing Thursday.
And in the end, it came down to a walkoff.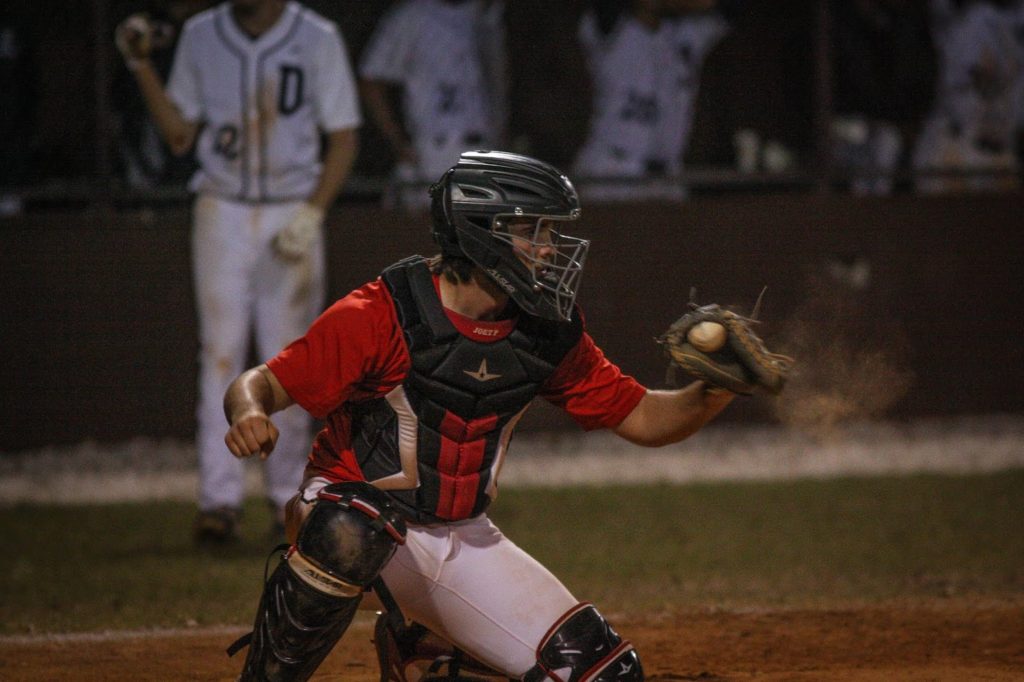 Chargers senior Joey Parrillo had a solo home run in the loss.
Trailing 2-0, the Chargers rallied with two runs in the top of the sixth and then saw senior catcher Joey Parrillo blast a solo homer to left field for the go-ahead run.
"(We'll) continue to fight, (we'll) continue to swing and go down swinging," Cougars coach Butch Valdes said.
But Durant didn't go down swinging. The Cougars rallied themselves, thanks to an RBI single by Brendan Queen and then sophomore third baseman Javy Quintana drove him home for the walkoff win that propels Durant into Friday afternoon's semifinal vs. Newsome at 4 p.m.
"This was the definition of a dogfight — and that's why I play baseball," said Cougars senior pitcher Frankie Martinez, who started the game, pitched 5 1/3 innings, struck out eight (including an immaculate third inning by striking out the side on nine pitches) and didn't give up a hit until the sixth inning. "That's why Strawberry Crest, that's why Durant — that's why we all play baseball (because) we all have some fun."
Durant's Arpod Zsold breaks for home scoring a run in the fourth inning. Zsold was 2-for-3 with a double in the win.
Durant went ahead 2-0 in the fourth thanks to a throwing error by Strawberry Crest, while Chargers starter, senior Alex Marshall, pitched four innings and struck out six.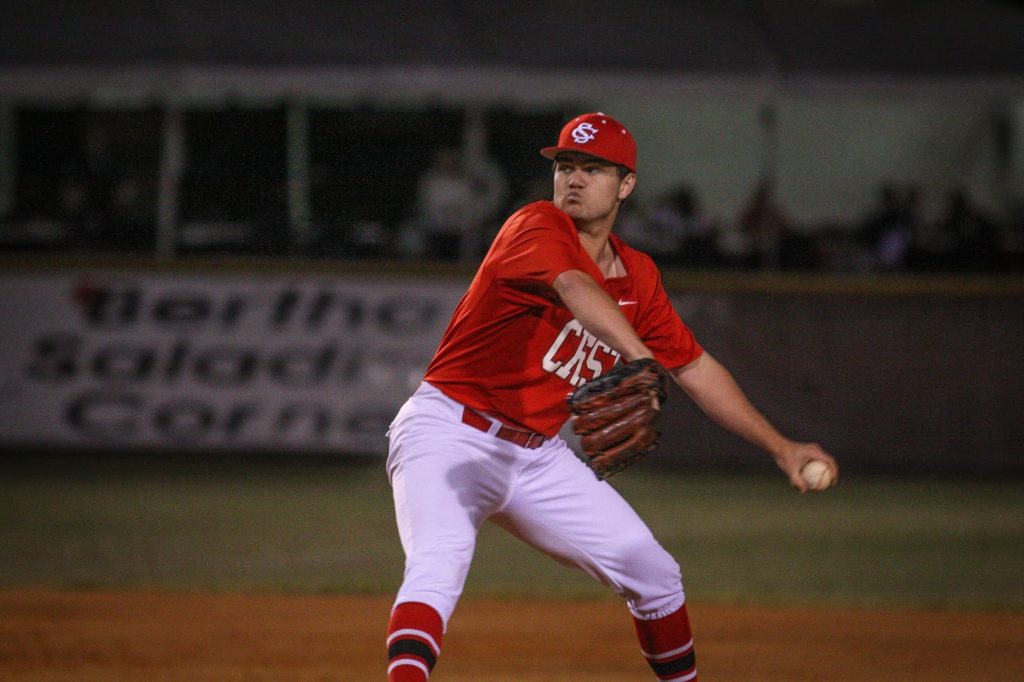 Strawberry Crest senior Alex Marshall
Strawberry Crest turned to reliever Kade Manderscheid, who pitched 2 2/3 innings and struck out six. However, Chargers coach Eric Beattie, surprisingly, pulled Manderscheid for Jacob Heath, who would proceed to hit Luke Scolaro with a pitch and give up back-to-back RBI singles to Queen and also the game winner to Quintana.
"Without a doubt (we were surprised they pulled Manderscheid)," Valdes said. "He was kind of mowing through us, and I think they got ahead of themselves, but it was fortunate for us, and we capitalized on it."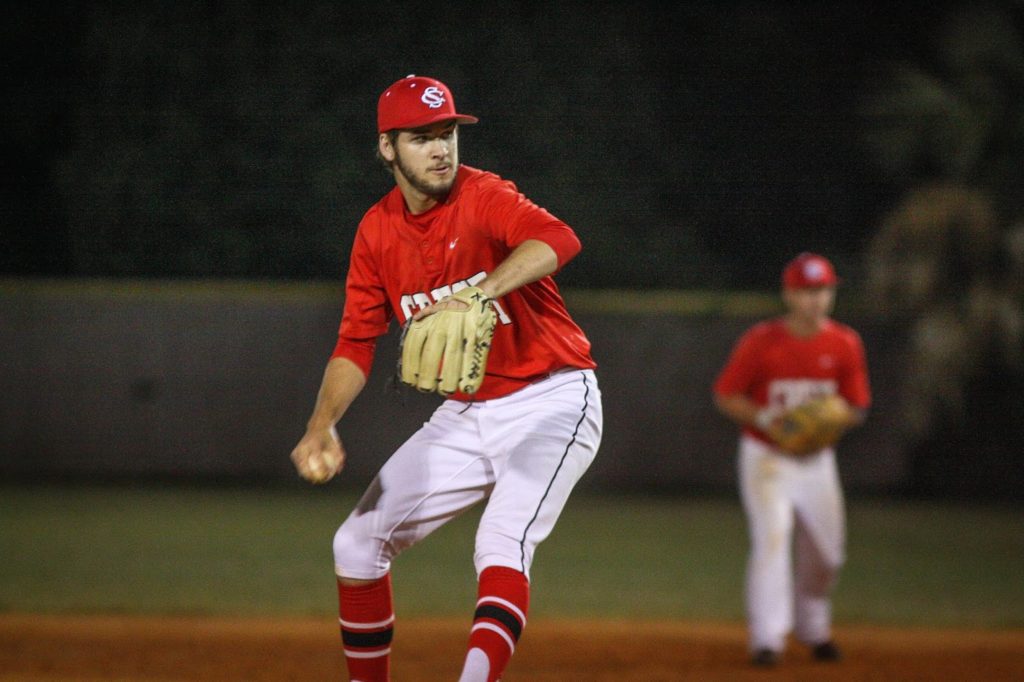 Strawberry Crest reliever Kade Manderscheid
Now, the Cougars have a potential long day ahead of them, especially if they win the semifinal against Newsome. Their Saladino Championship game would begin shortly afterward.
"After this win, momentum is crazy," Martinez said. "All 25 of us (players) and all the coaches, we're all confident in winning two games tomorrow."
– Mike Camunas is a longtime veteran journalist who is always seeking true stories, trained under J. Jonah Jameson and takes better photos of Spider-Man than Peter Parker. Follow Mike on Twitter @MikeCamunas