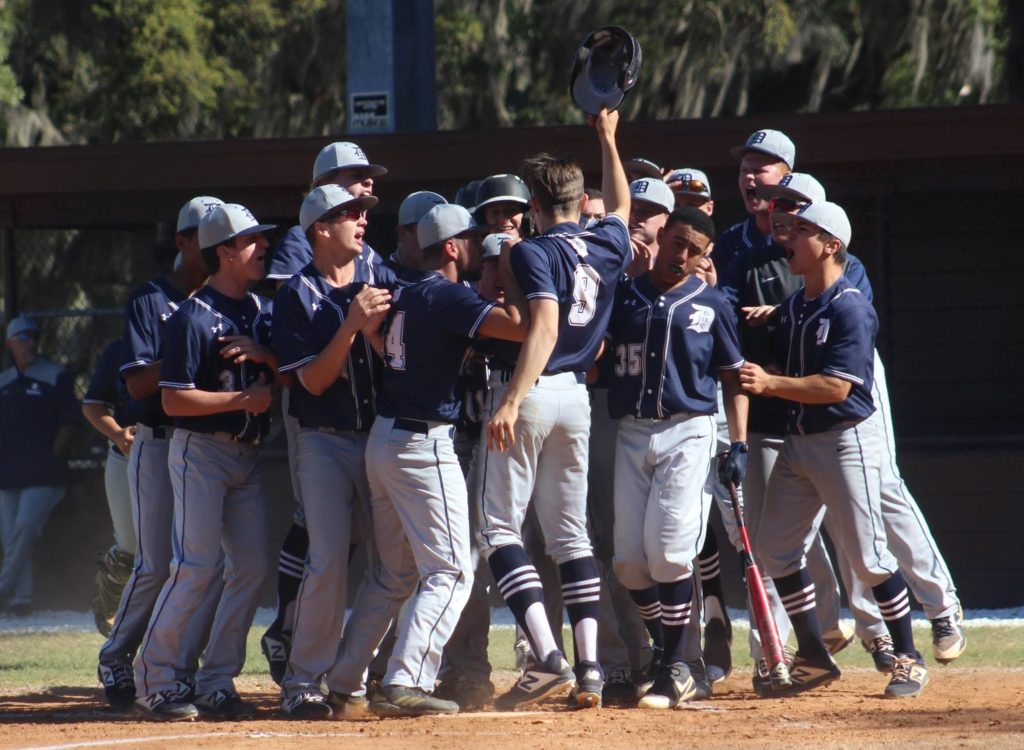 Durant senior Brendan Queen (No 9) stands on the plate and holds his helmet high in celebration after his third-inning home run. It was his first career dinger, as he was 3-for-4 with a double and three RBI in the win. 
BRANDON – Durant's Brendan Queen picked himself a good moment for his first high school home run.
The Cougars senior stepped to the plate in the third inning of a scoreless Saladino Tournament semifinal against Newsome and smashed the first pitch he saw over the left field wall. The solo shot proved all Durant would need, but it was far from all the Cougars would get as the offense would continue to smash its way to a 14-0, six-inning win and advance to the Saladino Championship final later in the evening.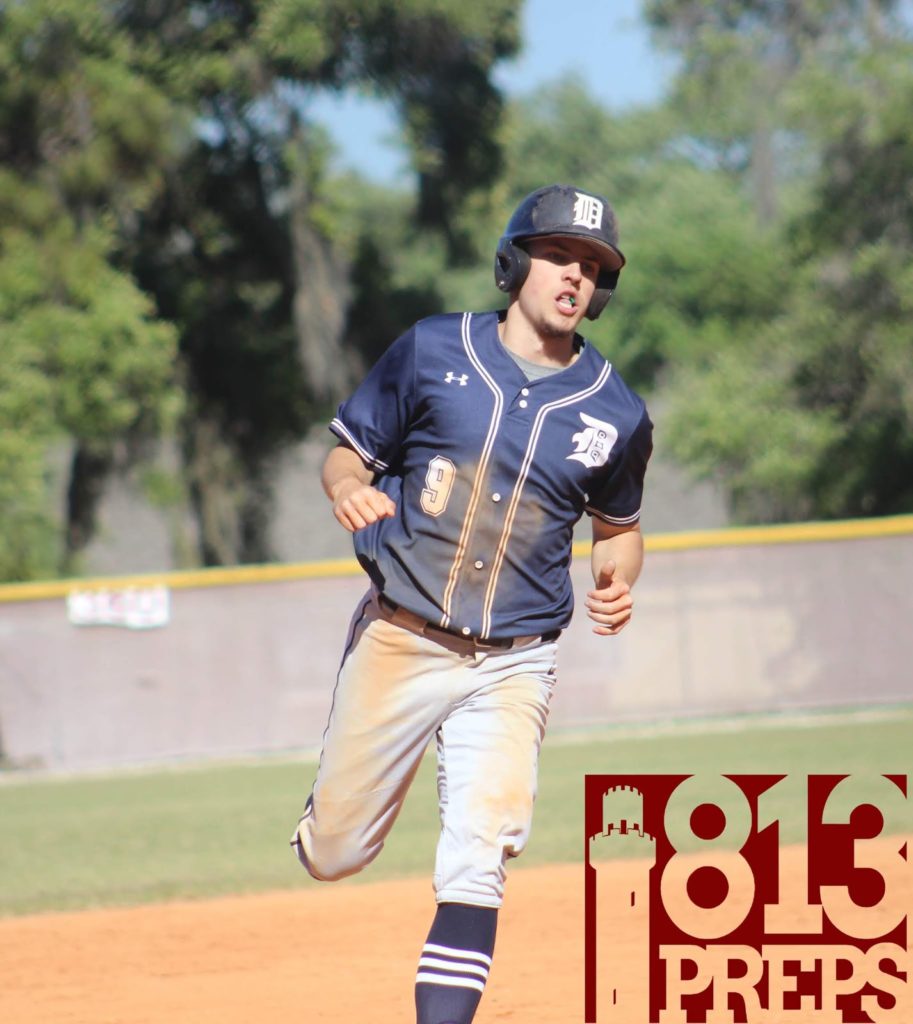 Durant's Brendan Queen
"That home run shifted the whole game for us," Queen, who led off the game with a double but couldn't score, said. "We had a couple of innings where we couldn't get anything done, but after that everything just took off."
Queen would finish the day 3-for-4 with a double and three RBI, while Durant got a tremendous effort on the mound from senior Nathan Hood, who worked all six innings, striking out eight, allowing just one hit and four walks.
"The team is just amazing," Hood said. "I couldn't have done anything without this whole family behind me."
Hood talked about Queen's efforts at the plate in support of his work on the mound.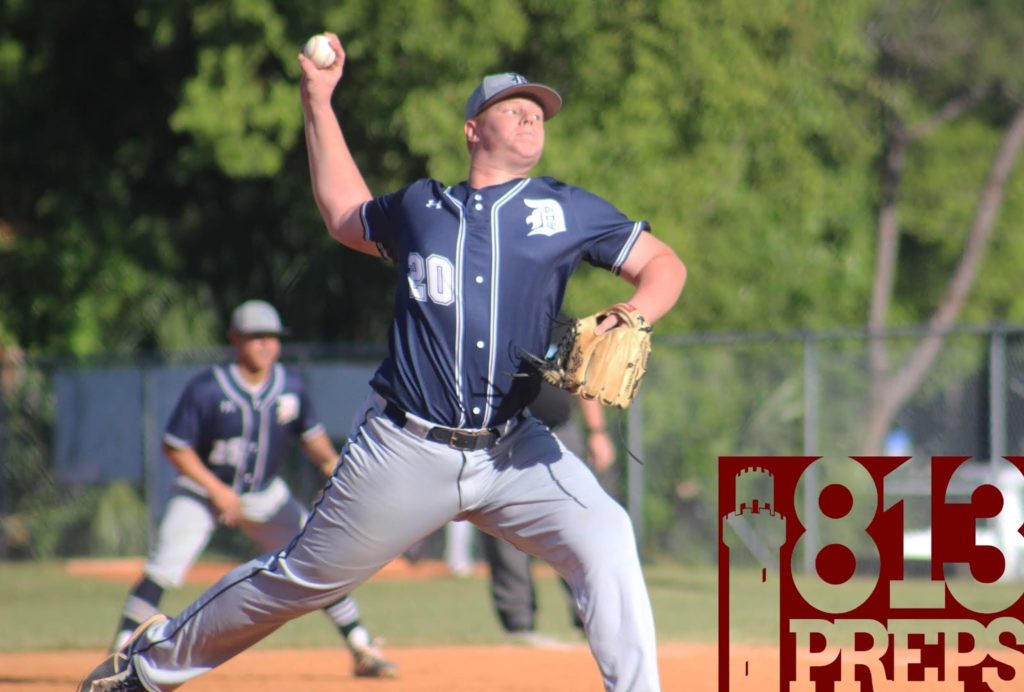 Durant senior Nathan Hood worked six innings to earn the win, allowing one hit and striking out eight.
"When Queen got that home run, we knew we had it," Hood said. "That was it, the momentum was insane from that point on."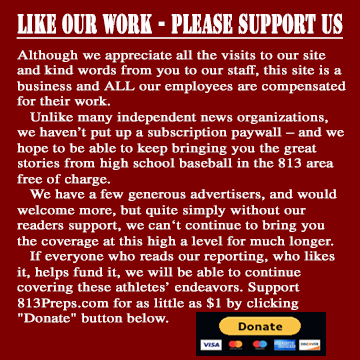 Durant (7-4) batted around in both the fourth and sixth innings as the Wolves couldn't catch a break and errors proved disastrous.
Hood seemed to feed off the support, filling the zone and had his best inning in the fifth where he sat down the side with a trio of strikeouts.
"I wasn't trying to do too much, and the big thing for me was to avoid the walks," Hood said. "So that inning I just got ahead, stayed ahead and went at them one batter at a time."
Queen talked about the outing on the mound from his fellow senior, who improves to 1-1 on the year.
"Hood, man, he's a beast," Queen said. "I'm glad he got it done for us because he is so talented and whenever he is on the mound we are always comfortable."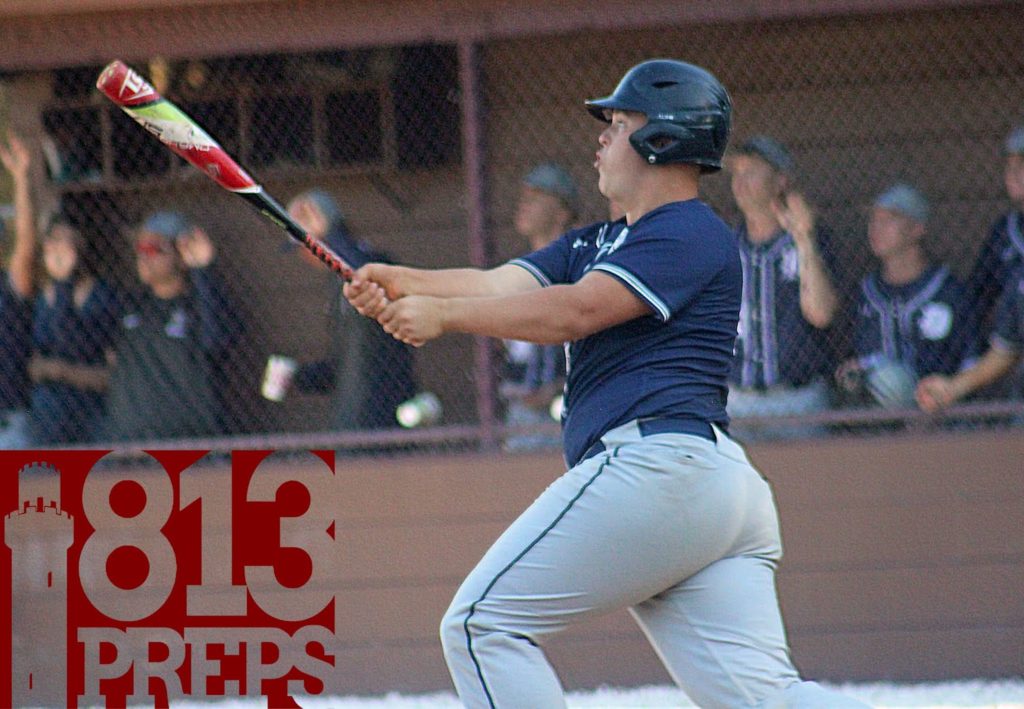 Durant junior catcher Coleton Brogden made a great sliding catch for an out in foul territory in the second and keyed a big sixth inning with a bases clearing double. 
Brogden's bases clearing double in the sixth pushed the lead to its tipping point, Frankie Martinez's RBI single made the lead 10 and the Cougars added four more to make things a wash.
Durant will face Class 8A-District 6 opponent Plant City in the final as the two teams battle it out for a first-ever Saladino Tournament title for either programs.