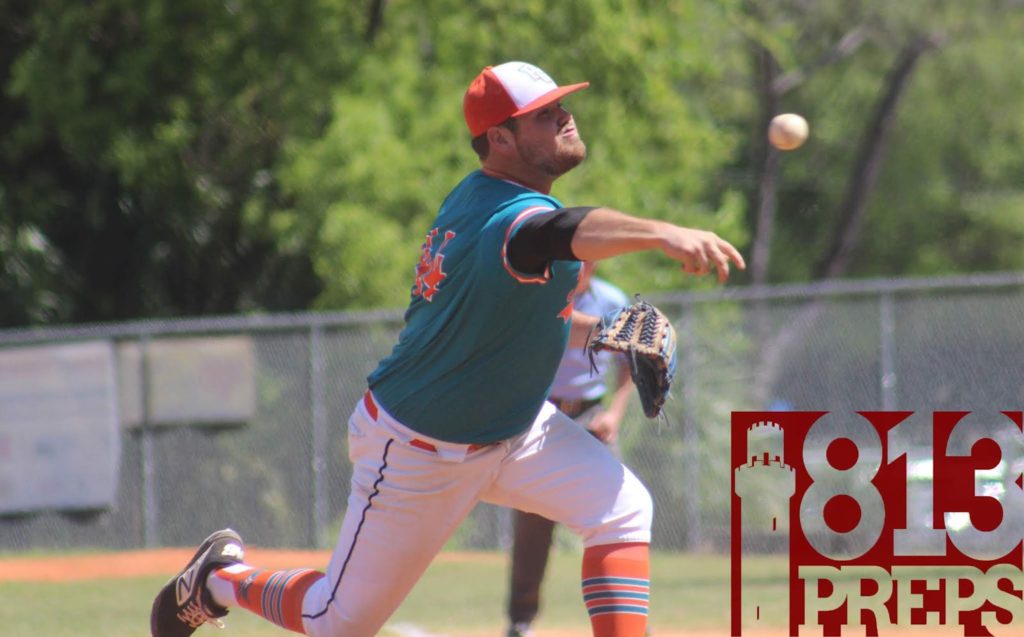 Raider junior Tyler Dowdy earned the save working two innings allowing one run, and striking out four helping Plant City to its first-ever Saladino Tournament final with a semifinal win over Leto. 
BRANDON – If a team wants to know in its bones that it has earned its spot in a grueling, week-long tournament's championship, a win like Plant City had in Friday's early Saladino Tournament semifinal is one to take tremendous pride in. The Raiders and Falcons battled in about as superb a defense game as has been played, with Plant City holding off Leto, 3-2 and advancing to the program's first tournament final.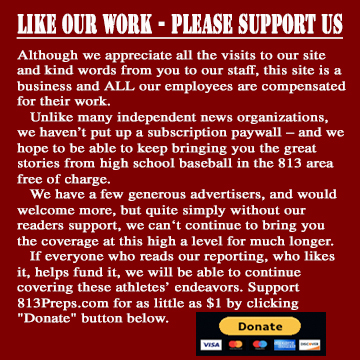 "That's the difference between good teams and great teams," junior Tyler Dowdy, who earned the save in the game, said. "When you can take a day that's not always your best (offensively) and still scrap out a win against a Leto team that's one of the best out there, that's a good day."
Plant City (10-1) got started in the home first as Chris Rodriguez singled to right and scored as Cole Cothren doubled to centerfield, and after a walk to Parker Messick, Hunter Emerine picked up the first of his two singles in the game driving in a pair.
"It's always nice to hit 'em hard early," Emerine said. "It gave our pitchers some confidence."
From there, senior Grant Gifford worked steadily on the hill for the Raiders and the defense behind him was flawless. Cothren made three great plays in the second at third base, shortstop Cade Shissler was a vacuum in the third, including turning a scorching line drive into a double-play to end the inning.
"We stayed with it today," Shissler said. "We started out hot and gave ourselves just enough to make it through the rest of the game."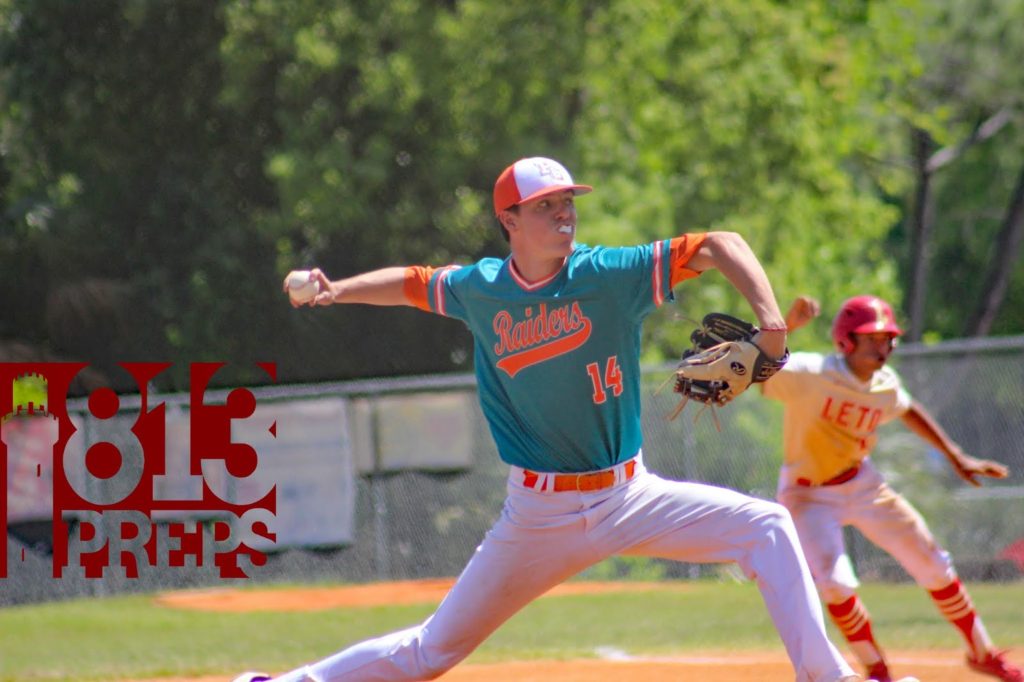 Plant City senior pitcher Grant Gifford is now 3-0 on the season. 
Gifford improves to 3-0 on the mound this season, holding a great hitting Falcons lineup to just four hits in five innings.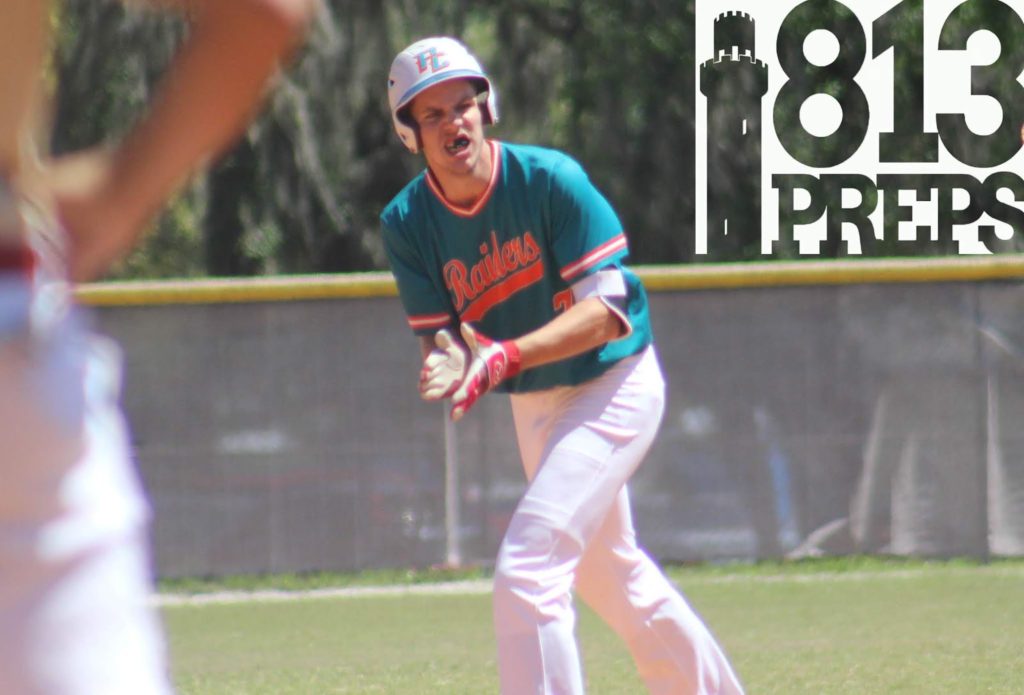 Cole Cothren got things going with an RBI double in the first for PC.
"They are so good at hitting the fastball, I had to attack with my off-speed stuff today," Gifford said. "They came out to hit, but my defense behind me was incredible."
"Leto was a heck of an opponent, but my guys picked me up early at the plate and with the defense. I made it today because of this team I have around me."
Leto (9-2) was spectacular on defense in response as senior Javy Hernandez took to the mound from his normal role at third base and was very good in six innings of work. An All-813Preps Defend10 selection last season, Hernandez came off the hill to snag a tailing bunt in the third, whipped not knowing if he'd gotten it clean (he had, ruled the umpire) a throw to third base, which in-turn went to second and then first to turn a triple play. Then in the fourth, RJ Gutierrez charged a line drive making the catch and then tagged out a runner who hurried to second base thinking the ball might fall, thus turning a double play.
Hernandez falls to 1-1 on the year, but struck out five and allowed just four more hits after the first inning.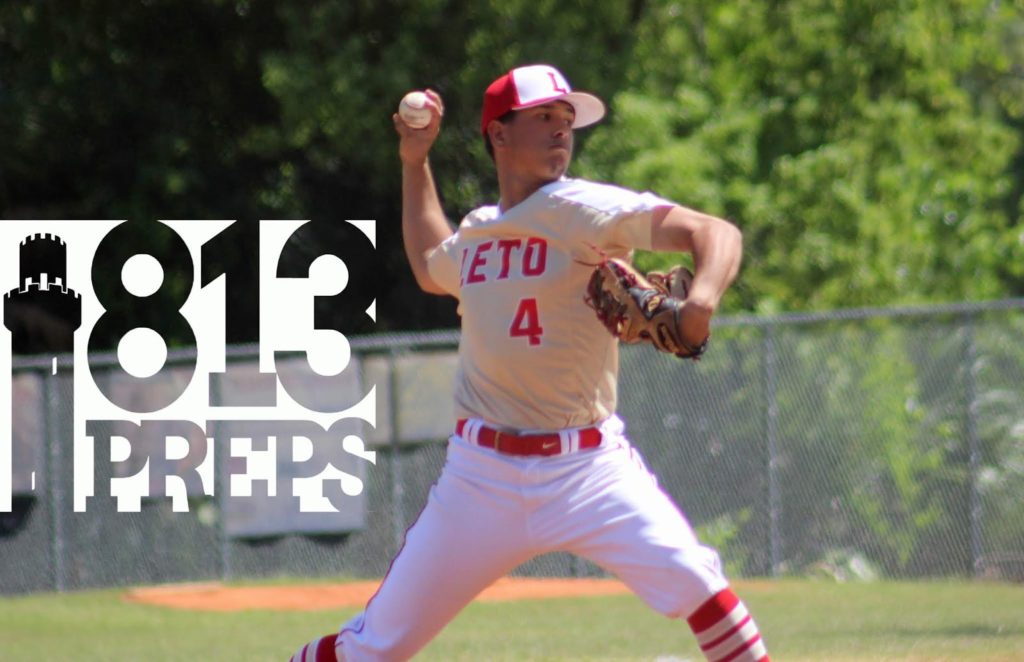 Leto senior Javy Hernandez had a good game on the mound working six innings, allowing three first-inning runs and striking out five. 
The Falcons finally got something going in the fifth as a pair of walks from Gifford setup Jose Santos to double in a run.
Dowdy entered in relief in the sixth and was met with a single from Damien Breto. The junior pitcher responded with two quick strikeouts, but Leto cut the game to a run as Tomas Lozano (2-for-2) singled in Breton.
Dowdy returned for the seventh and promptly struck out two more, before a Javy Hernandez single, but he fielded his position off the mound flipping a toss after taking a hard chopper off his chest for the final out.