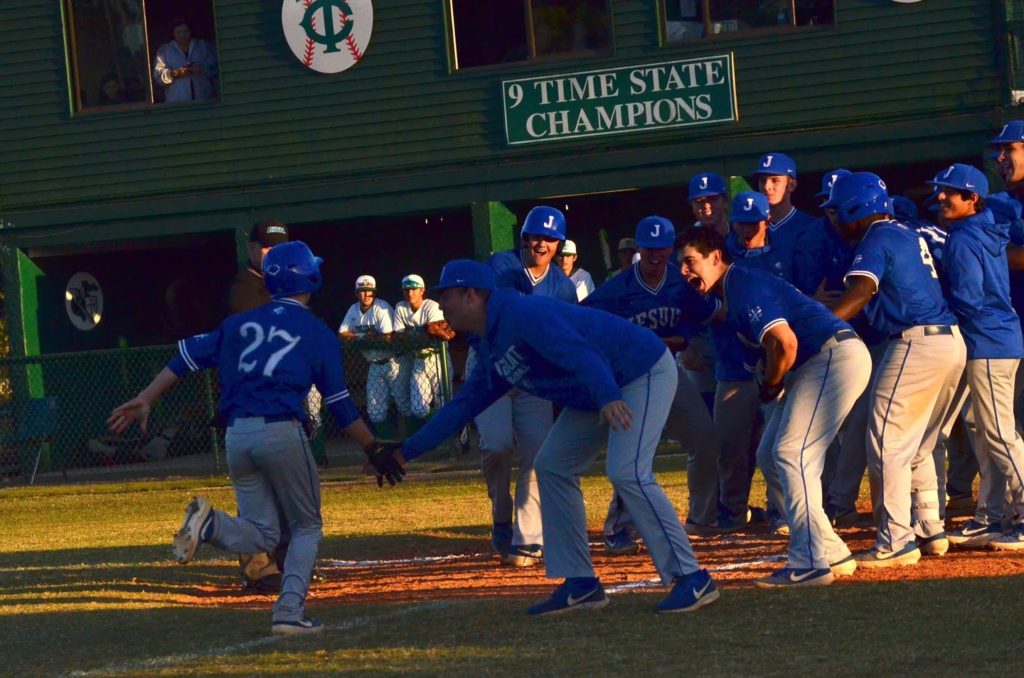 Jesuit senior Ethan Valdez is greeted at home plate after hitting his first home run of the season in the Tigers 10-0 win at Tampa Catholic. (Photo by Andy Warrener)
TAMPA – The Jesuit Tigers are a county powerhouse and the 813Preps top ranked team in 2019. Yet, the Tampa Catholic Crusaders have been their nemesis, winning the last three matchups.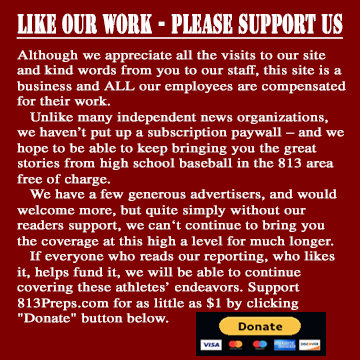 The Tigers were not about to let it happen again as they stacked a lefty-heavy batting order alongside ace Camden Minacci. In the end, Jesuit snapped the recent skid against its long-standing rival and cruised to a 10-0 win, as Minacci struck out nine in six innings.
Jesuit (9-0) pounced early against Tampa Catholic starter Ryan Valenti. Valenti hit the first two batters he faced, then Henry Politz and Andrew Kynes smacked RBI singles to centerfield, as Jesuit took a 3-0 lead in the first inning.
"That early pressure can be big for us, it makes it easier and once you've seen his (pitcher's) stuff," Jesuit captain Ethan Valdez said. "I think he (Valenti) was low on confidence coming around that second time."
Although Valenti kept the bats quiet and the Tigers scoreless through the second and third innings, when he faced Valdez again the senior got things going for his team.
"After my first at-bat, I took a fastball down the middle," Valdez said. "My second at-bat, I was looking for a first-pitch fastball and he threw it right where I wanted it."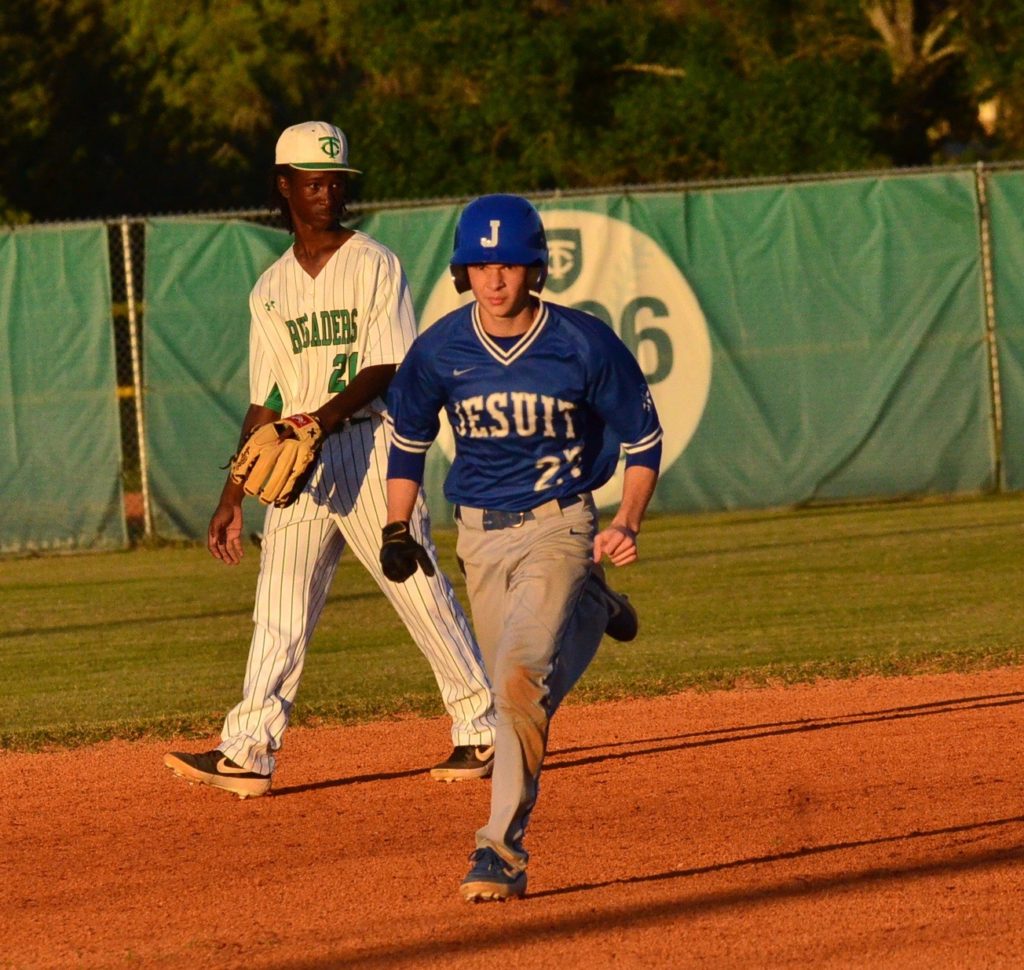 Valdez circles the bases after his home run. 
(
Photo by Andy Warrener
)
Valdez crushed it to deep right field and over the wall into some tree branches – there was never a doubt. As the Tiger bench came out to greet Valdez at home plate, they could have very well stayed out there. One-hitter later, Bennett Lee followed his teammate and drilled one over the left field wall.
"Actually, I was thinking about it (hitting a home run) coming up to the plate," Lee said. "But then I took a deep breath, got back in the moment and executed my plan."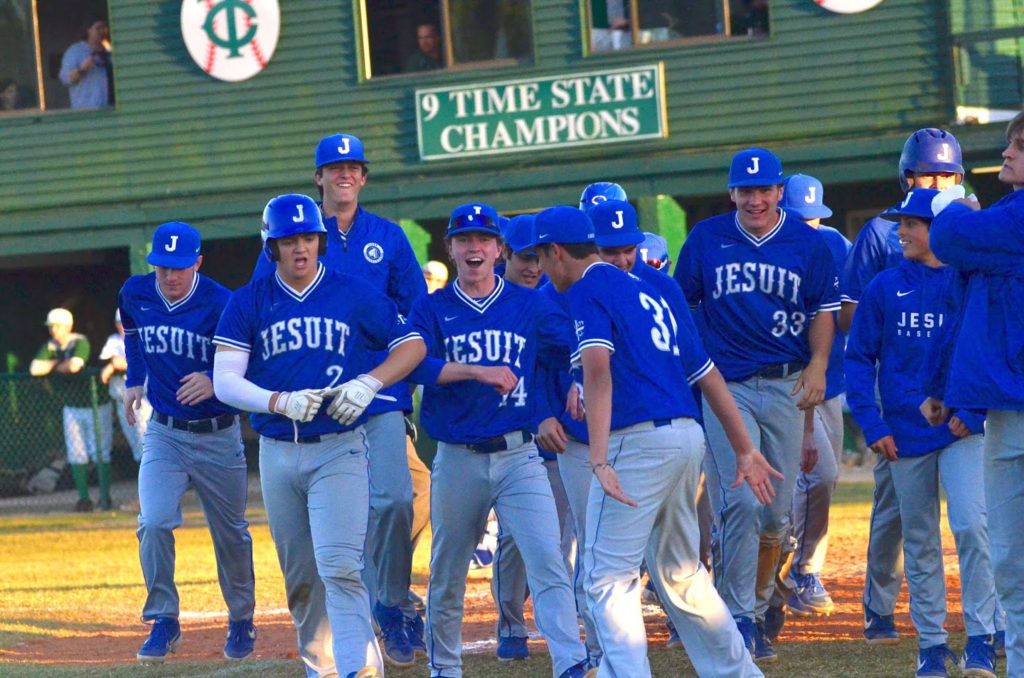 Take two as Jesuit players surround Bennett Lee after he followed Valdez's home run with a dinger of his own. 
(
Photo by Andy Warrener
)
The Tigers would add two more runs off a single from Jonathan Shoop taking a seven-run lead into the fifth inning. In the fifth, Lee would double to center, driving in another run and courtesy runner Jalen Niles, who had a pair of stolen bases on the night, would score on a fielder's choice.
Minacci never flinched and went a full six innings walking just two and striking out nine. The Crusaders didn't get a run off of him and scattered three hits. Turner Thompson worked the final inning, striking out a pair.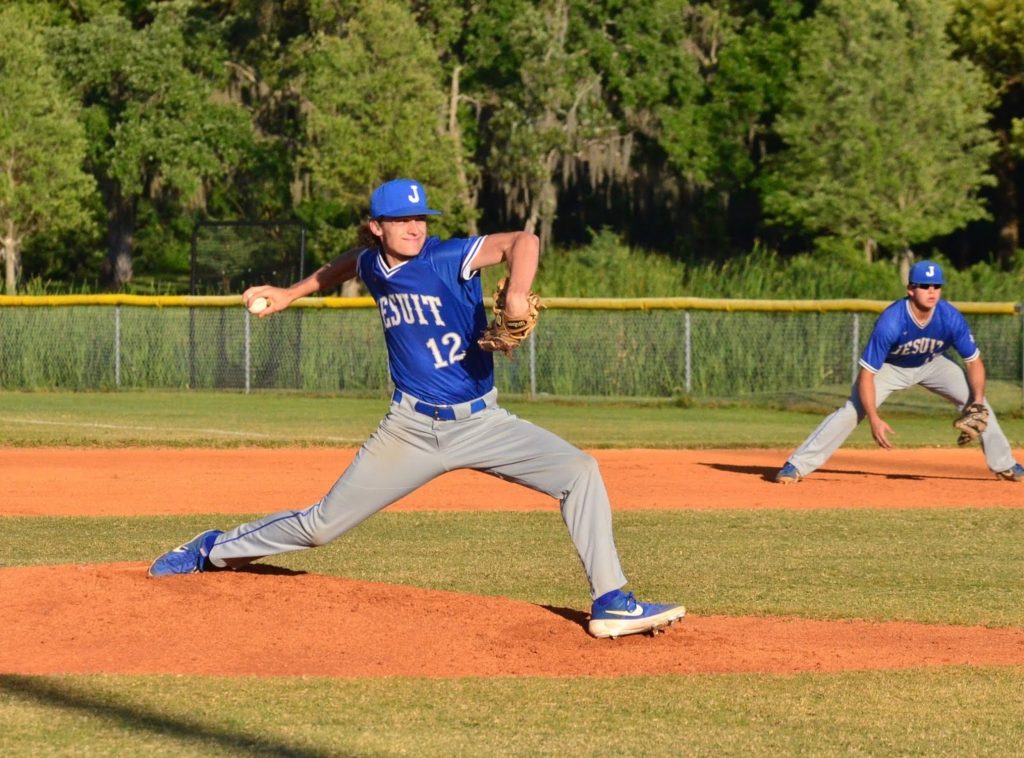 Jesuit starting pitcher Camden Minacci allowed just three hits in his winning effort. 
(
Photo by Andy Warrener
)
The switch-hitting Valdez led off the top seventh in the left-handed batter's box and legged out an infield single. He would end up scoring on an error, thus bumping the Tiger lead to 10-0. Big night for Valdez posting his first homer of the season and going 2-for-3 with a walk, a homer and three runs scored and hitting from both sides of the plate.
Lee had a big night, too, going 2-for-3 with two walks, two RBIs and a run scored.
"This feels great," Lee said. "We came out here tonight and didn't take anything for granted. We didn't play down to anyone's level, we stayed on our game."
–  Andy Warrener is a longtime area journalist and photographer. Follow Andy on Twitter at @jawarrener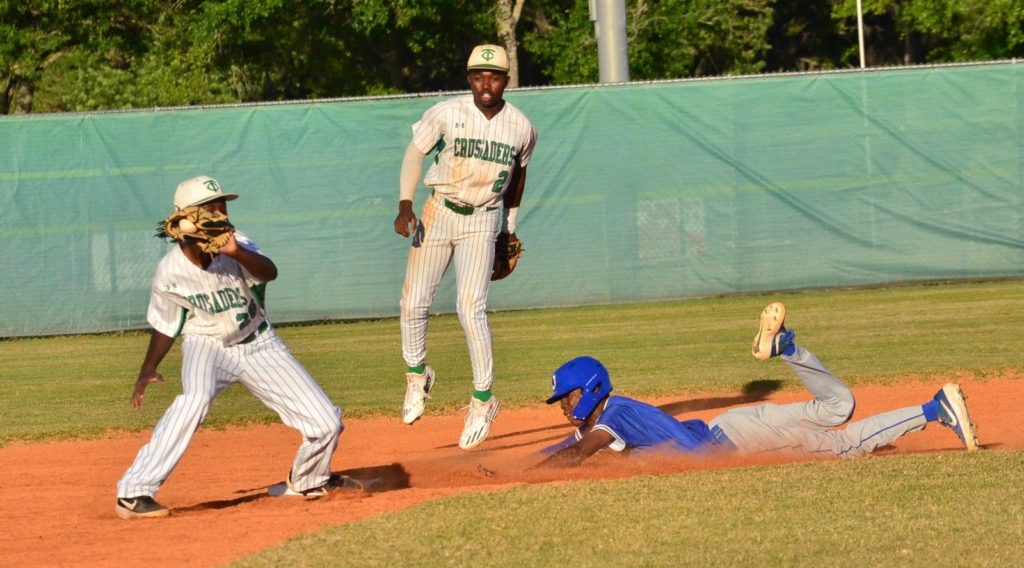 Speedy courtesy runner Jalen Niles stole a pair of bases and scored two runs for Jesuit. 
(
Photo by Andy Warrener
)