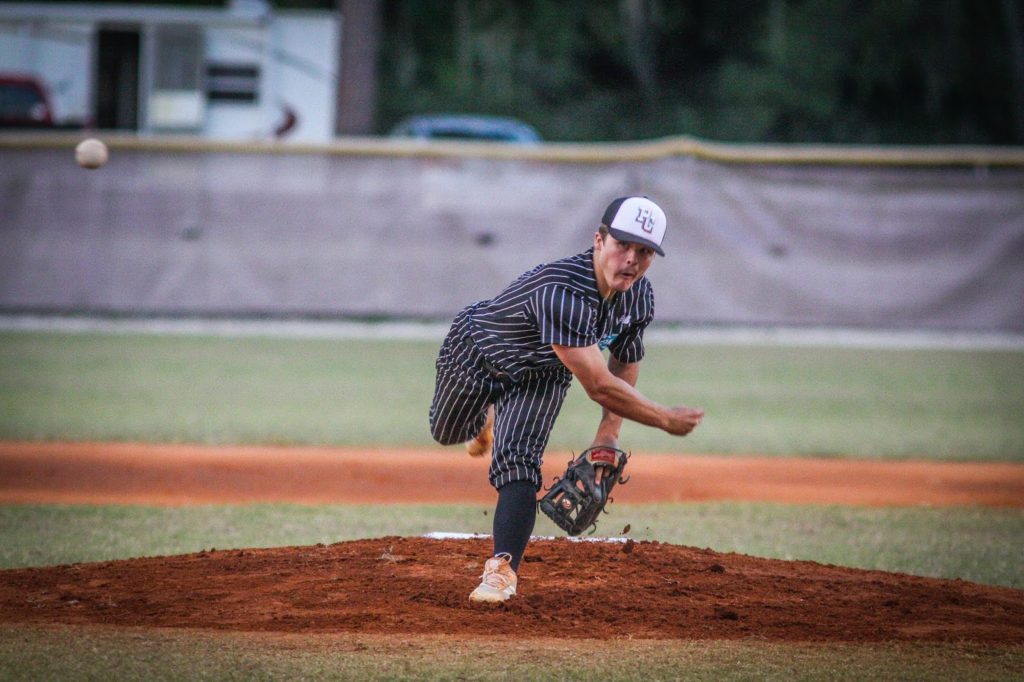 Plant City junior Jarod Wingo tossed a complete game with 10 strikeouts, allowing one unearned run on one hit. (Photo by Mike Camunas)
BRANDON – Jarod Wingo hates starting on the mound. The Plant City junior, everyday second baseman and closer has loved his role as the late-inning guy for the Raiders. But in a week-long tournament, where the grueling pace wears down bullpens, adjustments need to be made and routines broken.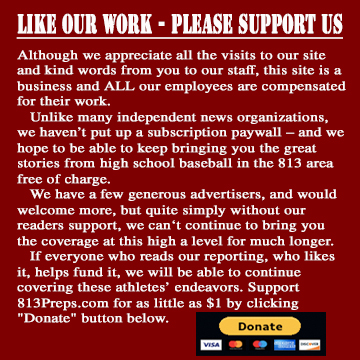 Wingo found himself in an unfamiliar role in a huge spot, starting pitcher in Plant City's first crack at a Saladino Tournament Championship. He did not squander his shot.
"I am not a big fan of starting," Wingo said with a chuckle. "I love coming in to close, I probably haven't started since freshman year."
Wingo was a force, working seven innings, allowing one unearned run and just one hit as the righty sat down 10 via strikeout to lead the Raiders to a 4-1 win in the 39th addition of the annual tournament – bringing the title to Plant City for the first time.
"It was amazing finishing this game out for this team and winning this game," Wingo said. "This is massive for this team, this win. The chemistry we have is so strong and now we need to keep it going and win a district title."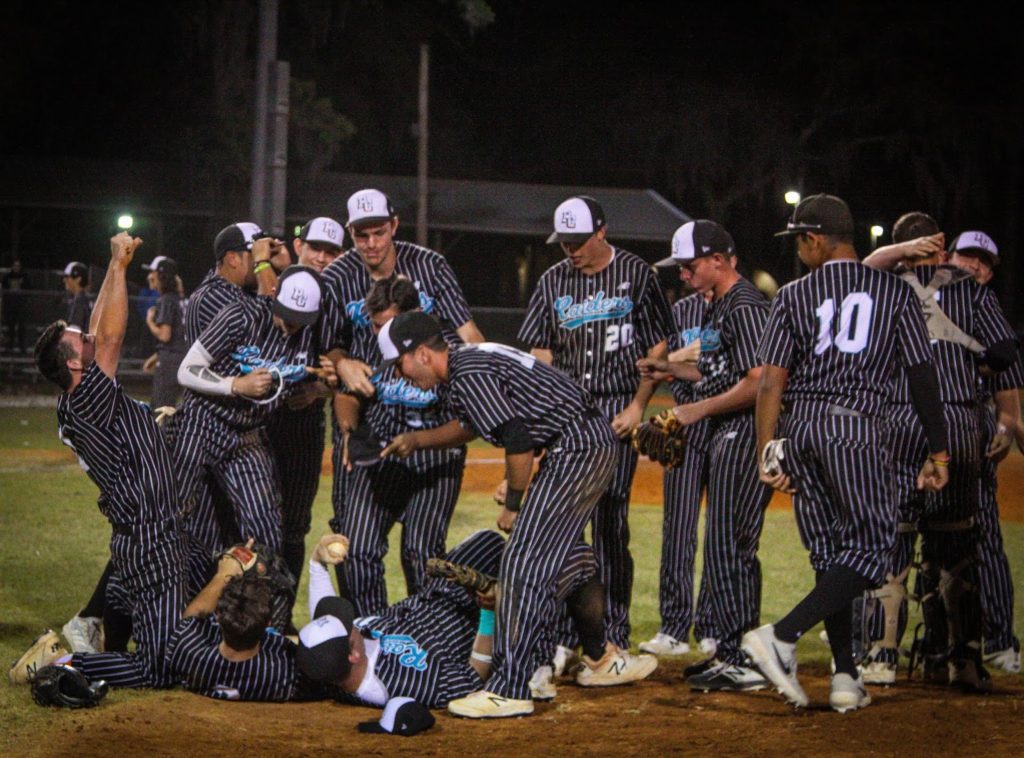 The moment of celebration as the Raiders converge on Wingo on the mound after the final out. 
(
Photo by Mike Camunas)
Plant City (11-1) got on the board in the home first without a hit as Cade Shissler reached on an error and eventually crossed the plate on a Parker Messick groundout. The Raiders extended that lead in the third as Chris Rodriguez standing on first base took off on a ground ball and never stopped as another Durant error skipped away from first base.
Durant (7-5) fought the whole tournament, advancing after opening pool-play with a one-run loss to Sickles on pure heart and determination. The Cougars had dropped a regular season game to Plant City, a district rival, by a score of 7-0, but according to Raiders coach Mike Fryrear, Friday's version of Durant was a much different team.
"Durant, we played them at the beginning of the year, but this was not the same Durant team," Fryrear said. "Obviously, they played really hard to get here and didn't go away at all in this game. Hats off to Coach (Butch) Valdes, (assistant) coach Donny (Scolaro) and those guys over there."
Durant fought back with a run in the fourth when a sac pop from Frankie Martinez got deep enough down the right field line in foul territory that Arpod Zsold was able to charge to the plate to cut the lead.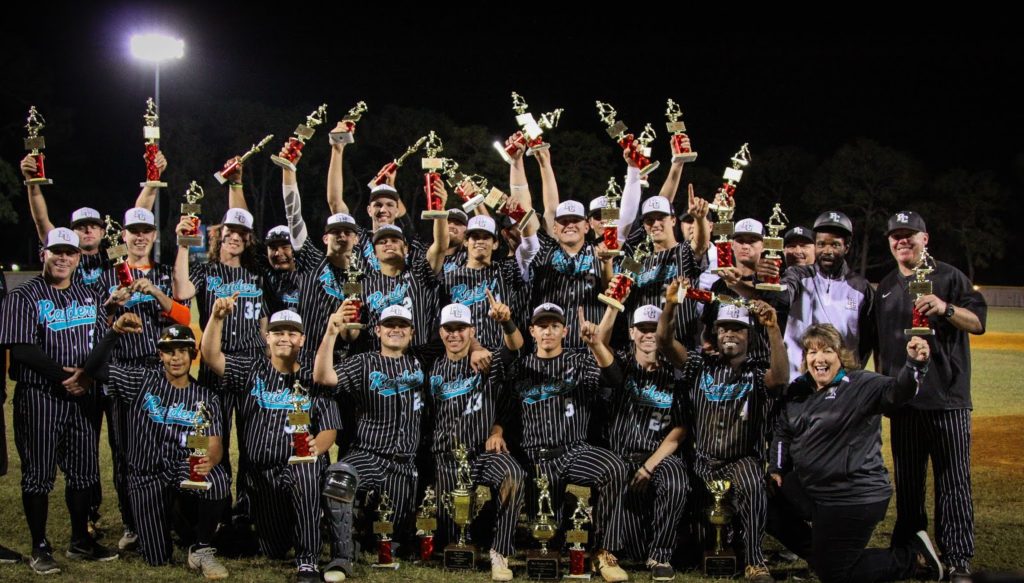 The 39th Annual Saladino Tournament Champion – The Plant City Raiders
(
Photo by Mike Camunas)
Though disappointed with the final outcome, Valdes said he was tremendously proud of how his team showed in the tournament.
"The Sickles game, even though we lost, that was the pivoting point for us," they didn't give up against Armwood when we came back for the win, they just don't give up. They are there for each other. They pull for each other. That's why I love this team."
But Wingo was just too on his game as he set down the Cougars 1-2-3 the next three innings to complete the win.
"He's one of the best arms we've got and we've used him in that closer role," Fryrear said. "I said to him, 'dude, I got to start you.'"
"He hates starting, but once he got through those first few innings, he said, 'Don't worry coach, I'll close this thing out too.'"
Plant City added two more insurance run in the sixth as Tyler Dowdy doubled to lead off the frame with a double and was cashed in by a DeMario Williams single in the next at-bat. Then Williams, who (*sarcasm alert*) obviously took issue that Rodriguez tried to show off his wheels scoring from first, broke from second base on a steal and never relented until skipping across the plate as the ball bounced away from the catcher.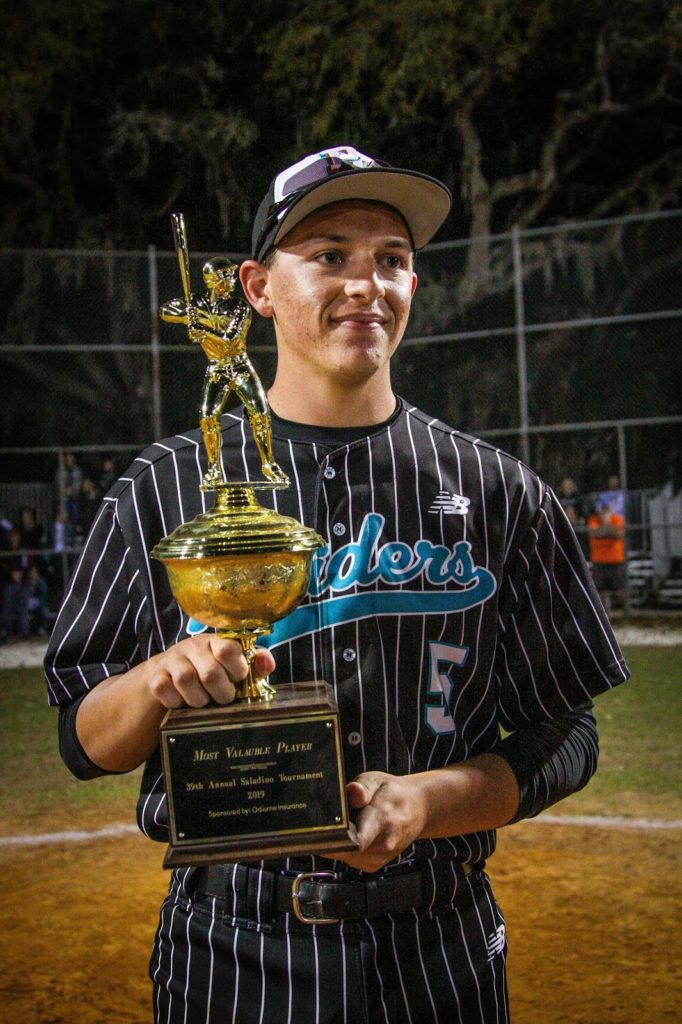 Tournament MVP Hunter Emerine. 
Plant City, which started the tournament last Saturday with a big win over Plant in pool-play, outscored opponents 46-11 in the Raiders six wins.
Raiders backstop Hunter Emerine didn't dazzle at the plate in the championship, but his 7-for-16, four double, 12 RBI showing in five tournament games was enough to garner the senior All-Tournament MVP honors. He said he hopes this tournament showing for his team will propel them to success the rest of the year.
"Being able to win this, we are going to use this momentum the rest of the year and go after a district championship," Emerine said. "It means a lot to be this (tournament's) MVP."