* Our Week 3 rankings were voted on by 813Preps editor Jarrett Guthrie, staff writer Will Turner, and 95.3WDAE's Jay Recher. Follow Jay's coverage of all things Tampa Bay sports at his blog by clicking here. *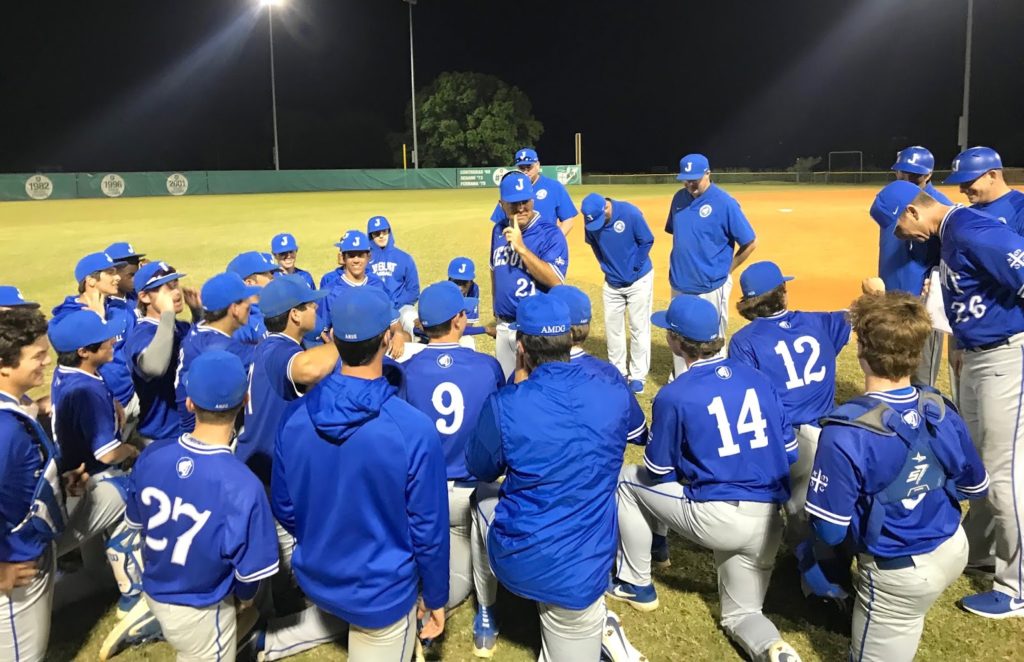 Jesuit listens to its coaches after its win at Tampa Catholic
on Friday (photo by Andy Warrener).
1. Jesuit (9-0) – The Tigers maintain the top position for the fourth-straight week. Just one game last week, as Jesuit dispatched rival Tampa Catholic, 10-0 behind home runs from Ethan Valdez and Bennett Lee, while Camden Minacci improved to 4-0 on the mound with nine strikeouts (click here to read our game coverage of this one). The Tigers have a busy week ahead starting at 2018 Class 8A state runner-up Sarasota tonight, hosting Ohio's St. Ignatius on Wednesday, and picking back up with district play against Robinson on Friday.
2. Plant City (11-1) – The Raiders picked up wins against Blake, Brooks DeBartolo, Riverview, Leto last week, before claiming the Saladino Tournament crown in a championship win over Durant (click here to read about the championship game), as Hunter Emerine keyed the week with a 12-RBI, tournament MVP performance. No easing back into things for Plant City as the team heads to Riverview (which it edged by a run in the tourney quarterfinals) on Tuesday, and hosts Bloomingdale on Thursday in two big district games.
3. Sickles (7-2) – Things did not go as planned for the Gryphons last week, as Sickles saw their tournament advancement hopes slip with a 12-inning loss to Jefferson, and disappear completely because of the runs-allowed tie-breaker in an 11-5, victory over Armwood. Catcher Danny Bernstein belted a pair of home runs for the Gryphons in the tourney and had seven RBI. Games against Chamberlain and Brandon, and a big one against Leto in the middle sit ahead for Sickles this week.
4. Leto (9-2) – The Falcons reached the Saladino Semifinals defeating East Bay, Robinson, and Wharton, before dropping a tough one-run game to the eventual champs. Leto got two big tourney wins on the mound from senior Franklyn Hernandez (read about Hernadez's 1-hit gem in the quarterfinals by clicking here), and had got a nice glimpse of the future in breakout performances from sophomore Damien Breton (.417, four doubles, two RBI, four runs scored) and freshman Brayan Cruz (two doubles, a grand slam, seven runs and RBI). The Falcons take on district opponent Gaither on Wednesday, and travel to Sickles on Friday.
5. Plant (7-2) – The Panthers got tested in a one-run win against Brooks DeBartolo and finished pool-play with a decisive win against Blake, but didn't advance to the knockout rounds of the Saladino due to a loss last Saturday to Plant City. Seniors JD Urso (two doubles, three runs, three RBI) and Gabe Rincones (double, home run, five RBI, four runs) led the way in the tournament for the Panthers. Plant will face two teams this week it leads in these rankings hosting Strawberry Crest on Tuesday and traveling to face district opponent Steinbrenner on Thursday.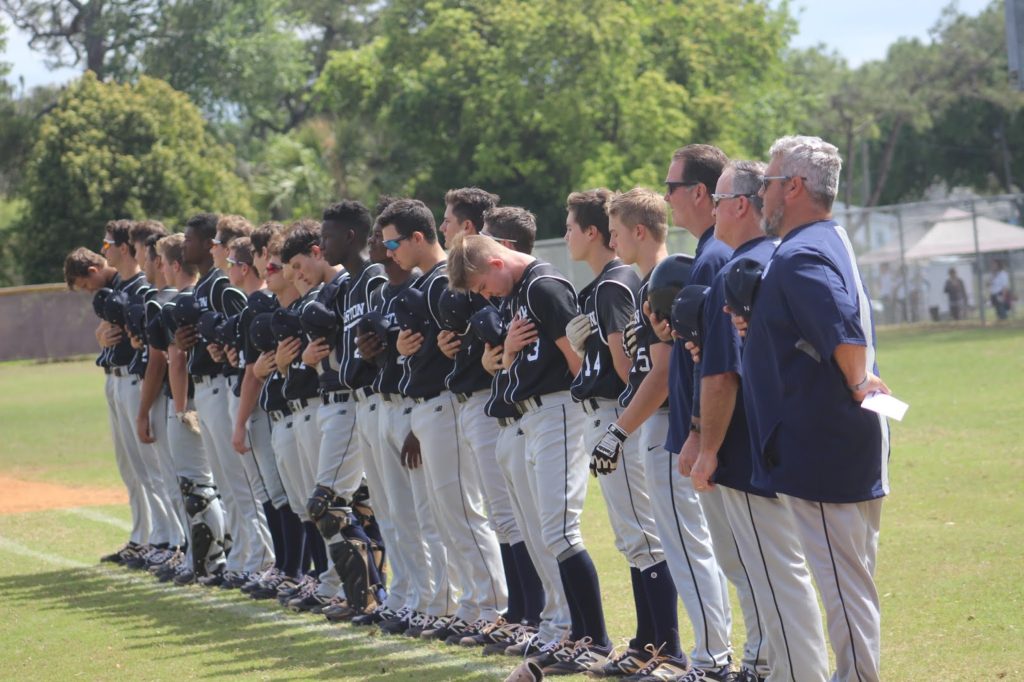 The Wharton Wildcats
6. Wharton (8-2) – The Wildcats defeated Alonso and Hillsborough in pool-play to advance to the Saladino quarterfinals, however had little answer against Leto's pitching falling 3-0. Frank Micallef had a double and four RBI in the tournament for Wharton. The Wildcats have a three-game run this week against Tampa Bay Tech, district opponent Strawberry Crest, and Gaither.
7. Newsome (8-3) – The Wolves advanced from pool-play with wins over King and Lennard, before getting a little payback against district opponent Alonso (in a non-district game) in the quarterfinals (click here to read about the Wolves win over the Ravens), before finding itself on the wrong end of a drubbing from Durant in the semifinals. Sawyer Smith drove in five runs in the weeklong event for the Wolves. Newsome starts the week off against Spoto, before having a visit from district opponent Palm Harbor on Thursday.
8. Alonso (5-3) – The Ravens kept a loss to Wharton to just one run, and then defeated Middleton to reach the Saladino knockout rounds as the wildcard. The Ravens fell in a close one to Newsome in the quarterfinals. Alonso has a grueling 10-days ahead of themselves playing five games, starting this week with district games against Palm Harbor, Sarasota Riverview, and closing the week out Saladino runner-up Durant.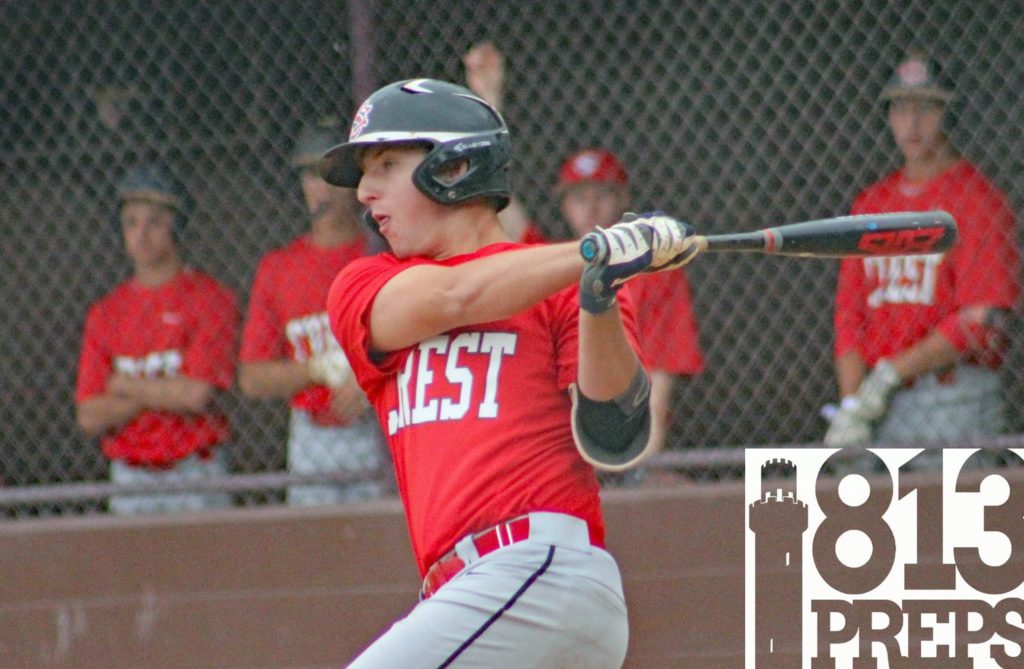 Strawberry Crest senior Tanner Kelley. 
9. Strawberry Crest (7-3) – Crest won its pool by defeating Bloomingdale (Click here to read about this game) and Brandon last week, but fell in the Saladino quarterfinals to Durant in a close, 4-3 game. Seniors Tanner Kelley (double, home run, seven RBI) and Joey Parrillo (double, homer, five runs, five RBI) lead the "Charge" last week. The Chargers travel to Plant on Tuesday, before hosting district opponent Wharton on Thursday.
10. Steinbrenner (6-3) – Wins over Robinson and East Bay, weren't enough to get the Warriors over the hump in the tournament after an opening-day loss to Leto. Steinbrenner looks to shake off that disappointment with just one game this week, but it's a doozy as the Warriors will play host to district opponent Plant on Thursday.
The Next Five:
11. Riverview (7-3)
12. Bloomingdale (6-3)
13. Lennard (6-2)
14. Durant (5-5)
15. Berkeley Prep (5-3)
Dropping out of the rankings this week: Tampa Catholic (4-4); Robinson (5-4).