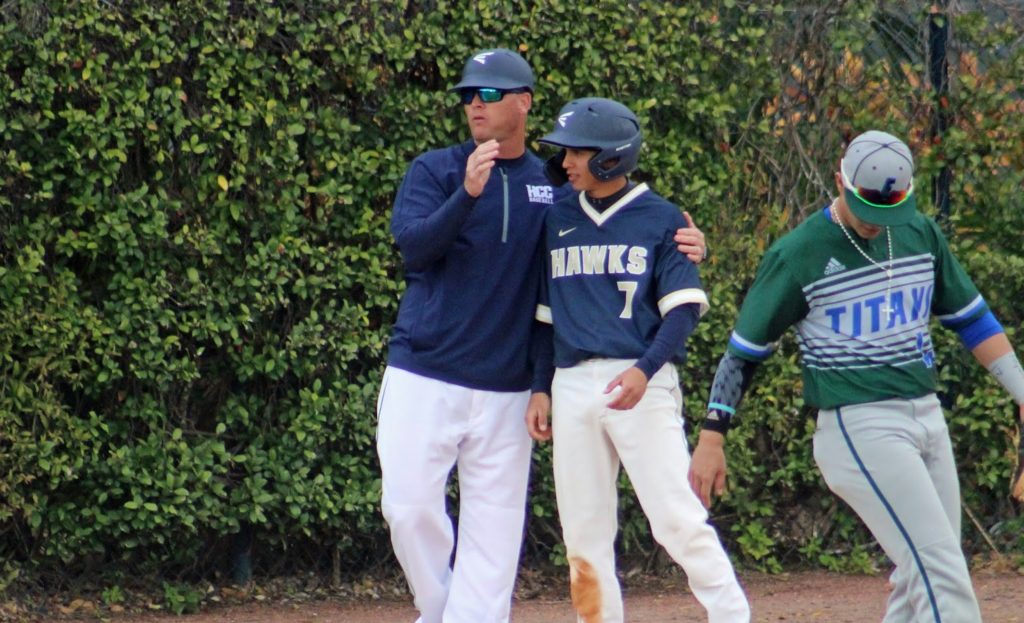 Longtime area coach Mike Wrenn was fired from his position as head baseball coach at Hillsborough Community College on Monday after four seasons. Wrenn said he was informed by school officials prior to his game on Monday. HCC has yet to make a formal announcement of his dismissal, but has removed his name and bio from the school's athletics website. 
** Editor's note: Although the primary focus of our website is high school baseball in Hillsborough County, we have never shied away from Tweeting, posting, commenting or sharing information on our former 813 area alumni as they continue at the next levels of the game. Currently there are eight former Hillsborough County high school players listed on the official Hillsborough Community College roster.
TAMPA – After nine seasons as a member of the Hillsborough Community College baseball staff, and four seasons as the Hawks' head coach, Mike Wrenn was informed on Monday, March 25th that he was to be fired from his position after the completion of the game he was set to coach that afternoon.
Wrenn said he was informed by HCC interim athletic director Sarah Summerfield and Dean of Student Services Joe Bentrovato on Monday. He said that following an ejection the coach had a few games earlier, he no longer fit with the school and that after the incident, "they didn't want HCC to be seen in that light."
Wrenn said the ejection happened when he went out to question a call in a game two weeks ago, and when returning to the dugout the umpire told him he was now officially warned for arguing. He then said he responded by asking why was he being warned for asking a question and while returning to the dugout clapped his hands and was ejected. The longtime area coach, who served as the head baseball coach at Armwood High prior to joining the staff of former HCC coach Gary Calhoun in 2011, admitted to making an argument worthy of ejection after the fact.
"I asked what I was being warned for and said, 'awesome,' and I did clap at the guy on the way back to the dugout," Wrenn said. "He threw me out for that, after that I went out and said some words … I'll admit that."
The ejection was just the second in four seasons for Wrenn, who said he was never warned by the administration or the interim athletic director that another occurrence would be grounds for dismissal.
"Two ejections in four years," Wrenn said. "I was never warned, or told, 'hey, if you get ejected you'll be fired.'"
"I was never under any impression that this was something that could happen. I've done a pretty good job (at HCC), or so I thought."
That "pretty good job" includes leading HCC to a state runner-up finish last year to Chipola College, which went on to win the National Junior College Athletic Association Division I National Championship, and the Hawks are currently tied for second in NCJAA Region 8, Suncoast Division standings with a 17-16 overall record and an 8-5 conference record.
Summerfield has not yet responded to two messages left on Tuesday, nor has Bentrovato responded to an afternoon message left with his assistant, and there have been no posts about Wrenn's dismissal on any of the Hillsborough Community College social media accounts, nor has there been a press release posted on the school's main website or athletics site after more than 24 hours of Wrenn being informed of his termination. Wrenn's name and bio was removed from the HCC athletics website prior to 8:30 p.m. on Monday, while no official issuance of a press release had been made.
Currently the website lists the team's head baseball coach as "TBA."
After checking for official news of the dismissal Monday evening, with no press release or any public comment from Hillsborough Community College, our website's Twitter account (@813Preps) posted news of Wrenn's dismissal, and that post has been met with a number of responses from former HCC players and local members of the baseball community:
@Hillsball @BaseballHCC @HCCFL

It's a sad day to be a Hawk. I've played this game for over 20 years and I've never had a coach as invested in his players lives as Michael Wrenn! He is more than a coach, his guidance led us to be great on and OFF the field.

— Faith Love Grind (@_EliasMacias) March 26, 2019
A sad day for HCC. This guy cared about his players like no one else. Was the only coach that gave me an actual chance out of HS. He was bringing that program to new heights, I'm sad to see y'all do this.

@BaseballHCC @HCCFL https://t.co/Efkc3aaMss

— Robert B (@robertbamford_) March 26, 2019
Big Mistake. Coach Wrenn made us feel like a family day in and day out. He's the father figure for all of us and always wanted the best for us. The relationship i built with him is unbreakable. love you coach. This season is for you ?

#Win4Wrenn @BaseballHCC https://t.co/Ot26OxLDhS

— Chino® (@ErickOrbeta) March 26, 2019
HCC definitely messed up with this one, he changed peoples lives… not only did he do that, he turned Hcc into a winning program. I'm sure that anyone that played for Coach Wrenn can tell you the same. We all love you Wrenn, bigger and better things are coming for sure.

— Antonio Velez (@Avelez97) March 26, 2019
Hcc messed up big time. Wrenn turned it into a winning program and changed all the players lives that played for him. No doubt he'll be somewhere great and keep doing what he does.

pic.twitter.com/AOOOeSIhIq

— Bryan (@Lavastida_) March 26, 2019