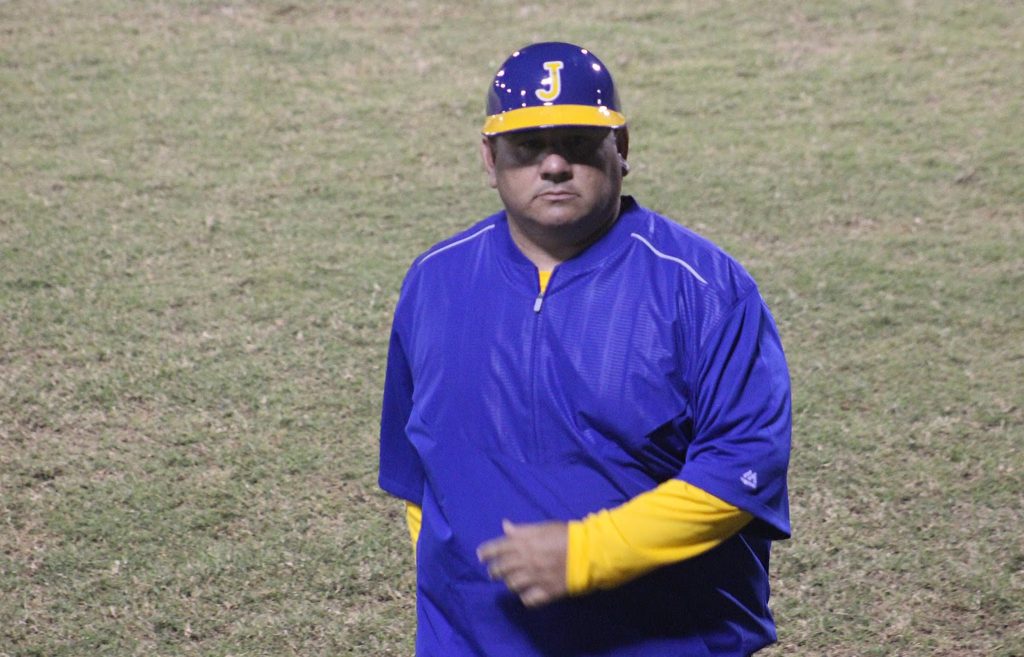 Dragons baseball coach Juan Fontela has stepped down, according to Jefferson athletic director Bernard Cannon. 
TAMPA – Jefferson baseball coach Juan Fontela resigned from his position as the Dragons head coach on Wednesday, school athletic director Bernard Cannon confirmed on Thursday. Fontela, who was named the Florida Dairy Farmer's Class 6A coach of the year after Jefferson claimed the FHSAA state championship in 2018, leaves after five seasons as the Dragons head coach.
Cannon said that he was informed by Fontela on Wednesday afternoon that he would be stepping down immediately as the Dragons coach, stating the reason as being personal and family obligations.
"He decided he was going to step away, his wife is pregnant, he has a six-year-old kid and the whole nine yards," Cannon said, "so he decided to call it quits."
Though the team claimed a state title last season, it's first in 79 years of program history, Fontela himself finished the season (and started the first week of this year's regular season) suspended do to an ejection in the playoffs. However, Cannon said that Fontela faced those consequences and that the school was comfortable with him continuing in his role as head coach.
"Coach Fontela had gone above and beyond when it came to that ejection, I think it was against Land O'Lakes in a region game … but those were sanctions handed down by the FHSAA that they would do for any coach," Cannon said. "He took every class he had to, (did) the things we put in place for him, professional development things, parent meetings, he did just awesome and went above and beyond when it came to anything that was put on him."
Cannon announced that the program would continue this season under the leadership of assistant coach Peter Scaglione, who was the man tasked with leading the team during Fontela's suspension and was the interim head coach during the Dragons state championship run. Scaglione will serve again in an interim capacity according to Cannon, who said that the school would start its search for a fulltime replacement immediately. He added that the new coaching decision would be made by the administration, but that he would be taking consideration from former Dragons baseball coach Pop Cuesta, as well as "community members who invest in our program," to select a new coach.
"The best person is going to get this job," Cannon said. "Jefferson is a baseball dynasty and I'm not going to make this decision in a day or two, or possibly even in a week or two."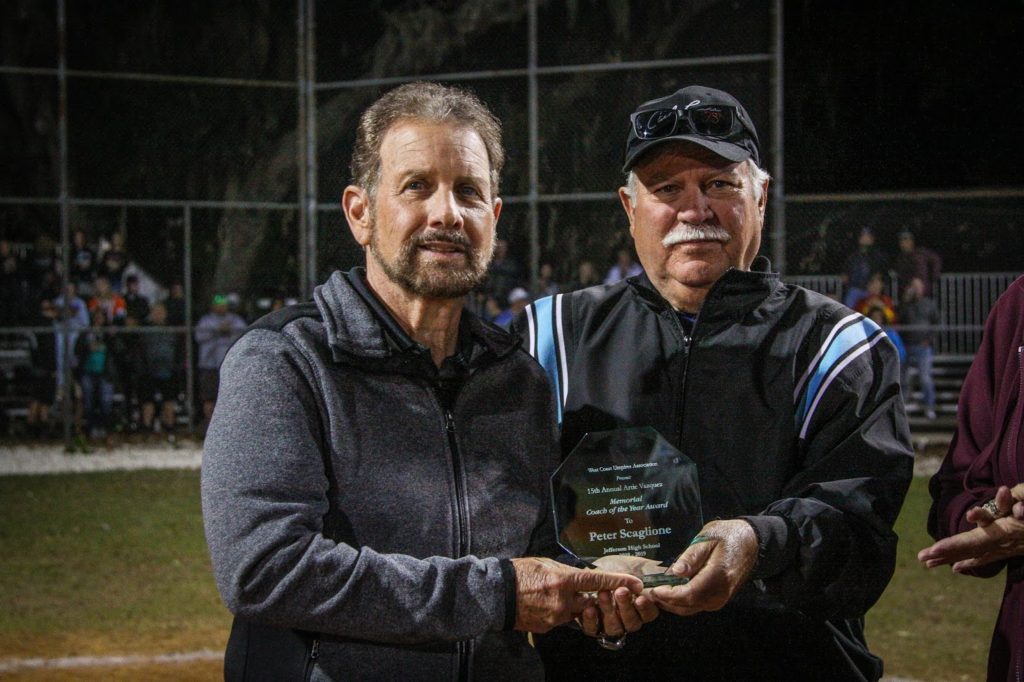 Longtime Jefferson assistant coach Peter 
Scaglione will 
assume head coaching duties in an interim capacity, 
Cannon said. Scaglione, pictured here accepting the Artie 
Vazquez coaching award at last week's Saladino Tournament, 
served as the interim coach last season for the Dragons 
state semifinal and championship winning games. 
(
Photo by Mike Camunas
)
Scaglione, who was awarded the Artie Vasquez Coaches Award at last week's Saladino Tournament from the West Coast Umpires Association, has been a longtime assistant with the program, but is also an area attorney and has work obligations that will prevent him from taking on the role in an extended capacity.
"We had this same situation last year and always have, that an assistant coach will take over if the coach were sick or unable to coach for any reason," Cannon said. "Mr. Scaglione will be the interim head coach until we find some else who is qualified for the fulltime position, and I know he will do a great job."
Jefferson is 3-7 on the season and 1-2 in Class 6A-District 8 play and begin a run of seven-straight district games tonight taking on Spoto at home.
Cannon said that Fontela, a member of the City of Tampa Police Department who serves as the school resource officer at Jefferson, would maintain that position with the school. He also indicated that Fontela's brother and nephew, who served as assistant coaches would also be stepping away from the team as coaches.