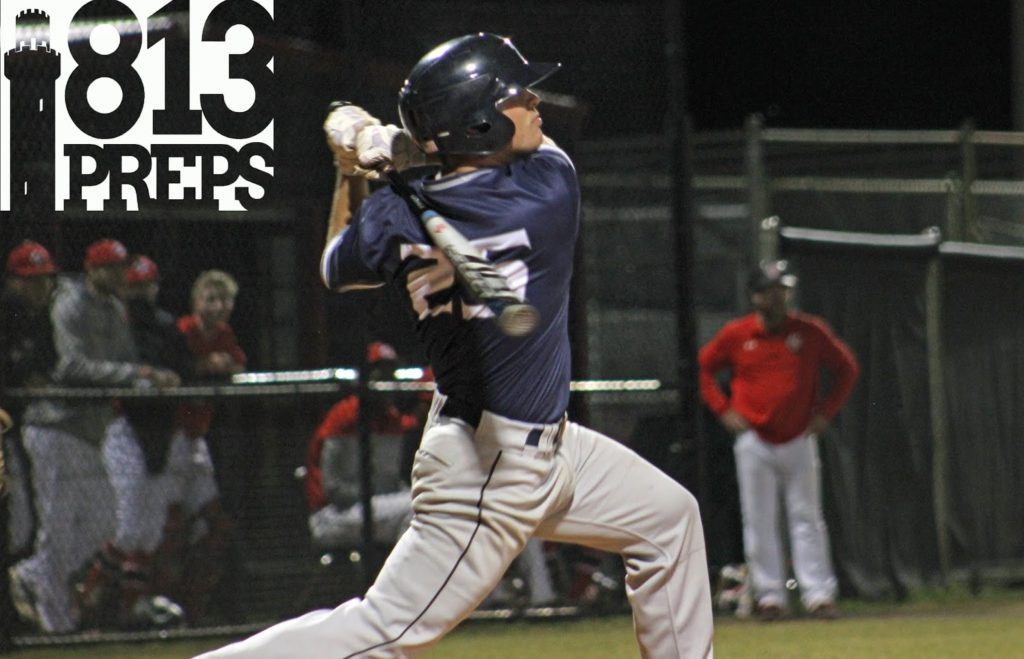 Wharton junior Steven Hotinski cleared the bases with this triple down the right field line. Hotinski, who also drove in the games first run, finished with four RBI to lead the Wildcats to a district win at Strawberry Crest. 
DOVER – Wharton sophomore Zach Ehrhard slid face-first across the third base bag opening his team's Class 8A-District 4 game at Strawberry Crest with his first career triple and the Wildcats' offense only revved up from there. Two hitters later, junior Steven Hotinski singled in the game's first run, starting what would end in a 9-1 victory for Wharton.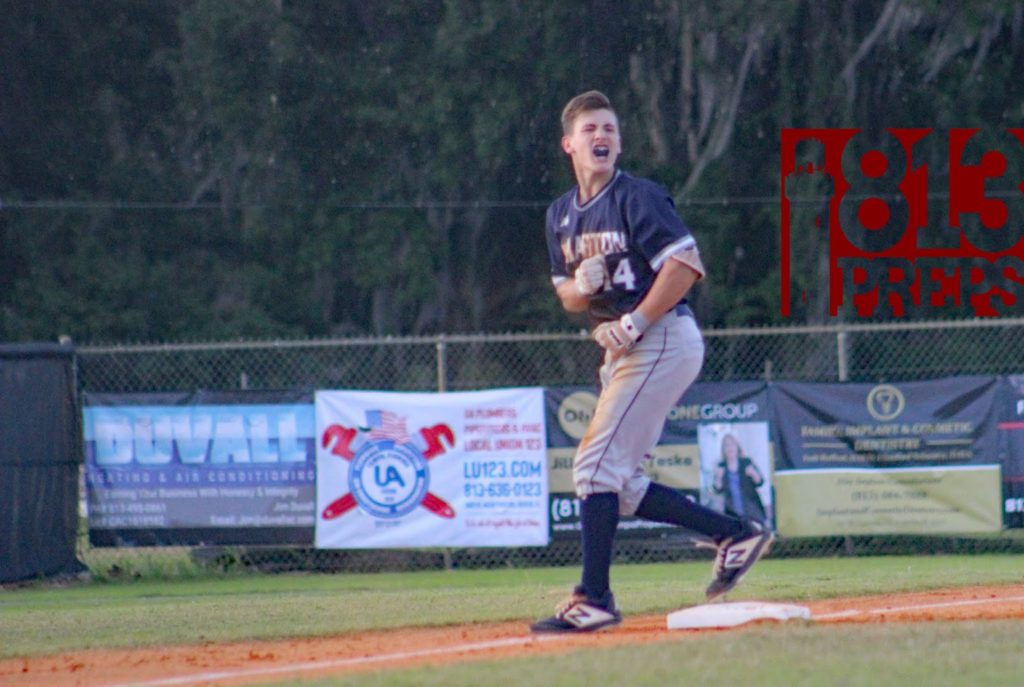 Wharton's Zach Ehrhard comes up excited after his leadoff triple
"That first inning definitely sparked things for us tonight," Ehrhard said. "That triple got us started, and when the runs went up, every one of us started to feel the energy and it just kept going."
The Wildcats would add two more in the opening frame as Brian Baughman's ground ball plated a run and another crossed on a throwing error on the same play.
Baughman's efforts at the plate included going 2-for-4 on the evening, but most of the heavy lifting for the senior came on the mound, as the lefty filled the zone, allowing one run on seven hits and striking out five to improve to 4-0 this year.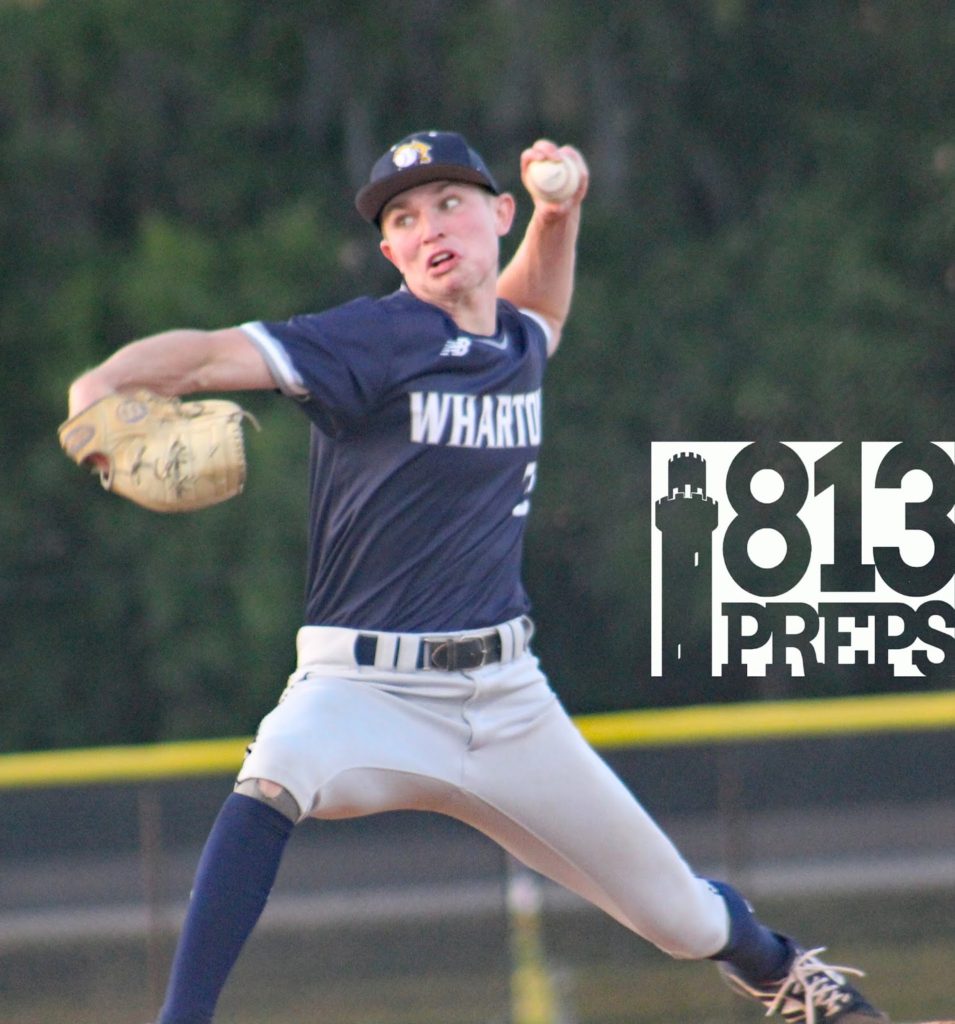 Wharton starting pitcher Brian Baughman
"My guys early in games have put runs on the board for me," Baughman said. "It's so much easier for me going out, getting ahead in counts and throwing strikes knowing I have a lead and this defense behind me."
Hotinski wasn't done providing for his team offensively, as he picked up a three-bagger of his own in the fourth inning, clearing the bases in the process.
"That felt great," Hotinski said of his four-RBI night. "When I stepped up with the bases loaded, all I was thinking was, 'drive it to the outfield and see if you can score some.'"
"When it went into the corner and I got a triple out of it, that was a pretty good feeling."
With the addition of RBI singles from Ehrhard (2-for-4, stolen base, three runs scored) and Frank Micallef, Wharton would score five in the inning. Grady Maguire chipped in an RBI hit the next inning as the Wildcats cruised to a big win over a district rival.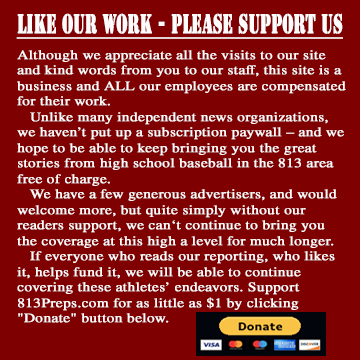 Wharton (10-2) is off to the program's hottest start in over a decade, and through the first lap against its district opponents the Wildcats are setting the pace at 3-0.
"We've been grinding out games lately, especially in the Saladino (Tournament) where our pitching and defense won us games," Baughman said. "But if we are able to get our hitting together like we did tonight as well, then we are going to be a dangerous team."
It was a long evening for Strawberry Crest (7-5, 2-1 in Class 8A-4). The Chargers answered the Wildcats three-run first with a run of its own as Joey Parrillo, Tanner Kelley (2-for-3) led off the home-half with singles, and Benny Pues scratched across a run with a single to centerfield. From there, the Chargers added just four more hits, all singles and never advanced a runner past second base.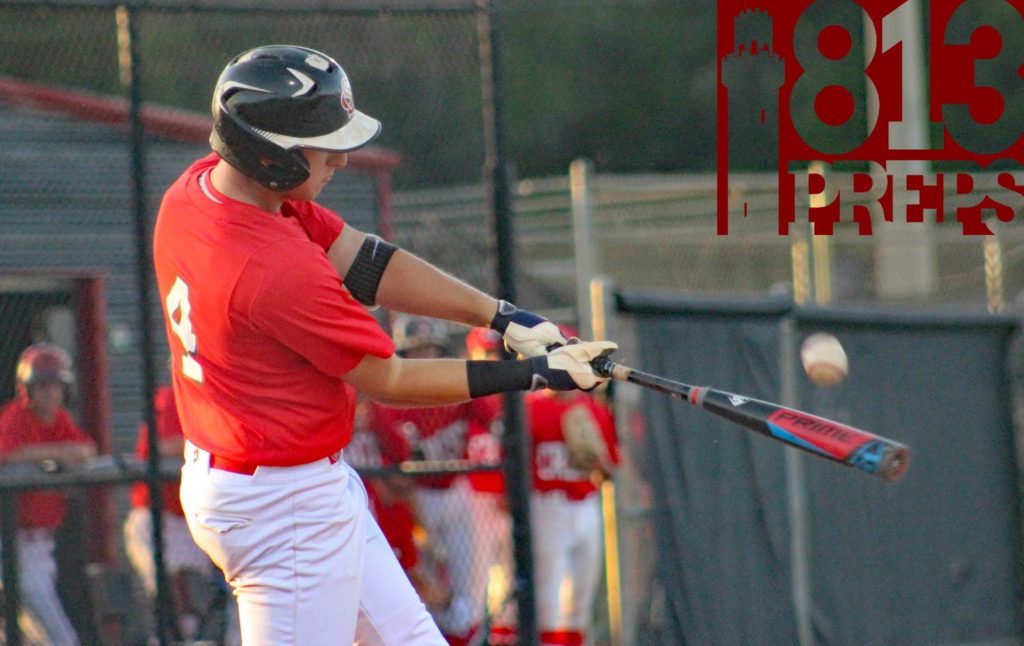 Strawberry Crest senior Tanner Kelley had two hits in the game and scored the Chargers lone run in the first inning. 
Wharton junior Carson Caso relieved Baughman to start the home sixth and retired all six batters he faced, including three strikeouts.
A defensive tip-of-the-cap goes out to Chargers third baseman Tyson Hardin, who ended the top halves of the second and seventh with nice charges, scoops and throws on soft bouncers into the grass.