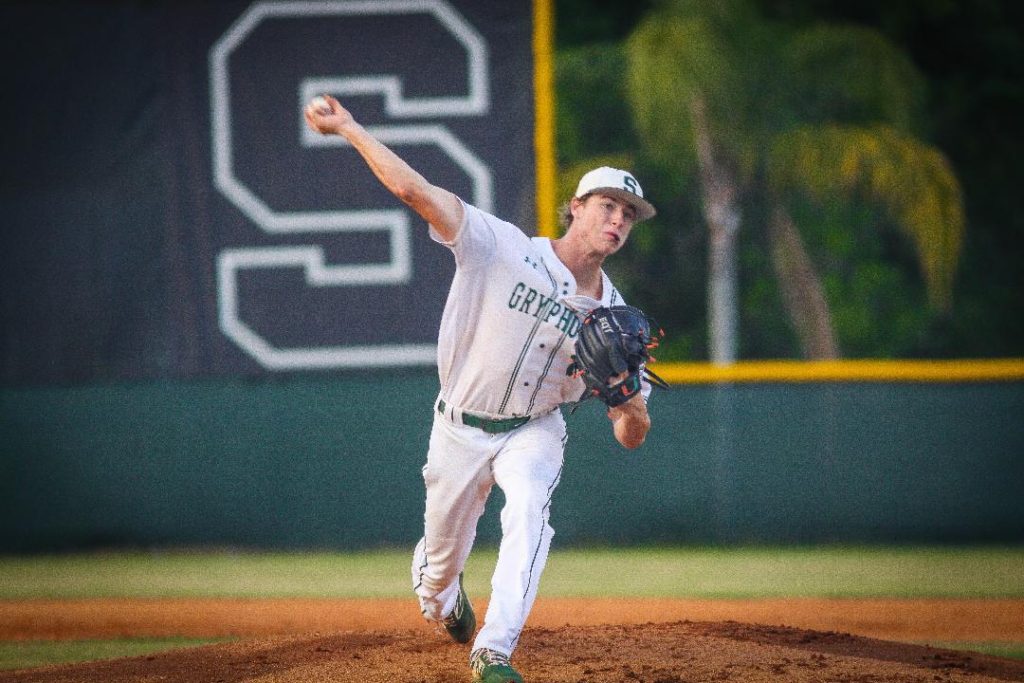 Sickles senior pitcher Dylan Eskew was dominant in a two-hit complete game in the Gryphons 11-1 win over Leto on Friday evening. Eskew had 12 strikeouts and a hit batter, as well. (Photo by Mike Camunas)
TAMPA — Sickles wants more.
Not in a selfish way. Well, maybe a little. Depending on one's view, really.
Following last season's historic program run, the Gryphons got just a taste of greatness. A tease, really, of what the postseason is like and this is after a long drought of missing said postseason.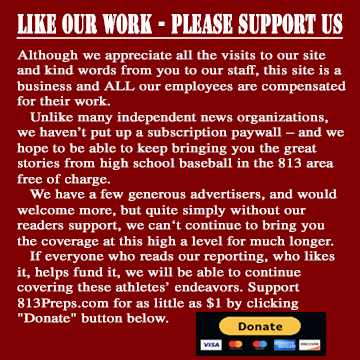 "They got their feet wet last year," coach Eric Luksis said Friday evening. "Last year, it was kind of like, 'We're just happy to be here (in the postseason),' so this year, the drive is more and they want more than just a taste. We're trying to give them a plan so we can go out there and achieve all the goals we're looking to accomplish."
The Gryphons got another accomplishment Friday evening: an 11-1 win over Leto, which was one of the final four teams in the recent Saladino Tournament and had 24 wins last season finishing as a Class 7A state semifinalist. Though 9-4, the Falcons have lost three straight and also had to face Sickles ace Dylan Eskew.
Eskew went on to do Eskew things Friday evening, of course, in front of a handful of major-league scouts. It was a two-hit complete game from the hard-throwing righty, who also struck out 12 and hit a batter.
As you can see here, Eskew gets the K, but a past ball allows Leto to extend the inning and score, including the hitter advancing all the way to third. @813Preps 7-1 Sickles pic.twitter.com/ruImb7hMJC— Mike Camunas (@MikeCamunas) March 30, 2019
"We're getting spoiled (by Eskew)," Luksis admits. "We expect greatness out of him every time he pitches, but I'm impressed that we still do the things we do when he's pitching like give him 11 runs to work with. It's great to see we're not just relying on his arm."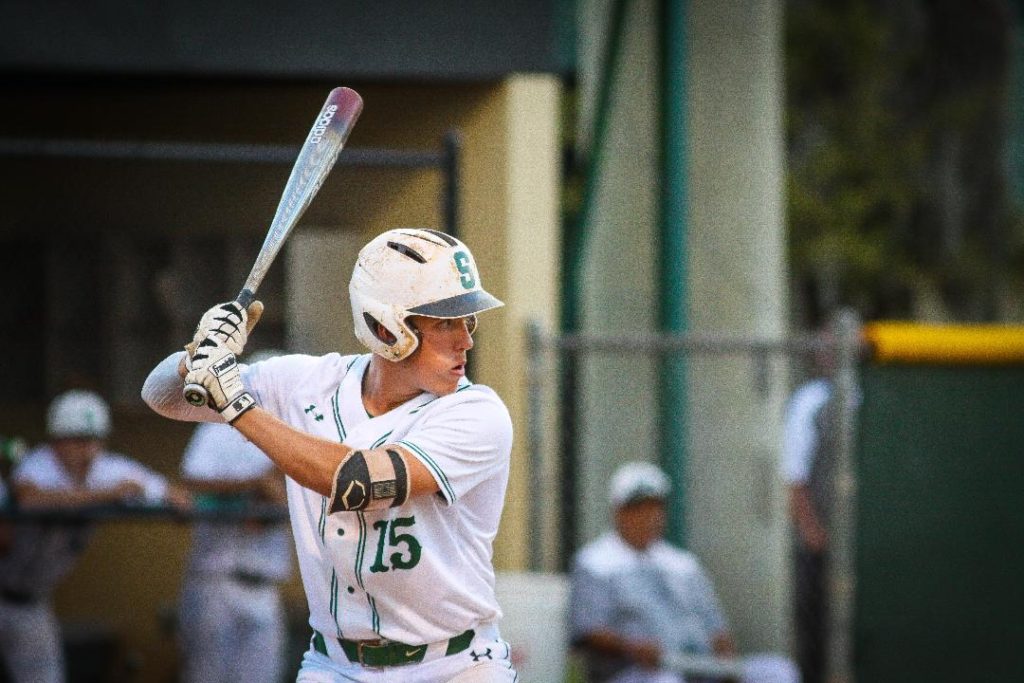 Sickles junior Tyler Green went 2-for-4 with 2 RBI and a run scored in the Gryphons 11-1 win over Leto on Friday evening. (Photo by Mike Camunas)
It's true — the Gryphons (9-2) aren't just relying on Eskew and his big payday arm. Tyler Green and Chase Centala both drove in two runs, while the latter had three hits. Trey Bacon and Justin Turk are burning up the base paths and senior catcher Danny Bernstein anchors a defense with his veteran leadership.
Eskew gets the strikeout again to end the inning. 7-1 Sickles B5 @813Preps pic.twitter.com/yIHnYpH8iZ— Mike Camunas (@MikeCamunas) March 30, 2019
And what has all this led to? An undefeated record at home (7-0), thus far, and that is one of the many goals Sickles has on its mind. That is, beside another district title.
Then beyond.
Possibly a state title?
"We have a home-field advantage and we haven't lost here all year," Luksis says confidently. "The guys understand what we're trying to do and exactly what we're trying to implement and they do a really good job of implementing it. That's been working out great this year so far."
– Mike Camunas is a longtime veteran journalist who is always seeking true stories, trained under J. Jonah Jameson and takes better photos of Spider-Man than Peter Parker. Follow Mike on Twitter @MikeCamunas