* Our Week 5 rankings were voted on by 813Preps editor Jarrett Guthrie, staff writer Will Turner, and 95.3WDAE's Jay Recher. Follow Jay's coverage of all things Tampa Bay sports at his blog by clicking here. *


1. Sickles (10-2) – The Gryphons dominated in wins over Chamberlain, Leto, and Brandon and move to our top spot for the first time in the regular season (read our coverage of the Sickles win over Leto by clicking here). Sickles maintains a team 1.40 ERA and its pitchers have 113 strikeouts in 80 innings. Senior Danny Bernstein has 20 RBI through the first 12 games of the season. Sickles is at the top, but will have to turn away two big challenges this week, including a district game against Steinbrenner on the road on Thursday.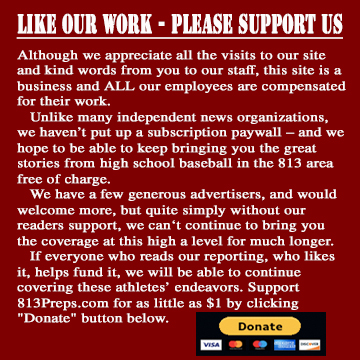 2. Wharton (11-2) – The Wildcats make a considerable jump this week moving up from the sixth spot last week, after winning a trio of games against Tampa Bay Tech, Strawberry Crest, and Gaither. The win at Crest moved Wharton to 3-0 in district play this season as senior Brian Baughman picked up his fourth win on the mound (click here to read our coverage of this game). We get to see our No. 1 v. No. 2 square off immediately as the Wildcats host Sickles Tuesday evening.
3. Jesuit (10-2) – The Tigers slip from the top spot for the first time during the regular season after dropping games to Sarasota and Ohio's St. Ignatius, before coming through with a big district win over Robinson on Friday (read about this win by clicking here). Jesuit takes on district rival Jefferson on Tuesday and also has games against Georgia's Parkview and Middleton this week.
4. Plant City (11-3) – Plant City defeated Riverview on Tuesday, but fell to Bloomingdale on Friday. An FHSAA imposed forfeit of the win over Durant in the Saladino Final added an unfortunate blemish to the record as well. The Raiders have a busy three-game week ahead with district games against East Bay and Durant, and a non-district tilt with Plant.

T5. Steinbrenner (7-3) – The Warriors handled business in its lone game last week, winning a big district meeting with Plant, 6-5 – and did it in style as senior Mikey Mullins cracked his first home run of the season to walk the win off. Steinbrenner has a pair of challenges heading its way this week as Strawberry Crest visits on Tuesday, and the rubber match against Sickles is set for Thursday.
T5. Bloomingdale (8-3) – The Bulls offense came out firing last week with a pair of wins over district opponents Durant and Plant City. The win over the Raiders featured homers from Kyle Merkle and Brock Wilken. The dinger from Wilken is his county-leading seventh of the season, and he is .515 on the year with 12 RBI. Will see if the big Bulls offense stays hot in a three-game week with Riverview, Plant and Leto.
7. Plant (9-3) – The Panthers started the week off with a shutout win over Strawberry Crest, but dropped a district game to Steinbrenner, falling to 0-2 in the three-team Class 8A-5. The Panthers will face Alonso, Bloomingdale and Plant City in a busy slate of non-district games this week.
8. Leto (9-4) – The Falcons built up a lot of credit with our voters, only slipping a few spots after disappointing losses to Gaither (district opponent) and Sickles last week. Leto has two district games against King and Chamberlain ahead, and a non-district game against Bloomingdale to try and reach the double-digit win plateau.
9. Newsome (9-4) – The Wolves got going with a win over Spoto, but a visit from district opponent Palm Harbor ended in a 2-1 loss as Newsome lost a tough pitching duel (read about it here). The Wolves sandwich in a big district game against Alonso (who it lost to in district play, but defeated in Saladino Tournament play), between games against Hillsborough and at King this week.
10. Lennard (9-2) – The Longhorns did some solid work this week with wins over East Bay, Brandon, and Chamberlain, as Levi Montero's 11 RBI at the plate and strong effort on the mound from a trio of senior pitchers have things trending up at Lennard. The Longhorns look to stay atop Class 7A-District 9 with games against Tampa Bay Tech and Armwood ahead this week.
The Next Five:
11. Durant (9-5)
12. Riverview (8-4)
13. Alonso (5-3)
14. Gaither (7-4)
15. Berkeley Prep (7-4)


Dropping out this week: Strawberry Crest (7-5)