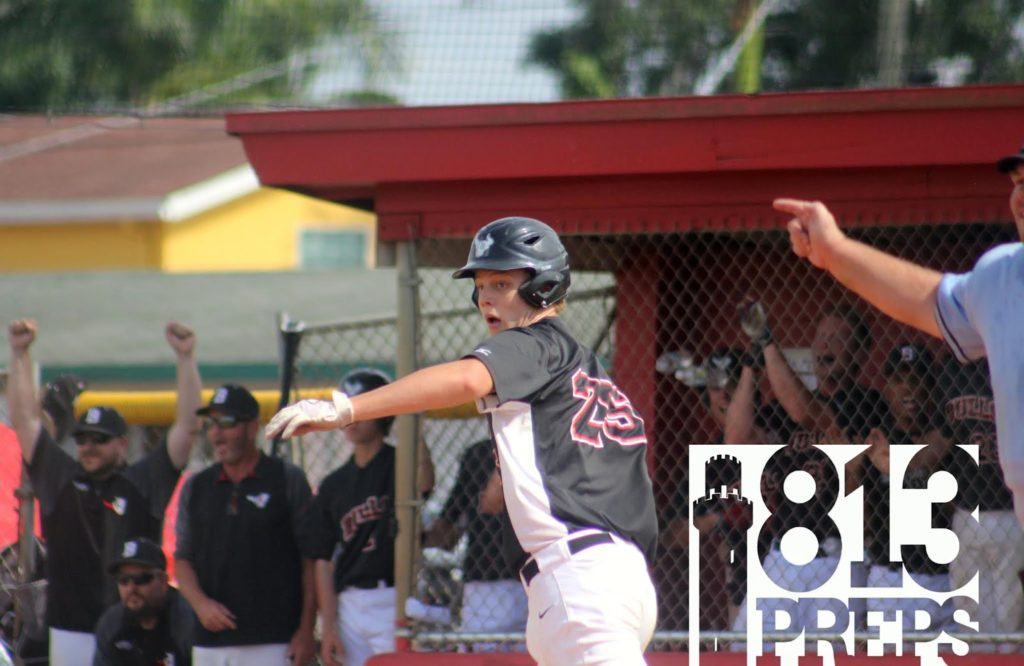 Bloomingdale junior Brock Wilken was surprised as his 12th-inning fly ball fell just inside the foul pole in left field for his county-leading eighth home run of the season. Wilken went 4-for-6 in the Bulls win over 

Leto. 
TAMPA – There was a point in the 12th inning of a blazing hot afternoon game, where Bloomingdale senior Bryce Hazzard looked out of gas. After playing 10-plus innings in centerfield, having five plate appearances and coming off a road win at Plant in the late hours Friday, the Bulls senior was called to the mound, and proceeded to work his way through the lineup of the Leto Falcons.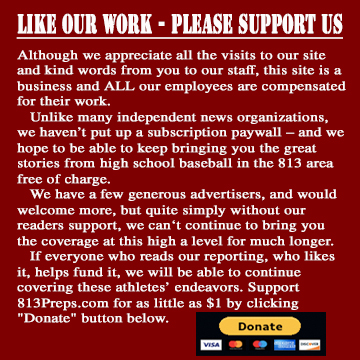 In the 12th, Hazzard's second inning of work, the scrappy Falcons managed to erase Bloomingdale's one-run lead and were threatening to walk away with a win as an error prolonged the inning, and Hazzard walked a batter. Fortunately, for Hazzard the threat was quashed when senior first baseman Kyle Merkle charged down the right field line and made an over-the-shoulder grab of a foul ball to send the game to the 13th.
"I was at the point where I was almost exhausted," Hazzard said, "but I knew I had to get through for my team."
But what a difference a five-run inning can make, as Hazzard returned to the mound for the home 13th, worked around a leadoff single and wrapped up Bloomingdale's 8-3 win over Leto.
The Bulls have now won six-straight, including wins over Riverview and Plant during this three-game week, as Bloomingdale will again play three games next week beginning with district opponent East Bay on Tuesday.
"We've got to keep the train rolling," Hazzard said. "Three games next week, so this was a good week to achieve and get three wins. Now, we have to keep that going."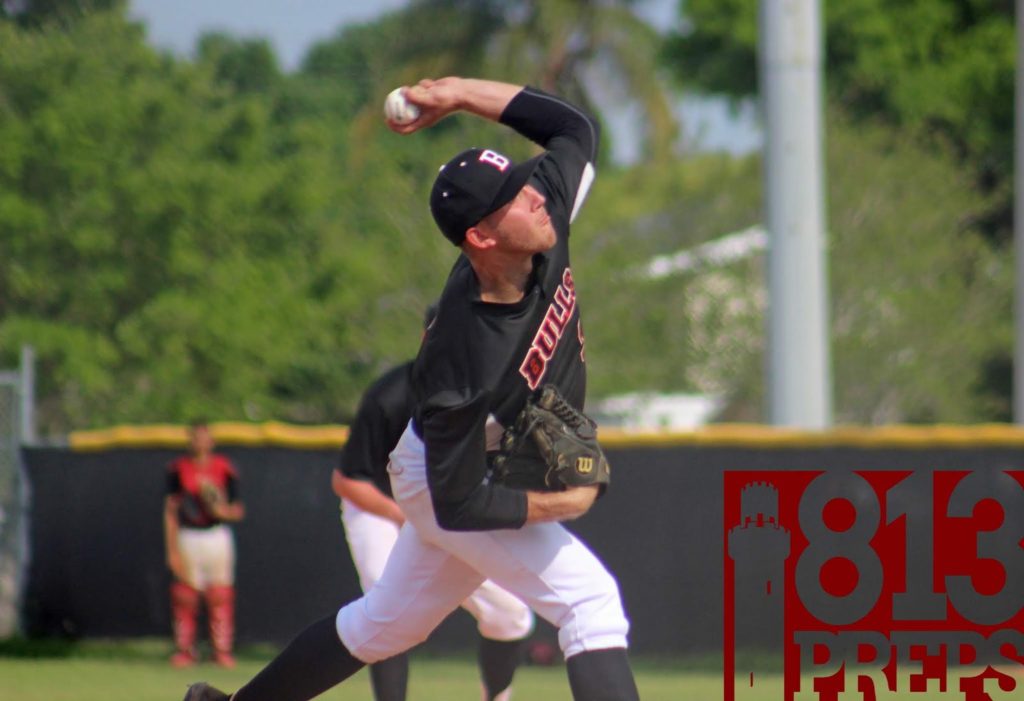 Bloomingdale's Bryce Hazzard dug deep to work some late-inning relief and came out with a win on the mound as the Bulls topped Leto behind a five-run top half of the 13th innings. 
Bulls slugger Brock Wilken (4-for-6) willed his high fly in the top of the 12th to stay in play and standing about five feet from the plate wore a look of surprise as the ball curved fair for his county-leading, eighth dinger of the season.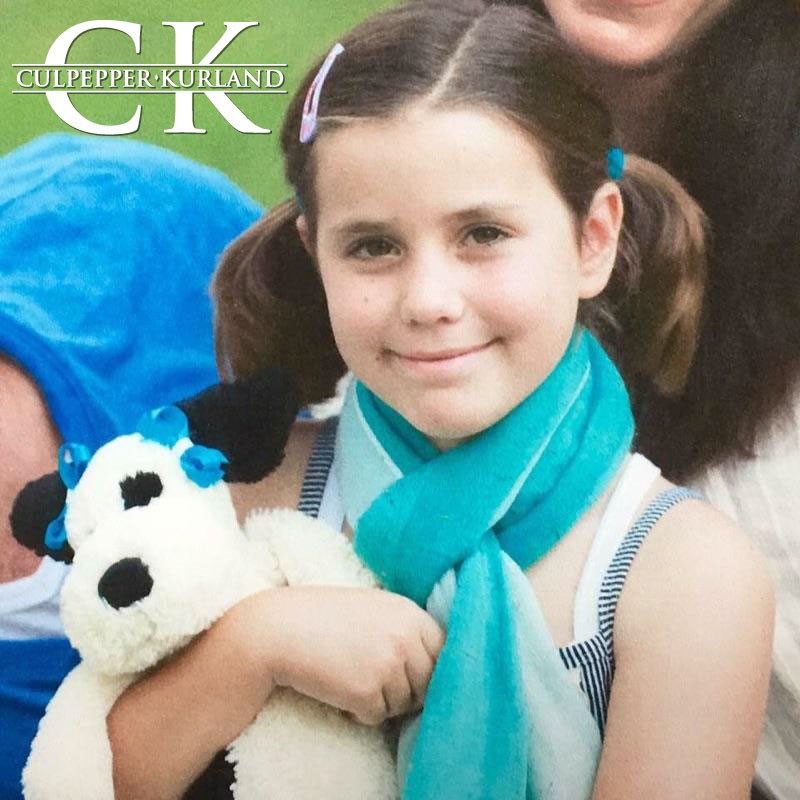 "At first I didn't know if it was foul or fair so I did one of those, 'stay fair, stay fair,' kind of things," Wilken said. "That was really clutch that it went fair."
"My teammates, Dom(inic Gonnella) and Bryce hitting in front of me and really the whole lineup, if they are having a bad day I get to step up and say, 'I got you,' and I know if it's me having the bad day, they are there to pick me up. That takes a lot of pressure off of me and that's how we are winning ball games."
A tenacious Leto (12-5) wasn't quite ready to go away after Wilken's home run, taking advantage of two Bloomingdale errors, and again tying the game when RJ Gutierrez singled in the Falcons third run.
"Leto is a great team," Hazzard said. "So I knew it was going to be a dogfight going into the next inning, so I never counted them out."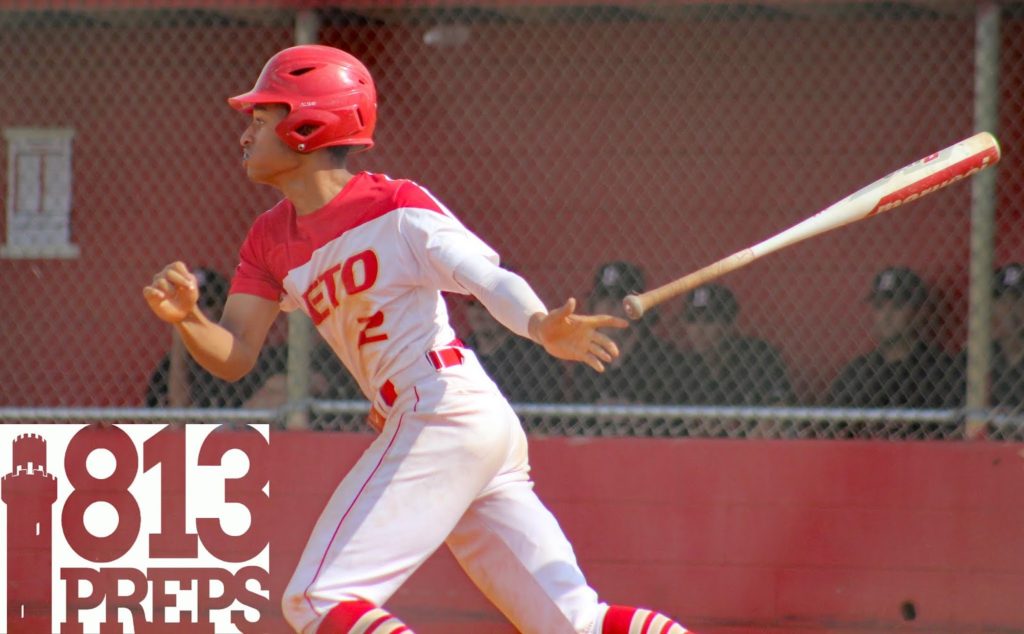 Leto's RJ Gutierrez was 2-for-5 with this RBI single in the 12th.
Gutierrez also had a standout day at shortstop making some stellar plays with his glove and showing off a powerful right arm.
But the next burst for the Bulls proved more decisive.
Bloomingdale (11-3) senior Nico Saladino didn't get to come away with the victory on the mound, leaving in a tie game after five innings, but the South Florida State College signee found a way to help his teammate out, poking an RBI single to centerfield to break the tie in the top of the 13th. The Bulls would add some insurance a later in the inning, loading the bases with two outs before Hazzard helped his cause with an RBI walk, and Jackson Hobbs skied a Texas Leaguer behind second that allowed the bases to clear before it fell to the grass between a pair of defenders playing at 'no-doubles' depth.
The Bulls five-run frame also featured a run scored by senior Garrett Borgen, who broke out a bit of a funk where he was previously 1-for-13, with a 3-for-5 game with a double.
"I've been struggling lately at the plate, so I've been listening and trusting in everything my coaches and teammates have been telling me," Borgen said. "I had to break everything down, make everything simple again, and it worked out for me today. A game like this builds my confidence like crazy."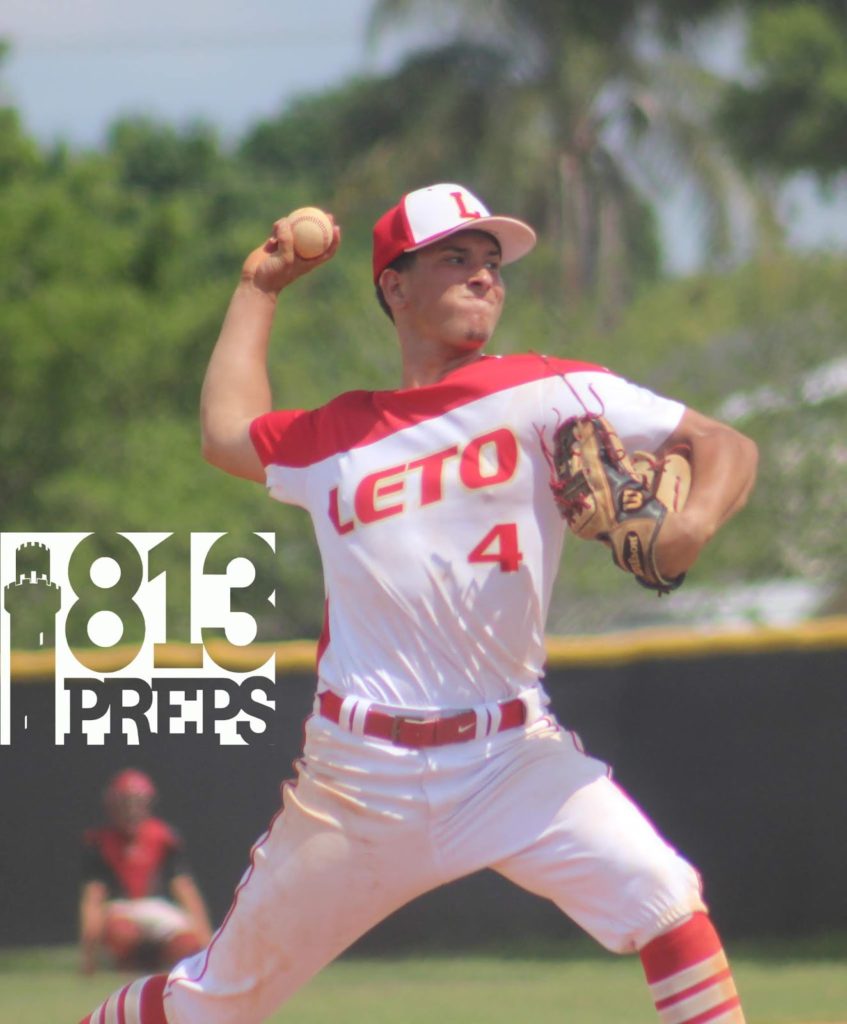 Leto senior 3B and P Javy Hernandez.
Both teams scored two runs in early innings, highlighted by a no-doubter blast from Bloomingdale's Kyle Merkle – his second homer in a 15-hour span after his seventh inning blast in the Bulls win at Plant on Friday, and an RBI double from Leto's Bryan Perez followed by an RBI single by Coltin Pizzio.
After that though, seven innings dragged on without another run, as Bloomingdale got solid work in relief from Dylan Martin (2 innings, one hit, one strikeout) and Riley Moore (3 1/3 innings, two hits, one K), while senior Javy Hernandez moved in from third base to retire the last batter of the seventh, then worked five-plus innings on the mound.
Saladino worked five innings on the mound in his start for the Bulls, and Leto senior lefty Franklyn Hernandez tossed 6 2/3 innings in a no-decision.