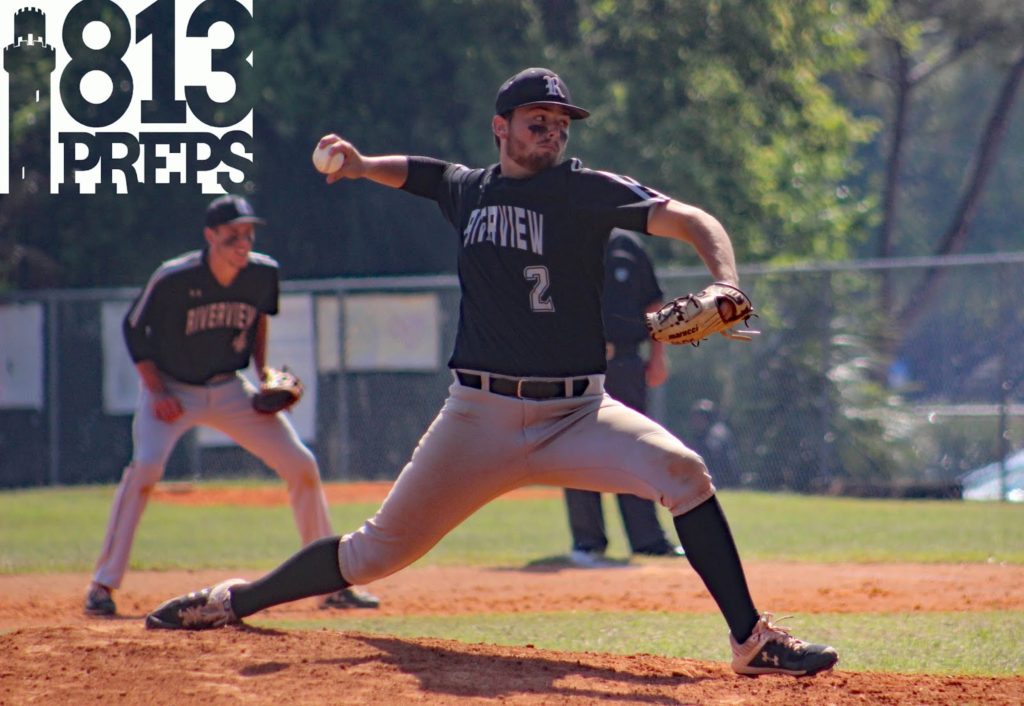 Riverview senior Brendan Herrick allowed just two hits in a win at Strawberry Crest. (813Preps file photo)
By Bob Bellone
DOVER – Riverview right-hander Brendan Herrick pitched a two-hit gem and drove in the deciding run in a 2-0 victory at Strawberry Crest on Tuesday night.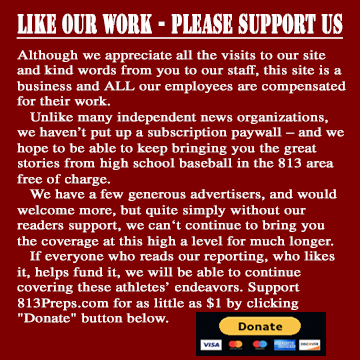 Herrick allowed only a double by Jacob Heath in the first inning and a Ben Pues single in the seventh, but he faced a bigger threat in the second. The senior hit leadoff batter Joey Parrillo, who advanced two bases on a wild pitch and a throwing error.
Parrillo was tagged up at third with none out when right fielder Ben Migliarese caught up with a fly ball deep in foul territory, but he couldn't close his glove on it. Or he simply decided against it.
"If he did drop it on purpose," Parrillo said, "it was a good heads-up play, knowing that it's foul and trusting his pitcher to get the guy out at the plate."
Herrick eventually walked designated hitter Alex Marshall, who drew a couple of throws to first baseman Matt Masse. On the second, Parrillo broke for home – as the defense had suspected – and was cut down at the plate.
"I knew that they were going to have something up their sleeve because we called the same play twice in a row, and I threw over both times," Herrick said. "I knew that kid on first wasn't the fastest, so I knew he wasn't going to steal second, and they were going to try to pull something."

Chargers starting pitcher Eli Garner worked three perfect innings before the Sharks got on the scoreboard. MacAllister Jorgensen led off with a single and reached third on a one-out single by Dillon Besnier. Herrick followed with a sacrifice fly to open the scoring.
The Sharks added an insurance run in the sixth, when Migliarese singled and came all the way around on an outfield error.
Riverview improved to 12-6 with its fourth win in five games. Strawberry Crest slipped to 10-8.
– Bob Bellone, with nearly a half-century of experience in sports journalism, is in his second season with 813Preps.com.